How to Make Image Background Transparent With These 3 Editors
Have you experienced taking a picture resulting in a messy background? Others are experiencing it too, and their solution for that is by blurring the picture's background. But we have a suggestion for you. If you want to remove unwanted objects from your pictures, you can make the image background transparent. In that case, your picture will appear more presentable, and at the same time, it will not compromise the quality.
When you make a picture's background transparent, you may erase any form of particle, dirt, blemish, or another unneeded flaw from the captured images. It provides you with a white slate that you can quickly alter and utilize for various reasons. Some of these are product photos, logos, ad covers, and teasers, among other things.
Are you looking for instructions on how to make the background image transparent? You may depend on this page as a guide.

Part 1. How to Make Background Transparent Online
Vidmore Background Remover Online is the most acceptable approach to make an image's background transparent. This online program does not need the installation of any third-party applications. With the help of the Vidmore Background Remover Online, you can quickly delete the background of your pictures in an instant. Aside from that, it can also detect the subjects from any person's photography. And also, get rid of the background to create a precise cutout.
This web-based background remover allows you to remove the unnecessary backdrops of your images, whether it is in JPG or PNG format. What's more interesting about this background remover is its advanced artificial intelligence adopted to detect the object in the picture. With that, you will be able to remove the picture's background in an instant. That is why if you want to create a transparent background, this tool is a must to have.
Aside from making the background of your image transparent, you can also customize the backdrop with the help of the editing section. Vidmore Background Remover Online allows you to crop, zoom and remove unwanted parts of your images. With the help of the cropping and flipping button, you will be able to move the position of the image and place it according to your preference.
Are you excited to learn how to make a background transparent with the help of Vidmore Background Remover Online? Without a lot of chases, please look at the detailed process below.
Step 1: Go to your required browser and search for the Vidmore Background Remover Online. After that, click the Upload Portrait button. Or you can also drop your image file on the main interface.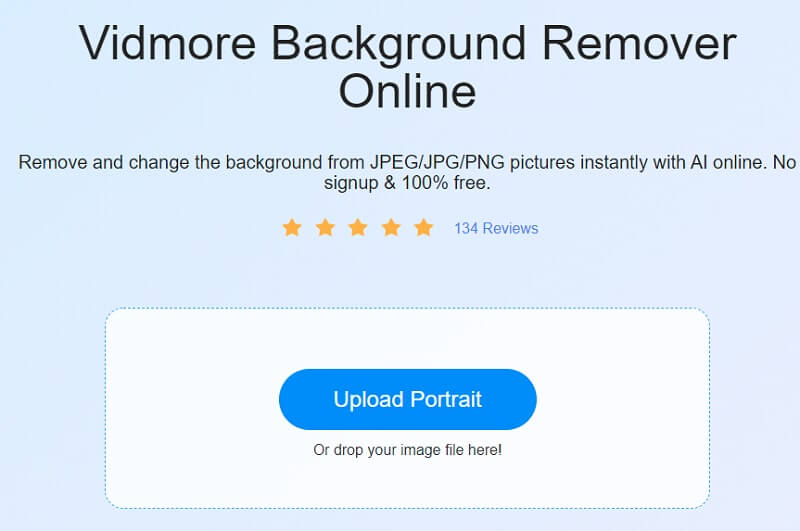 Step 2: Once you have chosen the image you want, wait for it to load on the tool's main window. After that, the built-in artificial intelligence of this online tool will show you the preview of the image you uploaded.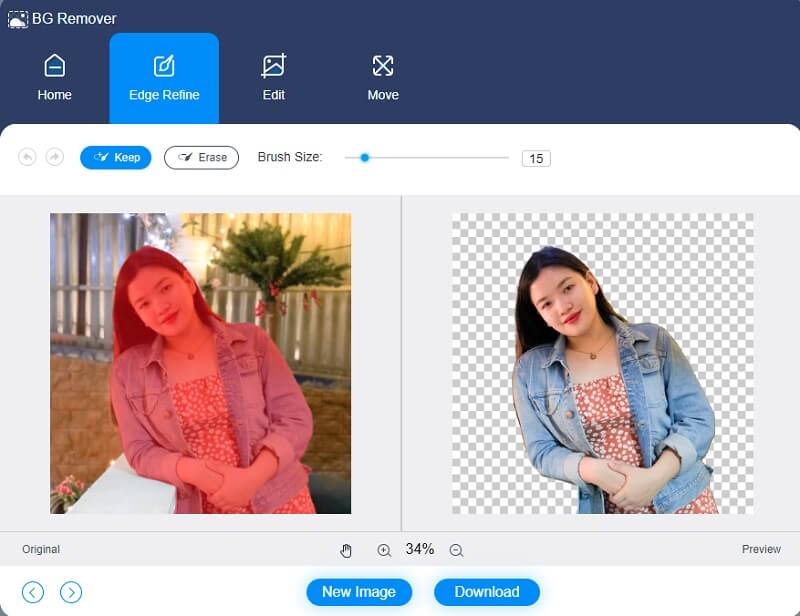 Step 3: If you want to add spice to the background of the picture, click the Edit tab on the top of the dashboard and choose the background color of your image.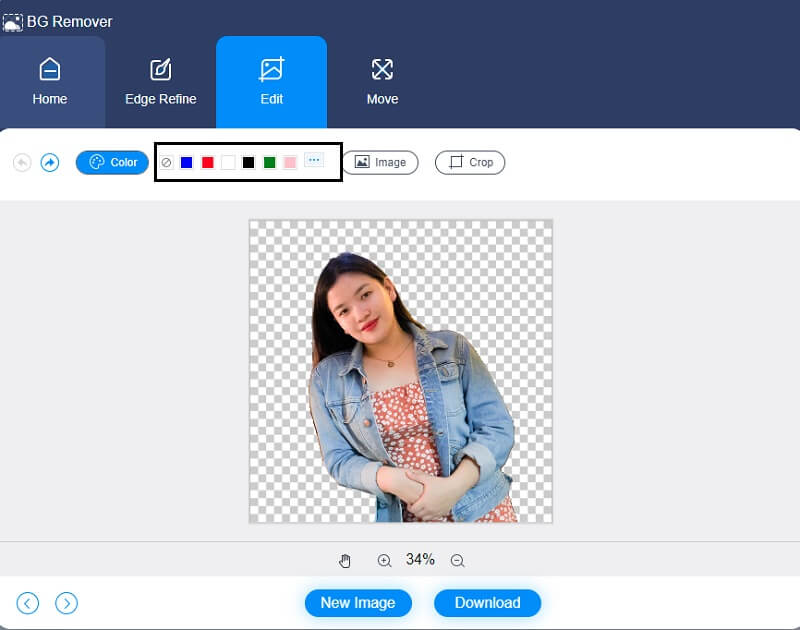 After choosing the color you want, you can also remove or adjust the length and width by cropping it. Click the Crop button and choose the Aspect Ratio that you require.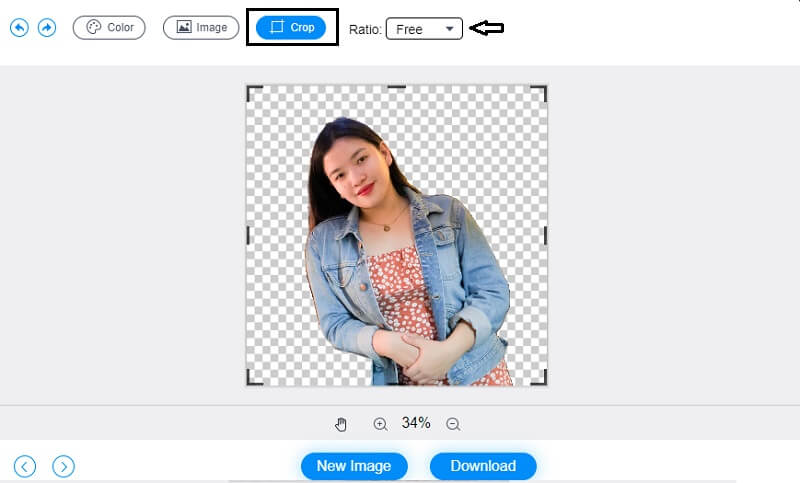 Another modification that you can do is choose the location of your picture. Tap the Move button on the upper part of the window, move the slider, and decide the amount of rotation for your image. Or you can also flip the image by clicking the Triangle symbol on the top.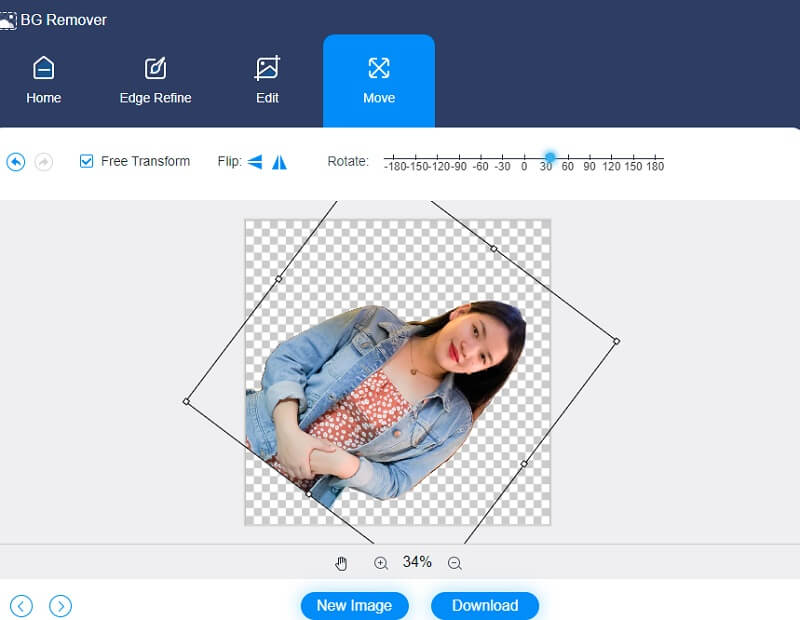 Step 4: If you are pleased with the changes to your picture, click the Download option and examine the output in your File Folder on the bottom portion of the screen.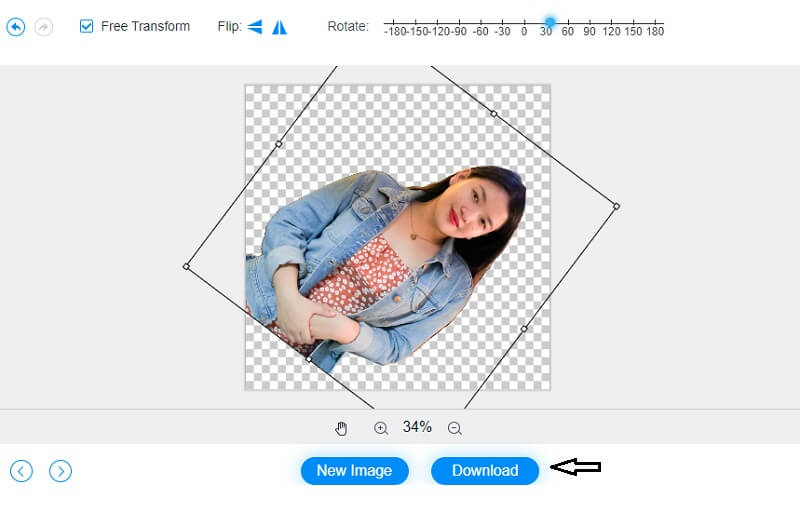 Pros of Vidmore Background Remover Online:
It has advanced artificial intelligence that detects the object in a picture.
You can access it on Mac and Windows devices.
It has a primary interface.
Cons of Vidmore Background Remover Online:
You can't use it without internet service.
It has limited editing tools.
Part 2. Make Background Transparent in Photoshop
Photoshop CC is a powerful photography program used by artists, online developers, content creators, and filmmakers to edit and transform digital pictures. Photoshop CC is available for Mac and Windows. Photographic editing software such as Photoshop is usually used to modify 2D photographs, while it also has some 3D photo editing capabilities. That is why undoubtedly, it is being utilized to create a background transparently.
When you know what you're doing, making a transparent background in Photoshop and storing the file in the proper platform format is straightforward. In the guide below, we'll take you through the steps of this straightforward procedure.
Step 1: Open the Layers panel in Photoshop once you've uploaded your image. Double-click the Layers box to activate the Background. After that, a new layer message box will emerge, prompting you to modify the layer in dispute. Alternatively, you may leave this as the standard Layer 0 and hit OK.
Step 2: You may find the Magic Wand tool on the Toolbar on the bottom left of the program window, as seen below. Following that, pick Subject from the drop-down option in the Options bar at the top of the screen. Choose the inverse by entering SHIFT + CTRL + I or using the Select then Inverse drop-down option at the bottom of the program window. The background will become transparent when you click the inverse button.
Step 3: Next, to save your image as a PNG-24 in Photoshop CC, press the SHIFT + ALT + CTRL + W or go to File and look for Export. Then, click the Export As from the selection menu that appears upon the program window. Set the Format to PNG and tick the Transparency option in the display chatbox.
You may alter the proportions of your picture on the top right of your chat box under Image Size. Finally, after your Image Size has been adjusted to the right proportions, click Export All and Save.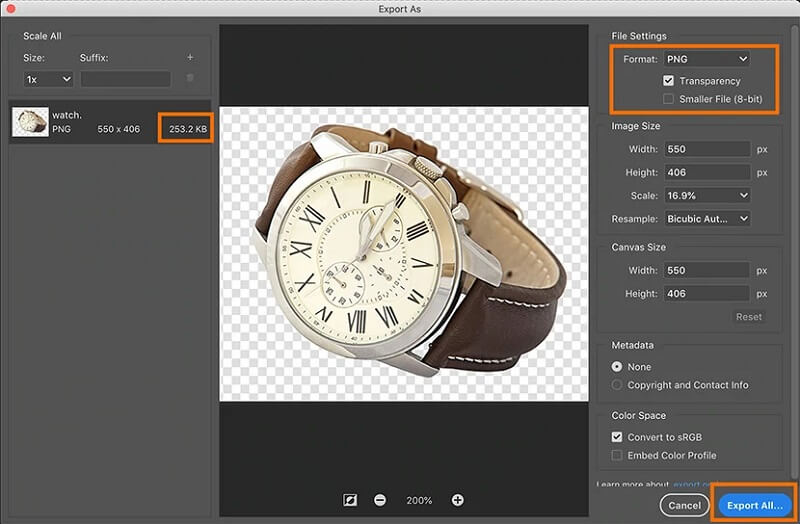 Pros of Adobe Photoshop CC:
Photoshop includes several features that are particularly useful for animation. Create frames in layers, which you may subsequently merge to build animations, as seen in the example below.
Essential picture editing functions such as skin tone changes, red-eye reduction, inserting or eliminating fog, teeth whitening, and background significant changes are all available with a single click in Photoshop.
Cons of Photoshop CC:
Some amateurs may find it hard to maneuver through the user interface at first since it is a high-end software package.
Photoshop might have difficulties at times when dealing with vectors since it is not compliant with every vector format available.
Part 3. Make Background Transparent in Publisher
The Publisher is a word processing program included in the Microsoft suite of products. In terms of design and layout, Microsoft Publisher is a page-layout tool. A broad range of products, from company logos and calendars to bulletins and greeting cards, may be created using this software and other programs. Designed for people or small enterprises that do not have access to design specialists, Publisher is regarded as a simple, entry-level desktop publishing program geared at beginners.
This tool enables you to change the appearance of many elements such as page size, text, pictures, and borders. Publisher's capabilities lie in its ability to combine text and graphics in a way that produces papers that are both professional and aesthetically pleasing. It's no surprise that it's one of the options available for making a backdrop translucent. As a result, if you want to use this program to create a transparent background for your photographs, you may refer to the instruction provided below for guidance.
Step 1: Click the design or publication, choose Page Design, and select the Master Pages option from the drop-down menu. After that, choose Master Page from the drop-down menu that will appear at the bottom of the list after selecting Edit Master Pages. The next step is to choose the Page Design option. Then, choose Background from the drop-down menu and select More Backgrounds from the drop-down menu below the screen.
Step 2: Under the Format Background section, choose Picture or texture fill and reduce the Transparency to less than 80 percent. If you want to create the background of the photo lighter, you may increase the picture's transparency.
Step 3: Remember to remember that if you want the background image to appear through the text, you need to keep the text box transparent. Choose the text box and then choose the Format text from the drop-down list. After that, choose Colors and lines from the drop-down menu. Then go to the Fill Effects and select No Fill from the drop-down option.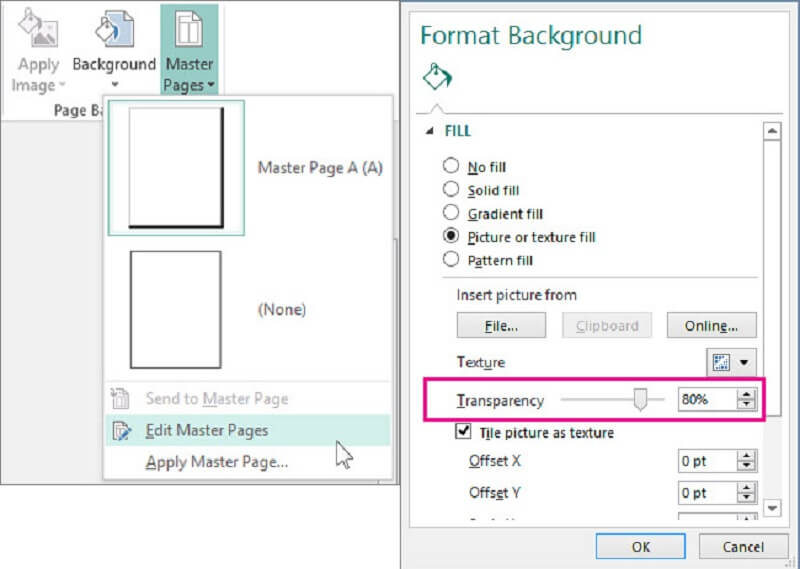 Pros of Microsoft Publisher:
In Publisher, you may choose from a large variety of pre-designed templates to work with.
Publisher's layouts are intended to transfer your content from one row to the next. They are meant to be flexible.
Cons of Microsoft Publisher:
When it comes to changing the format of the templates in Microsoft Publisher, there aren't many choices.
The addition of photos to your Microsoft Publisher document will result in a gradual rise in the project's file size.
Microsoft Publisher is a product that can only be used on a PC. You will not have access to this platform if you use a Mac or tablet computer.
Further Reading:
A Concrete Guide to Take Screenshots with VLC Media Player
How to Add Text to a GIF- 4 Incredibly Useful Caption Makers
Part 4. Compare These Three Ways
This section will see the comparison between Adobe Photoshop, Microsoft Publisher, and Vidmore Background Remover Online.
Key Features

Accessible on Windows and Mac

Basic interface

Rich in editing tools

Removes background automatically
| | | |
| --- | --- | --- |
| Vidmore Background Remover Online | Adobe Photoshop | Microsoft Publisher |
| | | |
| | | |
| | | |
| | | |
Part 5. FAQs on How to Make Background Image Transparent
What to do if PNG is not transparent in Photoshop?
Instead, you should save the PNG file by right-clicking and hitting Save As, and afterward open it in Photoshop. This method typically maintains transparency.
How do Microsoft Publisher and InDesign differ?
Microsoft Publisher can be used to create printouts suitable for inkjet or laser printers. InDesign accomplishes the same thing, but only at a slightly higher cost. InDesign can provide you with several possibilities when it comes to output, including the ability to produce immediately publishable documents or various file types. You may export it PDF or switch to a different eBook edition.
Which is better, Vidmore Background Remover Online or Photoshop?
If you are looking for an image background remover that is easy to use, you must use Vidmore. However, if you're looking for a program with a high level of technicality, Photoshop is your best bet.
Conclusion
That's it! Now that you already know how to make a background transparent with the most used background remover online and offline. You won't have a hard time discovering it by yourself anymore.