Make the White Background of an Image Transparent
Most people in the e-commerce industry are now into this technique, wherein they use a transparent background. It makes their images, logo, and products more appealing to the viewers. It is being said that using a transparent background makes a spectacle look with a color arrangement in the background. No wonder many individuals are looking for some tools to make a transparent background for their images. That is why this post plans to help simple individuals how to make white backgrounds transparent.

Part 1. How to Make White Background Transparent Online
There are many ways to make the white background transparent. But the most beneficial for every user is an online tool. And one of these online background photo editors is the Vidmore Background Remover Online. As the name says, this tool is a program that you can access online. It only means you can use this tool in any situation anywhere. Aside from that, you can also navigate this background editor on mobile devices Mac and Windows operating systems.
Vidmore Background Remover Online has artificial intelligence. This AI will make the users lighten their load because it immediately makes any background transparent. Most people are fond of this online editor because they don't need a magic wand or a selection tool to remove the background of their photographs.
Aside from that, it also contains essential editing tools such as flipping, cropping, and using another image as a background. Vidmore Background Remover Online is indeed a champion when it comes to compatibility. The approaches below will help you make the white background of your image transparent.
Step 1: First, prepare your image and internet connection. Then, navigate to your search engine and type the Vidmore Background Remover Online. After you arrive on the main screen, you may now click the Upload Portrait button in the middle. By ticking that button, it will have access to your files. Select the image you want to have a transparent background. But if you like a quicker approach, drag and drop the image to the window.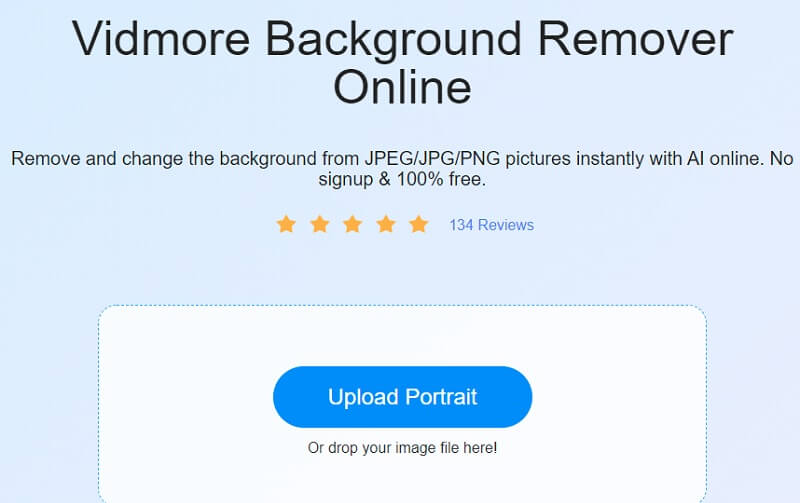 Step 2: After dropping the image on the window, artificial intelligence will review it and automatically remove the white background of your image.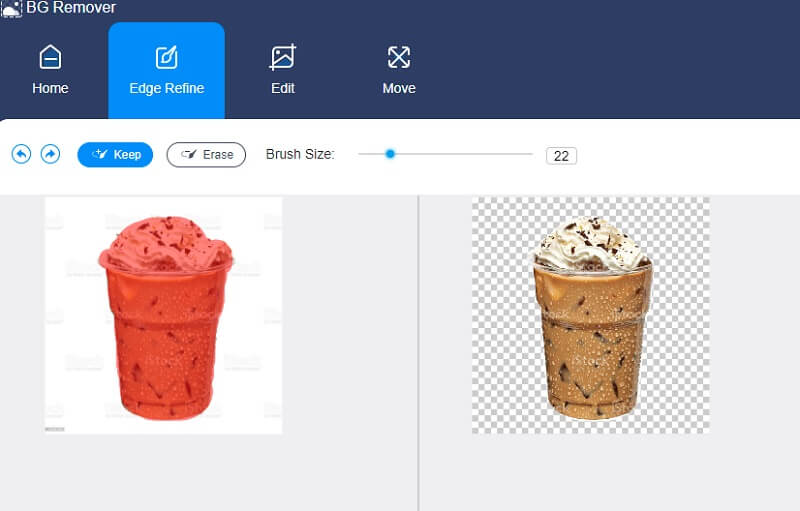 Step 3: Once the white background of your image is removed, you may also do some modifications like cropping, rotating, and flipping. And to access those tools, press the Edit tab, which will direct you to another window.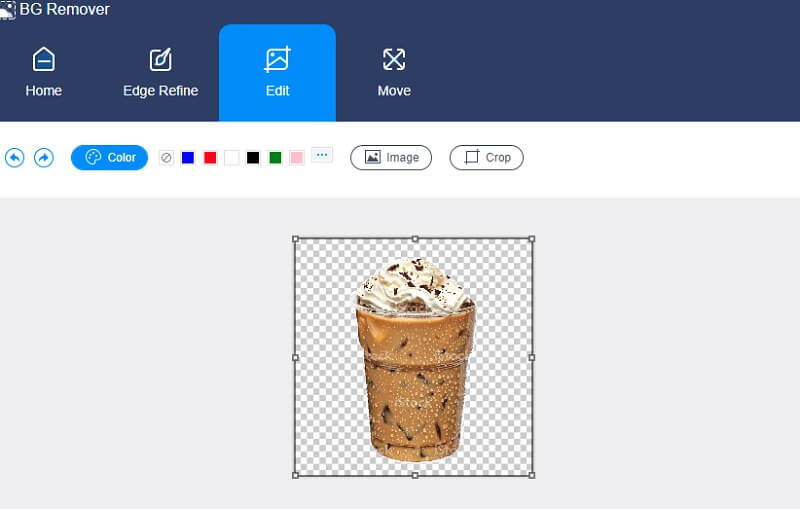 Since you don't want to include the background in your photograph, you don't have to choose a shade from the options available. You can proceed in modifying the size of your images. Navigate the Crop button, and some ratios will appear. If the ratios don't meet the required size that you like, you can move the edges on the four sides.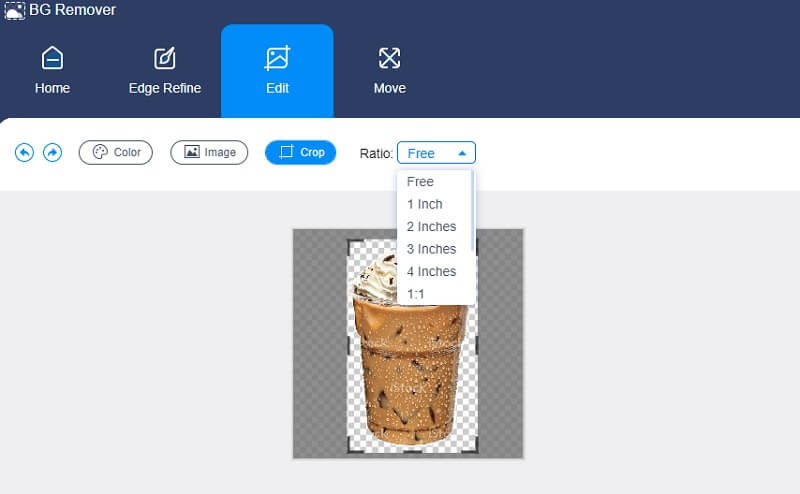 Are you done modifying the size of your image? Meanwhile, if you think your image is better or more attractive if it is on the other side, you can flip or rotate it. With that, proceed to the Move tab, showing you the flipping tools. By moving the point to the left or right, the position of your image will change.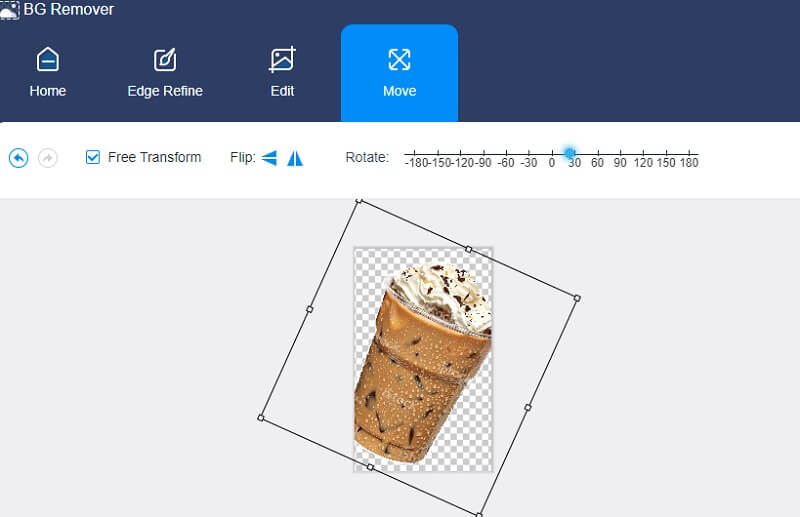 And by ticking the Triangle icons on the left side, your image will twist.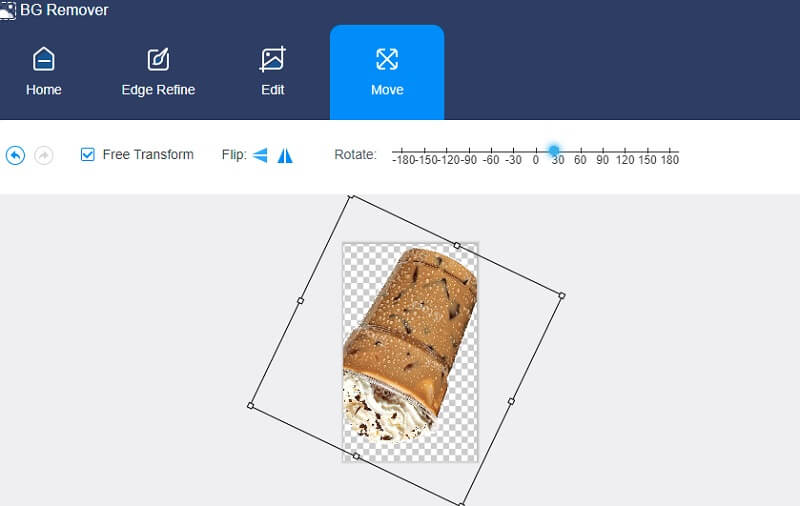 Step 4: If you think you don't need any modifications to your image, you may now continue saving it in your folder. Go downward on the screen and click the Download button. And if you want to enhance another picture, you have to tap the New Image button.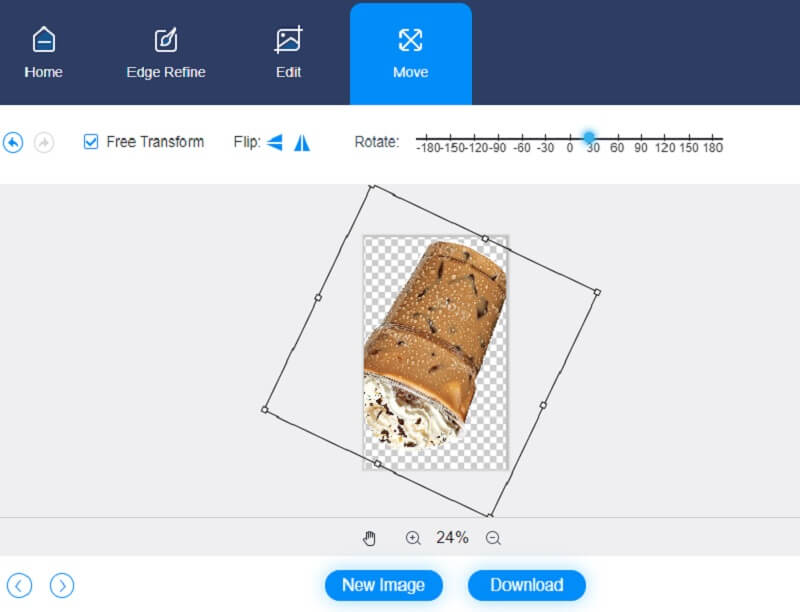 Part 2. How to Make White Background Transparent on Photoshop
One of the expert and knowledgeable programs in photo editing is Photoshop. This tool is being used in altering high-class images, logos, flyers, and many more.
It provides a wide array of editing features for pixel-based photographs, just like vector graphics. Aside from that, it is very known for layer-based modifications that allow images to be modified with various layers that allow transparency.
Others are being challenged in this professional tool. But it cannot remove the fact that it is one of the most outstanding editing programs, especially for those desiring to enter the world of editing. Although it takes some time to get used to it, it is worth every labor.
Suppose you think this software will be beneficial in removing the background of your image. In that case, you use the procedure here as an escort.
Step 1: First, you must choose the image from your files and unfold it in Photoshop. After uploading the image on the dashboard, adjust it to the middle of the screen for you to modify it easily. Next, in the Layers section, press the lock to unlatch it to be accessible for editing and then rename it. After that, you can create a new layer by making an identical copy of the first layer.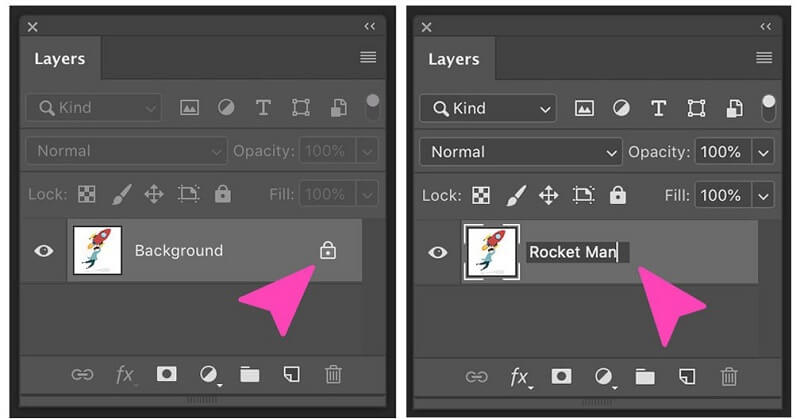 Step 2: Next thing to do is choose the Magic Eraser tool under the Tools section. And then, set the Tolerance to 30, put a checkmark on the Anti-Alias, and put the Opacity to 100%.
Step 3: Lastly, tap the white background, and you will see it being transparent.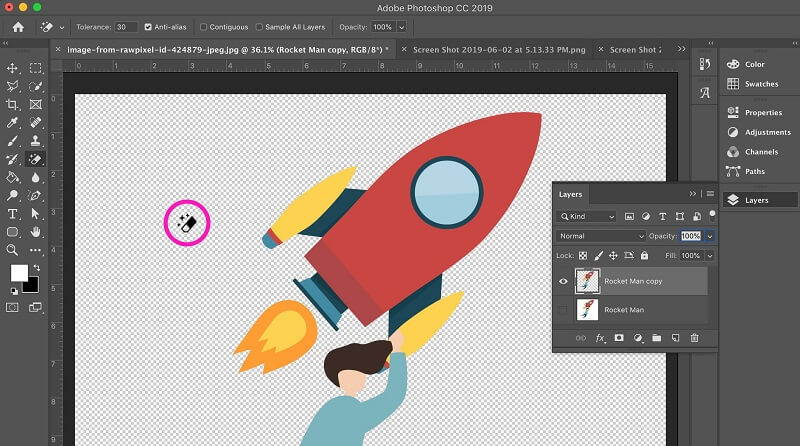 Part 3. Comparison of the Two Photo Editors
There would be differences because Vidmore Background Remover Online is an online tool, and Adobe Photoshop is software. And at this juncture, this post will show you a clear illustration of the advantages and disadvantages of the two.
Category

Available on all platforms

Rich in editing features

Usability

Offers multiple layers
| | |
| --- | --- |
| Vidmore Background Remover Online | Photoshop |
| | |
| | |
| | |
| | |
Part 4. FAQs About Making White Background Transparent
Does PNG support a transparent background?
PNG or Portable Network Graphics is a type of picture format used to create websites because it braces transparent backgrounds.
What is the purpose of transparency in images?
For digital photography purposes, the term 'transparency' refers to the ability to create transparent portions inside an image or image layer. Some image types will not support transparency. The degree to which anything obstructs light is measured in opacity.
Why is it beneficial to have transparent backgrounds?
When working with layers or masks, the most common reason for employing a transparent background in photos saves time. Working on a few photographs concurrently and combining them into a single image will be more difficult if you use a white backdrop while layering a few images. Since a white background provides coverage.
Conclusions
With the help of Photoshop and Vidmore Background Remover Online, you have more than enough knowledge in making the white background of an image transparent. And now the decision is yours. If you are into advanced editing tools, Photoshop is perfect for you. But suppose you are into a basic photo editor with automatic background removal. In that case, you must go with the Vidmore Background Remover Online.