Resize Pictures for Twitter for Free using These Online Tools
Most social media platforms require users' exact sizes to upload their pictures. For example, Twitter. This social media platform is used to express users' feelings and share their thoughts every once in a while. Also, you can use Twitter to share your beautiful photos. This post will teach you how to resize for Twitter photos and provide steps you can follow. After reading this post, you can upload your picture on Twitter with the exact size required. Please start reading now!

Part 1. Twitter Photo Size Requirements
Twitter is included as one of the popular social media platforms. Most users' especially teenagers, use Twitter to express feelings and random thoughts. Furthermore, you can easily interact with your friends by chatting with them publicly. Not just that, you can also share your pictures with your followers by uploading them to Twitter.
In this part, we will show different kinds of Twitter photo sizes. According to the research, we have read that Twitter updated its recommended image sizes again. Take a look at the sizes below:
Twitter Profile Picture
1:1 Aspect Ratio, 400px X 400px, JPG, PNG, and GIF formats.
Twitter Cover Photo
3:1 Aspect Ratio, 1500px X 500px, with a maximum file size of 5 MB.
Twitter Tweeted Images
16:9 Aspect Ratio, 1200px X 675px, with a maximum file size of 15 MB.
Twitter Card Image Size
1.91:1 Aspect Ratio, 1200px X 628px dimensions.
Since we know the different sizes of Twitter images, we can start the guides on resizing pictures for Twitter using various tools or software. Please proceed to Part 2, where we can share the steps or resize photos for Twitter.
Part 2. How to Resize Pictures for Twitter using Online Tools
Resixe Twitter Photos with Vidmore Free Image Upscaler Online
Vidmore Free Image Upscaler Online is a free upscaling online tool that can be used to resize pictures for Twitter profiles. It is 100% safe to use and has a user-friendly user interface. In addition, it has the power to save your blurry photo, and it is powered by Artificial Intelligence, also known as AI. Please, see the steps below:
Step 1: Visit the official page of Vidmore Free Image Upscaler Online. You will see its main interface.
Step 2: Click the Upload Photo button or Drop your photo in the center part of the interface. Also, choose the Magnification from 2x 4x, 6x up to 8x.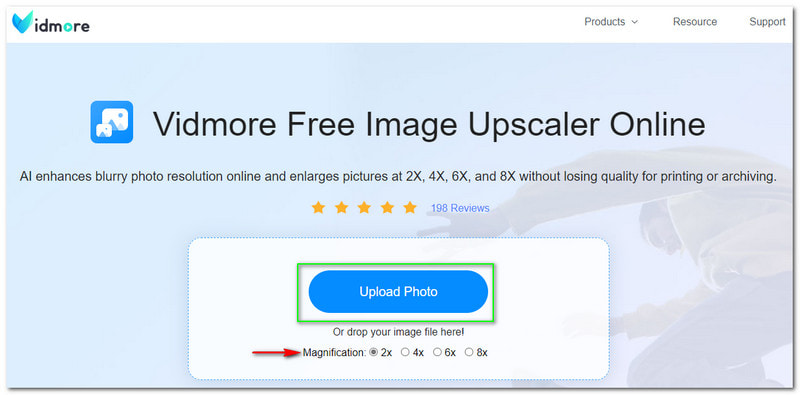 Step 3: The Preview of Vidmore Free Image Upscaler Online provides the Original Size on the left and the Output Size on the right corner. Then, in the lower-right corner, tap the Save button.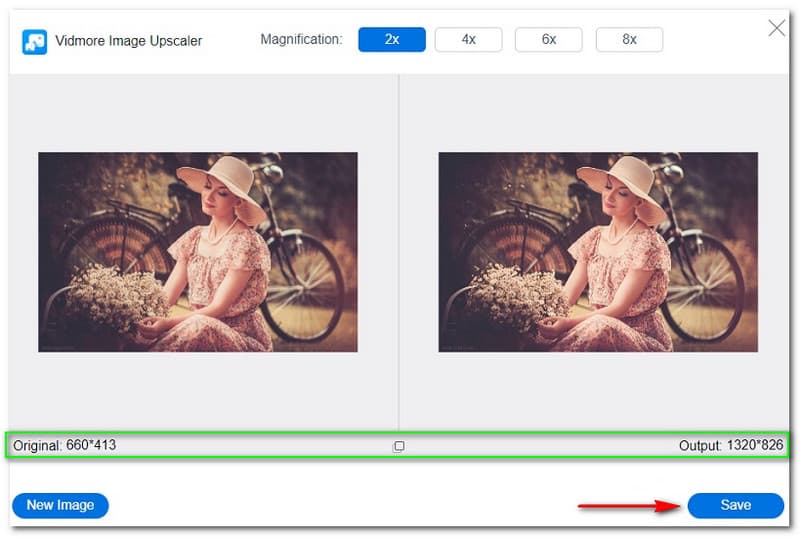 You can now follow the steps above and start resizing your Twitter photos. Using the tool above, you will appreciate its easy-to-use interface. Also, it is accessible online and will not take up space on your computer. Try it now!
Change Twitter Image Size with Squoosh
Here is another online tool to resize images for Twitter profile pictures. It is called Squoosh, and it is a free-to-use online tool. Supposing your photo does not fit your Twitter profile picture recommended size, you can use Squoosh. The question is, how to resize pictures for Twitter using Squoosh? Continue reading below, and you will see a complete guide:
Step 1: On your browser, search Squoosh and go to its main page. After that, you will see its color pink main interface.
Step 2: Now, click the Plus sign in the center of the panel or Drop or Paste your picture directly at the center.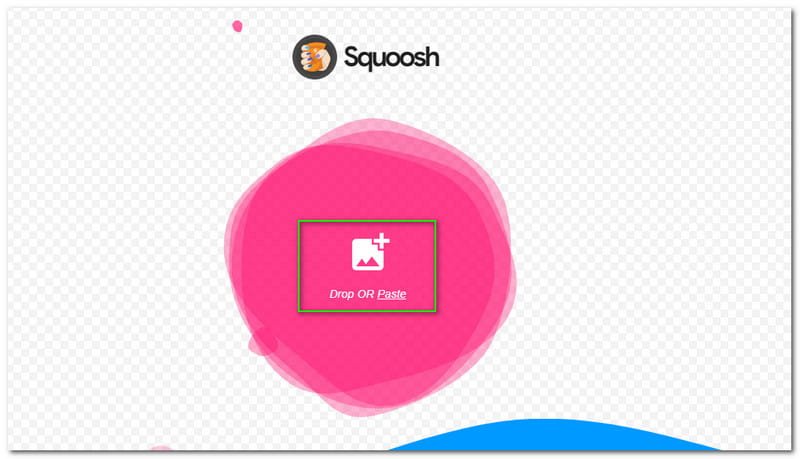 Step 3: Change the Original Image into Browser JPEG on the left corner. After that, enable Resize and start typing the size of the Twitter profile picture. Then, click the Download icon below.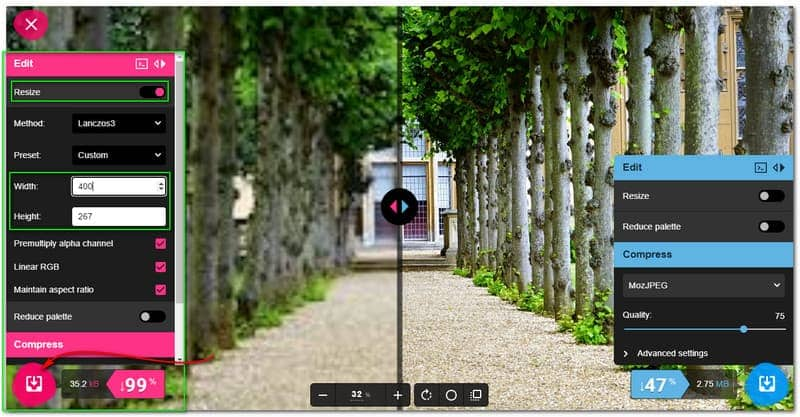 After downloading your resized picture, you can see the output file on your computer's File Explorer. It is easy to resize Twitter profile pictures using Squoosh. It is one of the advisable online tools for resizing different images for different platforms. Moreover, it is also free and offers various features.
Resize Pictures for Tiwtter With PicResize
PicResize is an online tool you can also use for free. It is perfect for resizing your images to fit the photo's recommended size on Twitter. In this part, we will show you an easy step to resize it using PicResize. Please see the steps below:
Step 1: Go to your Web and look for PicResize. Start launching its main website, and you will see its interface.
Step 2: In the middle part, you will notice a rectangular table and Select Picture from Computer and URL. Also, you can select the Browse button or Drop and Drag your picture. After adding an image, click the Continue to Edit Picture button.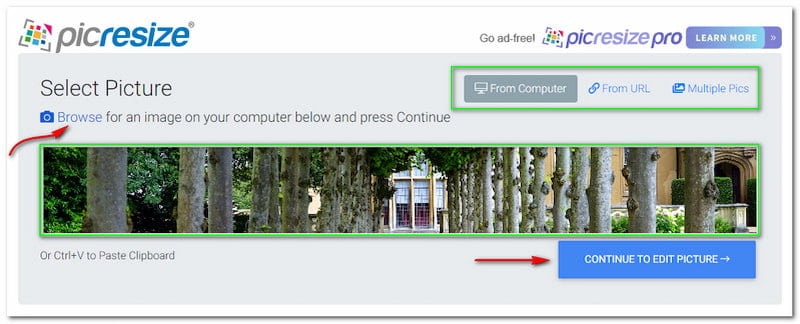 Step 3: Next, select the new size of your image, and you will see the Estimated Final Size. Before saving it, change it into JPG, PNG, or GIF format, and the Quality is on the bottom. After that, click the I'm Done, Resize My Picture button.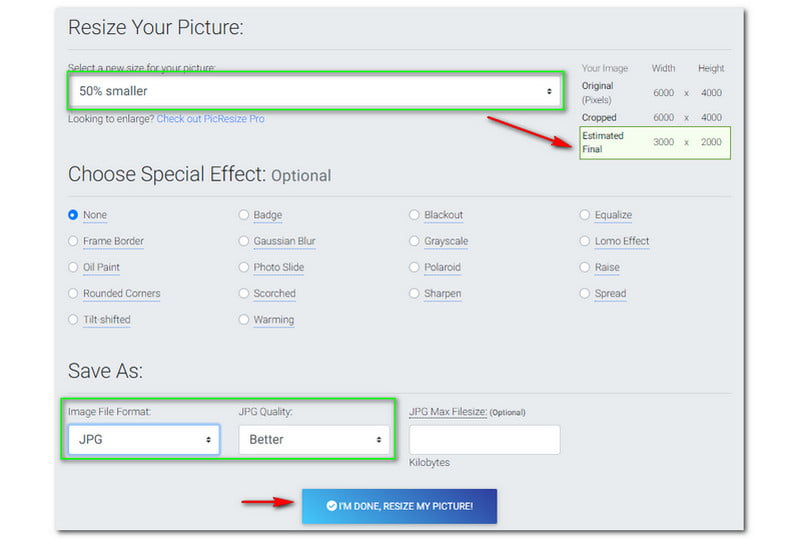 Using PicResize to change the size of your image for Twitter is excellent. Nonetheless, the disadvantage of this online tool is since it is free, it has too many disturbing Ads. Also, it will not show you the whole picture before resizing it. Furthermore, you can still enjoy using it because of its additional features. Surely, you can try the PicResize alternatives here to change the Twitter picture size.
Part 3. FAQs of Resizing Pictures for Twitter
What are the supported images format of Twitter?
Regarding images, Twitter supports these popular image formats; JPEG, JPG, and GIF buttons. Also, these image formats are the specific requirements of Twitter.
Can I fit the whole picture on Twitter directly from my iPhone?
Unfortunately, no. Twitter constantly changes the recommended image size. For that reason, you cannot upload your image without resizing it. However, suppose you forgot to resize your picture for Twitter's profile picture. Twitter will cut your picture depending on the required size.
Can I use my iPhone to resize my picture into Twitter's profile picture?
Upon editing your image on the iPhone Photos app, you will not see a Resize word but the Crop option. You can use the Crop option by resizing your images to fit on the Twitter profile picture. However, it will not provide the exact size of your image. Check the details here to resize images on iPhone.
Conclusion
Some users wonder why it is a must to cut your picture, and I think this HowTo article provides you with an answer. Again, it is because of the requirements of various social media platforms like, for example, Twitter. After reading this post, you will obtain an understanding of the different types and sizes of Twitter images. Also, we expect that the steps above will serve as a complete guide for you to resize your photo for Twitter. So much with that, we will see you again in our next post.