5 Best Webcam Recorders to Record a Webcam Video
Looking for a good webcam recorder to capture a webcam video? What is the best webcam video recorder?
When you join a great webinar or online meeting, you may have the need to capture the whole online video content. Whether you want to record a webcam video for your own reference later, or for sharing with others, you need a good webcam recording tool.

Luckily, there are a large number of webcam video recorders offered on the internet that can help you record a webcam video with ease. In case you don't know which one you should use, here in this post, we like to share 5 best webcam recorders including free ones for you to choose from.
Part 1. Best Webcam Recorder for PC and Mac
To record a video or capture your own face from a webcam, you need a good webcam recorder. Here we strongly recommend the popular webcam and video conference recording software, Screen Recorder for you. This webcam recorder has the capability to capture any activities happened on computer with high quality. It allows you to record a webcam video on both Windows 10/8/7 PC and Mac.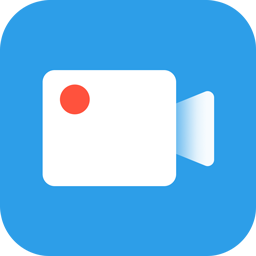 Best Webcam Recorder
Record webcam videos and other video conferences with high quality even up to 4K.
Capture any activities like streaming videos, meetings, 2D/3D gameplay, calls, and more.
Record a webcam video with entire screen, custom region or specific window.
Capture webcam from webcam and record audio from microphone, and system audio.
Powerful editing features and advanced accelerate technology.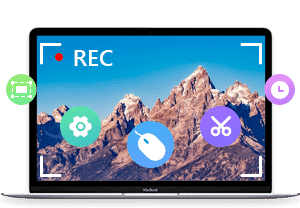 How to record a webcam video
Step 1: When you want to record a webcam video, you should free download and install this powerful webcam recorder on your computer first. You can pick a right version and then double click on its download button.
Step 2: When you enter the main interface of this webcam recorder, you can choose the Video Recorder feature to record your webcam video.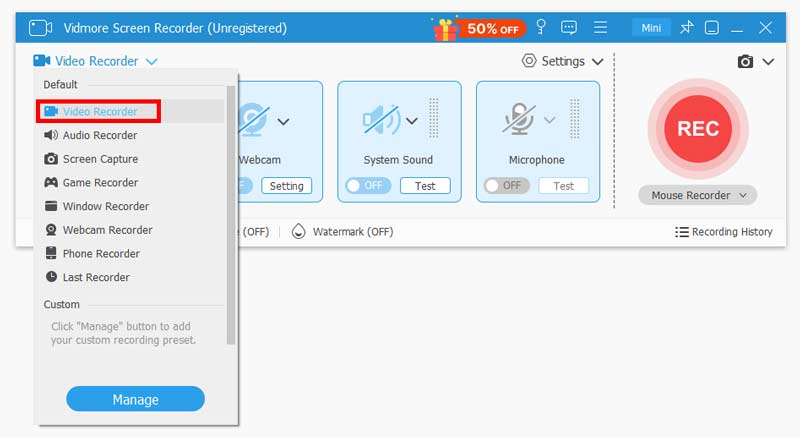 Step 3: In the next Video Recorder window, you are allowed to adjust the video and audio recording settings.

You can freely custom the screen recording area based on the video you want to record. In addition, you are allowed to capture the audio track from System Sound, Microphone or both based on your need. Here you should turn on the Webcam option to capture your face.
Step 4: Now you can simply click the REC button to start the webcam video recording. While the recording process, you can freely pause, restart or stop it according to your need.
Step 5: After the webcam recording, you can directly preview the captured webcam video. Moreover, as it mentioned above, some basic editing features are designed in this webcam recorder. You can edit the webcam video and then click Save button to save it on your computer.
The recorded webcam video will be automatically saved in MP4 format. If you prefer another output format, you can click the Record setting icon and enter Preferences window to change it.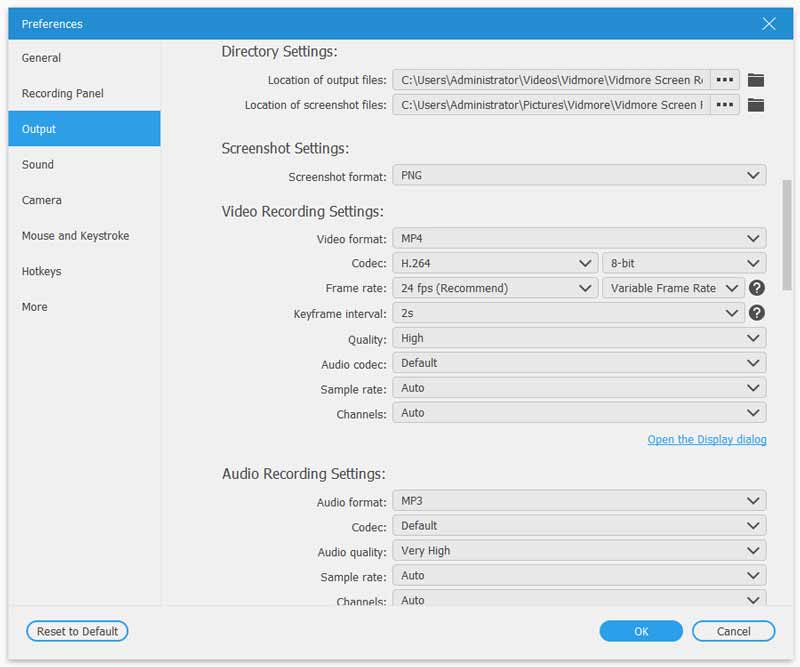 Not only recording webcam videos, but it also supports recording gameplay like GTA, Pokemon, etc.
Part 2. Open Source Webcam Recorder - Open Broadcaster Software
Open Broadcaster Software (OBS) is a popular video recording tool which allows you to capture anything displayed on your computer screen. This free and open source webcam recorder is mainly designed for webcam recording, video recording and live streaming.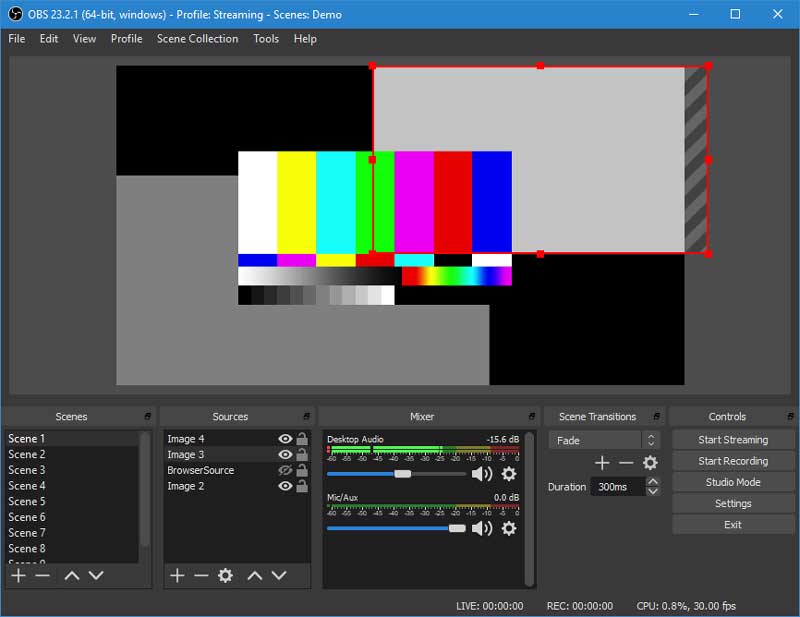 This webcam video recorder is compatible with Windows, Mac and Linux. There is no limitations on the length of your webcam video recording. It enables you to capture your video conference with full screen or selected area based on your need. Besides the recording feature, OBS offers you a great live streaming service which supports streaming videos on Twitch, YouTube, Facebook Live and more.
Some users report that OBS is encoding overloaded and here are solutions to it.
Part 3. Free Webcam Recorder - Free Online Screen Recorder
To record a webcam video, you can also rely on some online recording tools. Here we introduce you with the easy-to-use Free Online Screen Recorder to capture any online meetings and video conferences with high quality. You can handily record your webcam videos with it on any frequently-used browser like Chrome, Safari, IE, Firefox and more.

Free Online Screen Recorder allows you to capture any part of your computer screen with ease. It can work as a free webcam recorder to freely capture anything displayed on the screen. One thing you should know is that, this free webcam video recorder doesn't carry any editing features.
Part 4. Default Webcam Recorder for Mac - QuickTime Player
QuickTime Player is the official media player for Mac users. This built-in macOS application also carries a great screen recording feature which can help you capture your Mac screen with ease. It enables you to record a webcam video with no watermark or recording time limit. More importantly, this free webcam recorder can give you a stable and high-quality screen recording experience on Mac.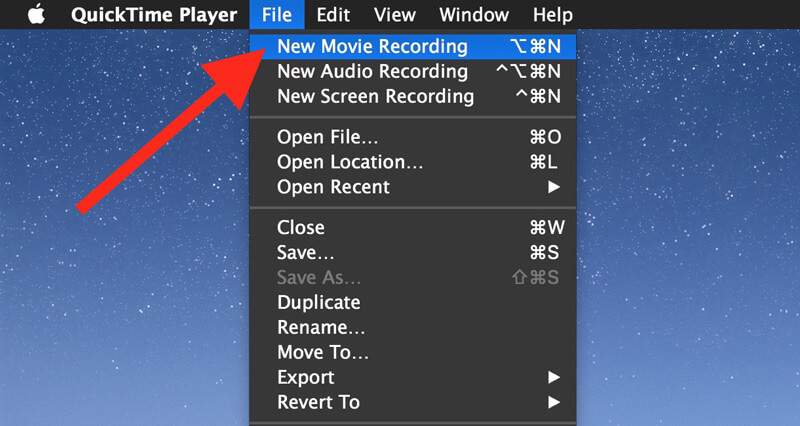 You can open QuickTime Player and then choose the New Screen Recording option to access its webcam recording feature. It allows you to capture webcam videos with full screen or custom region. This webcam recorder is equipped with some basic editing functions like trim, split, flip and more.
Part 5. Paid Webcam Video Recorder - Camtasia
Camtasia is a paid and powerful screen recorder and editor which can help you record webcam videos on computer. It provides you with a simple way to record and create videos on Windows PC and Mac. This webcam video recorder allows you to record webcam and add a personal touch to your video.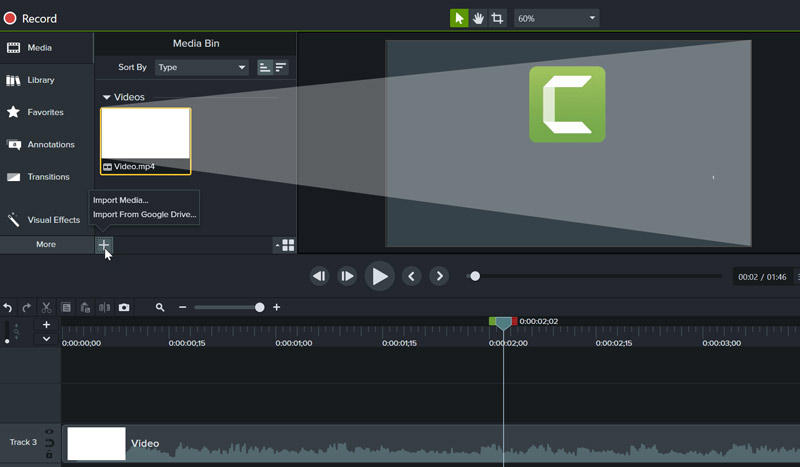 Camtasia offers a free trial to try some basic recording features. But many cool features and editing functions can only be used in its paid version. One-time fee costs $249.99 for now.
Check this post to get more Camtasia alternatives.
Part 6. FAQs of Webcam Recorder
Question 1. How to record a webcam video on Zoom?
If you are a Zoom host, you can handily record a webcam video or capture a Zoom meeting on its platform. You can also set an auto-record to automatically save the webcam video content.
Question 2. How do I get my webcam to record all the time?
To record a webcam all the time, you can use Vidmore Screen Recorder. It can record as long as your drive storage is full.
Question 3. How to record an online meeting?
When you have the need to capture an online meeting, you can rely on any video recorder we shared above.
Conclusion
We have mainly talked about the webcam recorder in this post. 5 great webcam video recorders are recommended for you to choose from. You can get some basic features of each one and then make your choice. Whether you want to record a webcam video for your own reference later, or to share it to others, you can pick your preferred webcam recorder to do it.