How to Play Blu-ray on Sony PlayStation 4 Slim/Pro Console
PS4 (Sony PlayStation 4) is one of the most famous game consoles which can offer you a great in-home video game entertainment. Besides the powerful game playing features, it also carries other wonderful features. Sony PS4 allows you to play media files through USB, listen to your favorite songs, and enjoy Blu-ray movies with fantastic visual experience.
Sony PlayStation 4 game console can easily read games written on Blu-ray discs. It has the capability to deliver games and videos in 4K quality resolution. If you are using a PS4 Pro, you can run any game at a higher or more stable frame rate than the base PS4 and PS4 Slim. So here you may wonder, does PS4 play Blu-ray movies?

Can PS4 play Blu-ray? The answer is YES. Sony PlayStation 4 Slim/Pro is able to play common Blu-ray discs and 3D Blu-ray movies smoothly. However, there are still many users complained on the internet about the PS4 can't play Blu-ray disc. Why your PS4 does not play a Blu-ray? This post will share a clear and detailed guide to help you play all types of Blu-ray discs with PS4.
Part 1. Does PS4 Play Blu-ray
As you can see from above, either Sony PS4 Slim or PS4 Pro has the capability to play Blu-ray discs. It can easily play all Blu-ray game discs. After you get a video game disc, you can easily insert it into your console and start the game playing. But when it comes to Blu-ray movies, many users say that they can't play them on PS4. Why?
Sony PS4 is specially designed to play video games. Currently, almost all PS4 and Microsoft Xbox supported games are carried by Blu-ray discs. So there is no doubt that, PS4 can easily read and play Blu-ray, including the common Blu-ray and 3D Blu-ray. However, at present, PS4 and even including the PS4 Pro still can't support the 4K Blu-ray playback. That's why you can't play a 4K UHD Blu-ray movie.
4K Blu-ray is beyond the range supported by the PS4 drive. Because PS4 is mainly designed for gaming, not a 4K video player, so Sony don't solve the 4K Blu-ray can't playback problem. Instead, you can easily get a great 4K video quality from popular platforms.
Part 2. How to Use Sony PS4 to Play Blu-ray
In fact, Sony is one of the creators of the Blu-ray technology. So surely its game console PS4 can support Blu-ray playback. However, play a Blu-ray disc on PS4 is not exactly as intuitive as inserting it into the console. What id the Blu-ray disc is not readable on your PS4? There are some extra steps involved for the Blu-ray playback.
To play a Blu-ray disc with PS4, your PS4 should run firmware version 1.5 or a higher version. You can go to Settings and then choose System to System Information to check and upgrade the PS4 system to its latest version. You are able to play 3D Blu-ray on the PS4 after updating the system.
After that, you can insert your Blu-ray disc into your PS4. Then you will see a disc icon appears on the screen. Choose it and click the play button to start playing Blu-ray movie with PS4.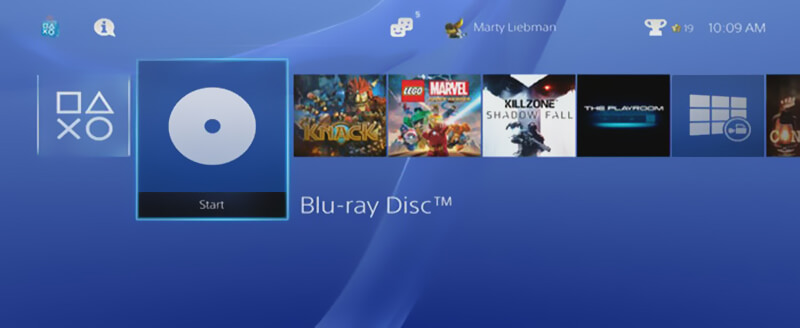 You can handily play Blu-ray games and movies with the method. But you should know that, PS4 only supports the Blu-ray discs at the same region codes as the game console manufactured. Moreover, you are not allowed to play a 4K UHD Blu-ray movie on PS4. If you have a lot of 4K Blu-ray discs, you can move to the next part to make the 4K Blu-ray playback on PS4.
Part 3. How to Play 4K Blu-ray on PS4 Slim/Pro
Now you get enough information saying that Sony PlayStation can't play 4K Blu-ray discs. It can only play regular Blu-ray and 3D Blu-ray discs. But you should know that, besides Blu-ray, PS4 also supports digital video and audio playback. It is compatible with many popular video formats like MP4, MKV, MPEG, AVI, WMV, H.264.and more. So here you may wonder, is there any possible way to play 4K Blu-ray on PS4 by ripping 4K Blu-ray disc to 4K video?
The fact is, you are allowed to enjoy 4K Blu-ray movies with Sony PS4 by converting Blu-ray disc. All you need is a trust-worthy Blu-ray ripping tool. Here we strongly recommend the powerful Blu-ray Ripper to help you convert Blu-ray while still keep the original 4K quality.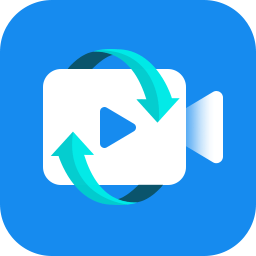 Vidmore Video Converter
Convert Blu-ray disc to Sony PS4 and PS4 Slim/Pro supported 4K video file.
Rip any Blu-ray to 4K, 1080p/720p HD video like MP4, AVI, MKV, MOV and more.
Rip Blu-ray disc to Blu-ray folder or ISO with its original structure with super fast speed.
Powerful editing features to edit and personalize Blu-ray movie instantly.
Advanced transcoding and encoding technology to rip Blu-ray with 100% original quality.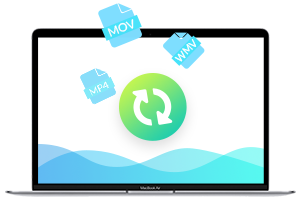 Step 1. To rip a 4K Blu-ray disc, you should first get this Blu-ray Ripper installed on your computer. You can double-click the download button above and then follow the on-screen instructions to quickly install this Blu-ray to PS4 converting software.
Then you need to insert your 4K Blu-ray disc into the disc tray. If your computer doesn't have a disc drive, here you need to connect an external one for the Blu-ray disc analyzing.
Step 2. When you enter the main interface of this Blu-ray to PS4 converter, you should choose the Ripper feature. Then click Load Blu-ray to add the Blu-ray movies you want to convert to 4K videos. Here you can also click the big + to import these Blu-ray files.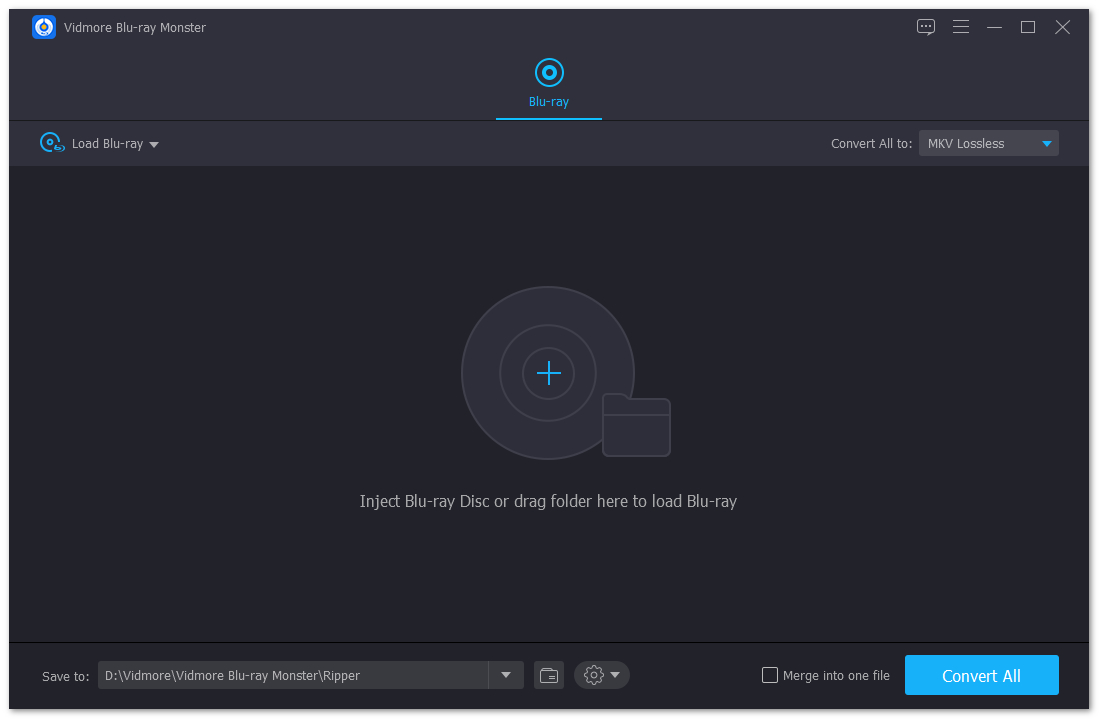 Step 3. This Blu-ray Ripper highly supports any frequently-used 4k video formats like MP4, MKV, MOV, AVI, and more. It allows you to convert 4K Blu-ray to MKV file with H.264/MPEG-4 AVC High Profile Level 4.2 video and MP3, AAC LC, or AC-3(Dolby Digital) audio. During this step, you can click the Rip All to option to select a suitable 4K format for the converted Blu-ray movies.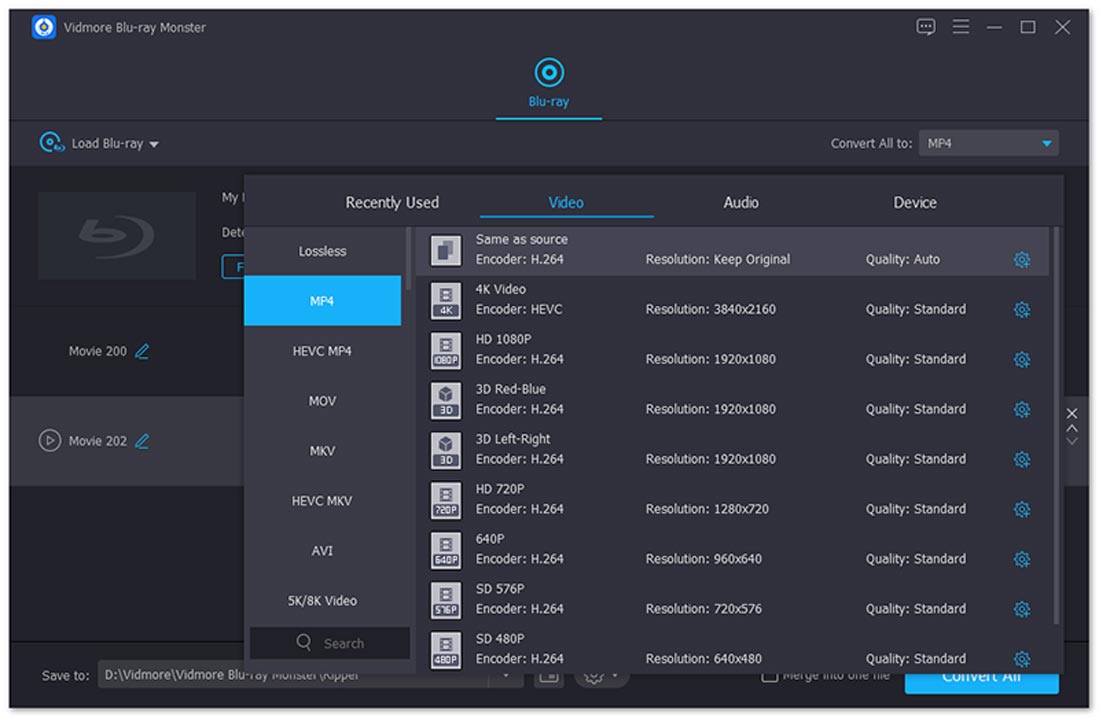 Step 4. With the adoptions of the advanced transcoding and encoding technology, this Blu-ray to PS4 converter allows you to rip Blu-ray disc while still keeping the original high quality. You can click Rip All button to start convert Blu-ray to PS4 supported 4K video.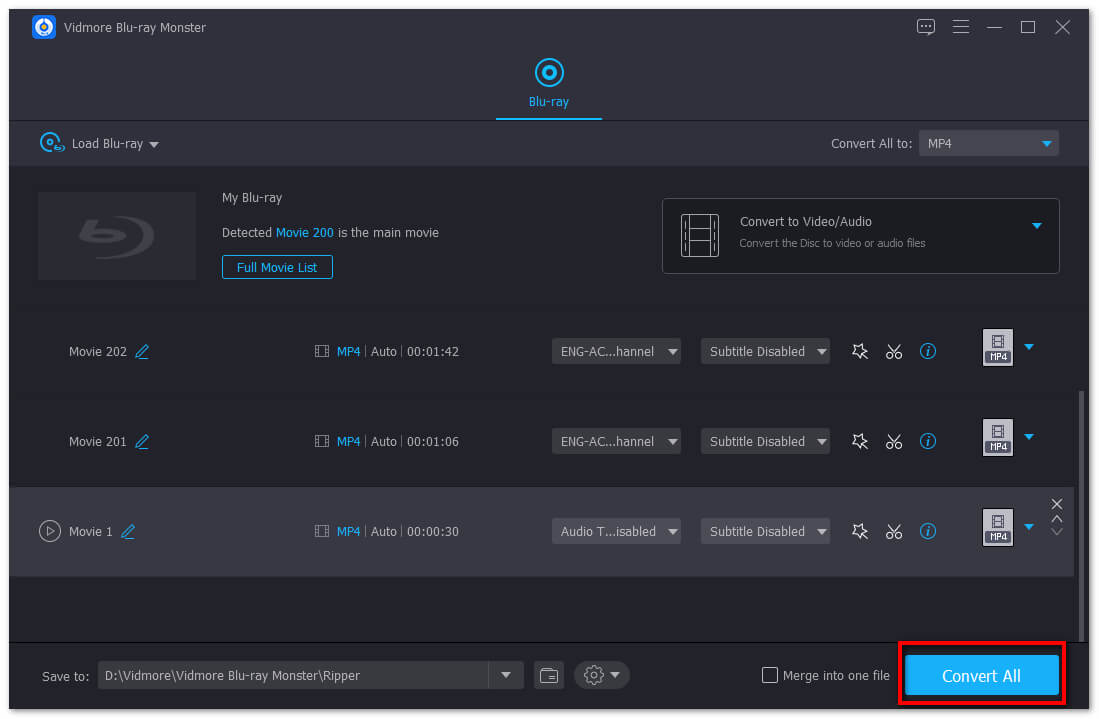 Before the Blu-ray disc ripping, you should pick a right hard drive for the output Blu-ray movie. The high-quality 4K video will be a large file. Here you need to ensure the output hard drive has enough storage space. What's more, you are offered many useful editing features to adjust video effects and improve video quality. You can custom the Blu-ray movie according to your need.
This Blu-ray Ripper is equipped with the latest accelerate technology which can guarantee you a fast Blu-ray disc ripping speed. After ripping, the output 4K video will keep exactly the original image/sound quality as the original Blu-ray. Just free download it and have a try.
When you get a 4K UHD copy of your Blu-ray disc, you can play it on PS4 through USB. You should install the Media Player app from PlayStation Store first. Plug the USB storage device that carries the ripped 4K Blu-ray movie into you PS4. Then your PS4 will detect and automatically display it. In fact, when you get a digital copy of Blu-ray, you can directly connect it to your smart HD TV for the 4K Blu-ray playback.
Conclusion
Sony PS4 can work as a great player that handles all kinds of Blu-ray movies. But for the copyright-protected Blu-ray playback, you need to connect PS4 system to the internet to get the encryption key for AACS renewed.
Does PS4 play Blu-ray? After reading this page, you can get a further understanding about this question. Sony PlayStation 4 (PS4 Slim and Pro) can play regular and 3D Blu-ray disc smoothly. If you want to play a 4K UHD Blu-ray movie, you can rely on the recommended Blu-ray Ripper to make a digital copy of your 4K Blu-ray.