How to Capture Clips with Microsoft Screen Recorder on Windows 10/8/7
Microsoft creates many products for users, and Windows OS is one of the great ones. When you surf the Internet on a Windows computer, recording a screen is a handy way to record all the points precisely.

To record screen activity can be easy if you get the helpful screen recorder.
There are built-in screen recording tools on Windows 10 and Microsoft Office you may never discover.
Continue reading and find all the top 4 screen recorders on Microsoft.
Part 1. Vidmore Screen Recorder – Best Screen Capture Tool on Windows 10/8/7
To record the Windows screen without any limits, Vidmore Screen Recorder is highly recommended. It is the screen recorder for Windows 10/8/7 computers with offering more customizable controls. Not only recording a Windows screen, but it can also record video and audio on the computer separately.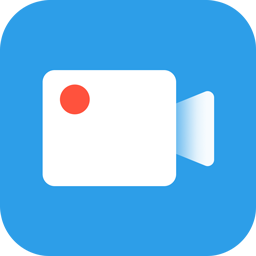 Vidmore Screen Recorder – Best Microsoft Screen Recorder
Record screen and video with audio on Windows 10/8/7 and macOS.
Real-time editing while recording a screen on Microsoft computer.
Record camera to create picture-in-picture recording.
The timer recorder starts a task automatically.
Record as long as your storage runs up.
Customize recording for window, browser, region, and audio.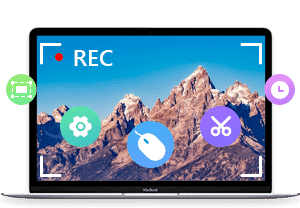 Follow the simple steps mentioned below to know how to record a screen on a Microsoft computer.
Step 1. Free download the Microsoft screen recording utility on Windows 10/8/7 computer. Run it immediately after the successful installation. Select Video Recorder.
Step 2. Choose the recording region or window by clicking Custom or Customize under the Video Recorder window.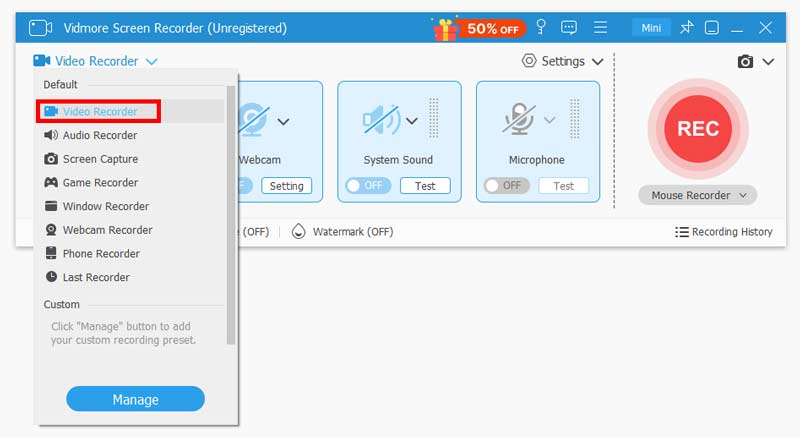 Toggle on/off the System Sound and Microphone to choose the recording audio from the computer system or microphone.

To customize the recording output, mouse clicks while recording, recording hotkeys, you can complete the settings by clicking the menu (three-dot) to select Preferences.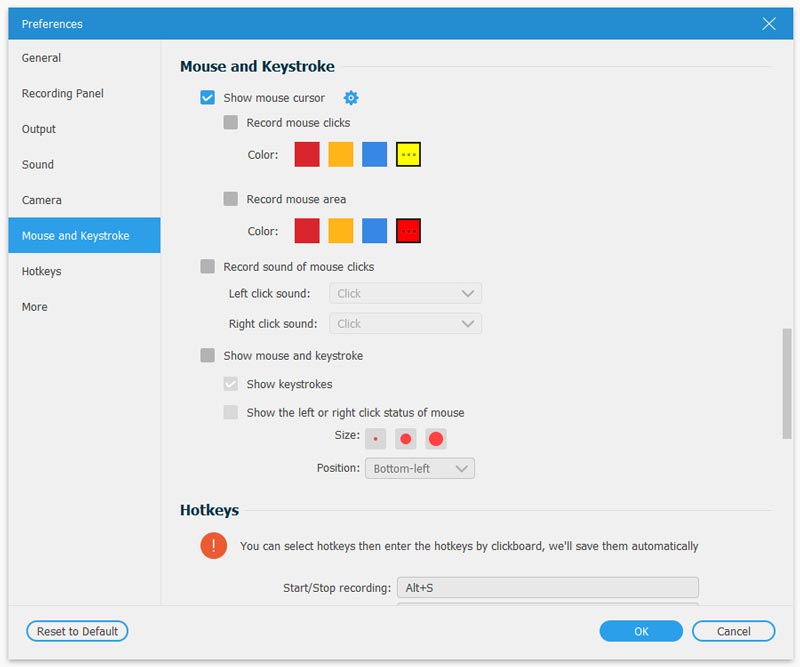 Step 3. Click REC to start recording the Windows screen. While recording, the floating bar enables you to edit the recording, like add text, draw a shape, take screenshots, and more.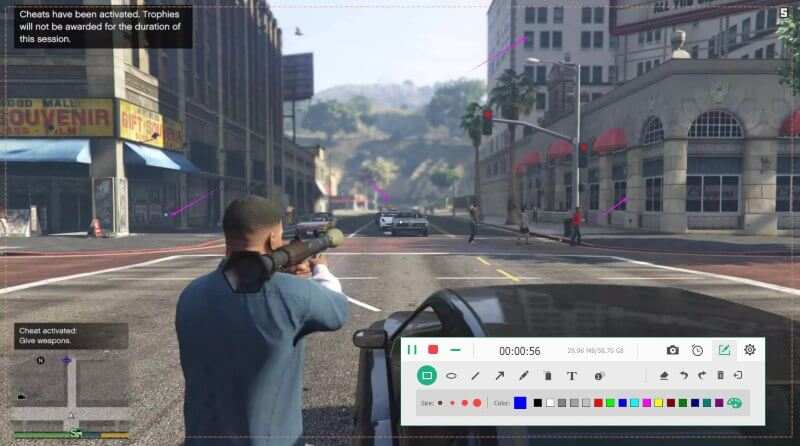 Step 4. Click the stop button and direct you into the preview window, where you are allowed to preview and clip the recording file.
Click Save to export the screen recording file on a Windows computer.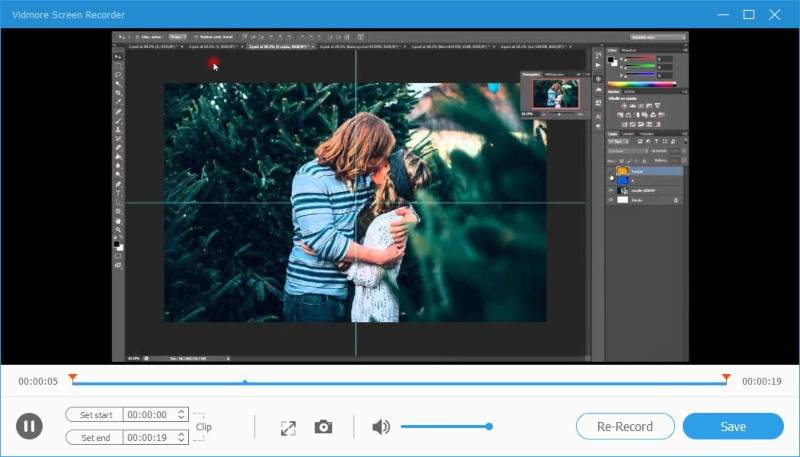 In this way, you can record any screen, window, browser, and application on Windows computer. Moreover, you can record Microsoft Teams meeting without a host.
The only drawback of this screen recorder is it is not free and you can only save the first 3 minute of the video recording.
Part 2. Xbox Game Bar – Hidden Recorder on Windows 10
Windows 10 is packed with many features, and screen recording is one of them. The hidden screen recorder is not a standalone program, but a function from Xbox Game bar. Designed to capture the gameplay on Xbox, Xbox Game bar can be the screen recorder you will not miss.
You do not know that?
Let's discover the built-in screen recording utility on Windows 10 computer.
Step 1. Enable screen recording on Xbox Game bar
Click the Windows icon and find Settings. Click Gaming and choose Game bar.
Switch on Record game clips, screenshots, and broadcast using Game bar.
Under Keyboard shortcuts, you can set the hotkeys to start/stop recording, take screenshot, open Game bar, etc.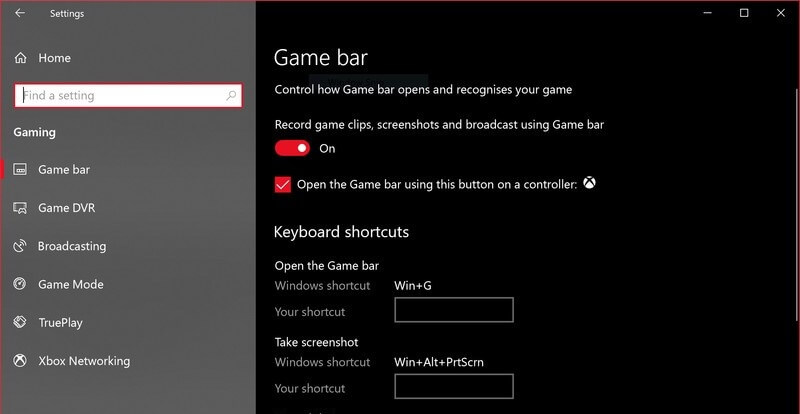 Step 2. Record Windows screen in Xbox Game bar
Press Windows + G to open Xbox Game bar and the red record button click will launch a screen recording. Click the stop button to finish the screen recording on Windows computer and the recording file will be saved in your user account's VideosCaptures folder.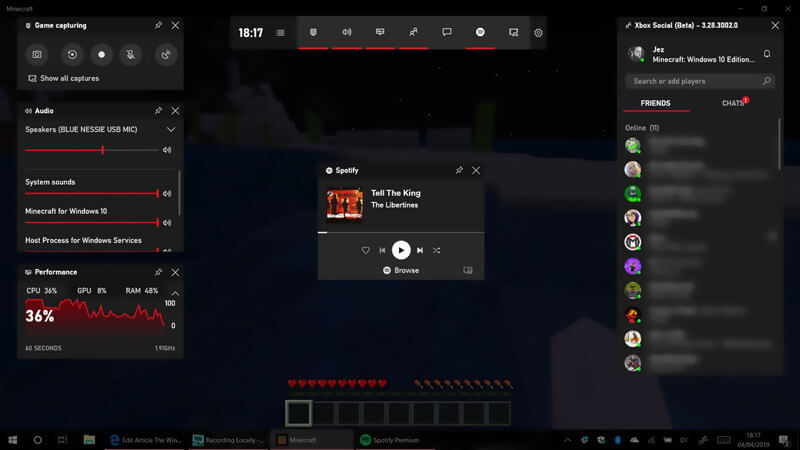 If you want to record screen secretly in the background, just switch to the Game DVR or Captures sidebar in step 1, then toggle on Record in the background while I'm playing a game.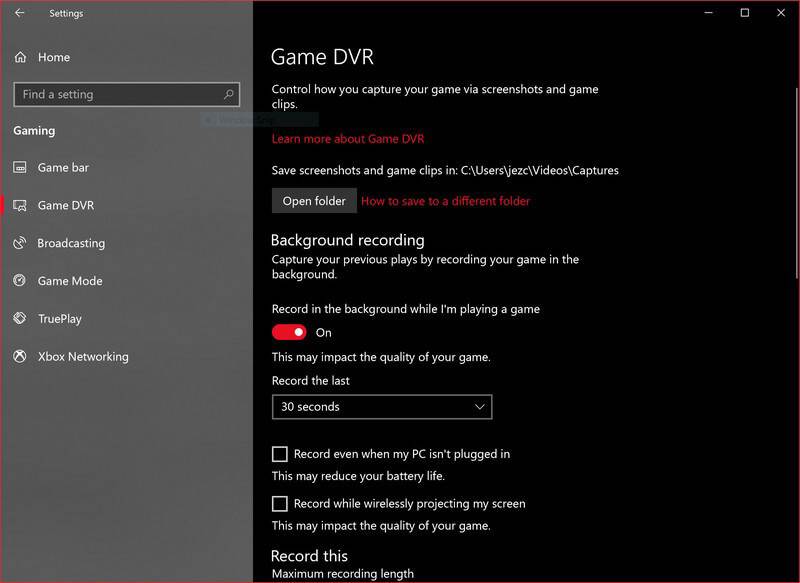 To be clear:
The screen recording feature is only available on Windows 10 computer
There is a time length of recording up to 4 hours and 10 minutes for recording in the background.
Part 3. Microsoft Stream – Newly-Added Recorder on Chrome/Microsoft Edge
Microsoft introduced a new screen recording tool in Microsoft Stream for Office 365 users.
It lets you record short screen recording without installing any additional software.
Let's dive right in.
Step 1. Run the up-to-date Edge or Chrome and your Stream portal then, from the Create dropdown list, select Record screen.

Step 2. Select Allow Microsoft Stream to use your camera and microphone when prompted.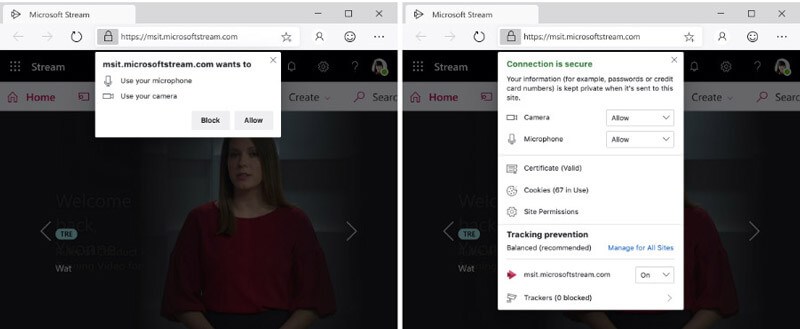 Step 3. Select the camera or microphone to add to your screen recording.
Step 4. Click the record button and choose the entire screen, application window, or browser tab to record. The recording will begin after a countdown.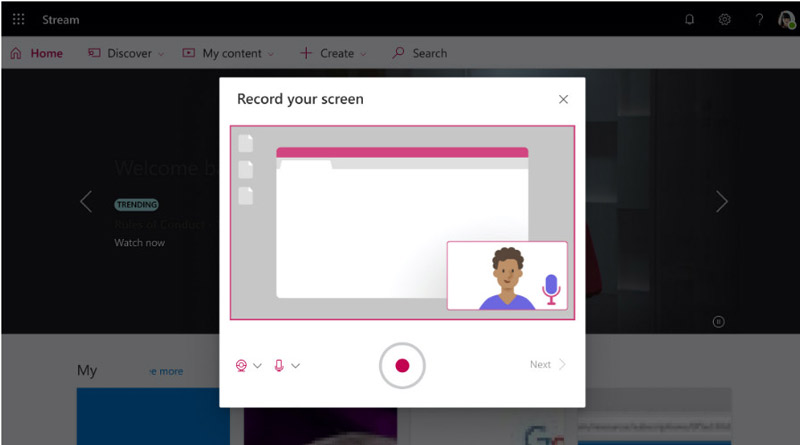 Step 5. Again, click the stop button to end recording and use the play button to preview the recording file.
Step 6. Click Publish to watch or share your video. If you are not yet ready to publish your video, it will be saved to Stream and use it at any time.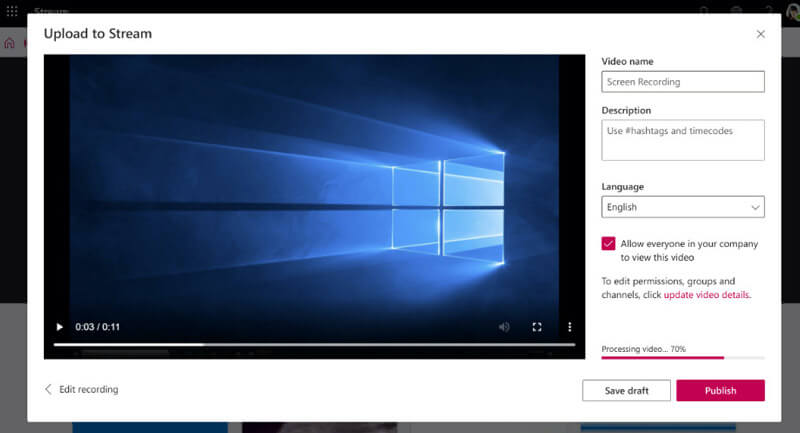 The limitations of using this Microsoft Stream screen recording are as following:
The recording is limited to a maximum of 15 minutes.
Camera recording is available only when recording the entire screen.
Microsoft Stream is only working on Microsoft Edge, version 79 and above, Google Chrome, version 74 and above on Windows 10 and macOS, and mobile phone does not support.
Microsoft Stream is the service only for Microsoft Office 360 users.
Part 4. PowerPoint – Simple Screen Recorder on Windows 10/8/7
PowerPoint is another one secret screen recorder on Windows computers. Get rid of the Windows version limits, you can use PowerPoint to record computer screen on Windows 10/8/7 conveniently.
Let's breakdown the exact process.
Step 1. Open PowerPoint on your Windows computer. Switch to the Insert menu and select Screen Recording from the dropdown list to enable the Microsoft screen recorder.

Step 2. Then you are directed into the Control Dock window, where click Select Area to drag to select the area of the screen you want to record in PowerPoint.
Do not forget to enable the Audio and the Record Pointer options to add audio and mouse pointer into the recording, if you hope.

Step 3. Click the Record button to start recording Windows screen. When you stop the recording, the recording file will be embedded in your slide automatically.
Step 4. You are also allowed to save the video recording by right-clicking the mouse to select the Save Media As option.
Then choose the destination and save the screen recording as MP4 on your computer.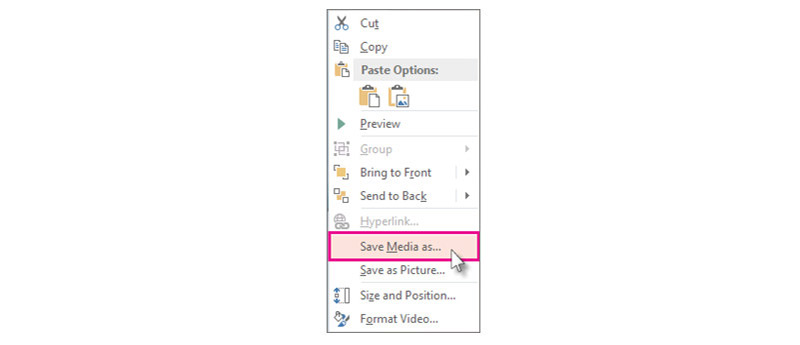 PowerPoint screen recording is not working? Here are the solutions.
Part 5. FAQs of Microsoft Screen Recorder
Does Windows 7 have a built-in screen recorder?
No. Currently, there is not built-in screen recorder on Windows 7. But there is a built-in steps recorder, Microsoft Steps Recorder, which can record the detailed steps on Windows 7 and 10 to help you troubleshoot a problem.
Does Windows 10 have an audio recorder?
Yes. There is a built-in audio recorder on Windows 10, Voice Recorder. You can use it to record audio on Windows 10 to capture sound from system and microphone.
Can I record a PowerPoint presentation as a video?
Yes, you can. You can record the slideshow presentations into a video in PowerPoint. Here are the detailed steps to record a PowerPoint presentation.
Conclusion
There are various screen recorders in the market. However, before picking up those, you can use the built-in screen recording tools or functions on the Windows computer. This post lists the top 4 screen recorder for Microsoft computer, Vidmore Screen Recorder, Xbox Game bar, Microsoft Stream, and PowerPoint. The 3 built-in screen recorders from Microsoft are free to use but with some limitations. Vidmore Screen Recorder is the reliable screen recording software from Vidmore with more customizable controls.
Which one is your No.1 Microsoft screen recorder?
Do you have any better recommendations?
Let me know by leaving your comments.