Trim MPEG Online and Offline with Top 4 Video Trimmers
You will have many MPEG files on your computer, but most of them have useless parts and unnecessary scenes. You would also like to make short clips of your MPEG files to incorporate with other videos. Regardless of your purpose for cutting videos files, you will need a video cutter to accomplish this job.
In actual fact, there are many programs developed for this kind of need. To simplify your work, looking out of thousands of software, we researched for some of the best yet free tools there are. Allow us to shed light through our scrutiny of the tools that will help you trim MPEG online and offline.

Part 1. How to Cut MPEG Video Files on Desktop
1. Vidmore Video Converter
One of the professional and recommended programs for media cutting and editing is Vidmore Video Converter. There is a vast set of editing tools that are helpful to create excellent, quick, and quality videos. You can fast trim unwanted parts of the video, split videos into multiple chunks, and cut the essential pieces. Best of all, it is easy to operate, making it the practical video cutting software. Something to look forward to? The tool supports nearly all video/audio formats allowing you to edit almost all videos without a hassle. Learn the easy way to trim MPEG files by following the instructions below.
Step 1. Install the MPEG Cutter
First, simply download the Vidmore Video Converter using one of the Free Download buttons below. Install and run the program afterward.
Step 2. Import MPEG video
After launching the application, click the Plus symbol in the main interface to open a folder on your computer. Locate the video you want to cut and load into the software. Alternatively, you can upload by dragging and dropping the video.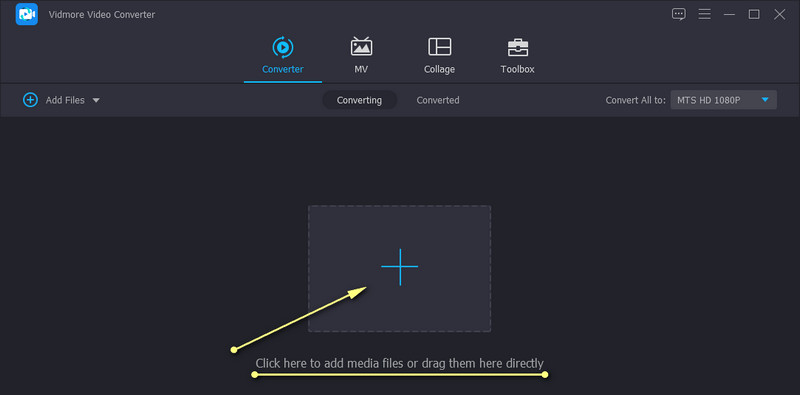 Step 3. Cut the MPEG video
Click on the Cut button from the video thumbnail, and the editing interface will show up. Drag the slider control on the progress bar to position the starting and ending points for cutting the video. You can also enter the exact starting and ending duration below the slider to precisely cut the video. Hit the Save button once satisfied with the results.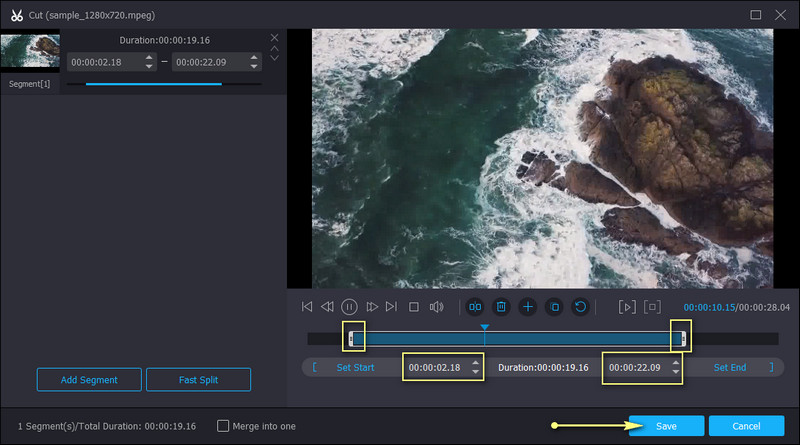 Step 4. Save the video creation
Go back to the Converter tab to save the video's final output. If you want to save the trimmed MPEG in other formats, simply go to the Profile tray to choose your desired format. You can also choose to leave it unchanged by selecting the same format. Once done, click the Convert All button to apply the changes.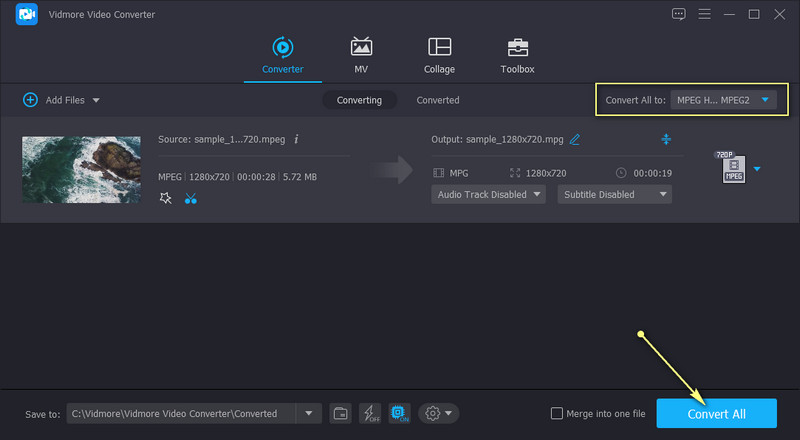 2. Streamclip
Another helpful program is MPEG Streamclip to trim video files. The tool offers cutting options to remove unnecessary parts. It can access at the keyframes level with a frame-accurate cutting, copying, and pasting video files. Besides this, it is also capable of demuxing MPEG-1 and MPEG-2 files without losing quality. To help you operate this program, here is a guideline you can follow.
Step 1. Install MPEG Streamclip and the QuickTime Player alternative if you use Windows PC.
Step 2. Then, open the installer as usual and import the MPEG video you wish to cut.
Step 3. Go to Edit > Trim. After that, move the Playhead and select the starting point for cutting by going to Edit > Select In. For the ending, choose to Select out once the Playhead reaches the point where you want to stop the cutting.
Step 4. Finally, hit File and save the final output video.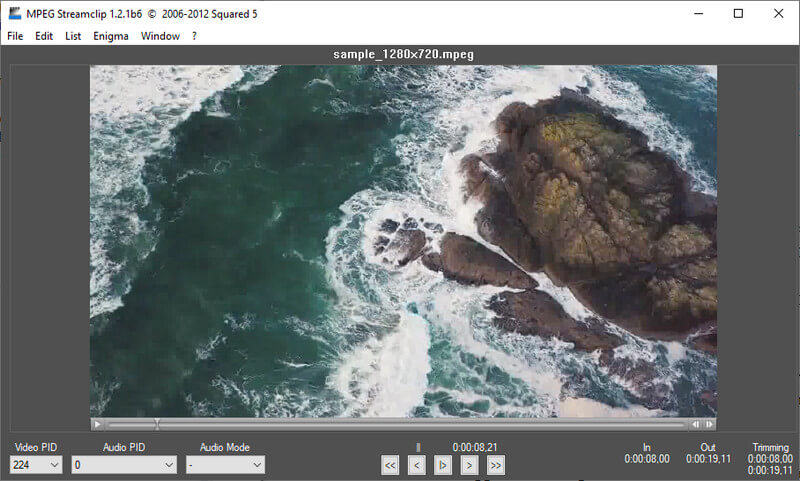 Part 2. How to Cut MPEG Video Files Online
1. Clipchamp
The next video cutter to cut MPEG files is Clipchat. This web-based app allows you to cut unwanted video parts and even recordings. Moreover, users can split MPEG videos into multiple parts. There are numerous personalized video editing options that you can access in this program. It can help you flip, rotate, crop, and apply effects from a vast collection of filters offered. To know how to cut MPEG files online, refer to the instructions below.
Step 1. First off, visit the official page of Clipchamp using any browser on your computer.
Step 2. Click the Create a video button at the top right corner to access the video editor. After that, upload the MPEG video by clicking the Plus icon. Then, add the video to the timeline.
Step 3. Once done, select the point where you would like to cut and click the Split icon. After splitting the video from the timeline, you can choose which parts to keep and delete.
Step 4. If you are happy with the results, export the video and save it to your local drive.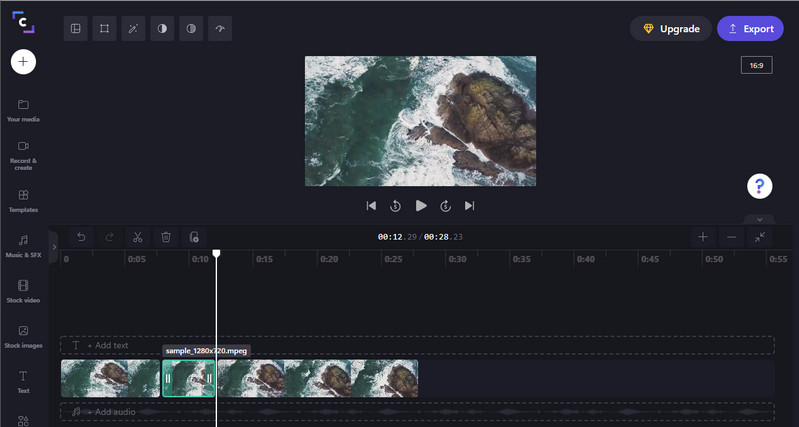 2. WeVideo
WeVideo is another brilliant yet easy-to-operate online editor to cut MPEG video for free. The tool supports trim video formats such as MPEG, MOV, MKV, MP4, and many more. What's more, you can add effects, transitions, backgrounds, text, overlays, and callouts for making extra appealing videos. Find out how this tool works by referring to the walkthrough underneath.
Step 1. Go to the WeVideo website. Then, drag and drop the MPEG video into the online tool.
Step 2. Drag and drop the media file into the upload area of the program. Then, drop it into the timeline.
Step 3. Highlight the video and move its left and right slider to cut out certain parts of the video and keep only the part you need.
Step 4. Hit Finish if you are satisfied with what you have come up with.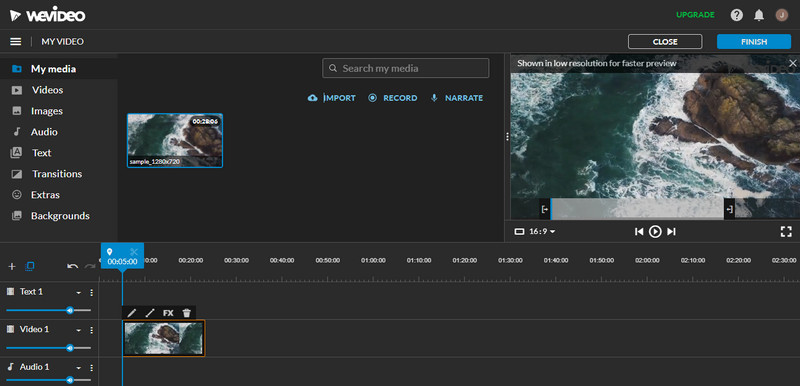 Part 3. FAQs on Cutting MPEG Videos
How to split MPEG files?
Splitting videos into multiple segments is helpful, especially if you need to spot a specific scene that needs to be removed in a large video. For the case of MPEG files, you can use any video cutter that supports MPEG video files. Then you can split video just how you would typically split clips.
How to trim a video in an LG phone if MPEG is not supported?
If you want to trim MPEG videos on your LG phone, you must convert them first. For this, you may use Vidmore Video Converter to cut or trim the video and convert the video to LG format. Then you can generally play it on your device without installing additional applications on your mobile phone.
Can I edit a MPEG file?
Yes. Like any video format, MPEG videos can be edited using any editor you can find from the internet. Just be diligent in finding the tool that fits your preferences or choose from the ones above for your convenience.
Conclusion
There are many methods on how to cut MPEG video files. On that note, we have researched for free and simple tools to get this job done efficiently. To pick the best tool, choose what fits your needs best. You can try each tool to explore and then start editing your MPEG videos.