Best 4 MPEG to MP3 File Converters You can use Online and Offline
There will be cases when you need to convert MPEG files to MP3. This is especially true if you find interesting sound effects from a MPEG video and want to integrate them into other videos that you are working on. In this case, you can convert MPEG to MP3 to extract the audio from the video. To get this job done, we will share some of the best approaches to extract audio from a video.

Part 1. How to Convert MPEG to MP3 Online
1. Vidmore Free Online Audio Converter
One of the best tools that offer convenience for your converting needs is Vidmore Free Online Audio Converter. It comes with presets where you can modify the bitrate to compress your audio files. In this manner, you can save your MPEG files as MP3 on a compressed file requiring less storage space. Additionally, this online program supports multiple audios including but not limited to MP3, M4A, WMA, WAV, FLAC, etc. As long as you have internet access, you will be able to convert MPEG to MP3 without any hassle. To know more about this MPEG to MP3 file converter, see the steps below.
Step 1. Launch Vidmore Free Online Audio Converter using your browser and click the Add file to Convert button to download and install the launcher.
Step 2. Once the launcher is installed in your system, upload the MPEG file that you wish to convert. You may also choose to convert MPEG 4 to MP3 through this process.
Step 3. Select MP3. If you wish to compress the file, simply hit the Gear icon and modify the bitrate according to your needs. Click OK to confirm the changes.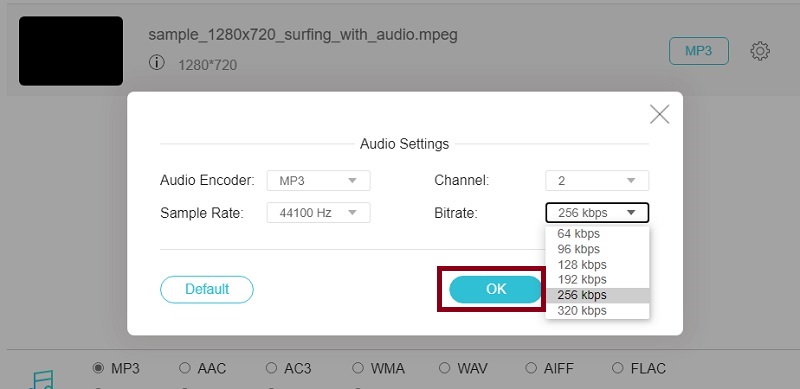 Step 4. Finally, click the Convert button to activate the conversion and save the file by setting a file location where you can easily locate it.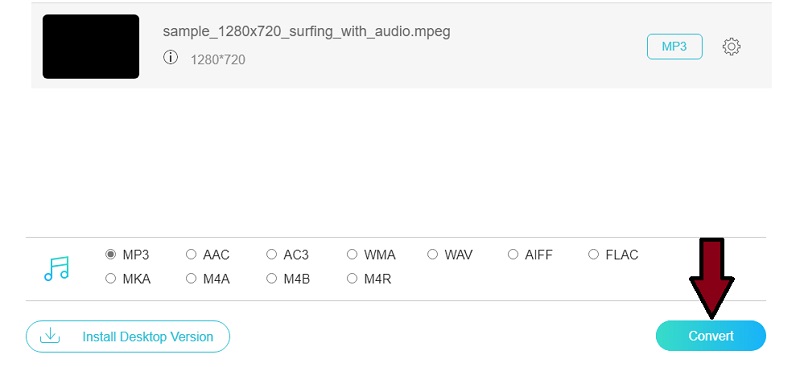 2. Cloud Convert
Cloud Convert is an easy-to-use online application that works effectively for converting your video/audio files. Likewise, it renders the process in a fast and efficient manner under a stable internet connection. One of the notable features of this program is that you will be able to import files using the URL of the MPEG file. Therefore, if you need to convert MPEG from your favorite video hosting sites where your MPEG files are located, Cloud Convert is a practical solution. That being said, here's how you can convert MPEG 4 as an audio file to MP3 for free.
Step 1. On the address bar of your browser, type in the link address https://cloudconvert.com/ of the tool's website to reach the main page.
Step 2. Now click on the Select File button to upload a file from your local folder. For instance, if you want to upload your MPEG files from the video sharing sites of your choice, you can do so by pasting its link onto the program.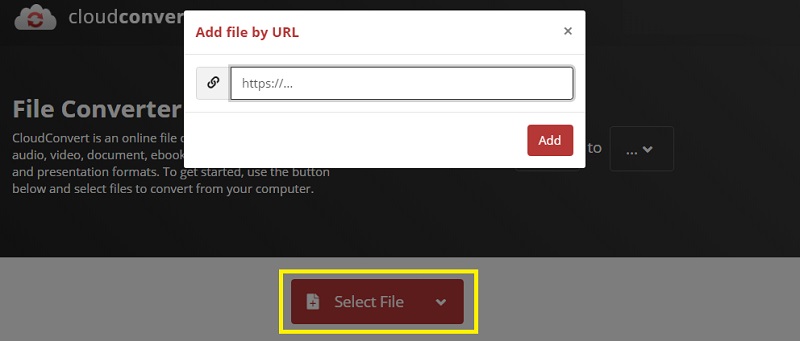 Step 3. Click the drop-down menu of the Profile and from here choose MP3 as the output format.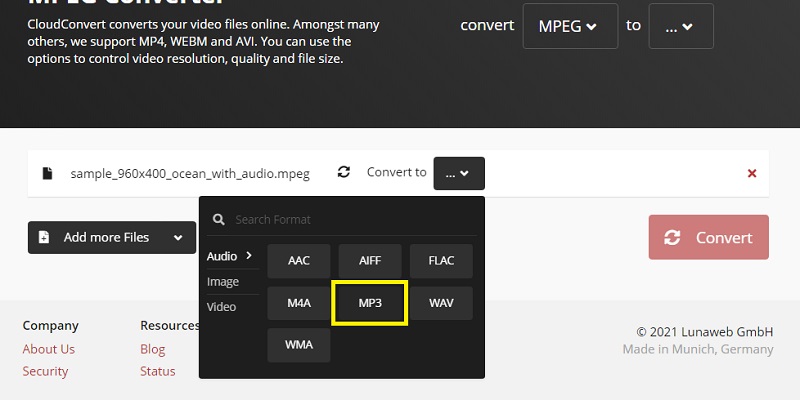 Step 4. Finally, hit the Convert button for the tool to commence the process. In an instant, your MPEG will be converted to MP3. Then you can download it as MP3 and save it to your local computer drive.
3. AnyConv: MPEG to MP3 Converter
AnyConv is also a great addition to the list of best online free MPEG to MP3 converter software. Just like the above tools, this enables you to convert MPEG to MP3 without installing extra software. Thus, whenever you need to extract sound effects or music from your MPEG files, you can always rely on AnyConv. Apart from that, it also works as a document and image converter. So for your media and document converting needs, this online tool is of great help. Below we will walk you through the process of how you can convert MPEG to MP3 by using this tool.
Step 1. Visit the official webpage of AnyConv using your web browser.
Step 2. From the main interface or page of the tool, you should see a button that says CHOOSE FILE. Click on it and upload the MPEG file that you need to convert.

Step 3. From the drop-down menu scroll down and choose MP3 and then click the blue Convert button to initialize the process.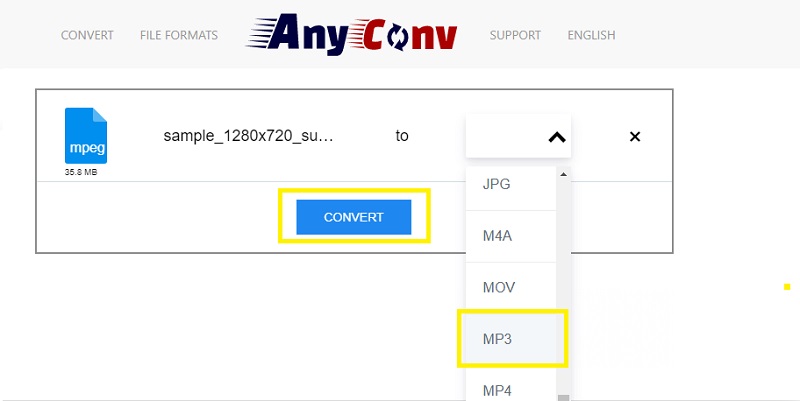 Part 2. Professional Software to Convert MPEG to MP3 Convert MPEG to MP3
Vidmore Video Converter is a professional and multifunctional program that you can use to convert MPEG to MP3 or other audio formats. In the same way, you can convert video files to other formats according to your requirements. With it, you can operate by batch or one at a time. So in cases, like you need to get sound effects from multiple MPEG files all at once, Vidmore should come in handy. Furthermore, this also works as a file compressor since it gives you the opportunity to adjust the bitrate as well as the sample rate to cater to every user's needs. To know about the enticing features of this program, you may refer to the steps stated below.
Step 1. Download the MPEG to MP3 Converter
To get the app, download its installer using the Free Download buttons provided above. Then install the program by following the setup wizard.
Step 2. Load MPEG file
Once the installation is done, upload your MPEG files into the program. There are several methods for uploading files. You can either click the Plus sign icon from the main interface or drag and drop the interface. Just select which way is convenient for you.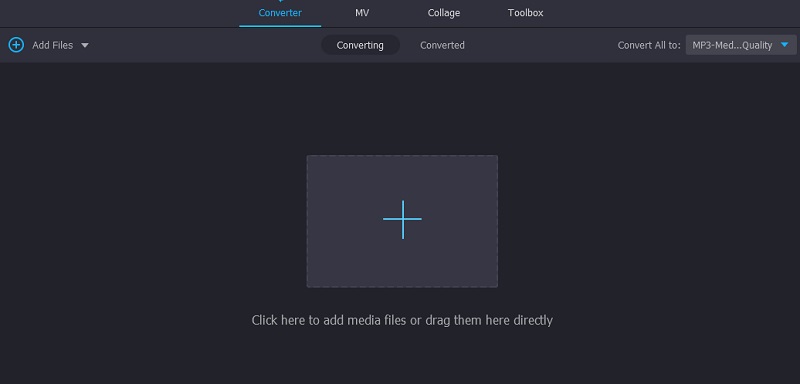 Step 3. Select the output format
After that, select an output format by going to the Profile tab. To do this, click the drop-down menu for the Profile, select Audio and choose MP3. Now select from the preset MP3 output.

Step 4. Convert MPEG to MP3
Once all configuration is done, go back to the Converter tab and hit the Convert All button to activate the process. Wait for it to finish and the converted file shall appear in one of your computer folders. From there you can play the audio file.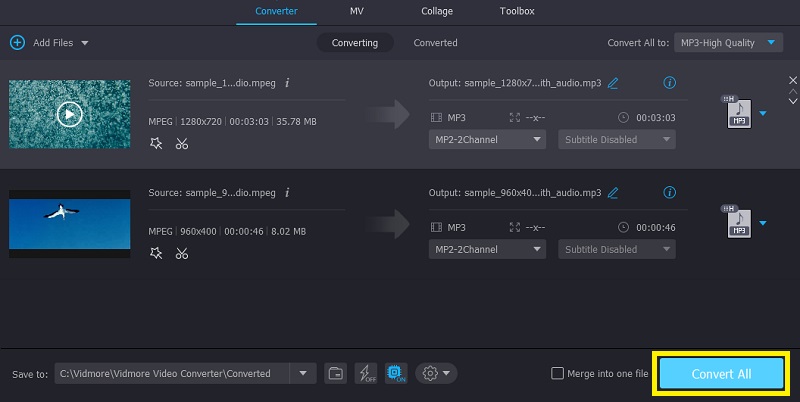 Part 3. MPEG VS MP3
You might be familiar with these two formats. However, many are still puzzled by how they differ from each other. That being said, here will identify 3 of their main differences.
1. MPEG deals with both audio and video whereas MP3 is only intended for audio streaming. Moreover, MPEG can be an audio or video file.
2. More portable and hardware players support MP3 than MPEG files.
3. MP3 is just a portion of the MPEG standard or the shortened version of MPEG- 1 Audio Layer.
Part 4. FAQs of MPEG to MP3
Can I change MPEG to MP3 on iTunes?
Yes. iTunes comes with a converting feature and that includes MPEG to MP3 conversion. The interesting fact is you can do this on Windows PC or Mac to convert Apple MPEG to MP3.
Can I extract MP3 from MP4?
Extracting it directly from MP4 may be a challenging task. It is suggested that you convert MP4 files to MP3. Tools above like Vidmore can help you out. This free MPEG to MP3 Converter software is quick to download and install.
Which format is smaller than MP3?
Formats like AAC, FLAC, and WMA are smaller than MP3. However, MP3 has higher compatibility than these formats.
Conclusion
Using the free and practical MPEG to MP3 converters mentioned above, you will be able to play your MPEG files onto the audio digital players of your choice. But speaking from an experienced user of converters, it's best to use desktop converters for security purposes.