How to Free Convert AVI to MP4
"How to convert my AVI files to MP4 format? The files are too large to transfer."
"Why can't I play my AVI videos? There are so many times! What is more? Even if it can be played, but there are some inexplicable problems! Who can help with it?"

Although the files of AVI format are being popular, it does not work well. The greatest advantage of this video format is that it can be used across multiple platforms. But there are many other problems to solve. Its volume is too large, and even worse, the compression standard is not uniform. Because of video encoding issues, some AVI format videos cannot be played. And there are some inexplicable problems such as the inability to adjust the playback progress and the sound-free image.
Thus, to play your AVI files smoothly, we need to convert AVI to other formats, like MP4. As the most popular format of videos, MPEG-4 is specifically designed to play high-quality videos. It uses a very narrow band to compress and transmit data through frame reconstruction techniques to achieve the best image quality with minimal data. And the most attractive thing is that it can save small volume video files close to DVD quality.
So today, we recommend a free and easy way of converting AVI to MP4.
Convert AVI to MP4 with Vidmore Free Online Video Converter
Vidmore Free Online Video Converter is not only free, but also has powerful converting function! This free video converter supports all popular formats of videos and audio, including MP4, AVI, MKV, MOV, FLV, FLAC, etc. You can also use it to convert videos to 1080p HD, 720p HD, SD without any quality loss.
Apart from converting, it offers video settings and audio settings for users to customize. Before you convert files, you can click the gear mark on the right of the files to select video settings and audio settings. The first one includes encoder, resolution, frame rate and video bitrate. The second one includes encoder, channel, sample rate and bitrate.
To fit the maximum range of users, Vidmore Free Online Video Converter works perfect both on Windows and Mac. It also can batch convert videos with high speed to save time for people in fast-paced life. No virus, no third-party software, no size limitation and no required signup! User can furthest trust it and use it than other video converters. This simple but powerful software enables you to convert video and audio files for free any time.
Steps of converting AVI to MP4
Step 1. Click "Add files to convert" on the web. Follow the tips to install Vidmore Launcher. Then open the program online.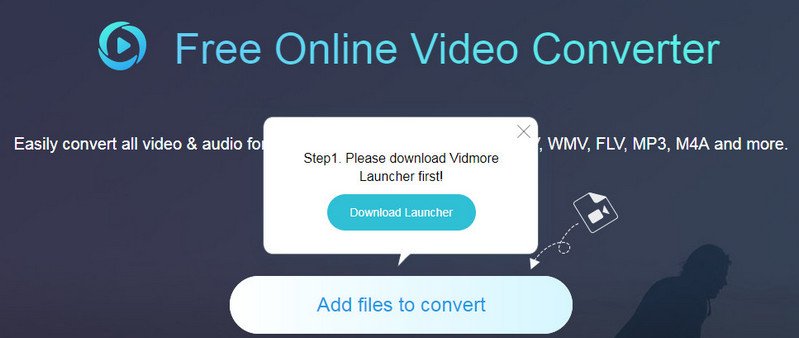 Step 2. Click "Add file" to input the source AVI files and select MP4 format as the target format.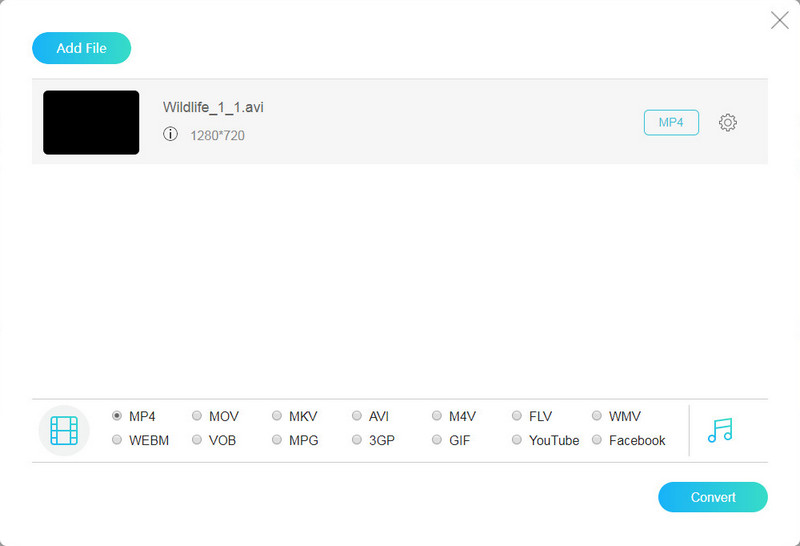 Step 3. Click the gear mark on the right of the files to select video settings and audio settings.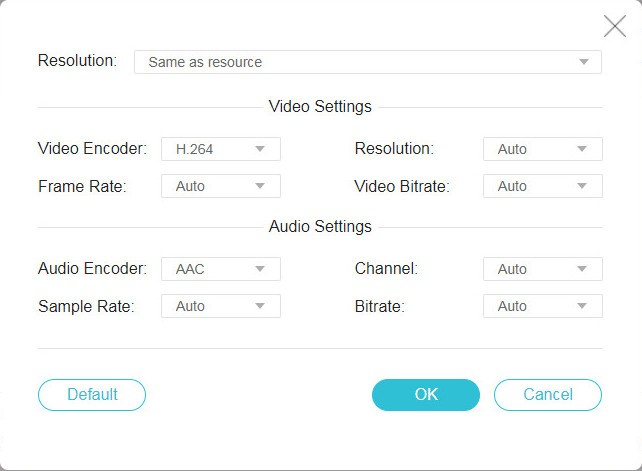 Step 4. Click "Convert" and choose the destination in the top-up window. Then it will start the process automatically for you.
Summary
It is over so soon. Have a try. Vidmore Free Online Video Converter fits beginner perfectly and meet the basic need of the old stager of video converting. It would be the better tool for you to convert videos. Hope it works on you. Good luck!