How to Convert MP4 to TS Files You Should Consider
There is no disputing of the benefits of MP4 formats, especially when it comes to their compatibility capability. However, this is not always the instance when playing on TS players and devices. File conversion is needed to avoid such issues. That said, if you wish to play your MP4 files on your TS players and devices, you will need to convert MP4 to TS files. Here we will geek out on the recommended converters. Find which tool suits your requirements best.

Part 1. Best Way to Convert MP4 to TS File
Vidmore Video Converter is a well-known program that offers a pretty straightforward interface to hassle-free conversion tasks. It also delivers high-quality conversions in a fast and easy manner. That is made possible with the GPU-acceleration feature of the program. On top of that, video editing is allowed by this program. With it, you can cut unwanted video parts, trim, and merge videos into one. To help you transform MP4 to TS formats, here is the walkthrough you need to learn.
Step 1. Acquire the video converter
First off, download the MP4 to TS file converter by clicking on the Free Download buttons below. After downloading the video converter, install the app on your computer and launch it.
Step 2. Add MP4 to the app
On the running interface of the tool, click the Plus symbol to import the MP4 file you wish to convert. Drag and drop the file to the respective area to directly upload your target file.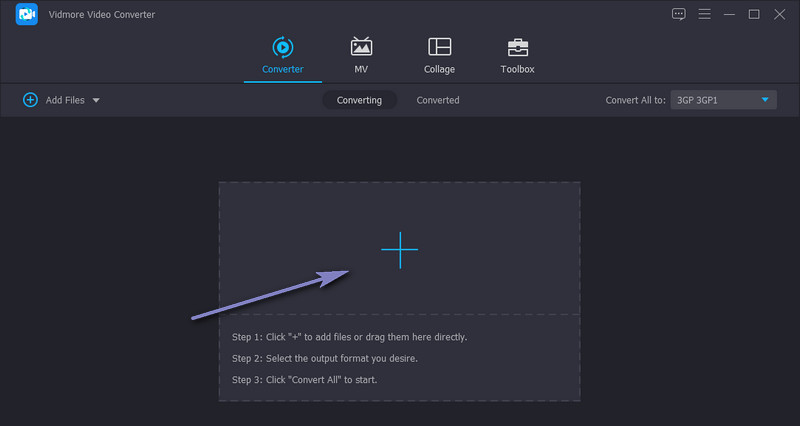 Step 3. Select TS as the output format
Unfold the Profile's drop-down menu and select TS as the output format for the video. To do it, open the Video tab and go to the TS option.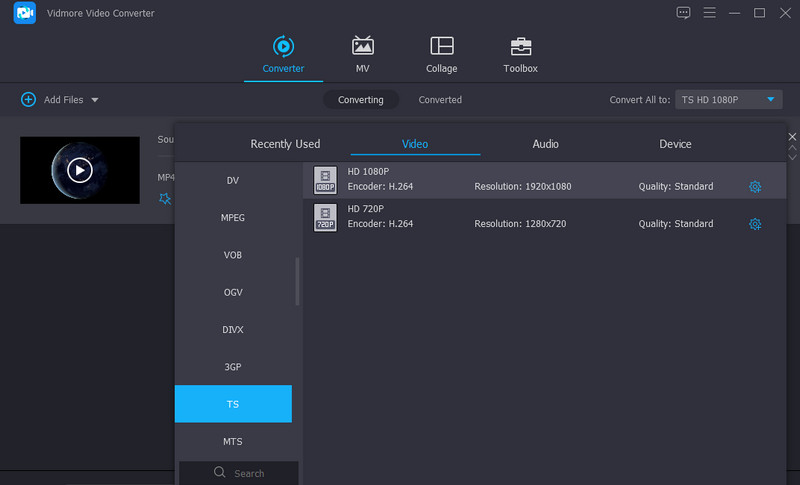 Step 4. Convert MP4 to TS file
After setting up the format, set a file directory to save the output file. Then, click the Convert All button at the bottom right corner to begin the process of conversion. After successfully converting the file, you will notice a folder popping up. From here, you can check the video playback.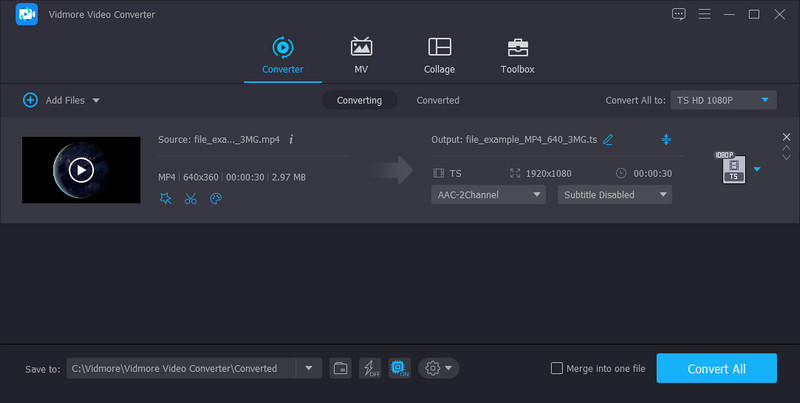 Part 2. How to Convert MP4 to TS File for Free
1. FFmpeg
FFmpeg is an application that helps transform MP4 to TS files. It is free software available for Windows, macOS, and Windows PC. However, unlike the other programs online, it does offer a user interface. You will need a CMD and communicate with the app with text using syntax or commands. Nonetheless, it is also effective for video splitting, merging, editing, and so much more. Now, here is how FFmpeg converts MP4 to TS.
Step 1. First of all, install FFmpeg on your computer. Launch it afterward.
Step 2. Now, go to the video folder where the MP4 file is located. Type CMD on the file path and start converting files.
Step 3. Type in ffmpeg -i &ltnane of the MP4 file> &ltname of the output file together with file extension>. Basically, the command should look like this: ffmpeg -i input.mp4 output.ts.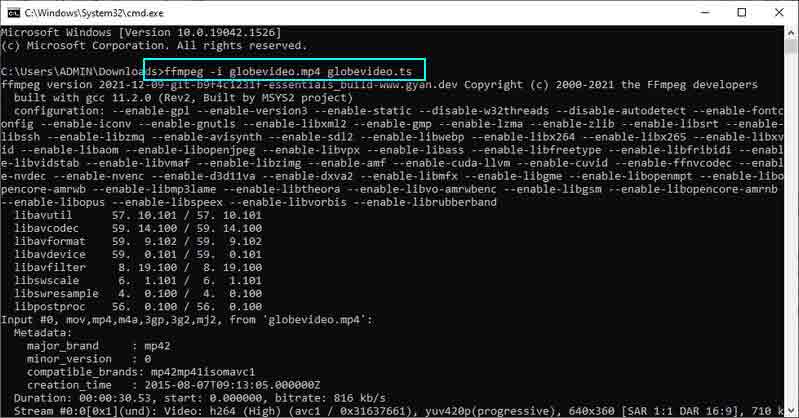 2. VLC Media Player
VLC Media Player is another program that can help you to convert MP4 to TS for free. Apart from being a multimedia player, this also helps convert files supporting many audio and video formats. On the other hand, it is a versatile tool allowing users to rotate videos, cut, add overlays, and a lot more. Follow the simplified guide on using VLC to convert MP4 to TS format.
Step 1. Open the VLC app on your computer and go to the Convert/Save panel. To do it, go to the Media option and select the Convert/Save option.
Step 2. When the panel opens, upload the video that you like to modify.
Step 3. Finally, unfold the Profile menu and select TS as the output format.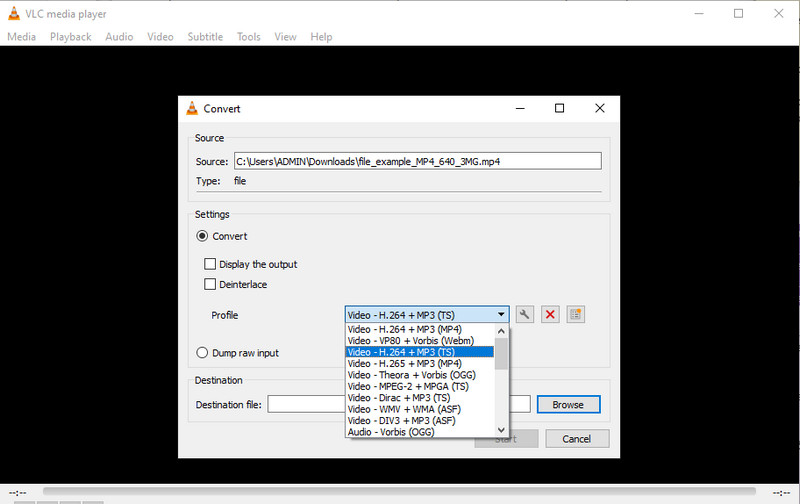 3. Convertio
If you are looking for a free online way to convert MP4 to TS files, look no further than Convertio. This program manages to convert MP4 files to any desired format from the webpage directly. This tool is so good because it enables you to import or upload from cloud-based storage. You can upload video files from Dropbox and Google Drive. Acquire how to convert MP4 to TS format by following the instructions below.
Step 1. Access the webpage using a browser on your computer.
Step 2. Upload your chosen MP4 file on your local drive or cloud-based storage.
Step 3. Next, select an output format and hit the Convert button to start the conversion process.
4. Online UniConverter
Another online converter that could assist you in transforming video and audio files without downloading an application is Online UniConverter. Likewise, it provides various uploading methods allowing you to import from Dropbox, Google Drive, and the video URL. The best part is it allows for changing the video encoder, resolution, bitrate, and frame rate. On the other hand, see the steps below to learn how to operate this program.
Step 1. Launch Online UniConverter to access the website.
Step 2. Upload an MP4 file and select an output format for the output file.
Step 3. Then, hit CONVERT to initialize the converting.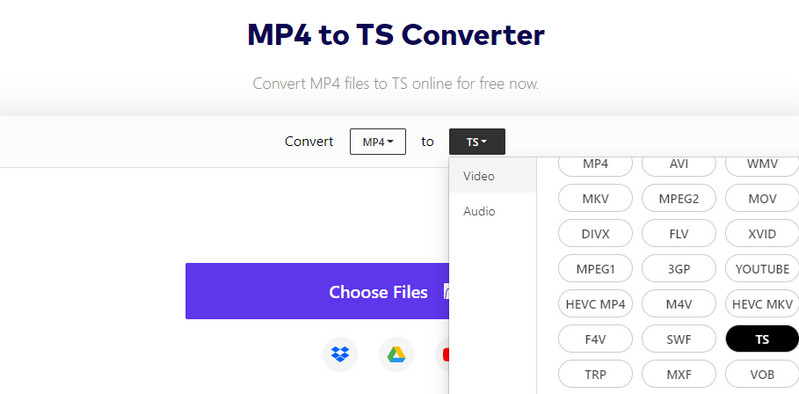 Further Reading:
How to Compress a Large Size TS Video Files on Windows and Mac
Increase MP4 Volume: Online and Offline Solutions You Can Lean On
Part 3. Comparison Chart Among the Converters
In this section, you will find a comparison to help you decide which tool best suits your preferences.
Vidmore Video Converter

FFmpeg

VLC

Convertio

Online UniConverter
| | | |
| --- | --- | --- |
| Supported Platform | Conversion Speed | Supported Format |
| Windows and Mac | Lightning conversion speed | TS, MP4, 3GP, MOV, AVI, and MKV and more. |
| Windows, macOS, and Linux | Fast conversion | MP4, TS, WEBM, 3GP, WMV, etc. |
| Windows, macOS, Linux, Android, and iOS | Fast conversion | VOB, MP4, TS, AVI, MOV, ASF, and more. |
| Web | Depends on the internet status | MPEG, WEBM, MOV, MPG, MP4, TS, etc. |
| Web | Depends on the internet status | MP4, TS, WMV, MOV, DIVX, M4V, XVID, etc. |
Part 4. FAQs on Converting MP4 to TS
What is a TS file?
TS files are usually seen on DVDs for storing videos. It uses MPEG-2 as its compression scheme. This format is also used for storing broadcast and streamed videos.
How do I open TS files?
As stated, TS files are popular mostly on DVDs. Therefore, you may need to use a DVD player to view them. Yet, there is software you can use to open TS files. Tools like VLC, MPEG Streamclip and Microsoft Photos for Windows PC can open these files.
Is the TS file a good video format?
It is mentioned that these file types rely most on the MPEG codec. In other words, it comes with the same quality as MP4. Thus, it is still a good video file format to use.
Conclusion
Now, you will not worry about unsupported file format issues when playing your videos on a TS video file. Video files like MP4 can be converted to TS files using the MP4 to TS format converter available in this post. You can select which tool best suits your requirements. If you wish to convert without an internet connection, then desktop tools are for you. On the other hand, choose the online tools to convert without downloading an application.