Free and Fast MP4 to AVI Converter Programs You Should Know
Less known as MPEG-4, MP4 is a file container format that can contain a combination of digital audio and video defined as MPEG. It could also hold data, including still images and subtitles. This format is accepted by many media players and is playable on nearly all devices. Hence, it is a popular video format.
However, there may be times that you find your MP4 videos not compatible with some players, like DVD players. Some users may also find MP4 taking too much memory space on their disk. If you have the same issue, we got your back. This guidepost will demonstrate how to convert MP4 to AVI with ease. Below is a review of the best tools you can use along with their user guide for your perusal.

Part 1. The Reason to Convert MP4 to AVI
Many users learned that MP4 is a universal video format since it offers compatibility and flexibility. But little did they know that it also suffers compatibility on some media players. There will be cases that you want to plate your MP4 movies or videos on DVD players or television for maximum enjoyment. Yet, you cannot expect that MP4 files will work flawlessly on these players as you would typically do on other devices.
To this end, you can convert your MP4 videos to a format compatible with the mentioned players. AVI has the upper hand regarding streaming videos on television and DVD players. Compared to MP4, AVI takes less space than MP4. Besides, it does not require any additional software or codec to be viewed or make it playable. No worries because we have sorted out practical methods on how to change file format from MP4 to AVI quickly.
Part 2. Professional Program to Convert MP4 to AVI
Before the conversion even starts, perhaps you are thinking about keeping the original quality of your MP4 video files. That is not a problem with the Vidmore Video Converter. This tool is developed to help users convert media files without compromising the original file's quality.
It also comes with adjustable parameters allowing you to set the bit rate, codec, screen resolution, and audio quality the same as the original. Best of all, it supports up to 4K UHD videos. This will enable you to preserve the high quality of your videos. Use this quick MP4 to AVI converter and complete the process in 4 easy steps.
Step 1. Install MP4 to AVI video converter
First and foremost, grab the tool from its official website or instantly have its installer using the Free Download buttons below. Depending upon your requirements, you may choose to convert on your Mac or Windows PC. Now, install and launch the program.
Step 2. Add the MP4 file
Once the tool is running, click the Plus sign button on the main interface to import the MP4 file that you like to modify. You can also drag and drop the MP4 file, which is another way for uploading files.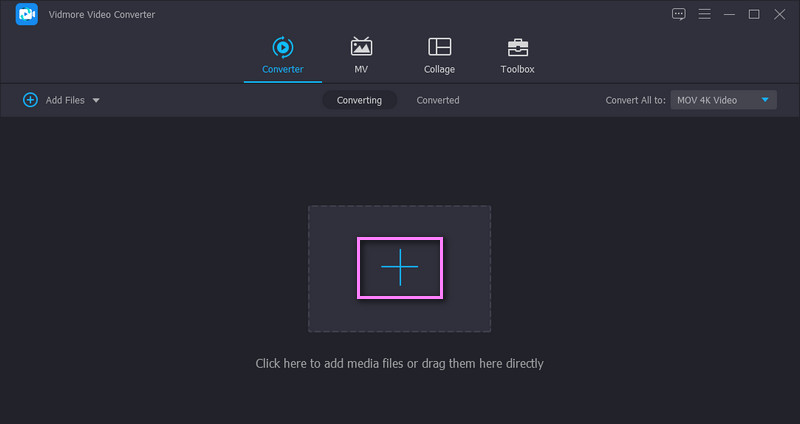 Step 3. Select a format and change parameters
After that, go to the Profile menu and open the format tray. Under the Video tab, look for the AVI format and select it. Then click the Custom Profile icon to set the parameters and hit Create Profile after the parameter modification.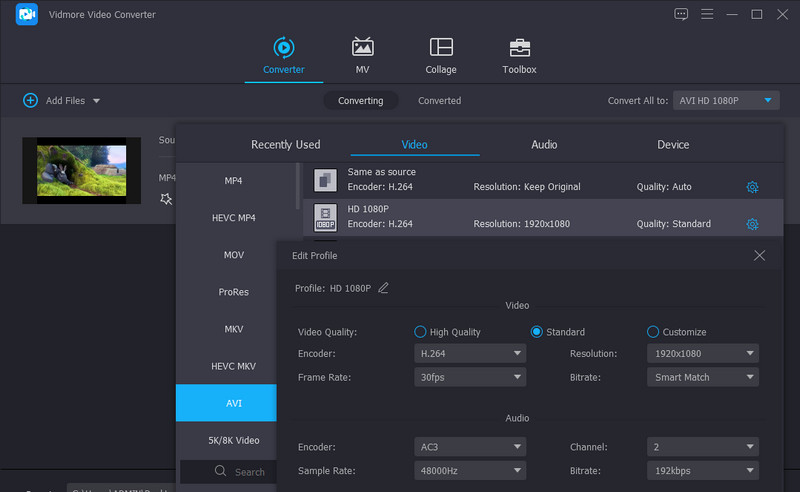 Step 4. Convert MP4 to AVI
Once you are set up, choose a file destination for the output file by clicking on the Folder icon at the bottom right-hand side. Then, click the Convert All button to begin the conversion task. The process will instantly commence, and you will get the finished output from a folder which will appear automatically after every conversion.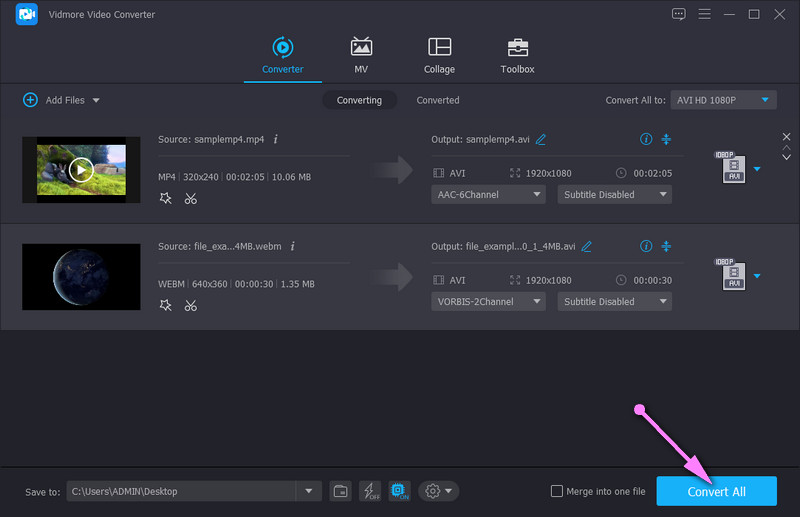 Part 3. Top Free Ways to Convert MP4 to AVI
You might also be wondering about MP4 movies to AVI converters for free tools. They are actually in abundance, and it seems a daunting task to look them up for them one by one on the internet. Therefore, we picked the effective and best MP4 to AVI converter freeware programs. Learn about them after the jump.
1. VLC media player
VLC media player offers a suite that allows you to manipulate videos and audio files. You heard it right. The tool lets you stream your favorite media files and convert, rotate, trim, cut, and edit videos. The only downside is that the conversion process is a little complicated. You might need to tweak a handful of settings. Nevertheless, the tool can effectively convert files. Here are the steps on how to convert MP4 to AVI in VLC.
Step 1. Download and install the VLC media player on your device. Launch it after the installation process.
Step 2. Next, go to Media and open the Convert/Save menu. From here, add the MP4 file that you wish to convert.
Step 3. After that, hit the Convert/Save button at the bottom of the interface. Then, you should see a dialog box where you will set a profile for your conversion needs.
Step 4. Hit the Create a New Profile and set the AVI at the output format by ticking its radio button on the Encapsulation tab. Name the profile and hit Create. Finally, select the newly created profile from the format menu and hit Start.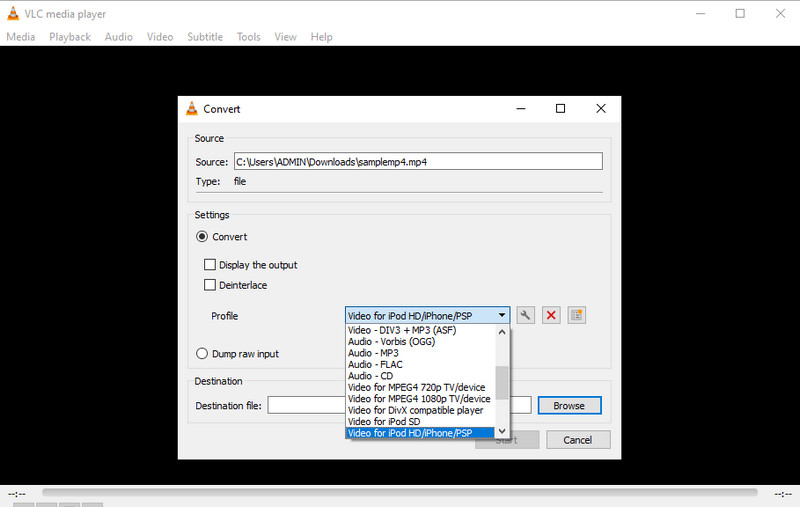 2. Freemake Video Converter
Another helpful program to convert MP4 to AVI on Windows 10 is Freemake Video Converter. It facilitates converting videos to AVI, WMV, DVD, MPEG, and many more video formats. In addition, you can select from preset profiles the tool offers. Aside from that, it can also handle DVD videos to convert to other file formats and even lets you burn to DVD. Refer to the steps below if you intend to convert MP4 to AVI using this tool.
Step 1. Get the application from its official page and install it on your computer.
Step 2. Now, click on the Video button from the menu. Then, browse and select the mP4 file your wish to convert.
Step 3. After uploading a video file, select the to AVI from the menu at the bottom of the interface. Choose quality and hit Convert.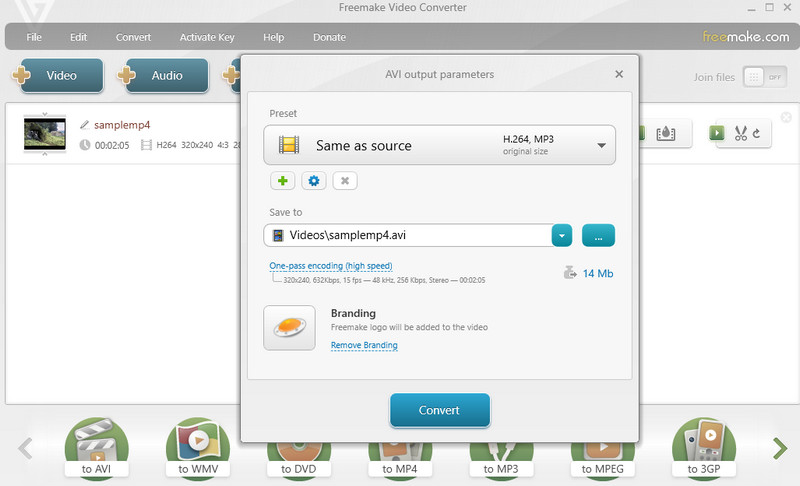 3. Any Video Converter
Here is an excellent alternative to convert MP4 to AVI on Mac and Windows. Any Video Converter can carry out the conversion from MP4 to different device-supported formats. It has presets for consoles like Xbox, HTML, TVs, and so much more. It also comes with extra features that allow you to add CD disc files and burn them to DVD. Not to mention, you can configure the DVD, burner, video, and audio settings. This is a great pick if you wish to access more advanced functions. To utilize this tool, see the following guidelines.
Step 1. First things first, acquire this software from its official webpage.
Step 2. Next, upload the video you would like to convert by clicking the Add Video button.
Step 3. Open the Profile menu and search for the AVI format. Finally, click the Convert Now! button for the process of conversion to commence.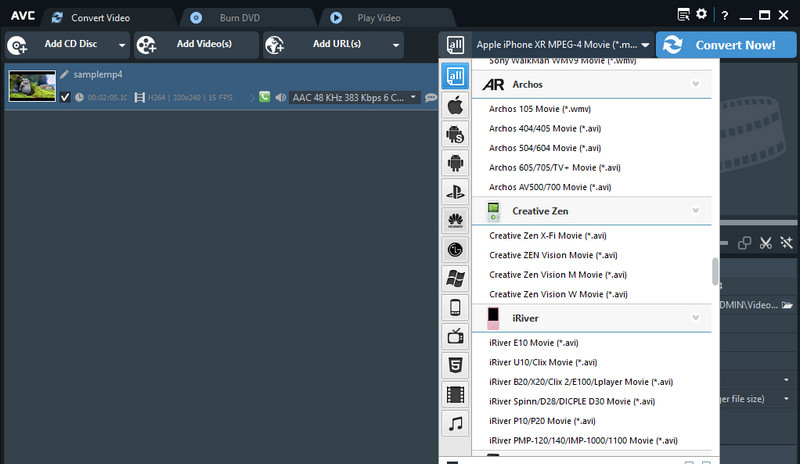 Further Reading:
2 Quick Ways to Convert MP4 to FLV Videos in the Original Quality
AVI Media Player – 10 Best Methods to Play AVI Videos on Windows and Mac
Part 4. FAQs on Converting MP4 to AVI
Can I convert MP4 to AVI in Linux?
This is absolutely possible. You just have to look for a video converter available in Linux OS, such as FFmpeg. This cross-platform tool lets you manipulate audio and video files on Windows, Mac, and Linux platforms.
Is there any Microsoft MP4 to AVI converter?
Yes. You can download converters from the Microsoft store to fulfill your conversion tasks. One of the examples is Quick Video Converter. This lets you convert from MP4 to AVI, WMV, and even edit video resolution.
How to convert multiple MP4 to AVI?
Provided that the tool supports bulk conversion, you will be able to convert multiple MP4 to AVI. Take Vidmore Video Converter, for example. You can upload any MP4 files and convert them to different or the same format simultaneously.
Conclusion
This post offers four effective ways for you to convert MP4 to AVI. Moreover, if you are searching for ways to convert MP4 to AVI for free with no watermark, these tools are also suitable. In conclusion, all the tools help you manipulate your video files, especially converting videos. Meanwhile, suppose you are looking for a straightforward method to convert files with advanced functions. In that case, Vidmore Video Converter is the right fit for your needs.