Free and Easy Ways to Significantly Compress AMV Files
AMV stands for Anime Music Video, a container file format for storing video and audio content on portable media devices such as MP3 and MP4 players. However, AMV files are not highly compressed, you may still sometimes need to reduce the file size for some reason, for example, if you'd like to upload the AMV video to a video streaming platform. Thus, you might be looking for a tool to make your files smaller. Let's see how to compress AMV videos in two different ways in this step-by-step guide.

Solution 1: Compress AMV Files Using Professional Video Compressor
Vidmore Video Converter is one of the top video compressors that work on both Mac and Windows. It can compress your video files in seconds and is available for all the main video formats, including MP4, AMV, MOV, AVI, MKV, VOB, and others. With it, you can compress your AMV files to a manageable file size so you can upload to Instagram, YouTube, Facebook, and other social media platforms. Just download the program and follow the instructions below.
Step 1. Install and launch the program
After downloading Vidmore Video Converter on your computer, follow the on-screen instructions to perform the installation. Once installed successfully, double-click the desktop icon to open it.
Step 2. Add your AMV file
On the main interface, head to the Toolbox tab and choose Video Enhancer to continue.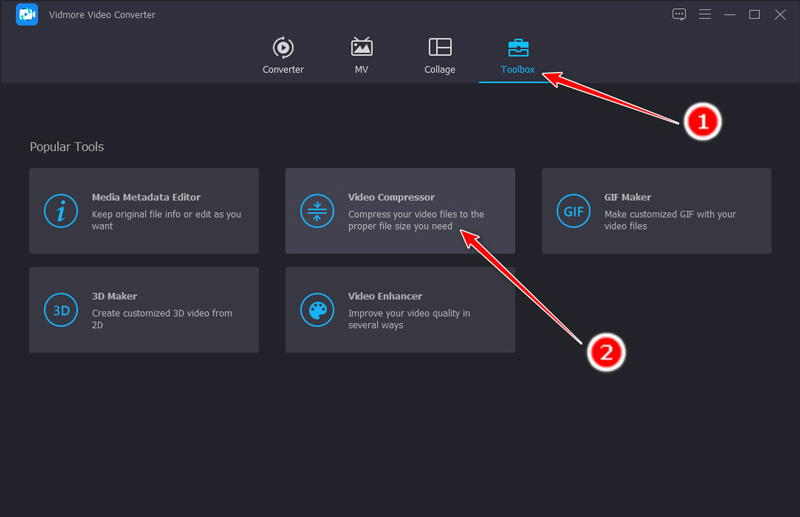 Then, click the plus button in the pop-up window to add the AMV video you want to compress.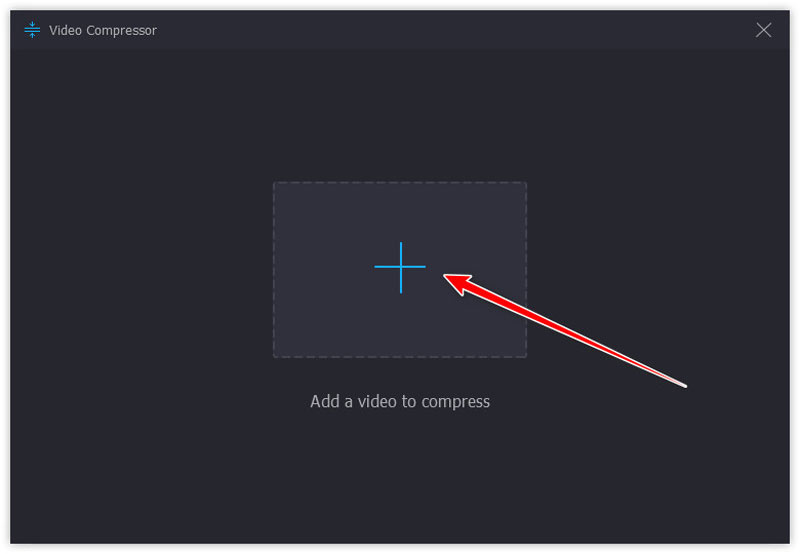 Step 3. Choose the compression options
To compress the AMV file, you can change the file size by moving the file size slider to decide the new file size. You can also lower the resolution and choose another file format to compress your file.
After that, you can preview the result to see whether the resulting quality works for you. To do this, hit on the Preview button.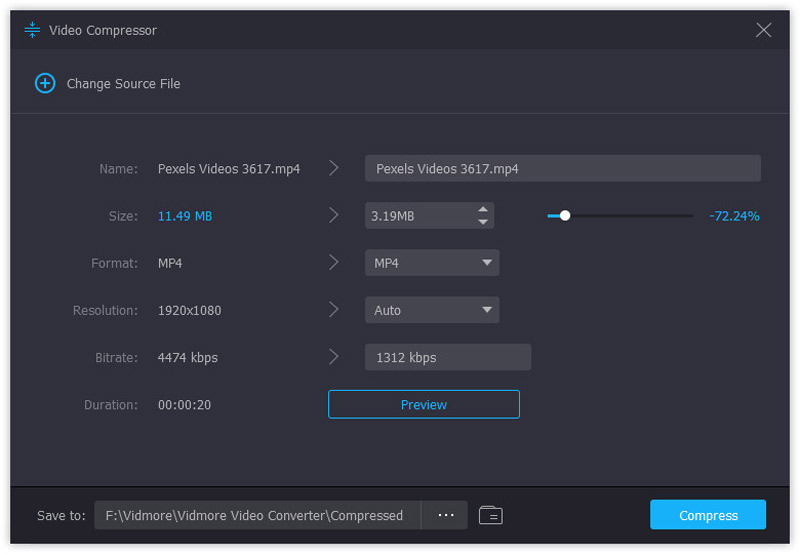 Step 4. Start the compression
Now, let's specify where to save the output file on your computer by clicking the Folder icon. Finally, click the Compress to start the process. The process will take a little while, and once it's over, the target folder containing the compressed AMV file will open automatically.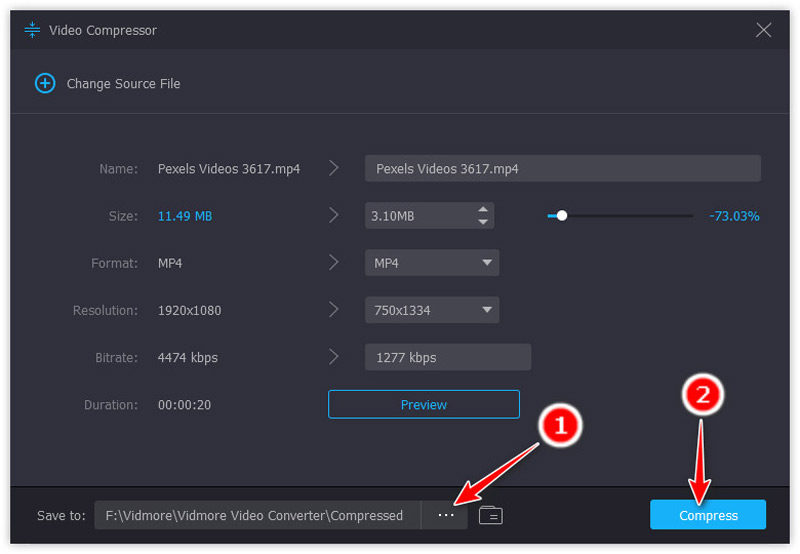 Solution 2: Reduce AMV Video Size Online
If you don't want to download any program on your computer, you can use an online tool. Vidmore Free Online Video Compressor is an amazing tool which comes with lots of advantages compared to other online video compressors. It can shrink your large AMV files at a time, and supports lots of output formats, such as MP4, MOV, AVI, FLV, and many more. And it requires no signup and won't put watermarks on your compressed video file. Try this tool and learn how to compress AMV video online through the steps given below.
1. Head over to Vidmore Free Online Video Compressor on your browser to get started. Here you'll find a home screen with a big red Compress Now button. Hit it and select the AMV files you're waiting to compress.
If you're using it for the first time, you need to download and install the launcher first after pressing Compress Now. Then, hit the button again and then import your files from your computer.
2. Once the upload is completed, you can adjust the video size by dragging slider, adjust the resolution, and select the output format.
3. Finally, click the Compress button to start the compression process. After a lit bit of processing time, your compressed AMV video will be ready to view.
Want to start over and compress a new video one? Press the Change Source File button and you'll be taken back to the File Explore window.

FAQs of AMV Compression
What is an AMV file format?
The AMV acronym as Actions Media Video is classified as video file format which was produced for Chinese portable Chinese MP4/MP3/MTV players. It is usually saved in low resolutions from 94x64 to 160x120 in order to fit in small screens.
How do I open an AMV file?
You can take advantage of a decent video player which supports the playback of AMV files. Vidmore Player is exactly the one that could help you play AMV, or any other media files flawlessly. Another way to plan an AMV video is to convert it to a more popular video format like MP4, and then you can play the converted file in a media player.
How to convert MP4 to AMV?
The easiest way to convert MP4 to AMV is to use a video converter tool, such as Vidmore Video Converter. Want to know more detailed steps, read on How to Convert MP4 to AMV.
Conclusion
You can now compress AMV videos easily with a video compressor or an online tool. By the way, if you want to compress DV, MKV, MP4, or other files, you may try Vidmore Video Converter.