Trim TS File With These 4 Professional Tools Online and Offline
Using the TS cutter that we will be providing you in this article, you will quickly cut your stream and broadcast video in seconds. Keep an eye on the facts supplied until the conclusion is all required of you! TS cutters are helpful when you are streaming a video and wish to remove any excessive segments. The details in this article will be of great assistance if you are looking for the best tool to help you chop or trim your live streaming video content. Online and offline, we looked into the most competent and dependable TS cutters available. To choose which one works best for you, pay attention to their characteristics and strengths, and limitations.

Part 1. What is TS and Why to Trim It?
You may be asking why you need to cut a TS file first place? Continue reading if this is the case. It would be helpful if you could first describe what a TS file is. It is possible to record video on DVDs in the TS video format, which is used to save video on disc. In most cases, they are kept as a sequence of files on a DVD and maybe watched and altered using a range of software packages, including DVD players and video editing software. This kind of file extension is often used to produce high-definition content. Due to the large size of TS files, they are often reduced. Due to the size of a TS video file, it may be necessary to divide it into many smaller video files or to delete some unnecessary video segments from the TS video file. That is why you will need a TS cutter in this case.
Part 2. How to Trim TS Files
By carefully reviewing the significant characteristics, benefits, and drawbacks of each TS cutter listed below, you will be able to choose which one is the most appropriate for your needs.
1. Vidmore Video Converter
The Vidmore Video Converter is the most acceptable and most reasonable option available on the market today when it comes to TS cutters. Every person who utilizes the tool perceives themselves to be more professional due to the instrument's user-friendly design, which enables them to use the device straightforwardly. This unique software is available for download for Mac and Windows operating systems users. Vidmore allows you to quickly remove the parts of your TS files that are no longer needed. Because it supports more than 200 different audio and video formats, you will have no trouble uploading and exporting your data with this program.
Step 1: Install the TS Cutter
You may download and install the TS file cutter application on your computer by clicking one of the Download buttons at the lower part of the page. Following the completion of the installation process, you may now run the tool on your device.
Step 2: Upload Your TS File
Then, using the Add Files icon in the upper left corner of the screen, you may begin uploading files from your Folder. Additionally, you may utilize the Plus symbol provided in the window's interface to add your TS videos rapidly.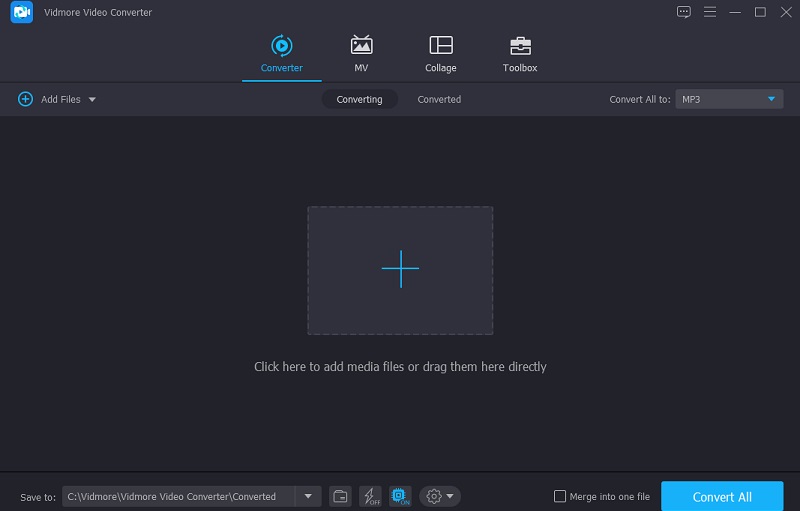 Step 3: Trim Your TS Files
After importing your TS clip, you may cut it into the Timeline by selecting the Scissors symbol. To start removing undesired TS file portions, gently move the left and right sliders on the video player's left and right buttons. You may also manually input a clip's start and finish timings. When you're done modifying your file, click Save in the bottom right-hand corner.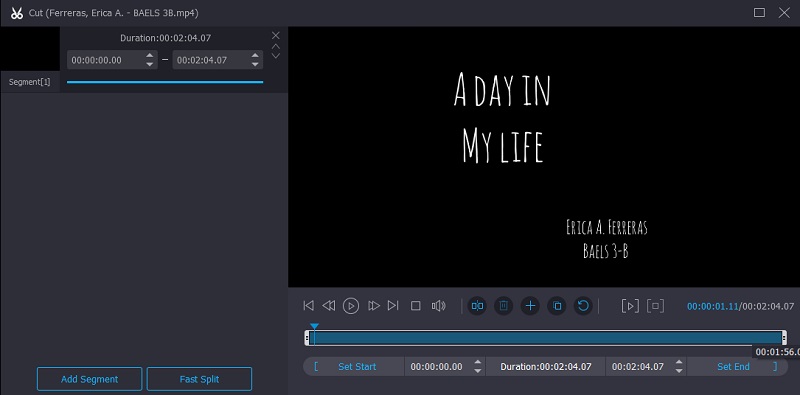 Step 4: Convert TS File
After making all the changes described, click the Convert All button at the bottom of this page to permanently apply the modifications. Then, wait a few seconds to see the outcome.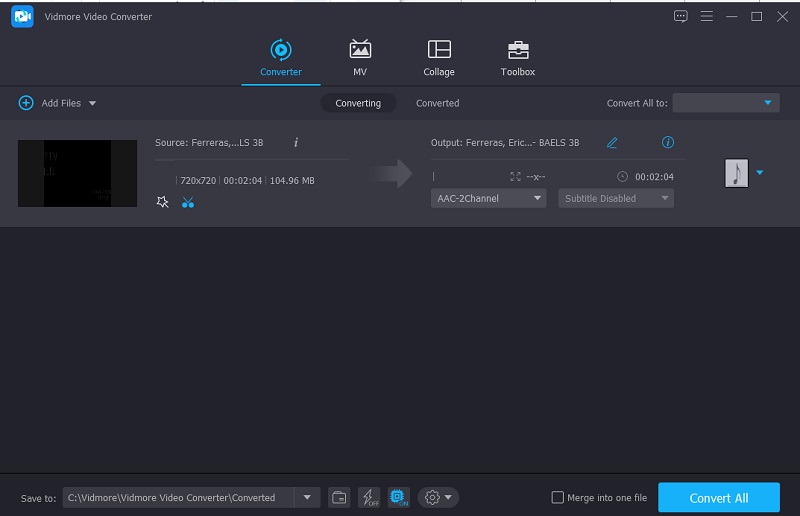 2. Clideo
Cutter for TS files Clideo is another free file cutter that you can get from the internet. You can find it here. With the help of this online application, you will be able to erase unnecessary data from your favorite TS file, enabling you to save space on your computer or other electronic devices. It is easy to convert between a wide range of regularly used video and audio formats when you use Clideo as your conversion tool.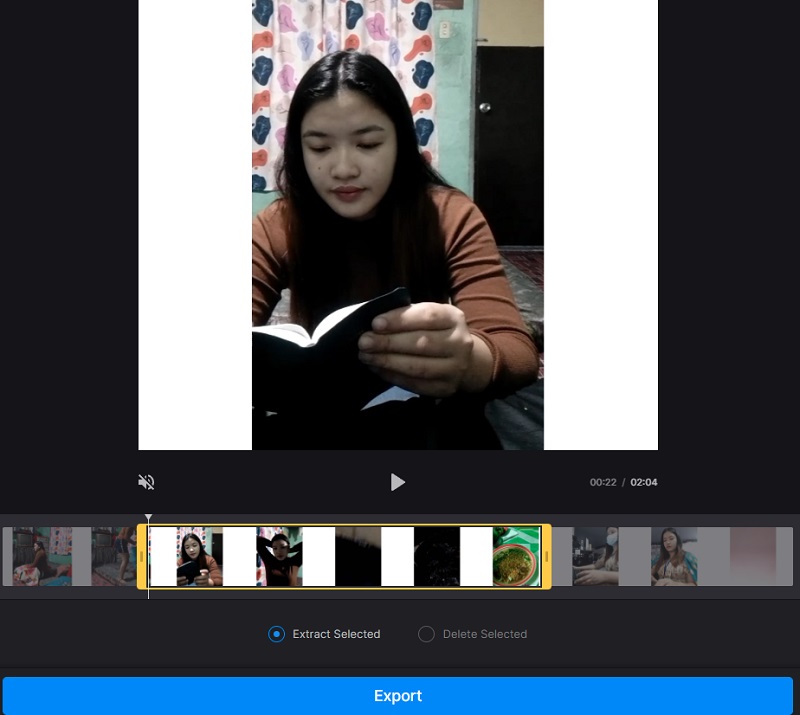 Pros:
It is compliant with a wide range of different file types.
Videos may also have pictures and music added to them.
Cons:
There is a 500 MB limit on the size of each file.
3. FFmpeg
If you want to cut a TS file without re-encoding, FFmpeg is the program for you. You may find it a bit challenging to use at first, unlike all other audio editors with straightforward navigation possibilities. FFmpeg can handle the entire transcoding process and video and picture editing, wrapping, broadcasting, and replaying. It is by far the most popular video and image editing software available, and it is utilized by many of the industry's most prestigious editors.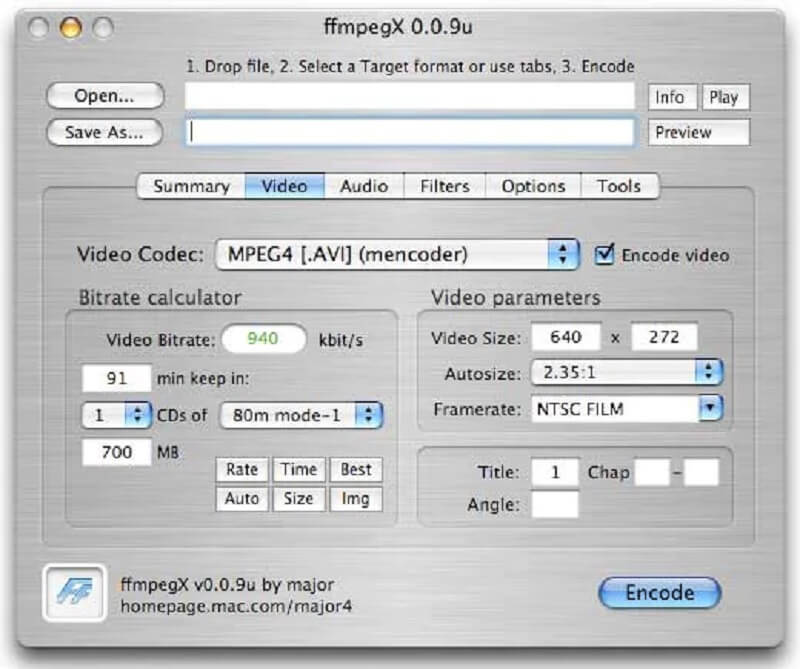 Pros:
With various codecs and filters, you may use them effectively.
It is suitable for experienced editors.
Cons:
It is not a user-friendly tool.
4. Video 2 Edit
It is possible to utilize Video 2 Edit to reduce the size of your videos before uploading them. It is a tool for those who only want video trimming, but it is worth mentioning. The program's straightforward design allows users to navigate the cutting tool in Video 2 Edit effortlessly. It also supports over 300 music and video file formats.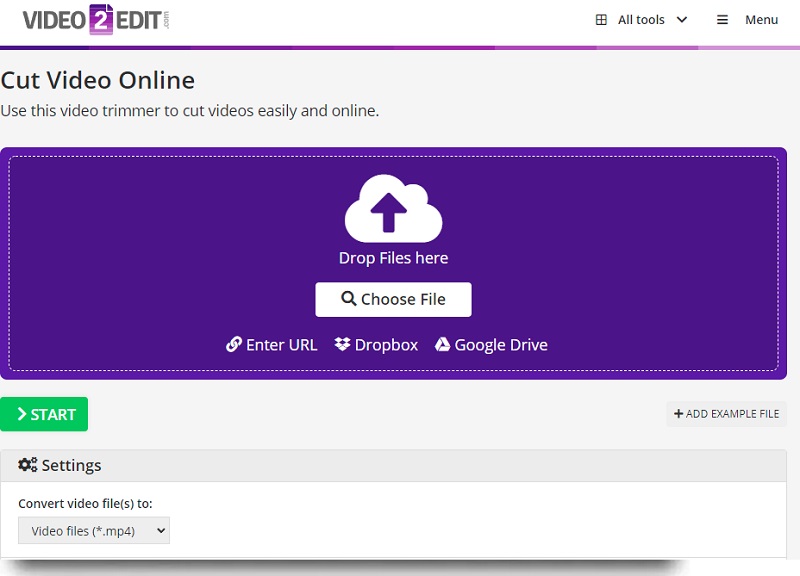 Pros:
It works without hassle.
It supports a lot of file formats.
Cons:
It is just a pure video cutter.
You can't see the video while being trimmed.
Part 3. FAQs About TS Cutter
Is it possible to play a TS file with VLC?
Yes, the VLC player has several codecs capable of decoding various video file formats, and the TS file is one of those.
Can I cut my TS file without re-encoding?
Yes, it is possible to cut your TS file with the help of the FFmpeg.
Why is a TS file causing VLC to lag?
If the VLC media player is lagging when playing video, you may resolve this issue by adjusting the caching setting in the player's preferences.
Conclusion
You may now break up your VOB file into smaller chunks using the previously offered TS file cutters. With the help of the essential qualities given on each tool, you will choose which tool will be the most applicable for your situation. When considering this, none other than Vidmore Video Converter is the most highly recommended program to trim TS files.