Offline and Online Video Cutters for iPhone You Should Consider
Many will agree that people are more inclined to make fantastic and attractive videos for sharing them online or with their friends and loved ones. Especially when your videos are taken using iPhone, its camera quality just hits the sweet spot. iPhone cameras are undeniably monstrous in specs producing excellent video and photo quality.
However, there are instances when the video you shoot is not perfect. You might have captured unimportant scenes by accident or parts of the video that you don't like to be featured. In this case, cutting them out of the video is the best way to eliminate them. Therefore, without so much ado, here we rounded up some of the best free video cutter apps for iPhone online and offline. Continue reading to find the right tool for your needs.

Part 1. Professional iPhone Video Trimmer
Generate a professional-looking video or movie right before your eyes with the help of Vidmore Video Converter. This desktop program provides many practical cutting tools that are absolutely useful to remove unwanted parts of a video. It enables you to split a video into several fragments, trim lengthy video introductions, get rid of video credits, change the order of segments, and merge videos into one. What makes it convenient to use is due to its drag and drop feature to quickly import media files you wish to edit with the tool. After the jump, learn how to use this best video cutter app for iPhone.
Pros
The tool offers various excellent cutter tools: split into multiple parts, trim unwanted scenes, set start and ending time.
Guaranteed to preserve HD and 4K video quality.
It can support multiple video and audio formats.
Cons
Payment is required for more functions.
Needs installation before using the tool.
2. Needs installation before using the tool.
Step 1. Acquire the iPhone Video Trimmer
To use the program, you need to download it first. Simply hit the Free Download button below and install it on your computer. Run the program once the installation is done.
Step 2. Add an iPhone video
You will see a big Plus symbol in the program's main interface. Click on it to open your file folder. Then, locate and select the video that you wish to trim. You can also press Spacebar to browse and choose a video.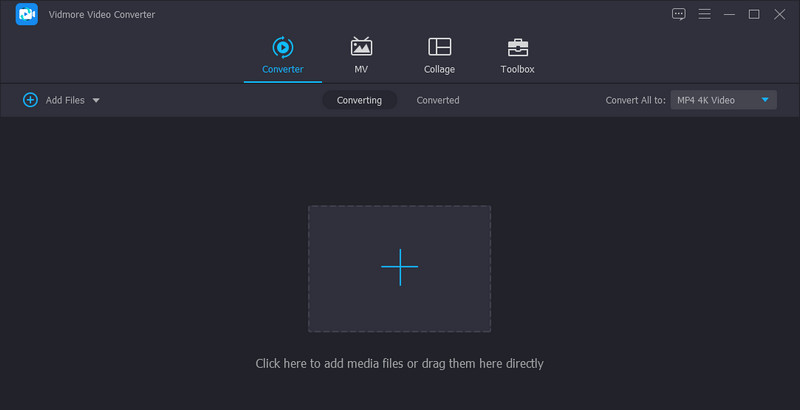 Step 3. Trim the uploaded video
After uploading a file, click on the Cut button to start trimming. It will then load the cutting window. Now, select the range for cutting using the handlebars or enter the exact starting and ending time. Apart from that, you may also use the Fast Split feature to cut the video into multiple parts. After that, select the segment that you wish to cut out. Hit Save to confirm the changes.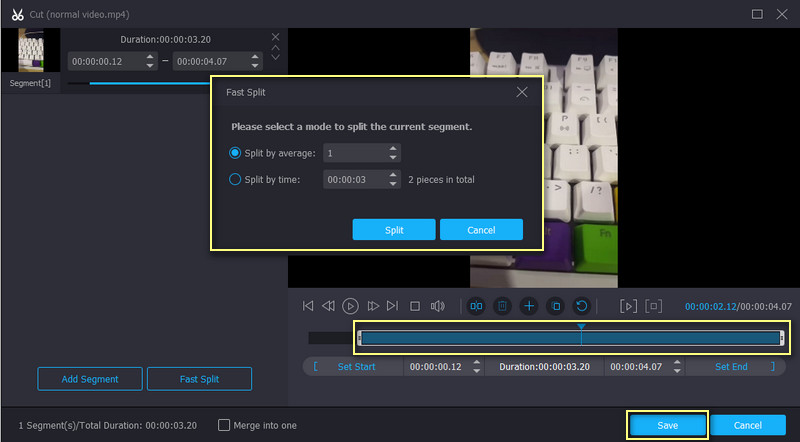 Step 4. Save the video output
Next, select an appropriate format for the video from the Profile tray. For the last step, click the Convert All button at the bottom right-hand side of the interface. You will receive the output from a folder that will appear when the session is completed.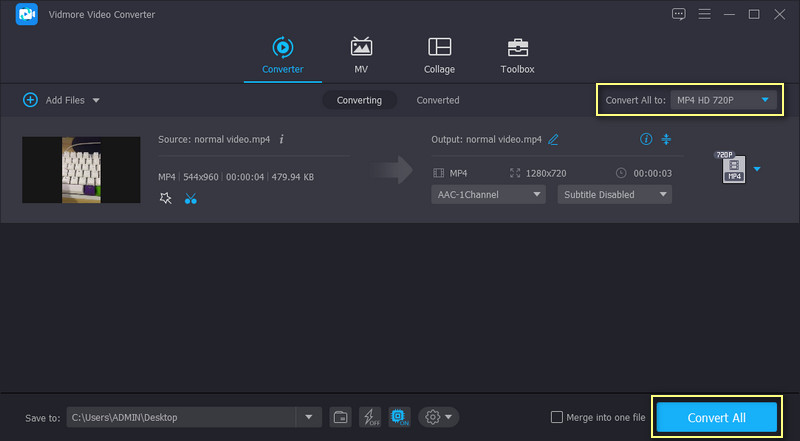 Part 2. Other iPhone Video Trimmers
1. Avidemux
Next on the list of best video cutter apps for iPhone is Avidemux. It can help you trim unwanted parts from your videos. Be it lengthy introductions or credits. What makes it a reliable video cutter is its ability to crop clips, use some filters, add transitions, reduce noise, sharpen, and so much more. Best of all, it allows you to combine multiple clips into one using its Append feature.
Pros
It allows you to apply denoising filters.
It comes with an easy-to-use and straightforward user interface.
Cons
There is no built-in media player to preview the video.
Transitions and effects are not attractive enough.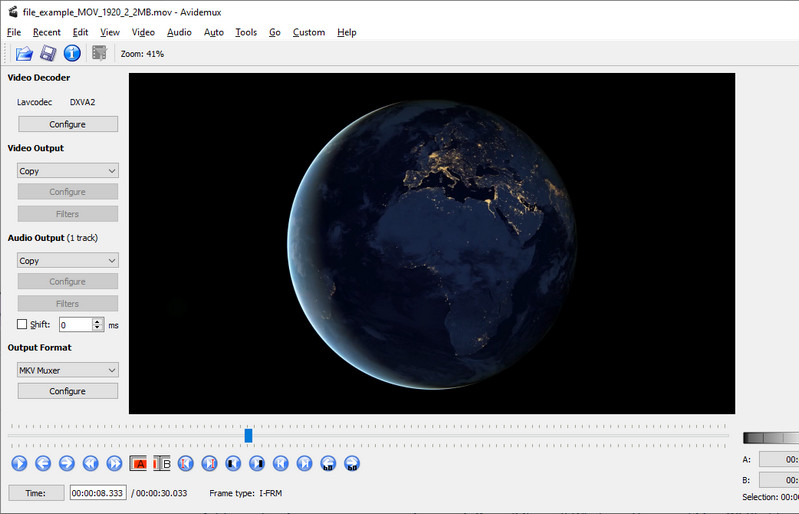 2. Shotcut
Another video trimmer for iPhone that can assist you to trim and cut videos is Shotcut. Its graphic user interface comprises a media pane, a timeline, and a preview window to help you see the changes on the videos you are editing or cutting. In like manner, it does not have any complicated process allowing you to accomplish your tasks quickly. But it is indeed helpful when you need to split, trim, apply effects, filters, and so on.
Pros
Good collection of effects and filters.
Offers support to different types of file formats.
Cons
No advanced options for complex editing.
It might take some time to familiarize yourself with its features and functions.
2. It might take some time to familiarize yourself with its features and functions.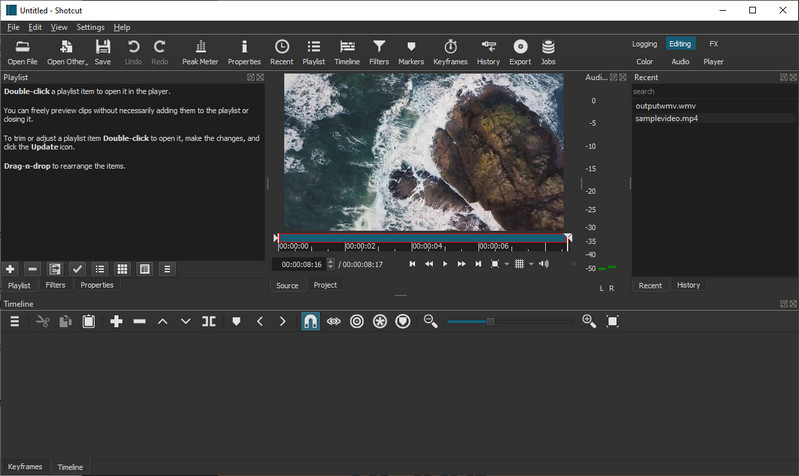 3. Movie Maker Online
If you prefer an online video cutter for iPhone, you should consider using Movie Maker Online. Unlike the programs mentioned above, you can access the program without installing additional software. The interface may look strange, but it can effectively cut videos. It offers royalty materials that users can use for totally no cost. Thus, if you need to infuse images or music, you can check its collection of free royalty images available. However, the only downside is that it is loaded with pesky ads that might annoy users.
Pros
Free royalty materials to incorporate with the project.
No installation and registration to access the tool.
Cons
Pesky advertisements infested all over the place.
Unusual timeline placed vertically.
The tool is not available to use offline.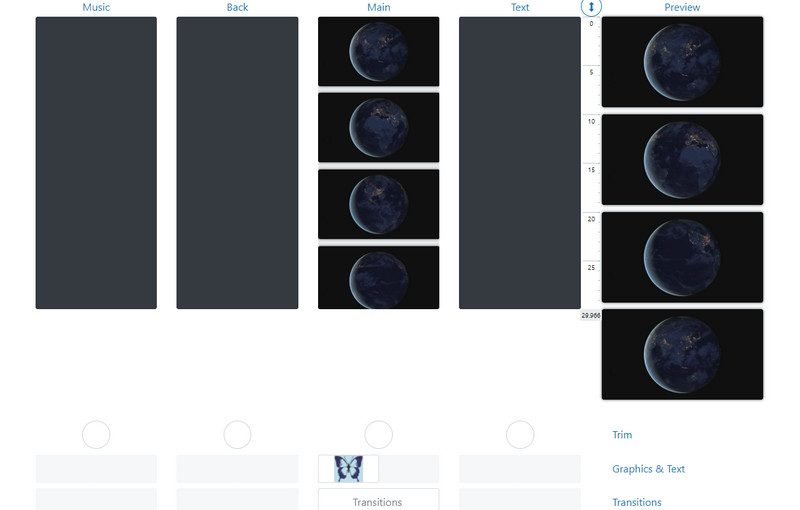 Further Reading:
Great Ways on How to Make a Movie on iPhone
Best Offline and Online Audio Cutters for Mobile Devices and Desktops
Part 3. FAQs on iPhone Video Trimmers
Can you trim iPhone videos?
Yes. Various video clipper iPhone apps are available online. Just be diligent in searching for the right tool. You can simply pick from the tools above to trim videos on your iPhone. Also, you may directly do this on your iPhone using a native mobile program like iMovie.
How do you edit the length of a video?
Editing the length of a video can be associated with cutting the video. Through trimming the video, you are also reducing the length of the video. On the other hand, it can also mean adding another video to stretch the length of the video.
Can I shorten a video size?
Yes. There are different methods for you to achieve this. You can crop a video, cut unnecessary parts, or compress the video. You can do all these without compromising the quality using Vidmore Video Converter.
Conclusion
You can now easily remove unwanted parts from your video using the iPhone video trimmer apps reviewed in this post. You can make an adorable video anytime you like. Just make sure to choose the tool appropriate for your needs. If you need to edit without installing anything, an online solution like Movie Maker Online is good. But if you find its interface weird, you can select from the first three tools mentioned. But looking closely, Vidmore Video Converter outshines the other tools with its specialized cutting and editing tools and features.