4 Best OGG Sound Editor to Rework OGG Files on Computer and Web
Editing OGG files is indeed helpful especially if you need to shorten OGG files to create a ringtone or create an audiobook. This occurs when the audio file you are trying to edit is too long and comes with irrelevant parts that need to be snipped out. Apart from that, you may want to edit the track information of the song that includes artist, genre, year released, etc. This is to help you label tracks, especially those strange songs that are included in the playlist.
Owing to this fact, it is imperative to find the right and best audio editor that will assist you in accomplishing this task. The truth of the matter is there are many candidates for the best OGG editor. On that note, we geeked out on some of the most decent programs that will make your work easier and convenient. Read through to get the needed information.

Part 1. Professional OGG Editor for Windows and Mac
Manipulating OGG or any audio file format through Vidmore Video Converter does not have any technical complications. More than converting any audio or video file on your computer, this desktop software is equally powerful in editing audio files. This allows you to slice an audio clip into halves or multiple tracks as you like. It provides support to many sound file formats such as OGG, FLAC, AAC, AIFF, MP3, and a lot more. Additionally, you can merge two or more songs in one within a few clicks. More importantly, you are entitled to edit the track information including the song title, artist, appropriate genre, year released and so on. See the guided instruction below on how to use this amazing OGG sound editor.
Step 1. Install the OGG Editor
First things first, get the installer of the app. To do this, tick on any of the Free Download buttons below. Just make sure to choose the right operating system according to the system your computer is running. Follow the onscreen setup to install and launch the app afterwards.
Step 2. Upload the target OGG
After that, open your file folder and locate the OGG file that you wish to edit. From the folder drag and drop the file into the interface of the program. By clicking the Plus sign button, it will launch your computer folder and prompt you to upload your target sound file.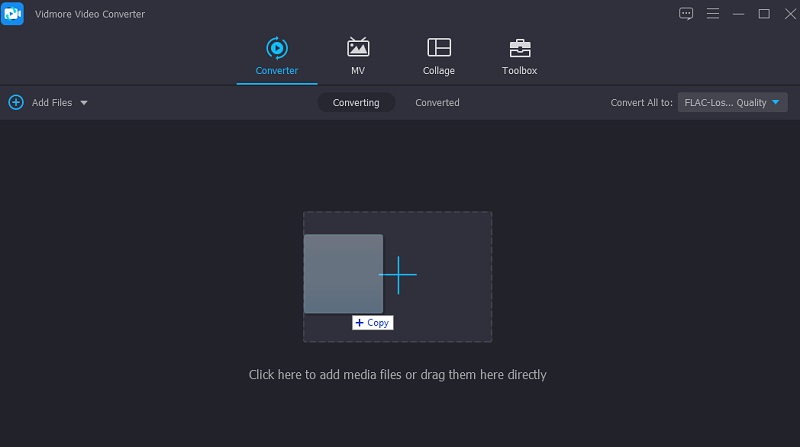 Step 3. Edit the OGG file
To start editing the OGG file, click the Cut button. The music cutter should appear. From here, you will be able to trim the audio file, cut into multiple parts. You can trim the file by moving the Playhead. Click the Split button once you are decided. The left portion from the Playhead point of view will be snipped out. You may also click the Fast Split button to cut the sound file by two or by multiple parts. Simply enter the number of splits on the Split by average text field. Then hit the Save button once confirmed.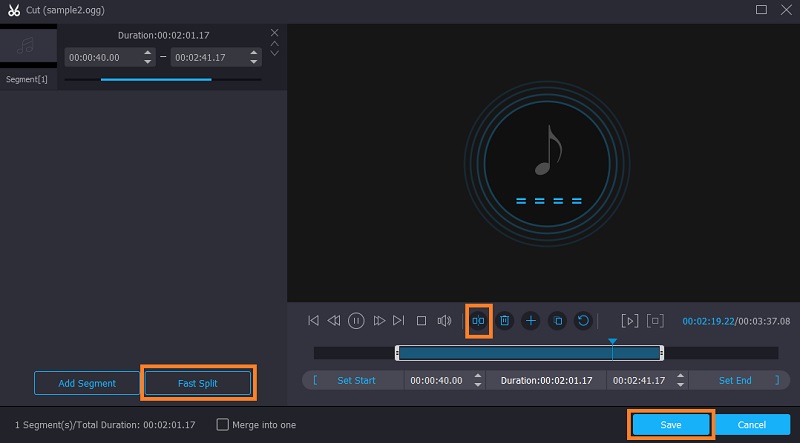 Step 4. Save the file's final version
Now go back to the Converter tab. You may choose to keep its original audio format or open the Profile menu and choose from the available output format. If you are satisfied with all the changes, simply hit the Convert All button so the tool will save changes you made in the OGG file.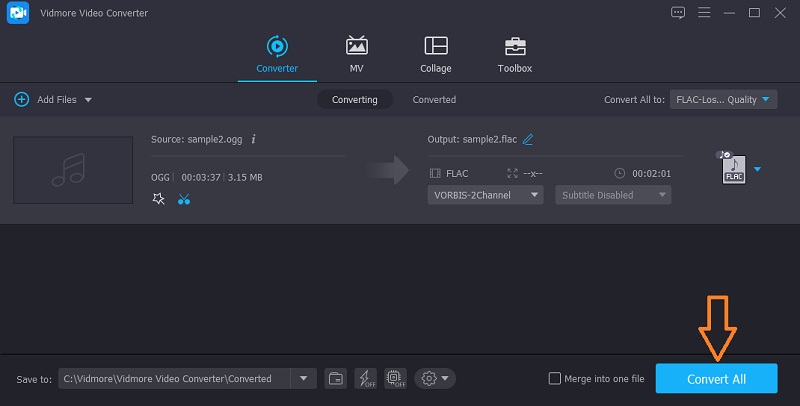 Part 2. Top Online OGG Editors
By any chance you do not have time to spare for downloading and installing an additional application, you have better options which are OGG editor online programs. To simplify your work in finding the best tool, you can take the following tools to your reference.
1. Aconvert
The first program on the list of online audio editors is Aconvert. The tool runs on any browser and features necessary tools for your audio-editing jobs. With it, you will be able to cut audio files by entering the time for start position and duration. Furthermore, this program supports uploading files from your local drive, via the URL, and from cloud storage like Google Drive and Dropbox.
Pros
1. Import media files from cloud storage
2. Cut audio files with precision by entering the time duration
Cons
1. Lack of visual view for cutting audio files OGG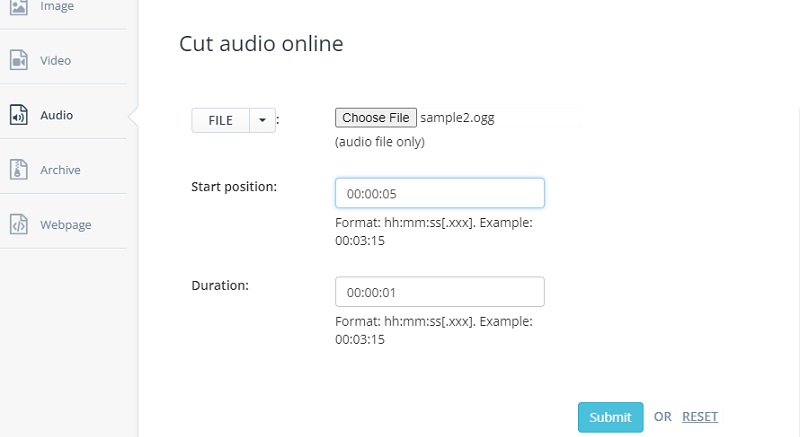 2. MP3 Cutter
MP3 Cutter is arguably one of the best OGG editors free tools. It comes with multiple functions where you can convert audio files supporting many export formats. There is also an audio remover function that you can use to get rid of superfluous or irrelevant parts from an audio file. Moreover, you can apply fade-in and fade effects to make the trimmed song sound natural, which is the standard when a song ends.
Pros
1. Cut many audio files like OGG, WAV, FLAC, MP3, etc.
2. Convert any sound file to a variety of formats
Cons
1. Interface loaded with adverts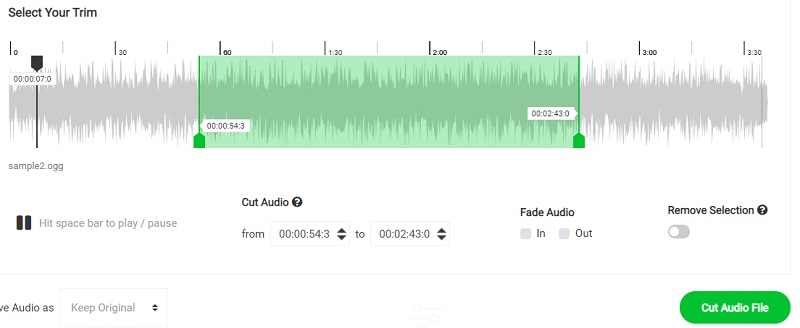 3. Clideo
For a fast and reliable OGG Vorbis editor, you should consider using Clideo. This is a web-based program that allows you to manipulate your OGG files on Windows PC and Mac OS. Similarly, this lets you import files from different file sources including local hard drives and cloud storage. Aside from that, you can change the file extension of the audio file to your required format. Plus, you are entitled to add fade-in and fade-out effects for the improvement of your audio file.
Pros
1. Extract or delete selected part of audio
2. Create a ringtone
Cons
1. Slow in uploading a media file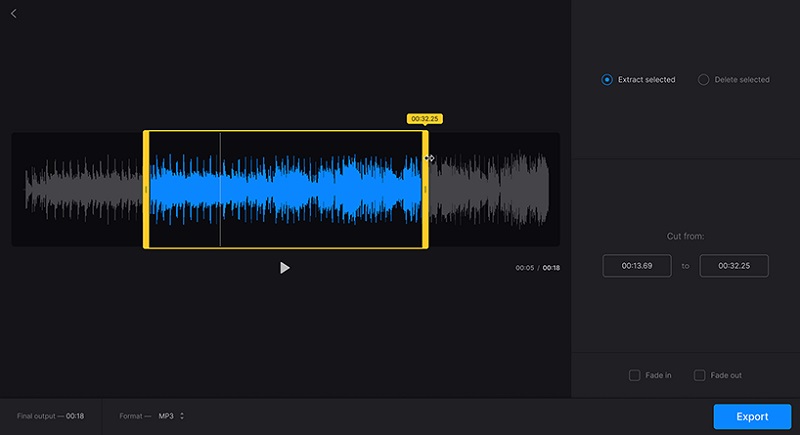 Part 3. FAQs of OGG Editors
Free OGG file editor for Windows and Mac?
If you are looking for a totally free program to edit your OGG file, you may use Audacity. This is a multi-platform application that you can use on Windows, Mac, Linux operating systems.
How can I format an OGG file?
For this plight, a converting app should come in handy. Through a converting app, you will be able to format any audio file to OGG.
What is the difference between OGG Vorbis and OGG?
Any file that is adopting the OGG file extension is considered an OGG Vorbis compressed audio file. This is mostly used for containing audio data. But in fact, it can also hold video and audio streams as well as subtitles.
Conclusion
In this post, we mainly tackled the best OGG editors available in Windows and Mac. If you would also notice, the article introduced an offline method which is the Vidmore Video Converter, and offline solutions. That said, you may choose between these methods whichever is suitable for your preferences.