Free MP4 to XviD Converters: Top Solutions to Get XviD Files from MP4
In most cases, home spaces like TVs and DVD players use XviD formats to stream movies and videos. Regular users are not much aware of this video format. Yet, it is a video codec based on MPEG-4 coding standard to share homemade videos online and stream videos in home spaces. The reason is that the XviD format can compress video while keeping the original quality.
Although MP4 is the standard video format most people have as their local videos, it still runs on incompatibility issues. Meaning it does not work on all platforms and players flawlessly all the time. Luckily, you can convert MP4 files to XviD for your sharing and entertainment needs. Hence, if all your videos are in MP4 format, you can use an MP4 to Xvid converter free download and online program. Read through the post and see how your videos work flawlessly in your home spaces.

Part 1. Efficient MP4 to XviD Video Converter
One of the best solutions to help you transform MP4 to XviD is Vidmore Video Converter. The tool can convert almost all files with a large selection of the latest and popular formats that are compatible with smartphones and consoles. A great highlight of using this program is that you can modify the video and audio output with its custom profile feature. Apart from that, you can tweak videos with plenty of video editing tools. You can adjust primary effects, volume, brightness, saturation, add watermarks, and subtitles.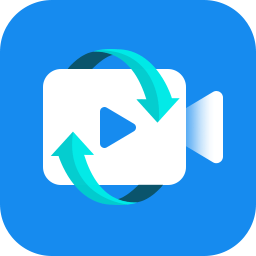 Vidmore Video Converter - Feature-Packed Converting Solution
Built-in custom profile editor.
Supports a large selection of formats.
Lots of video editing options.
Delivers high-quality conversion.
Lightning-speed conversion process.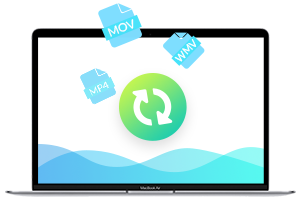 Below is the introduced steps to use this best MP4 to XviD converter:
Step 1. Install the video converter
First off, have the Vidmore Video Converter downloaded on your computer. To do so, simply hit the appropriate Free Download button for your OS. When the download process finishes, install and launch it.
Step 2. Upload your MP4 files
Next, add your MP4 files by clicking the Plus symbol in the main interface. This will open your video folder, where you can find and select the video you wish to convert. Or, directly add the video to the tool by dragging and dropping it to the designated upload area.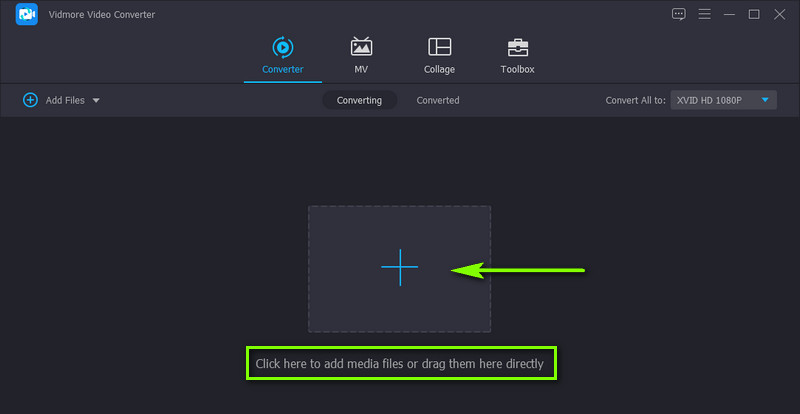 Step 3. Choose an output format
After that, unfold the Profile menu to see the list of video formats. Navigate to the Video tab and select XviD on the left-side column. Then, choose a suitable quality for the video output.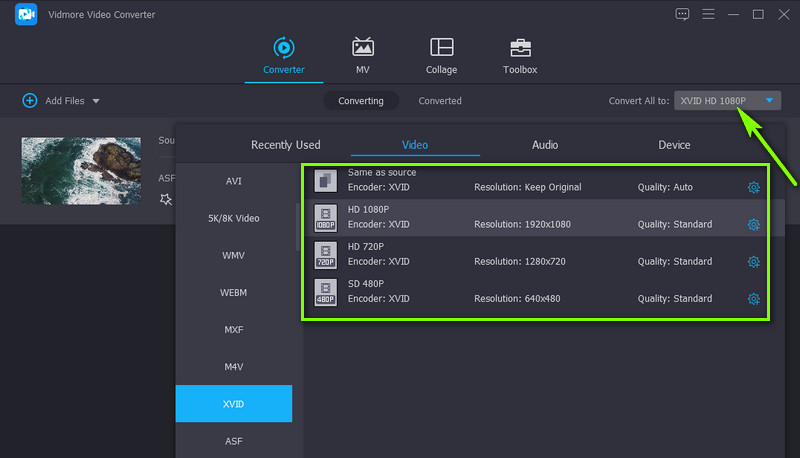 Step 4. Convert MP4 to XviD
Finally, click the Convert All button to initialize the conversion process. If necessary, you can edit the video first by clicking the Edit icon associated with the video thumbnail. You will see the video playback readily available for preview when the session is done.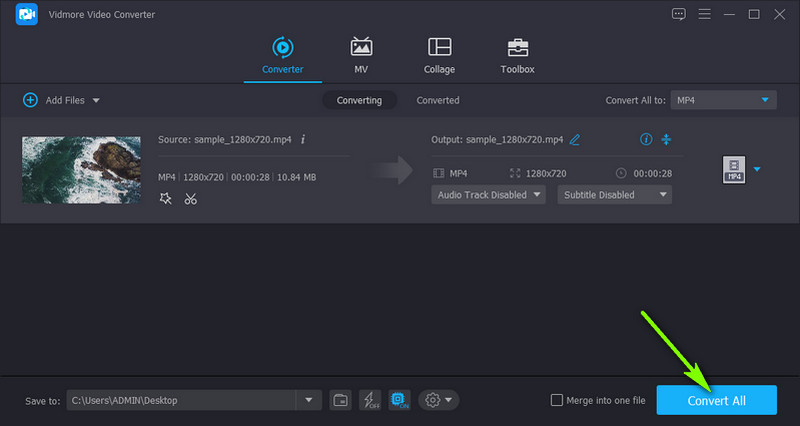 Part 2. Other MP4 to XviD Video Converters
1. Convertio
If you wish to convert MP4 to XviD online with free utility, Convertio is the solution you need. It is a cloud video converter service that allows you to convert nearly all popular and new video formats. In addition, Convertio can be used on different browsers, including Firefox, Safari, Chrome Edge, and more, proving its flexibility. Best of all, uploading from cloud services like Google Drive and Dropbox is possible with this tool. On the other hand, here is a user guide to utilize this free MP4 to XviD converter.
Step 1. Visit the official website of Convertio. Then, upload the MP4 video.
Step 2. After that, head over to the Video section of the Profile menu and select DIVX from the selection.
Step 3. Finally, hit the Convert to initiate the conversion process.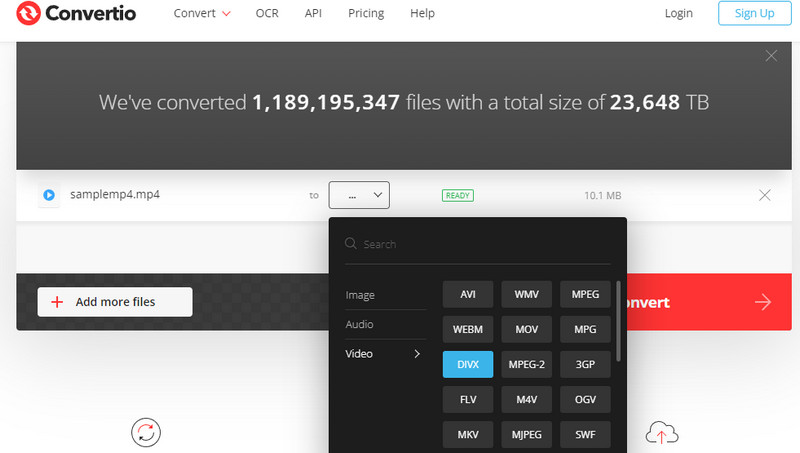 2. NCH Prism
NCH Prism is a free video converter you can use to convert from hundreds of famous video and audio formats. Likewise, it has a vast number of video supports, including MP4, XviD, MKV, MOV, MPG, and more. Furthermore, it provides video editing functions for users. You can rotate, flip, add captions, subtitles, and a lot more. Find out how to convert MP4 to XviD using this program.
Step 1. First off, go to the download page of NCH Prism and install a copy of the software on your computer.
Step 2. Click the Add File(s) button to import the MP4 video you want to convert. Now, access the profile menu and select .xvid as the output format.
Step 3. Lastly, click the Convert button at the lower right corner of the interface.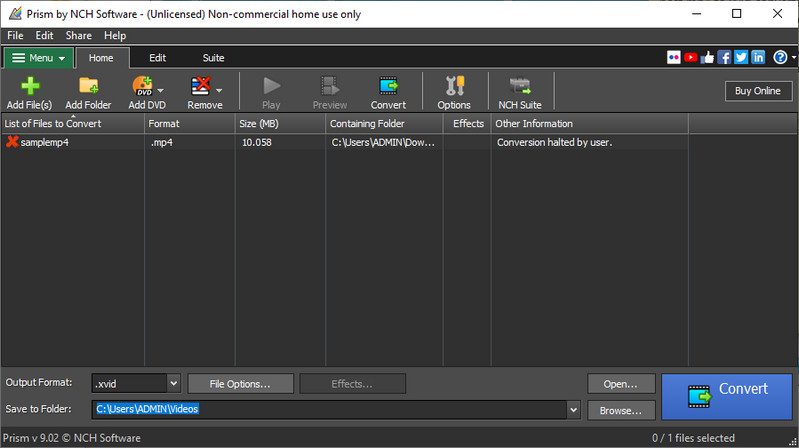 3. MediaHuman Video Converter
Another desktop tool you should consider using is MediaHuman Video Converter. This program works on Windows and Mac computers. So if you are searching for an MP4 to XviD converter for Mac, look no further. This software is so good because it has an intuitive and straightforward interface. Starters can easily distinguish the functions and features of it. Hence, the process of conversion is a piece of cake. For the user guide, continue reading below.
Step 1. Access the official page of MediaHuman Video Converter and download it on your device. Install the app by following the installation guide.
Step 2. Click the Plus icon to import a video file. Once loaded, set an output format of your video.
Step 3. Hit the Convert icon next to the profile menu to initialize the conversion task.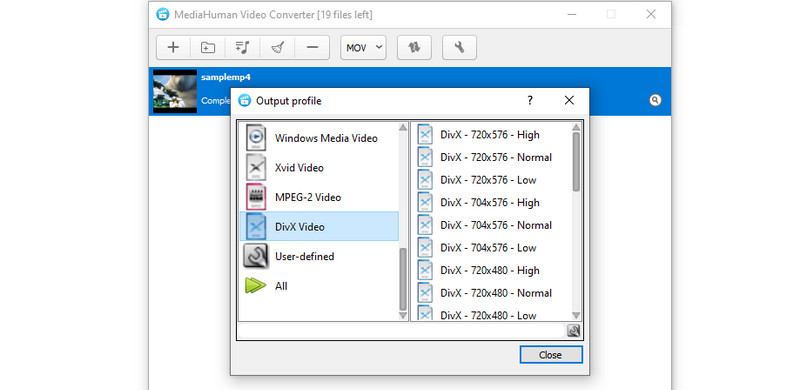 4. FFmpeg
FFmpeg is an advanced media converter loaded with valuable and helpful features to manipulate videos. It can convert, cut, merge, and rotate videos. However, the tool works with syntax or command through a command-line interface. Unlike the previous tools that use GUI to communicate, FFmpeg uses text to execute operations. Nonetheless, here is how FFmpeg MP4 to XviD conversion works.
Step 1. Download FFmpeg from its download page and install it on your computer system.
Step 2. Once done, navigate to the folder where your target MP4 is located. Then, type CMD on the folder's file path, and it will open the CMD on your computer.
Step 3. Now, type this command: ffmpeg -i samplemp4.mp4 -c:v libxvid output.avi. The following commands enable you to convert from MP4 to XviD.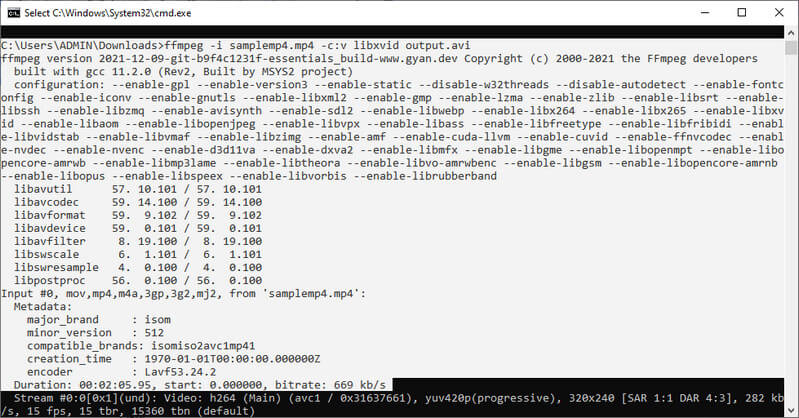 Further Reading:
How to Free Convert MP4 to MOV Online without Limit
Top 5 MP4 Trimmer and Cutter Solution to Cut MP4 Videos
Part 3. FAQs on Converting MP4 to XviD
What is an XviD video codec?
XviD is a codec that compresses video files using MPEG-4 Part 2 ASP format. It is usually distributed under GNU, which is why you may not encounter this format commonly on the internet. In the same way, this format is not commonly recognized by familiar media players. You may need to install a compatible player to open it.
How can I convert the XviD file to MP4?
All you need is a media converter to achieve it. You can accomplish this conversion task if the converter supports XviD for input formats and MP4 for output formats.
Is XviD the same as h264?
XviD is derived initially from DivX codec vehicle H.264 is an advanced video to compress video files better than XviD. In other words, H.264 is superior to XviD, allowing you to get a better quality in a smaller file size.
Conclusion
All the recommended MP4 to XviD converters are guaranteed to help you acquire XviD out of your MP4 files. By then, you can play them on your favorite player and enjoy watching with superb quality or manipulating videos better. From the list, it is evident that Vidmore Video Converter is the most desirable considering its user interface and the features it offers.