Best Free MP4 to DivX Converters to Switch Formats from MP4 to DivX
DivX is a video codec widely used on TV and DVD players to stream high-quality videos. Like MP4, DivX features high visual quality videos with a small file size due to its compression capability. However, there are times where MP4 files are not recognizable to some devices. In most cases, TV and DVD players only accept a specific format, DivX.
Converting formats is almost an everyday activity for people, especially those fond of watching movies. Meanwhile, if you wish to play your MP4 files on TVs, you should learn how to convert MP4 to DivX. In this guidepost, you will learn how to convert MP4 to DivX online for free, on desktop, and on mobile devices.

Part 1. Workable Ways to Convert MP4 to DivX on Windows/Mac
1. Vidmore Video Converter
The first recommended tool that we have is the Vidmore Video Converter. Using this program, converting MP4 to DivX and many other formats to others now comes easy. This tool supports many video file formats, including DivX, MP4, MOV, MKV, FLV, MXF, TS, MPEG, etc. It can convert from and to MP3, WMA, WAV, FLAC, AAC, and many more for audio.
Besides, batch file conversion is supported without file size restrictions or limitations. Plus, it provides a profile customization option allowing you to configure the video and audio output of the file you are processing. Below is the procedure on how to convert MP4 to DivX using this program.
Step 1. Download and install the tool
Get started by getting a copy of the app's installer. To do this, click the Free Download buttons provided below. Follow the on-screen setup wizard and install the tool on your computer. After that, launch the app.
Step 2. Upload a video to convert
Next, import the MP4 video you wish to convert by clicking the Plus sign button in the tool's main interface. Optionally, you can use the drag-and-drop feature to upload video files.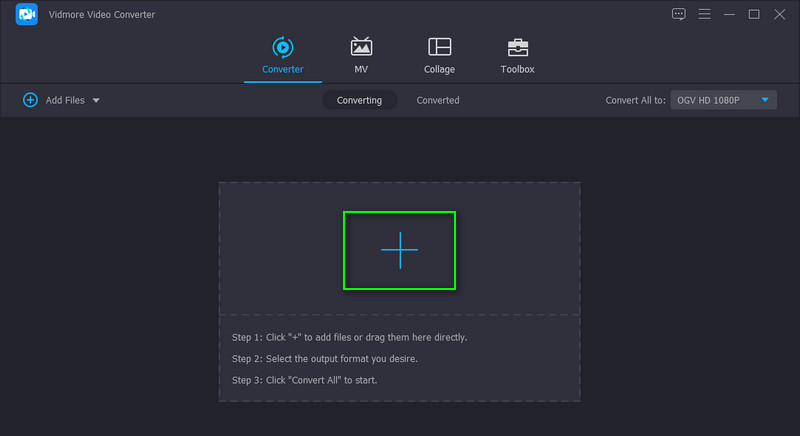 Step 3. Set DivX as the output format
This time, open the Profile menu at the upper right portion of the interface. From here, you will see the list of available formats. Under the Video tab, select DivX on the left side column. Then, select a profile or quality suitable to your needs.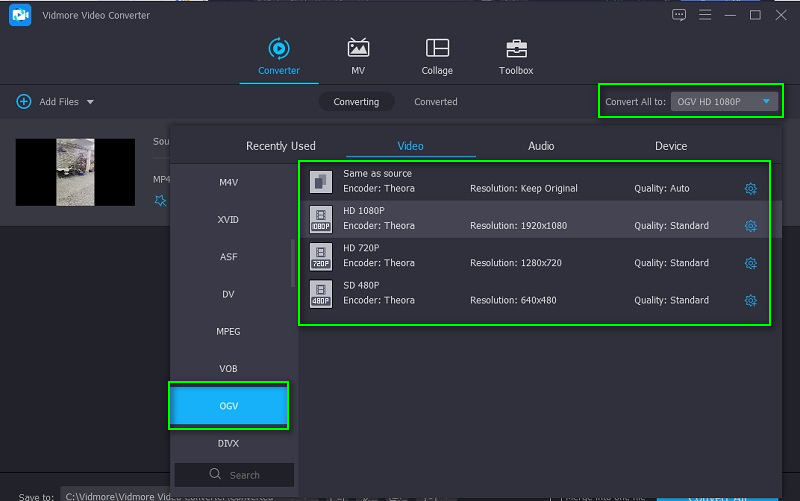 Step 4. Convert MP4 to DivX
Now, select a file destination to save the video's final version. Simply click on the Folder icon at the bottom of the interface and set the directory. Once done, click the Convert All button to initiate the conversion process. When the process finishes, the output will appear in the folder you set, and you can view the playback immediately.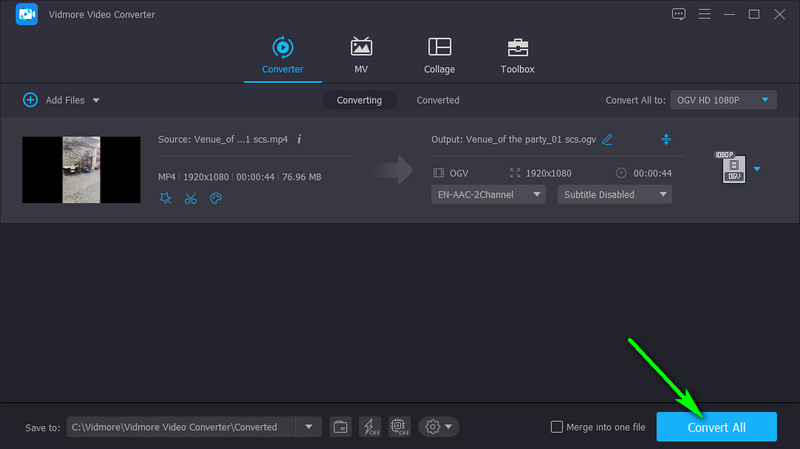 2. VLC Media Player
VLC Media Player comes with more capabilities than media streaming. It can work as a video/audio converter with a lot of media format support. Moreover, you can use this tool regardless of the platform you are using. It is available on Mac, Windows, Linux, Android, and iOS devices. Another highlight of this program is the helpful video editing options wherein you can cut videos and change video orientation. However, the conversion process might not be as straightforward as the previous tool. Nevertheless, here is how VLC converts MP4 to DivX with this app.
Step 1. Make sure that VLC Media Player is installed on your computer. Run the program afterward.
Step 2. Next, access the Convert/Save option and add your target MP4 video file.
Step 3. Now, create a new profile that will help you switch from MP4 to DivX. Go to the Video codec section on the Profile tab, set DivX as the Codec, and hit Create.
Step 4. After that, open the Profile menu list and choose your newly created profile. Finally, click the Start button for the conversion process to commence.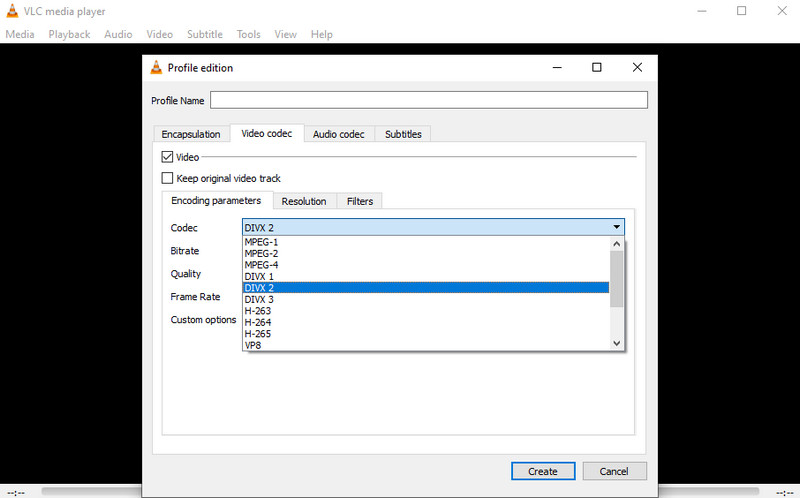 3. Convertio
The process to convert MP4 to DivX online free can be realized with the help of Convertio. This freeware tool works online using a web browser like Chrome, Firefox, Microsoft Edge, etc. Also, it enables you to upload files either locally or from cloud storage services like Dropbox and Google Drive. Furthermore, it lets users adjust audio quality, bitrate, preset, and codec settings to generate their desired output. There are also no ads, spam, or viruses that might harm computers. Follow the guidelines below if you wish to learn how to convert MP4 to DivX using Convertio.
Step 1. First of all, launch a browser and visit the program's official page.
Step 2. Click the Choose Files button to start uploading files. Browse the MP4 video from your computer folder and select it to upload.
Step 3. Choose an output format from the Profile menu and click the red Convert button to initialize the process.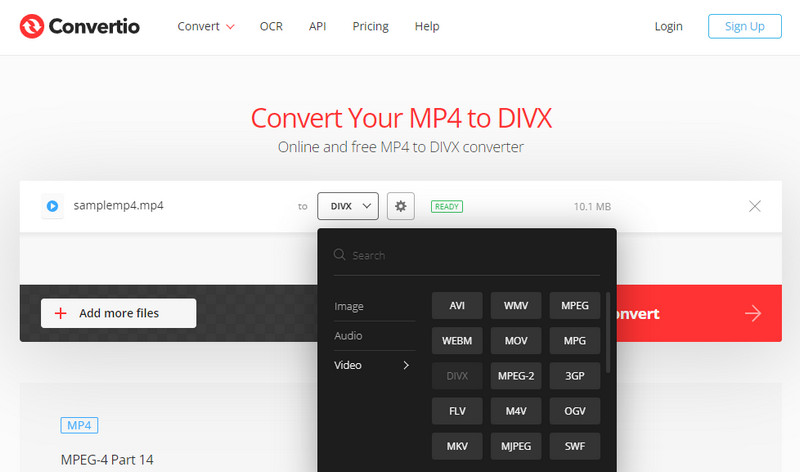 Part 2. How to Convert MP4 to DivX on Mobile
With the development and advancement of technology, people want to accomplish things on mobile phones. That includes even converting formats. Yet choosing the ideal app is necessary. Hence, we sorted out the best MP4 to DivX converter for Android and iPhone.
1. Video Format Factory
Video Format Factory is considered a video suite providing various video manipulating functions. It can serve as a video converter, cutter, compressor, cropper with an intuitive interface. Likewise, the output quality is highly configurable, allowing you to modify the aspect ratio bitrate, codec, frequency, and many more. Besides, there are presets automatically set for MP4, AVI, DVD in PAL format, MPEG, etc.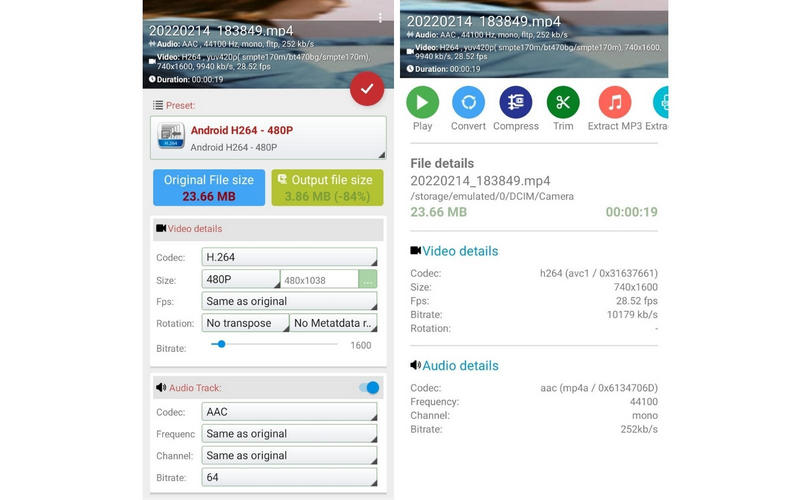 2. Video Converter Android
Another best free MP4 to DivX converter you should consider using is Video Converter Android. With it, you get to enjoy converting almost all media files, including DivX, FLV, MKV, MOV, MPG, and many more. Plus, it keeps the original video quality. Even better, it comes with an advanced mode that lets you specify the video bitrate, codec, etc.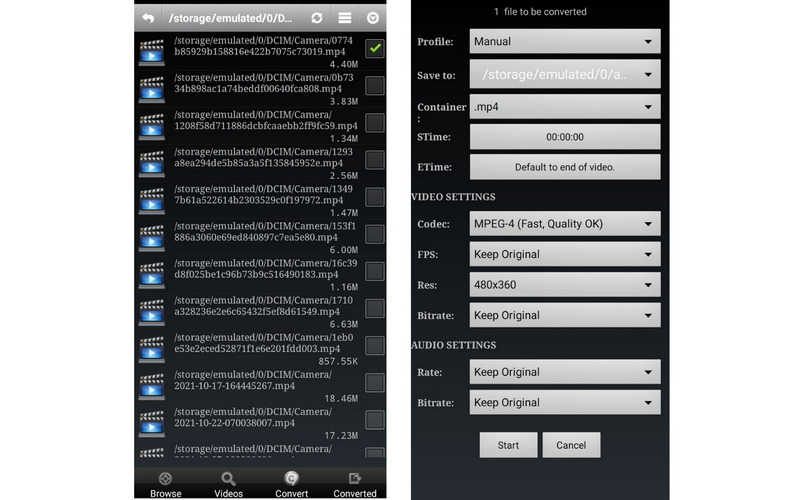 Further Reading:
Convert MTS to MP4 – How to Convert Camcorder Videos for Smartphone
DivX Player and Its Alternative to Play DRM DivX Movies
Part 3. FAQs on Converting MP4 to DivX
What is a .divx file?
DivX, short for Digital video Express, is a video format used to compress video files with little loss in video quality. Specifically, it is based on MPEG-4 to compress movies to fit on a DVD or a CD.
How do I convert DivX to MP4?
Transforming from DivX to MP4 can be achieved using converting software. Above are some of the tools you can refer to. However, if you wish to convert with little to no loss quality, consider Vidmore.
Is DivX considered obsolete?
Only a few people have been using this video format, but DivX has been around for some time. In fact, it was popularized by big movie companies, including Dreamworks SKG, Universal, and Paramount.
Conclusion
Now you can learn how to convert MP4 to DivX for free using the various tools mentioned above. There are desktop tools that consist of two methods: online and offline. On the other hand, you may conveniently convert using your smartphone to switch formats from MP4 to DivX.