Top 3 M4A to WMV Converters You Can Use Online or Offline
Apple's M4A audio format is widely used. It is compatible with QuickTime Player and uses Apple codecs. The iTunes Store uses the M4A format. However, suppose you do not have the appropriate codecs installed on your computer. In that case, this Apple audio format may not be immediately accessed by applications designed for Windows. Therefore, you must convert M4A to a WMV file to play the audio on your Windows PC.

Part 1. How to Convert M4A to WMV Online
1. Vidmore Free Video Converter
Vidmore Free Video Converter is the answer to the question of how one may convert M4A to WMV in the most straightforward and uncomplicated manner. Because it is a web-based application, you may access it using any web browser installed on your device. You may find several audio and video formats in Vidmore Free Video Converter. Examples of these are the file formats AAC, AC3, MP3, WAV, AVI, MP4, and WMV. However, in contrast to the offline version, this online application only has a limited number of format options. In addition, you are confident that it will not compromise the quality of the converted file in any way.
You can also adjust the overall quality of the file with Vidmore Free Video Converter. If you go into the settings, you will see this option. You can see the location's bitrate, frame rate, channels, and resolutions. Last but not least, it enables conversion in batches, making the conversion process go much faster. Kindly review the procedures listed below to understand better how this video converter works.
Step 1: Before using the program in your browser, you must download and execute its launcher. In any case, you won't have to worry about whether or not the launcher's installation will increase your available storage space. Add files to convert button in the screen's center, where you'll want to click to begin installing the launcher. At that point, you'll be ready for the subsequent action.
Step 2: Start loading M4A files from your storage by pressing the Add files to convert button.

Step 3: Following the addition of the M4A file, a tint should be applied to the circle close to the WMV.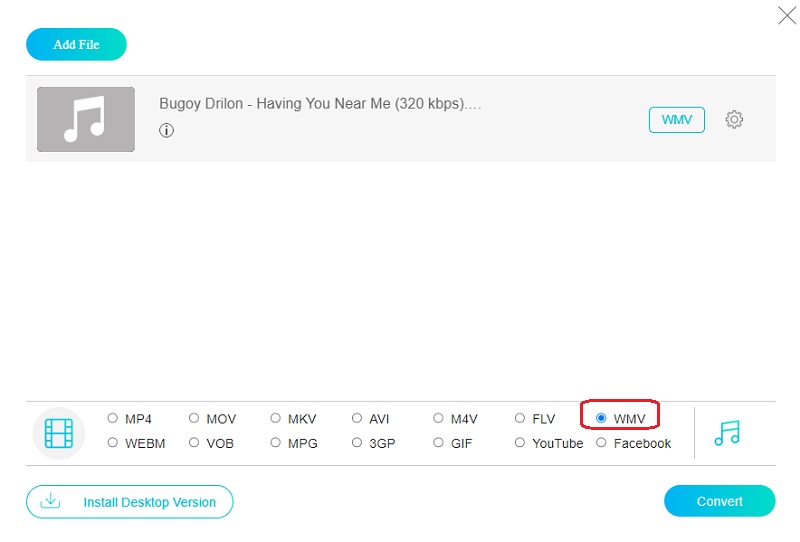 You may also go to the Settings page if you wish to change the quality of the file or any of the associated settings. There you will find the many parameters, including the bitrate, frame rate, and others. You only need to say which of the two will be changed.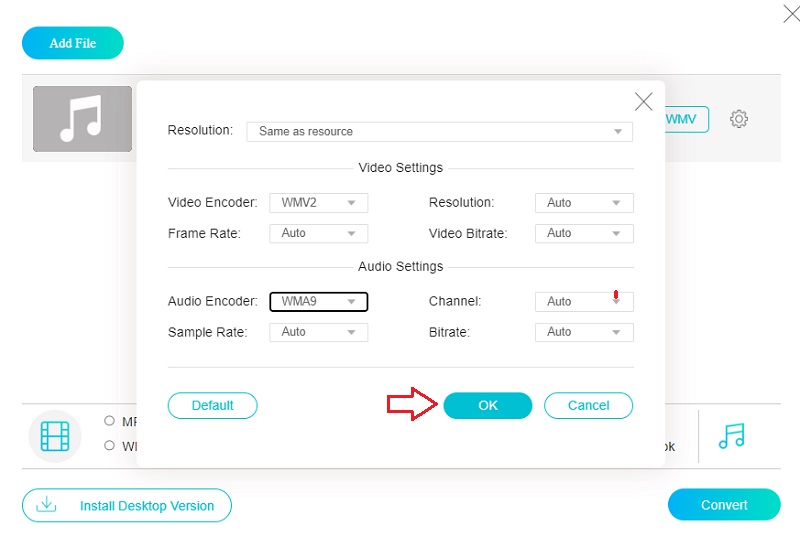 Step 4: If you're ready to start the conversion process, choose the Convert menu item. After that, a new window will pop up, allowing you to choose where the converted file should go. Choose a folder and click the button.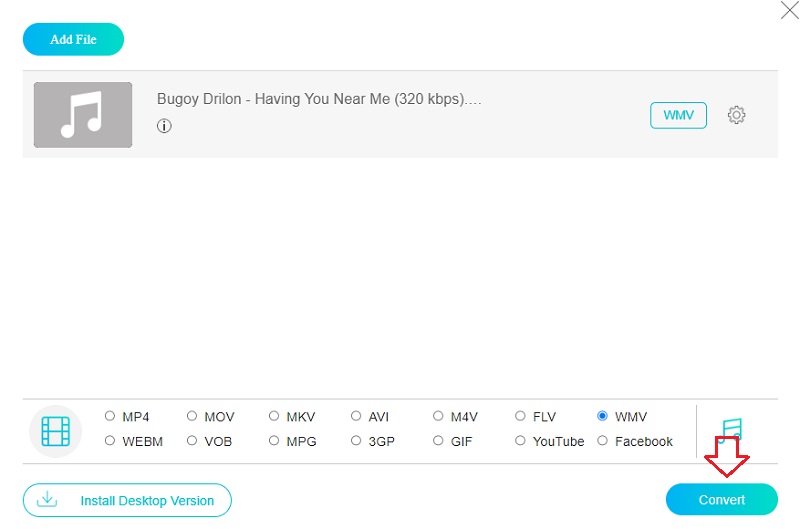 2. FreeConvert.com
FreeConvert.com is another dependable piece of web-based freeware that you may use to convert between various formats. Use this tool to change from one format to another in various media and files. You may open several file formats with the help of this convenient online tool. Using this program to convert many files at once can save you time. Because of improvements, it is now a more helpful tool for consumers. However, there is a restriction on the largest allowable file size that you may upload. Before you may download the larger files found on their site, you must first register.
Step 1: You can find the Choose Files on the main page of FreeConvert. It will allow you to store the M4A file on your computer, Cloud Storage, or Dropbox.
Step 2: Following this, choose WMV from the available choice of video formats by using the pull-down menu that is situated next to the option labeled Output.
Step 3: After selecting the file you want to convert and pressing the option that says Convert to WMV, you will need to wait for the procedure to complete successfully.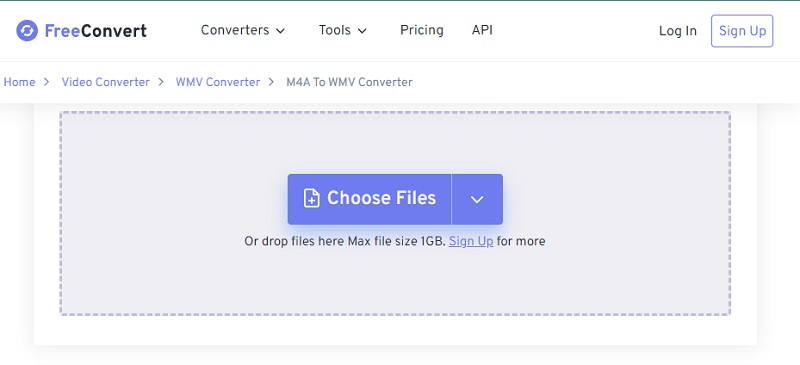 Part 2. How to Convert M4A to WMV Offline
The offline version of Vidmore Video Converter allows users to convert M4A files to WMV most effectively and reliably. It is software designed to convert audio and video files precisely. It is compatible with around two hundred and fifty different file types. This video converter is compatible with computers running both Windows and Mac.
In addition to being able to convert files, it is also capable of extracting, compressing, trimming, and cutting files. In addition, you may find these additional capabilities in the area labeled Toolbox. Because of this, you may use Vidmore Video Converter to make significant changes to your file, even if you wish to keep it in its original format. You may use the guidance provided below to accomplish your goal of maintaining the original quality of your file after it has been converted.
Step 1: Choose the symbol indicating that a free download is available to start the installation. We're about to load the page where you may get the file. You may now start the Vidmore Video Converter.
Step 2: For those new to the software, there are many tabs and buttons to help them get started. Click the Add files or Plus button to add M4A files to your collection.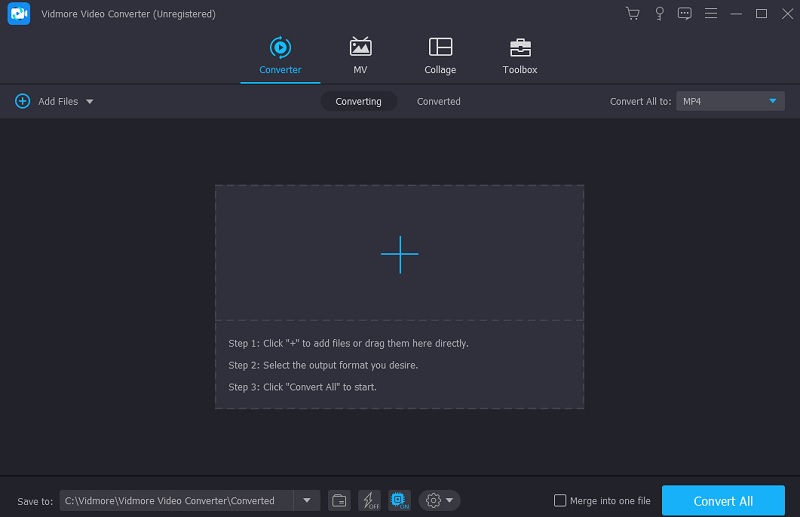 Step 3: After the M4A file has been uploaded, you may switch to a different format. Trains often include directional arrows to help passengers find their route. The following components are detailed below. Choose WMV from the Video menu to see the video in its native format.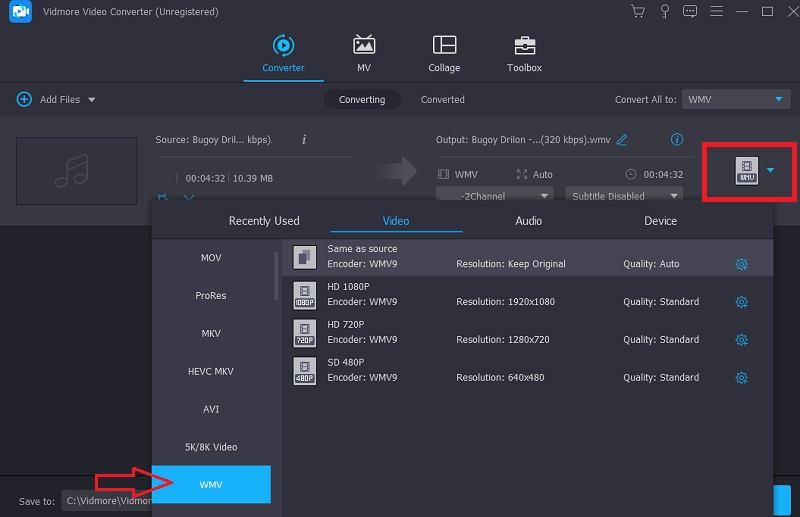 If you right-click WMV and go to Options, you may adjust the video quality. We've improved the quality. Modifiable parameters include frame rate, image size, and audio quality. Start a new project by selecting the Create New button.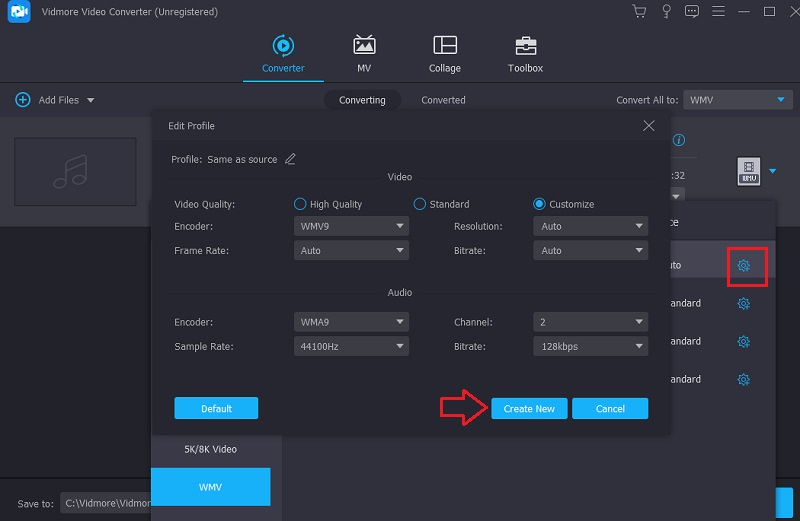 Step 4: The Convert All button is at the page's bottom. Click here if you want to quit. It permanently changes M4A to WMV.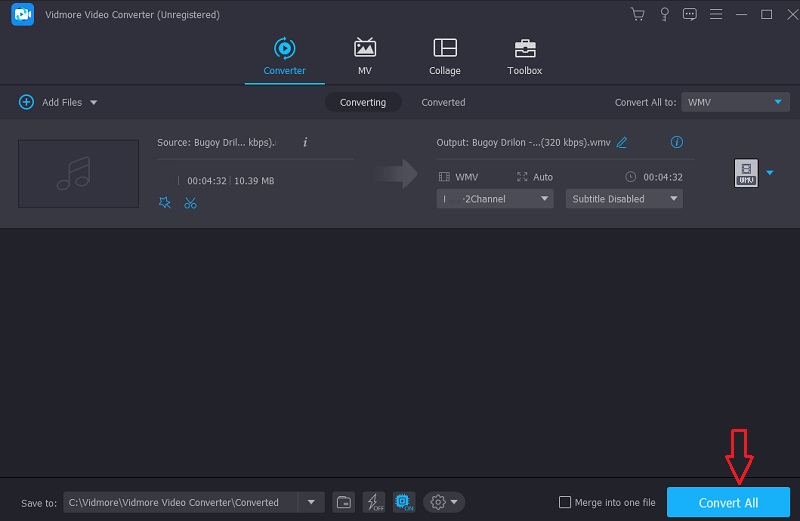 Part 3. FAQs About Converting M4A to WMV
Which format is superior, MP3 or M4A?
It is why M4A is superior. Indeed, M4A files are less in file size, but you can make an MP3 sound just as good, if not better. However, they both have the same level of sound quality. Only MP3 will increase in size.
What is the main advantage of using WMV format?
It can pack a lot of audio and visual data into a relatively tiny area. That's why it works well as a streaming video format on the web. It works only on Windows PCs and laptops. Therefore, you may use it on any Windows operating system device.
What is different between MP4 and WMV?
It is a problem that often comes up when deciding whether WMV or MP4 is the superior format, and it is generally agreed upon that the quality of MP4 is superior to that of WMV.
Conclusions
With the assistance of the online and offline tools above, you can change audio files from M4A to WMV in just a snap! But suppose you want to protect the all in all quality of your audio and video file at the same time edit it. In that case, you can count on the offline program, which is Vidmore Video Converter.