Assimilate How to Cut Trim a WMV File with Notable Video Cutters
WMV, or Windows Media Video format, is a video compression format used for handling video content by media players and video programs on Windows PC. This video format helps compress large files to reduce in size. In this manner, the transmission of media files over the network is accessible while still having good video quality.
But there will be cases when the WMV video file is too large, and you need to cut off unwanted and unnecessary video parts. This will result in a smaller video file for easy transmission over the internet to save space on your hard drive. Henceforth, we have compiled a list of excellent programs to trim or split WMV files into smaller video files. Continue reading to learn more.

Part 1. How to Trim WMV on Mac/Windows
1. Vidmore Video Converter
Vidmore Video Converter is an all-around multimedia converting program. Getting rid of the unwanted video parts take only a few steps to complete. Moreover, it comes with versatile editing tools for trimming, providing several cutting methods. You can cut the video using the slider to get the necessary video parts quickly. The tool also supports this function if you wish to split the video into multiple segments. You can also cut in a precise duration by entering the starting and ending points.
However you like to trim WMV video files, this fantastic tool can handle it for you. On the other hand, here are steps on how to use it.
Step 1. Install the WMV Trimmer
The first thing that you need to do is to download the program. Simply click the Free Download button that is associated with your system OS. Install and launch it on your computer afterward.
Step 2. Import WMV video to cut
You can either click the Plus symbol, browse WMV files on your file folder, or drag and drop the WMV clip from File Explorer to the upload area. Then, the tool will upload the WMV video in a thumbnail.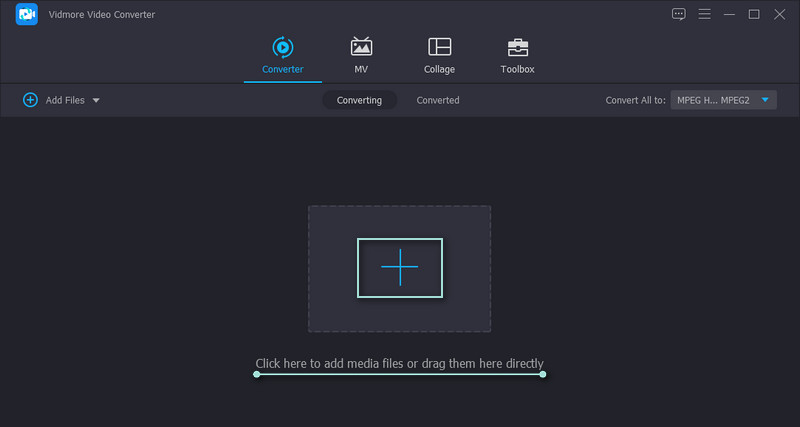 Step 3. Trim WMV file
Click the Cut button from the video thumbnail to launch the cutting interface of the tool. To trim the WMV file, place the Playhead where you want to cut the video. Then, hit the Split button under the media player. To split the file, select and delete segments, just click the Fast Split button, then cut by average or by time according to your needs. Then, you can delete the unnecessary video parts from the list of segments displayed. After that, hit the Save to apply the changes.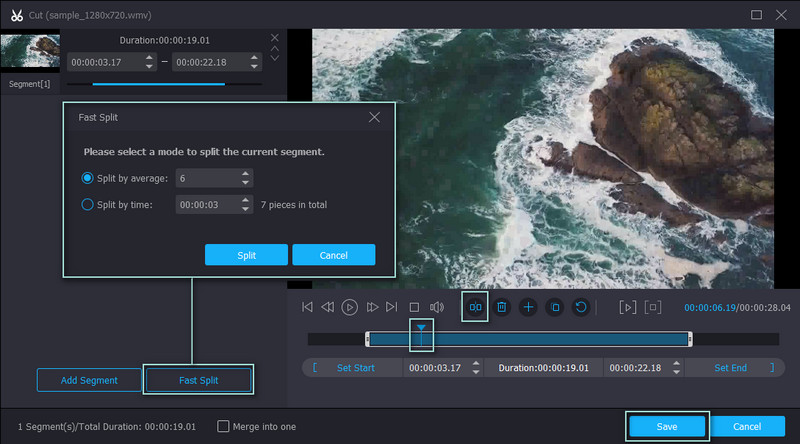 Step 4. Save the trimmed WMV clip
You can export the video to another format to play the video on different devices or keep its original format. Go to the Profile menu and select a video format to save it. Then, click the Convert All button to confirm the changes.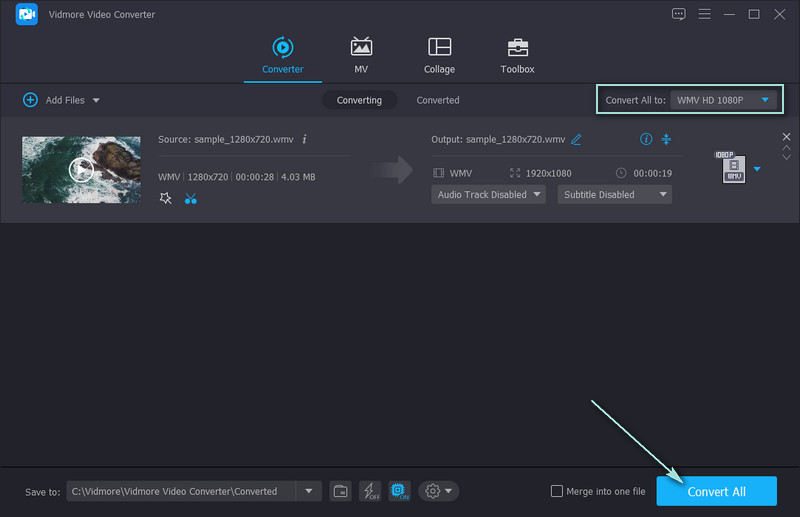 2. iMovie
You might also like to cut your WMV files on a Mac using iMovie. This tool is designed to help you edit video files that enable you to trim unwanted video parts. Aside from that, you can also add titles, music, effects, or filters into the video. Whenever you want to edit from your mobile device, iMovie supports iPhone and iPad. To trim WMV on Mac, follow the instructions below.
Step 1. First off, you need to reformat your WMV video into an iMovie-friendly format like MOV. You may use Vidmore or any video converter to do this.
Step 2. Then, import the WMV video file you want to cut and drag and drop to the timeline.
Step 3. Now, right-click on the video and select Split from the options. After splitting the video file into parts, you can delete the scenes you dislike. You may also use the Trim to Playhead to easily cut the beginning video parts.
Step 4. Preview the changes and save the trimmed video afterward.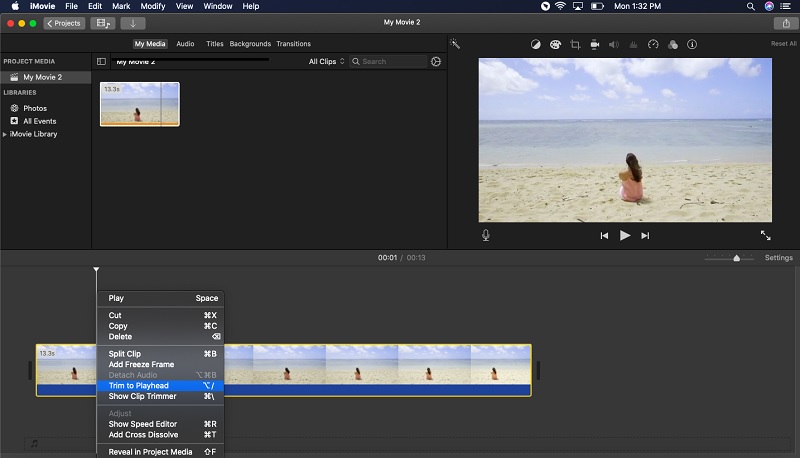 Part 2. How to Trim WMV for Free
1. FFmpeg
FFmpeg is a good application if you are looking for a totally free program to trim WMV files. This program is a command-based tool that works using commands and syntax. Everything is executed by syntax, starting from navigating to the system folder and communicating to the application to perform the operation. So, how does FFmpeg trim WMV videos? Below are steps for you to find out how.
Step 1. Get FFmpeg from its official page. Install it by copying its folder path and pasting it into the environment variables.
Step 2. Once installed, go to the folder where the WMV video is saved. Type CMD and hit Enter to open the Command Prompt on the file path.
Step 3. Type this command: ffmpeg -ss 'time' -i 'inputvideo'. This syntax is called the FFmpeg. Then you need to define where you want to start cutting, which is the second part. After that, you will need to specify the video you are cutting.
Step 4. The actual command should be as follow: ffmpeg -ss 00:00:20 -i inputvideo.wmv -to 00:00:50 -c:v copy -c:a copy outputvideo.wmv.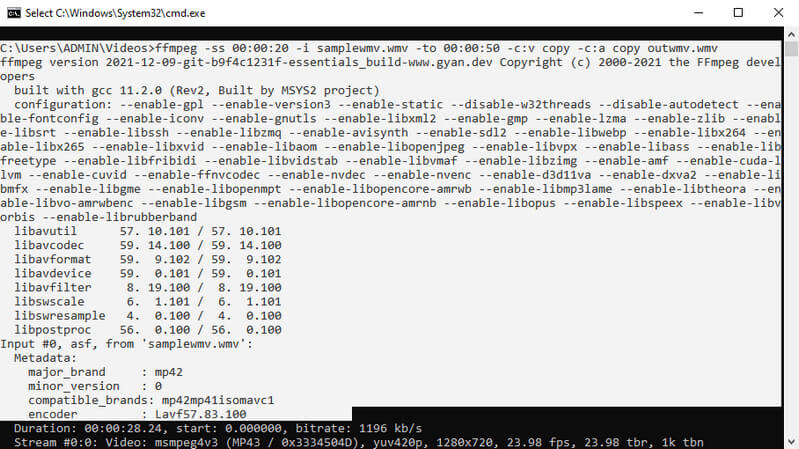 2. Video Toolbox
To help you trim WMV videos online, you should consider using Video Toolbox. It is an online-based program designed to cut videos from the website directly. The program can also help you cut and reformat a video simultaneously. For a simplified guide, refer to below.
Step 1. Using a web browser, visit Video Toolbox and register an account to use it.
Step 2. After that, go to File Manager on the left menu and upload your WMV video.
Step 3. Check the uploaded video, and choose Split/Cut file. Now select the part to cut by moving the left and right track bars.
Step 4. Finally, save the video by choosing whether to cut the slide in the same format or convert the slice.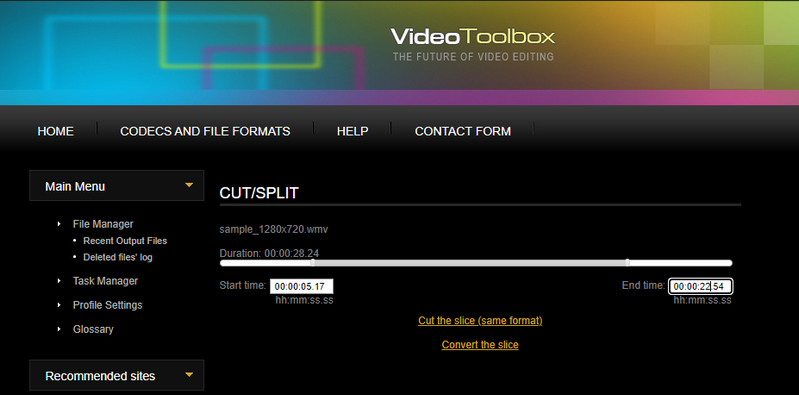 3. Online Video Cutter
Online Video Cutter is also a good try for those who want to cut videos online. Compared to the previously mentioned program, this tool has a more intuitive and appealing interface. Besides, you can upload video files from Drive or Dropbox or via the video URL. Don't miss it and find out how to cut WMV files online.
Step 1. Launch the Online Video Cutter on your web browser.
Step 2. Add your target WMV file into the program and start editing the video.
Step 3. You can easily cut the video by adjusting the handlebars or entering the cut duration.
Step 4. Once done, hit the Save button to apply all the changes.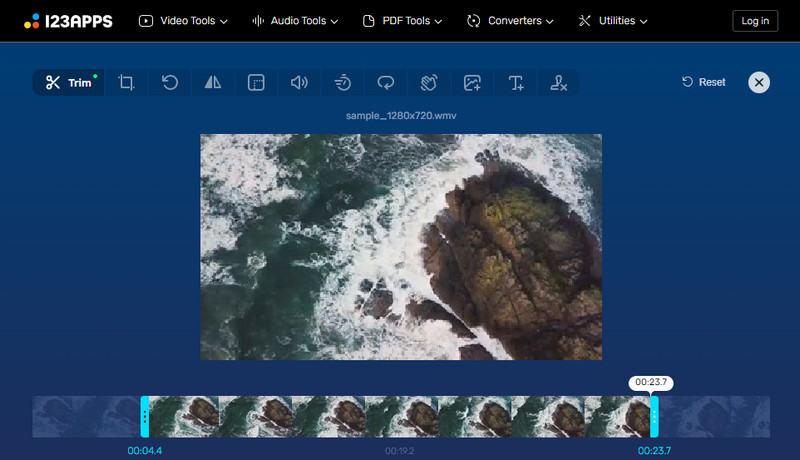 Part 3. FAQs on Trimming WMV
How do you trim a WMV before you play it?
Before playing your WMV video files on any WMV player, you can edit or trim the unwanted video parts with the help of the program introduced in this post. You can follow the same procedure for your convenience.
How do you trim a WMV movie on a Mac?
With iMovie, you may trim WMV movies or videos on a Mac computer. But if you want a straightforward way of cutting, Vidmore Video Converter should come in handy. With it, you are provided with various cutting methods. You don't need to install additional apps to convert the file as this function is built-in with the program.
How to trim WMV files for free?
You can trim files for free either by using freeware tools like FFmpeg or online programs like VideoToolbox. Usually, they provide handlebars to adjust the video cutting duration or length. For FFmpeg it is operated with commands or syntax.
Conclusion
All the given tools are guaranteed to help every user trim WMV files quickly. You can choose the best means by trying them out each. But it would be best to pick that would be beneficial for your today and in the future. Most of the time, these are the desktop tools such as Vidmore. Still, it will depend on your personal preferences.