Top 6 M4A to MOV Converter on Mac and Windows Devices
The audio and video data that go into making an M4A file are compressed before being saved. The user stores the information as M4A formatted tiny files. Then the user transforms those files to MOV format for a file of more excellent quality. After that, the user will utilize the MOV file to edit the video in the manner that best suits their needs. MOV preserves the data in tracks is one of the most appealing aspects of this file format to potential users. These are the most excellent options for mixing music and editing videos. You will need to convert M4A to MOV format for good data quality.

Part 1. Best Way to Convert M4A to MOV
In seeking an audio and video converter that is both the most trusted and verified takes a significant amount of time. You could come across several tools distributed on the internet, but you shouldn't put any stock in them. Therefore, if you are still seeking an M4A to MOV converter for your M4A file, we are here to assist you in any way we can.
1. Vidmore Video Converter
It is widely acknowledged that Vidmore Video Converter is the most excellent video encoder and audio converter available. It is compatible with the majority of audio and video formats currently available. While doing so, it simplifies the process of converting between any media file types, including M4A to MOV, to the greatest extent feasible. It is not just a converter but also a powerful editor that you can use to modify your M4A music or MOV video files. In addition, it can convert between several file formats. Because the user interface is so simple, you should only need a few moments to become proficient with it. It is free to convert between different audio files and edit audio files.
It might be challenging for someone just starting to absorb all the knowledge necessary to convert M4A files to MOV format. Because of this, I've included a detailed tutorial to which you can always go back.
Step 1: Complete the installation process by clicking the Free Download symbol to install the software on your device. After that, allow the Vidmore Video Converter to operate.
Step 2: Open the software and see a few buttons and tabs on the screen. Tap the Add files or the Plus icon for you to start adding your M4A files.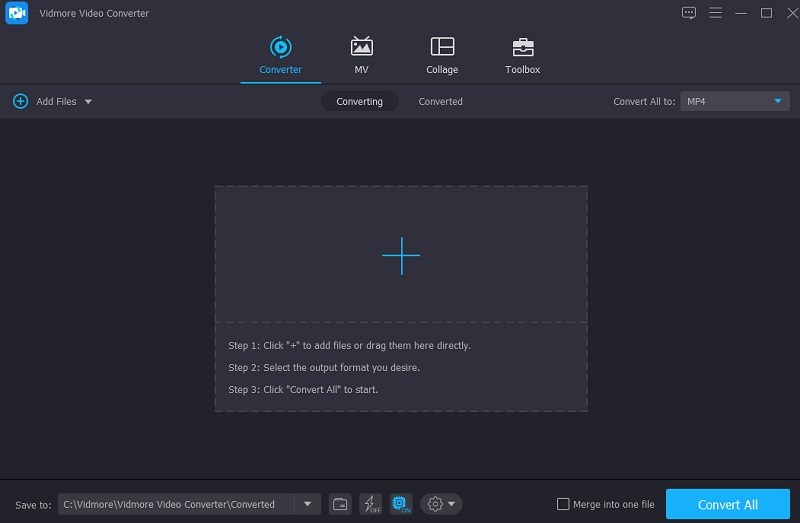 Step 3: Once you see the M4A file uploaded on your end, you may start choosing a new format. And you can do this by clicking the Profile arrow on the side of the M4A track. Then, you will see different sections. Click the Video tab. If you are in that section, look for the MOV format using the search bar.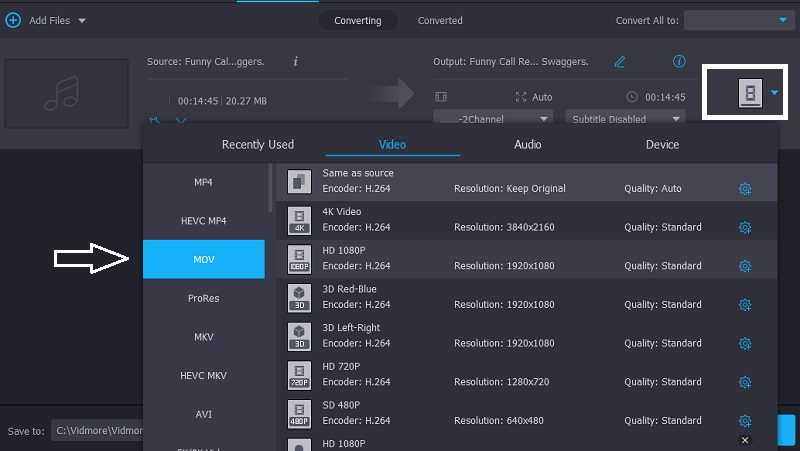 What is great about this audio and video converter is that you can control the quality of your file. On the right side of the MOV, click the Settings symbol. You may now navigate the format's resolution, frame rate, and bitrate. After choosing from the list of options, tap the Create New icon.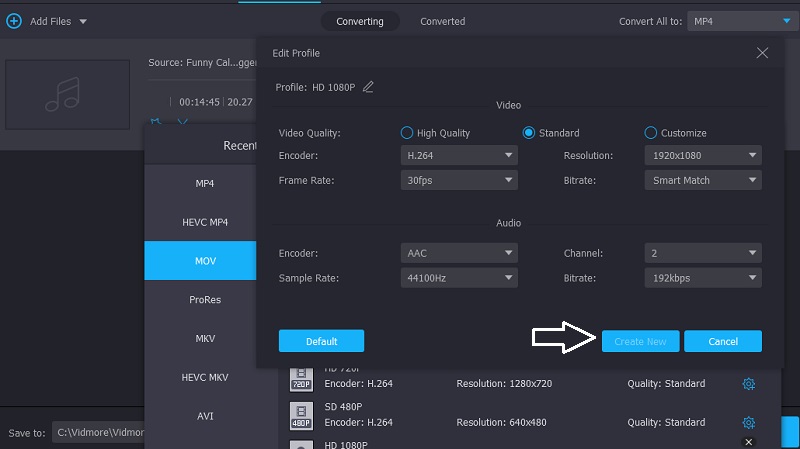 Step 4: Finally, to convert M4A to MOV permanently, tap the Convert All on the lowest part of the screen's interface.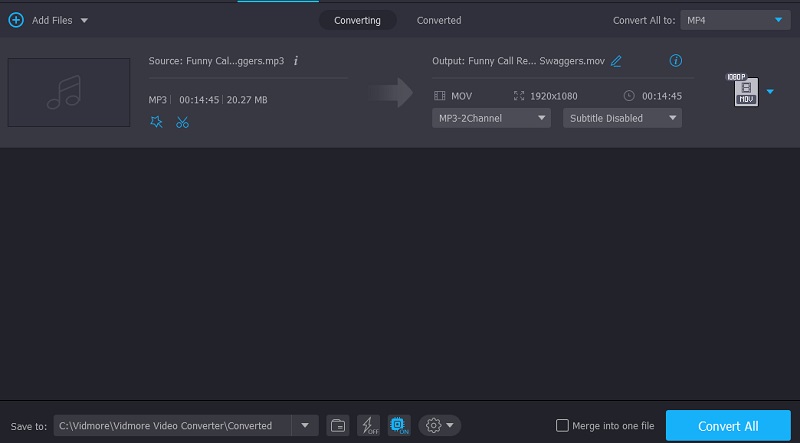 Part 2. How to Convert M4A to MOV Online
2. Vidmore Free Video Converter
Vidmore Free Video Converter is a subscription-free, free tool. It is an outstanding tool for free MP2 to MP4 conversion. In its most basic version, this online application converts between multiple file-formats while allowing you total control over the quality of the output files.
Vidmore Free Video Converter is a flexible application compatible with Mac and Windows devices, making it an ideal choice in various situations.
In contrast to other converters, Vidmore Free Video Converter is fully-featured. Using this web-based application, you may convert your files without being constrained by a lack of options. In addition, a step-by-step technique has been given to make the instructions simpler to follow.
Step 1: You may download the launcher by going to the Vidmore Free Video Converter website and selecting the option that allows you to add files to convert. You can start utilizing the online program after the launcher has been successfully installed.
Step 2: Click the Add files to the convert box a total of two more times to choose the M4A file.

Step 3: Next, pick the Movie button that is located on the side of the screen. In addition, it will provide you with a selection of several video file kinds to choose from. Then, choose MOV as the file type from the pull-down option on the right-hand side.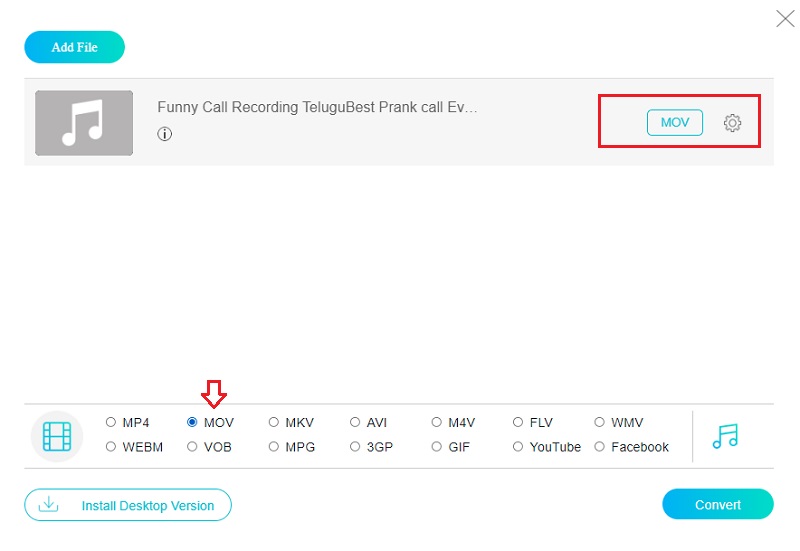 To adjust the volume and bitrate of the video, use the Settings icon located to the right of the audio. To conclude, choose OK from the menu to close the window.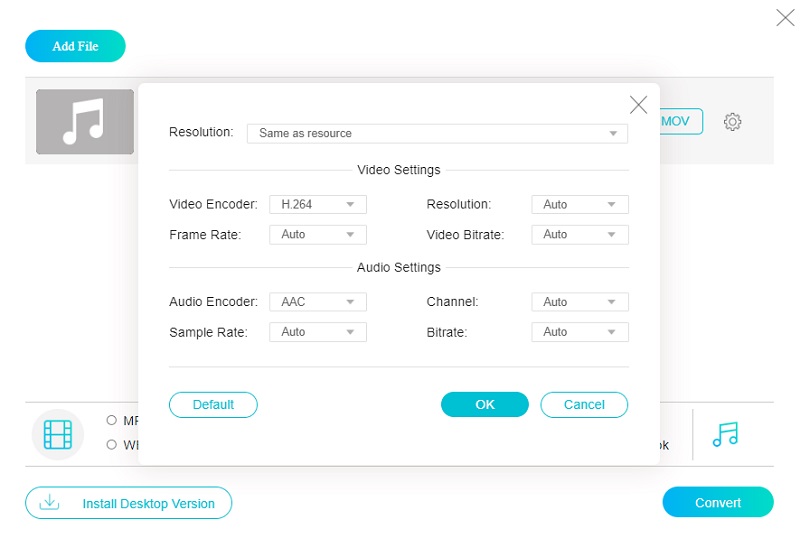 Step 4: The last step is to choose the Convert icon from the toolbar and then go to the destination folder using the Select Folder icon. Your audio may be converted to MP4 format in seconds when you use Vidmore's Free Video Converter.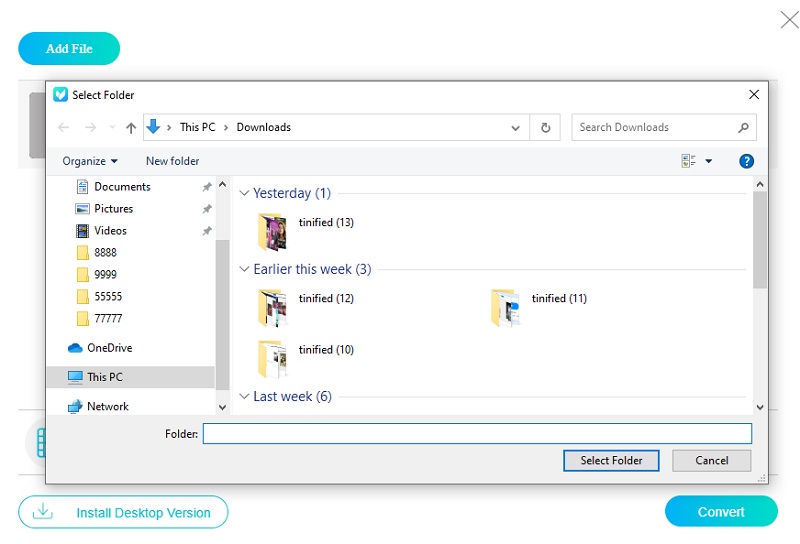 3. Free Online Video Converter
Another option for converting your media online is to take advantage of the Free Online Video Converter. This online application has a straightforward interface and is adaptable to various file types. This online tool makes converting straightforward and does not require more than three quick steps.
Step 1: Start from the homepage by clicking the Select file button. You must then install the launcher on your computer.
Step 2: To import M4A audio, click the Browse button. After that, make sure that the output format is set to MOV.
Step 3: In the lower-left corner, click the Convert button. After some time, you will see that the new MOV file has been saved in the same folder as the M4A files.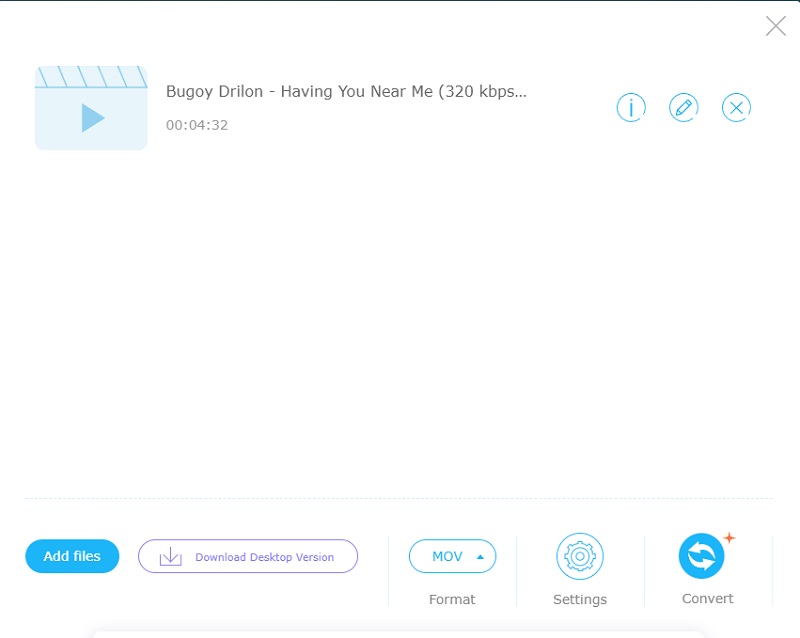 Part 3. How to Convert M4A to MOV on Mobile Devices
4. iConv Video Converter
iConverter is helpful for many conversions that arise in daily life. Converting video and audio, processing documents, decompressing files, converting to PDF, and a great deal more are all included in this service. It is possible to convert a single video clip. Suppose multiple files need to be processed at the same time. In that case, the capability to convert multiple files at once will be beneficial and save a significant amount of time and work.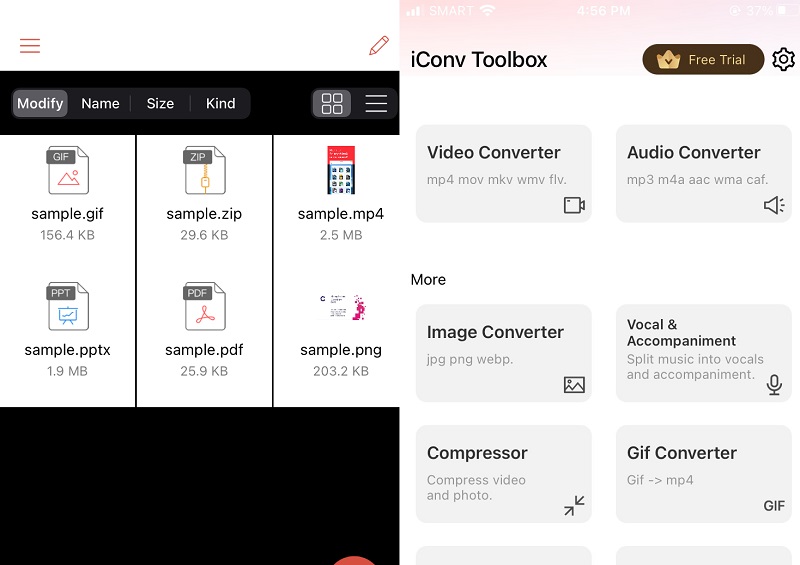 5. MyMP3
The MyMP3 program is compatible with many file formats, such as AVI, MP4, and WMW. It also gives you access to a large number of additional capabilities, such as the ability to play music in the background. Additionally, it may be used by you as a music player. It facilitates the transfer of your preferred music with friends and family. It allows those people to play it using other applications.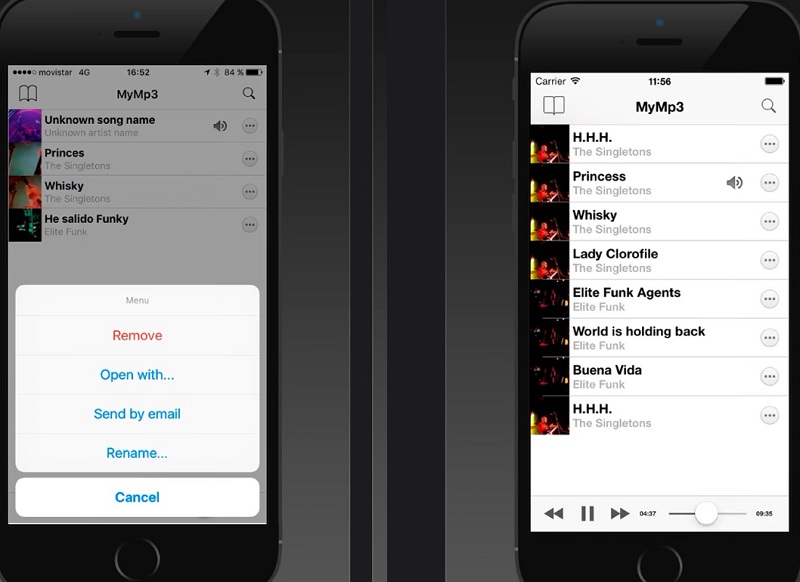 Part 4. FAQs About Converting M4A to MOV
Which format is superior, MP3 or M4A?
Both MP3 and M4A are examples of audio formats that provide an excellent listening experience. Although M4A provides superior compaction and audio quality, MP3 is the format most compatible with various electronic gadgets. It gives MP3 a distinct edge.
Does every device support playing MOV files?
You may view the MOV format on several different devices. It is not recognized by all media players, gadgets, online file storage services, or websites. As a result, you will need to transform it into a different format that you can play on your existing media player.
What's different between MP4 and MOV?
The most significant distinction between these two formats is that MP4 is an international standard. At the same time, MOV is a file format exclusive to Apple and used only with QuickTime. Most streaming services encourage using MP4 files rather than MOV files since MP4 files are compatible with a more significant number of streaming protocols.
Conclusions
You should have no trouble converting your M4A files using any M4A to MOV converters for Mac and Windows. When it comes to converting videos to M4A format and editing videos, it is advised that you utilize Vidmore Video Converter. You may start converting and altering it as soon as you get it.