Complete Guide to Convert MP4 to OGV for Free Online and Offline
You may have an extensive collection of MP4 files, whether from downloading online or getting from your friend. Now, you are looking for a way to convert your MP4 files to OGV for video playback online, especially for streaming on HTML 5 websites. OGV is the filename extension for video files saved Xiph.Org OGG container format. It is known to have the ability to store video and audio streams, text, metadata, text content, etc. Besides, it can also store codecs like Dirac, Theora, and Daala.
Meanwhile, MP4 is currently the standard format for video streaming. Despite this, OGV has its share of wins over MP4. OGV format is probably the best format for webpage video playback, especially for playing in HTML 5 webpages. Also, this format comes with easy data modification due to the cross-link to OGG. That said, switching from MP4 to OGV is necessary if you wish to obtain these benefits. See here some of the great conversion tools to get this job done.

Part 1. Efficient Tools to Convert MP4 to OGV on Mac/Windows
1. Vidmore Video Converter
A top-tier converting tool known for delivering high-quality conversion is none other than Vidmore Video Converter. This program supports all new and popular video/audio codecs and formats. With it, you can convert MP4 to OGV on Mac and Windows PC. Even better, it comes with presets to help you process your conversion job with ease. Plus, you can modify the output, including the frame rate, sample rate, video resolution, even more, to fit your requirements.
With the video editing tools it offers, you can also produce professional videos in a matter of seconds. Best of all, the tool is infused with multi-core processing that makes the batch conversion possible with blazing speed while retaining the original file's quality. To utilize this fantastic tool, you may find the steps below.
Step 1. Download and install the tool
Before anything else, grab a copy of the program's installer. Then, click on the Free Download buttons below. After getting the app, install it by following the on-screen setup. Run the application on your computer afterward.
Step 2. Import a video file
Now, add a video file by clicking the Plus icon in the middle of the interface. Once your video folder opens up, browse and select the MP4 video you wish to convert. Also, you can drag and drop the track to directly to the program's interface for convenient uploading.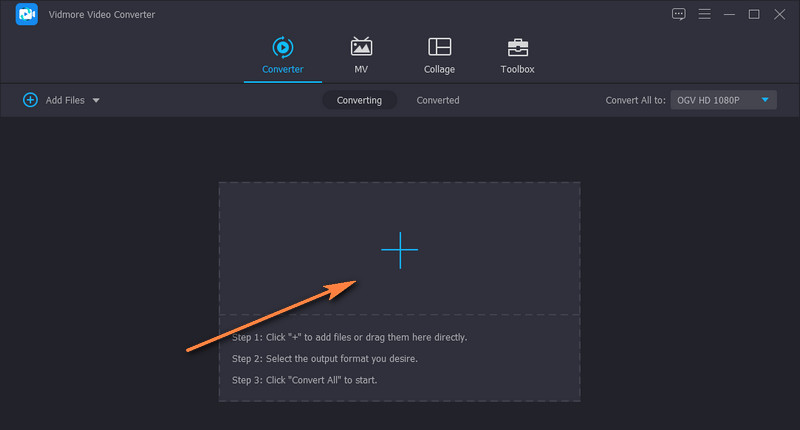 Step 3. Select an output format
This time, select an output format by unfolding the Profile menu. Simply click on the drop-down menu at the upper right portion, and you will see a list of media formats. Under the Video tab, choose OGV on the left side column of the menu. Then, select a suitable preset for the video.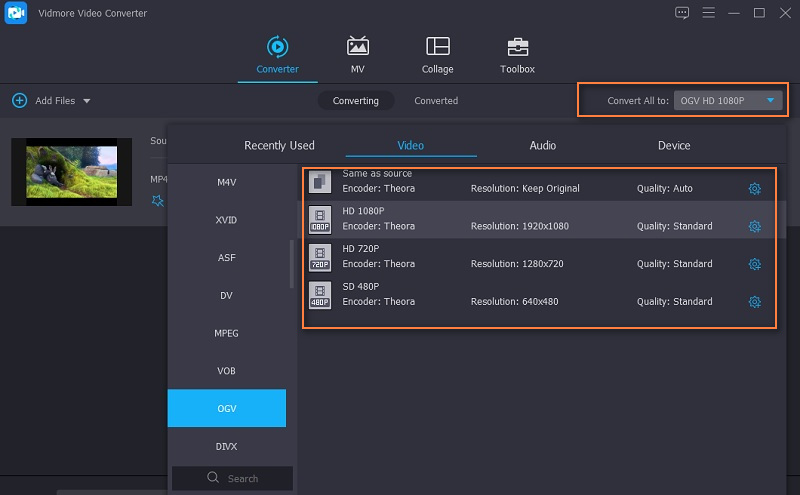 Step 4. Convert from MP4 to OGV
Now, select an output directory to save the video output. Simply click the Folder icon located at the bottom right portion of the interface. Click the Convert All button to begin the conversion process when everything is set. The playback of the video should appear on the output folder you set.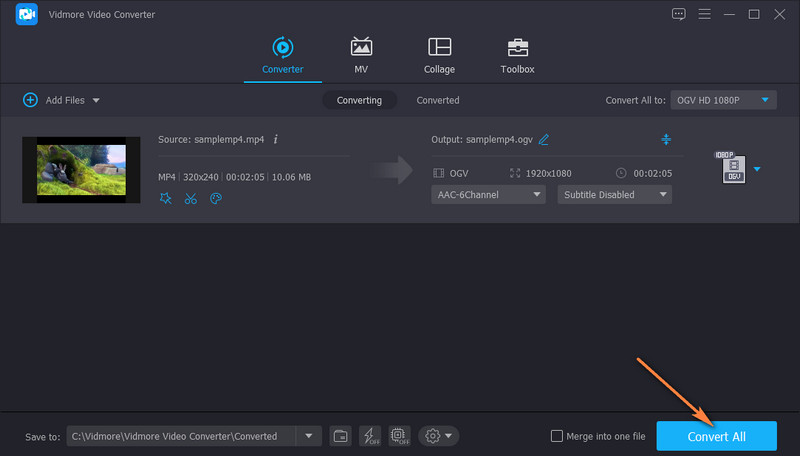 Pros
It comes with no format and file size restrictions.
Adjust video and audio settings.
Offers video editing options.
GPU-accelerated video conversion process.
Cons
It requires mediocre resources.
2. VLC Media Player
If you need to convert MP4 to OGV for free on Windows, Mac, and Linux, look no further than VLC Media Player. While it is the most popular media player, it can also be used to manipulate video files allowing you to convert, rotate, crop, cut, trim, etc. Surprisingly, this program also integrates a batch conversion feature to help you save time and effort. Among its exceptional features is its ability to sync subtitles audio and video filters. We listed the steps to use this video converter MP4 to OGV.
Step 1. Open the installed VLC Media Player app on your computer and go to the Convert/Save panel.
Step 2. Upload the MP4 video you like to convert and select OGG/OGM as the output format.
Step 3. Finally, click the Convert/Save at the bottom of the Start panel.
Pros
Convert MP4, OGG Theora, Dirac, FLV, MP4, WMV, MOV, etc.
Extra features like rotate, cut, crop, and more.
Cons
Conversion process takes a lot of steps.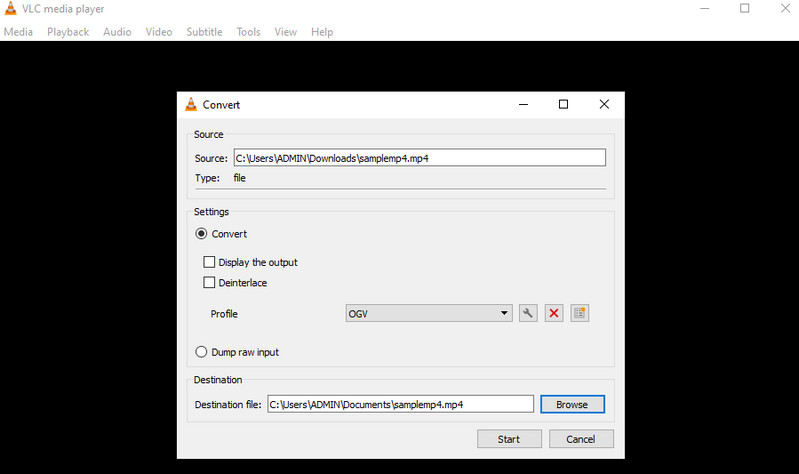 Part 2. Convert MP4 to OGV for Free
1. FFmpeg
FFmpeg is an open-source multimedia suite for streaming, converting, playback and profiling. Similarly, it can convert hundreds of famous video and audio formats. This program might be the most powerful video converter in the market. Besides conversion, it also offers other basic editing features like cutting and resizing videos. On the other hand, here is how FFmpeg converts MP4 to OGV.
Step 1. Download and install FFmpeg on your computer.
Step 2. Open the folder where your target MP4 video is saved. Then type in CMD on the file path.
Step 3. Now, type ffmpeg -i
Pros
Cross-platform solution.
Record, cut, split, and merge videos.
Cons
Not best for beginners to convert videos.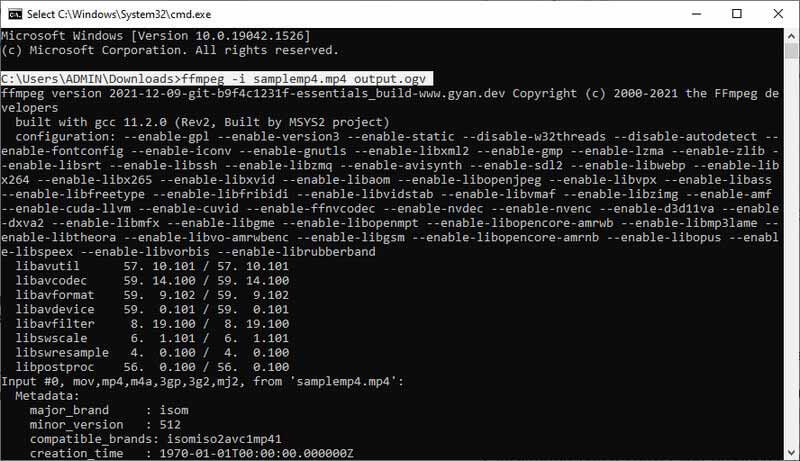 2. Convertio
Convertio is a cloud-converting service tool that allows you to switch from MP4 to OGV for free online. With it, you can upload local files and get to enjoy uploading files from cloud storage services, too. That said, uploading from Google Drive and Dropbox is possible. Follow the simplified guide below to utilize this program.
Step 1. Access the tool's website using any browser on your computer.
Step 2. Import an MP4 video file by clicking the Choose Files button.
Step 3. After that, choose your desired output format and click the Convert button.
Pros
No need to register for an account.
Cloud storage services are supported.
Cons
Conversion process is relatively slow.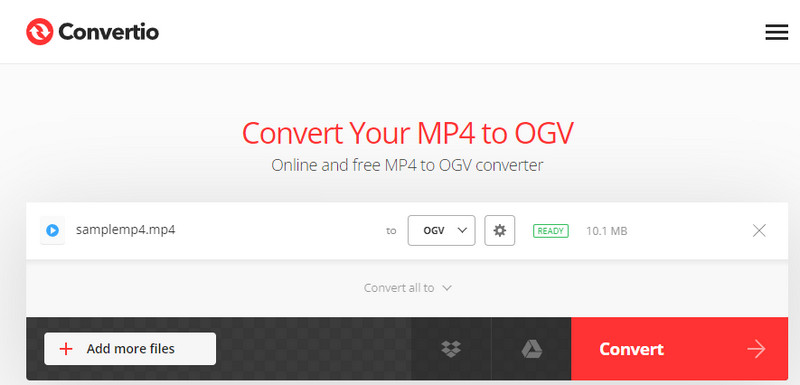 Further Reading:
Rotate MP4 Video Files on Mac, Windows, and Mobile Devices
2022 Top 6 Video Converters Online/Offline to Convert MP4 to MKV for Free
Part 3. FAQs on Converting MP4 to OGV
How do you make an OGV?
OGV files are usually made by converting a video to OGV format. To do so, a video converting tool is necessary.
How can I convert OGV to MP4?
Numerous converting tools are available online. You have to pick a suitable converter according to your needs. There are online and desktop just like the ones we mentioned above.
IS OGV and OGG the same?
OGV is a file extension derived and stored in OGG file format. It represents the video in the OGG. In other words, OGG is a file container where OGV is saved.
Conclusion
This was a comprehensive list of video converters you can use to transform from MP4 to OGV with great ease. Meanwhile, you can grab a desktop tool if you wish to convert without the need for an internet connection. On the other hand, you can acquire an online tool to convert without downloading.