How to Compress OGV Video Files on Windows and Mac
Sometimes, you want to share a video in an OGV file with your friends. But the format contains a large number of data and it may cause the transfer failure when you try to send it through email. So, you need to compress the OGV file and reduce its size to successfully send it. This article introduces you to 2 verified methods to compress OGV files on Windows and Mac systems.

Part 1. How to Compress OGV Files to Smaller
To compress OGV, you need a professional third-party video compressor. Vidmore Video Converter can meet your demand well. Its well-designed interface can guide you to finish the process easily.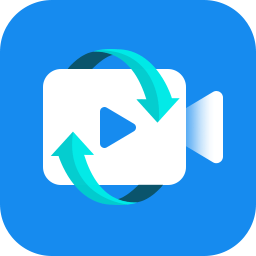 Vidmore Video Converter
Compress OGV files with the Toolbox compressor feature in one click.
Fast speed and lossless quality of compression.
Various editing features to upgrade your OGV files.
Adjust details of OGV files like resolution, frame rate, and audio tracks.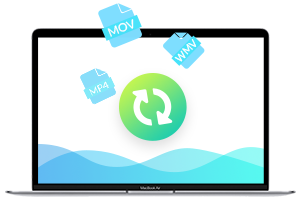 Step 1. Download and launch Vidmore Video Converter. Go to the Toolbox interface and select the Video Compressor feature. To add OGV files, you need to click the + in the middle of the interface. Then choose the import file in the browse window.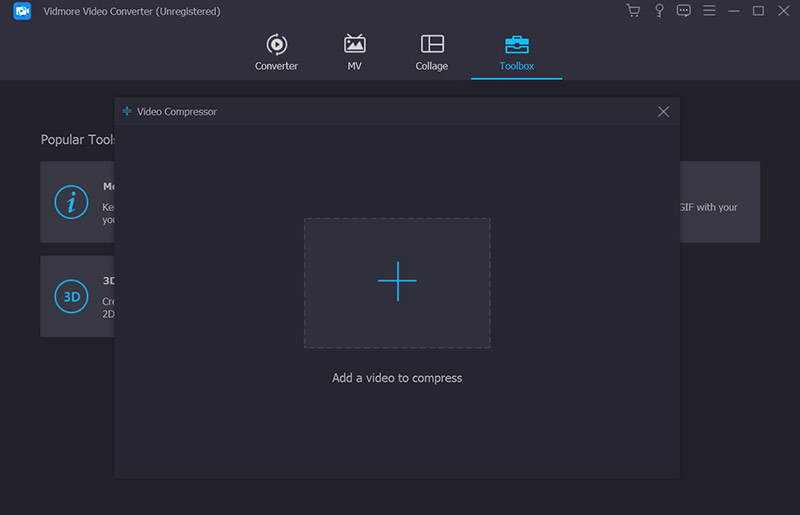 Step 2. After adding files, the parameter window will pop up. You can reduce the size of the file by adjusting the compressibility. Just drag the dot on the right side and the size will change. You can also adjust the format, resolution, and bitrate in the interface. To compatible with more platforms and players, you can choose to export MP4 format.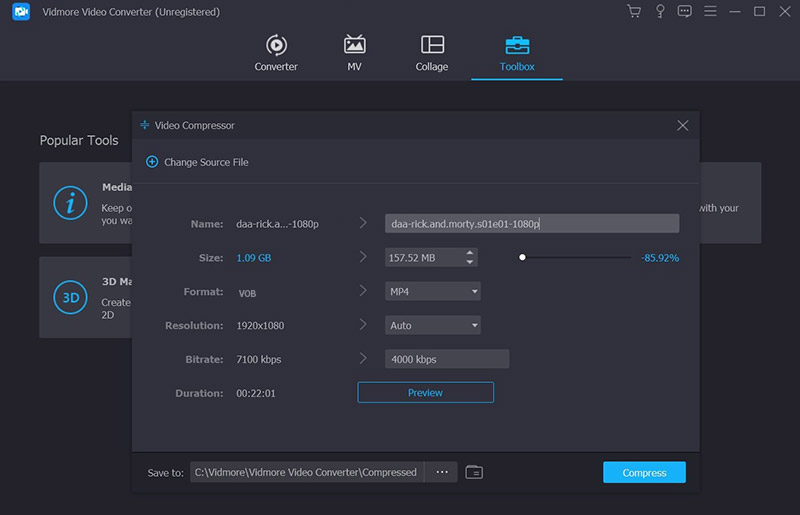 Step 3. Click the Compress button at the bottom to start the compression. The compression takes a few minutes. When the process is finished, you can find the file in the default folder.
Although Vidmore Video Converter is a versatile tool to compress OGV files and other video files like MP4, WMV, MKV, VOB, etc. You can download and install it on your computer to use it.
Part 2. How to Compress OGV Files Using Online Video Compressor
There is a free way to let you compress OGV files online -- Vidmore Free Online Video Compressor. It provides you high-speed online compression so that you can finish the compressing easily and quickly.
Support compressing and converting OGV video files to other formats.
Customize OGV files to get the smallest files.
Batch compressing allows you to shrink multiple OGV files simultaneously.
Step 1. Visit the website of Free Online Video Compressor. Click the Compress Now button, then you can import OGV files in the browse window.

Step 2. You can adjust the compressibility to reduce the size of OGV files. Just drag the dot and you can see the changing of file size. You can also change the format, resolution, and bitrate.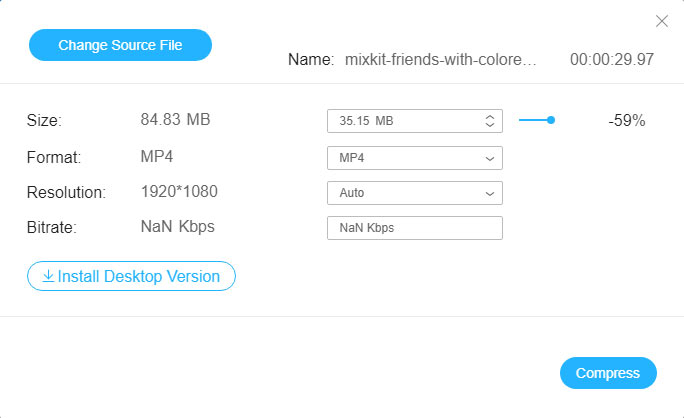 Step 3. To start the compression, you need to click the Compress button. Then you can find the export files in the default folder on your computer.
Part 3. Extra Knowledge about OGV
The OGV file is a container format to save media data developed by Xiph.Org. Xiph.Org provides a DirectShow codec pack. It allows software developers to support OGV files in open-source and commercial applications. The video stream it contains may have various kinds of codecs like Theora, Dirac, or Daala. OGV files are used wildly for playing webpage video content using the HTML5 <video> tag. Besides, OGV files that contain audio files are Ogg Vorbis files. (Find OGG player here)
Part 4. FAQs of OGV Video Compression
1. How can I compress and convert MP4 files to OGV?
You can use both Vidmore Video Converter and Free Online Video Compressor to convert various formats to OGV. Just select the MP4 format to export in the interface and you'll get the MP4 files after the compression.
2. How to play an OGV file?
There are some programs you can use to open OGV files like Ogg Vorbis Video Profile and Theora Ogg Transport Stream Video File. You can also use media players like VLC to open OGV files on the desktop and mobile devices.
3. Can I optimize OGV files?
Yes, you can. You can upgrade the OGV video quality with changing resolution and editing features on Vidmore Video Converter.
Conclusion
This article provides you 2 verified ways to compress OGV files. You can compress with Vidmore Video Converter. Its versatile functions allow you to optimize your OGV video files. You can also use Vidmore Free Online Video Compressor to compress online for free. Visit the websites of them and try to compress OGV with these tools. You can solve your problem perfectly with them.