MKV to MP4: Review of the Best Video MP4 Converters There Are
Do you have video files in MKV format that you wish to video on some players or devices? This format is a well-known media format containing video, picture, audio, and subtitle tracks in one file. It does not work well with most players and devices. You will need a special program to open this format. Digital devices like Android-based smartphones, iOS devices, or video players such as QuickTime have difficulty playing this file.
But what if you would like to play your MKV downloaded movies on such devices and encounter incompatibility issues? That is where format conversion comes into play. As we know, MP4 is king regarding compatibility and flexibility. Most media players and devices support this format with little to no problem. Henceforth, we reviewed some of the best MKV to MP4 converters you should consider.

Part 1. Best MKV to MP4 Converter
For a flawless, speedy, and lossless quality conversion process, Vidmore Video Converter is a suitable application. This helps you convert MKV and other video formats to MP4 with satisfactory results. Aside from its fast conversion speed, you may also utilize the tool to customize the video and audio parameters. It lets you modify the frame rate, sample rate, channel, and encoder according to your requirements.
Furthermore, the program has 4K resolution support allowing you to preserve and process videos with such quality. On top of that, it facilitates both single and batches conversion tasks. Explore more of this tool by following the step-by-step instruction below.
Step 1. Grab the MKV to MP4 Video Converter
First and foremost, download the program on your computer. To do it, click one of the Free Download buttons below. Then, have the program installed by following the on-screen setup. After that, run the tool.
Step 2. Add an MP4 video file
This time, click the Plus sign button in the program's main interface. Or, press the Spacebar key to open up your File Explorer. Next, browse and select the video file you wish to convert. You can also drag your target video to the respective upload areas of the software to upload.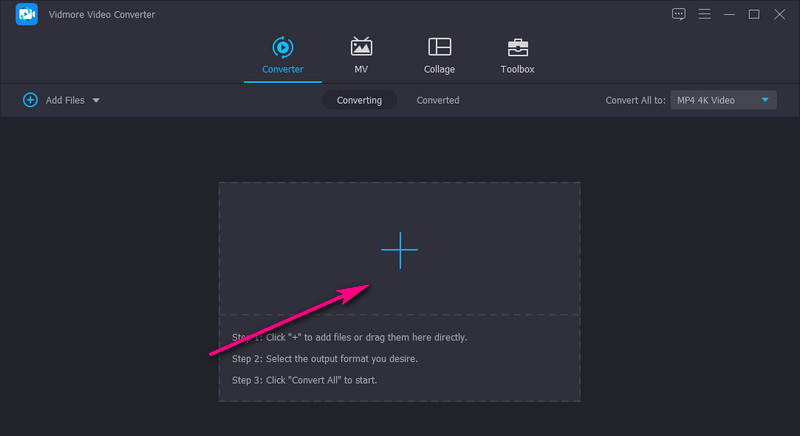 Step 3. Select output format and adjust the video output
Now, unfold the Profile menu located at the upper right-hand side of the interface. Go to the Video tab and set MP4 as the output format. After that, please select from the provided MP4 quality. Then, configure it under your preferences by clicking on the Gear icon.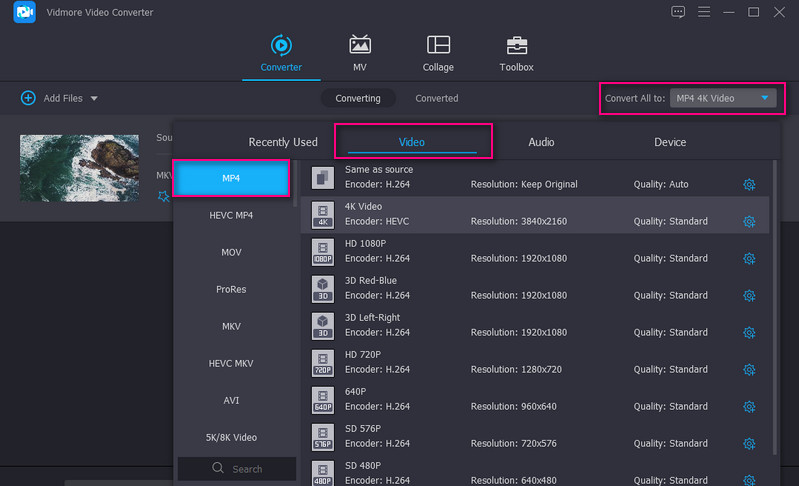 Step 4. Commence the conversion process
Now, choose where you want to store the converted file. Simply click the Folder icon beside the folder path and set the output directory. At this point, click the Convert All button and wait until the conversion process completes. You should receive the video playback on the folder you set.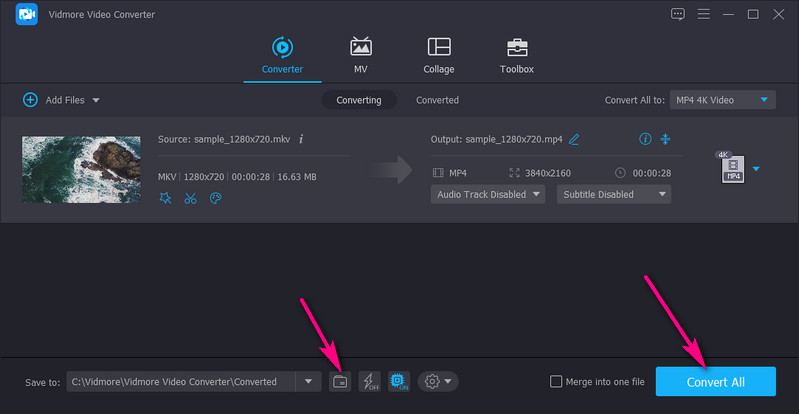 Pros
It can modify parameters.
Speedy and fast file conversion.
Straightforward user interface.
It comes with a variety of editing options.
Cons
Needs to upgrade to full version to access all features.
Part 2. Free MKV to MP4 Converter
Numerous programs you can find online. Free and online solutions can manage the MKV to MP4 conversion. However, after several tries, you are frustrated finding the right fit for your needs. Here we will have scrutiny on the practical video converters for MKV to MP4 conversion task. Dig deep into these apps by reading below.
1. VLC Media Player
Created by VideoLAN, the VLC Media Player is an open-source and free program famous for its flexibility. You can use it to play almost all video files imaginable. On the other hand, this can also be utilized for converting video formats allowing you to transform from/to MP4 video format. More importantly, the tool is fully compatible with Windows and Mac computers. Therefore, it also works as an MKV to MP4 converter VLC for Mac and Windows. On occasions when you need to edit videos, the tool can rotate, cut, and crop video tracks.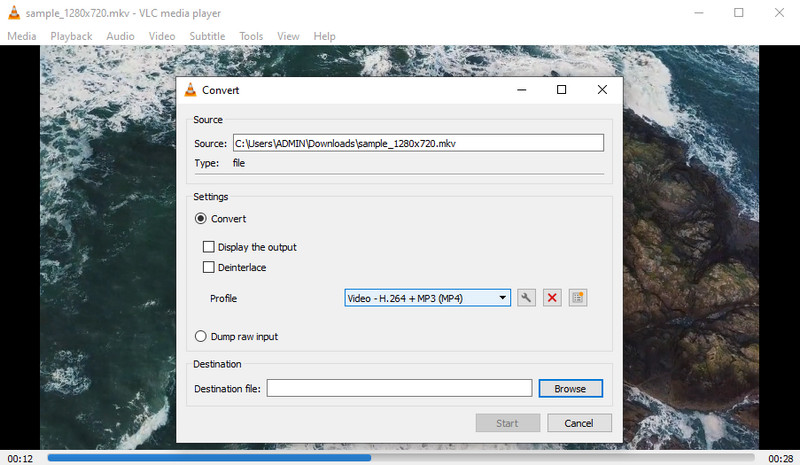 Pros
It can process batch conversion.
Create audio and video effects.
Capture a screenshot of a video.
Cons
Frequent crashing can be experienced.
2. Any Video Converter
Another MKV to MP4 converter to download to achieve the switch from MKV to MP4 easily is Any Video Converter. It is a desktop program equipped with various converting and editing tools. Likewise, it lets you customize the video codec, bitrate, and frame rate. The same goes for the audio settings. You may tweak the audio codec, channel, sample rate, or mute audio in the video. On top of that, the program is infused with burn DVD capability, so you do not need to install a separate burner for your video files. All you need is your files and the DVD to burn the video files.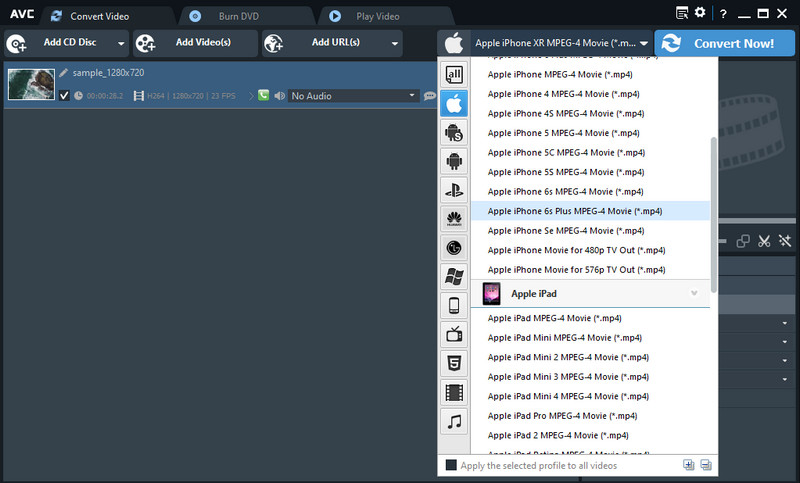 Pros
It provides a built-in media player.
Basic, video, and audio settings are available.
Add CD files and burn DVD.
Cons
No DVD ripping feature in the free version.
3. Online-Convert
From the title itself, Online-Convert is a free online video converter for MKV to MP4 and other video formats. There is no membership account needed to use its full service. Moreover, it has an attractive user interface allowing you to convert files quickly. Best of all, importing files can be done in four three different methods. Using the video's URL, you could upload from your local drive or import from cloud storage services like Dropbox and Google Drive. Besides converting video and audio files, it can convert various files, including images, ebooks, archives, documents, and a lot more. Since it runs on the webpage, it can work as an MKV to MP4 converter for Mac or Windows PC.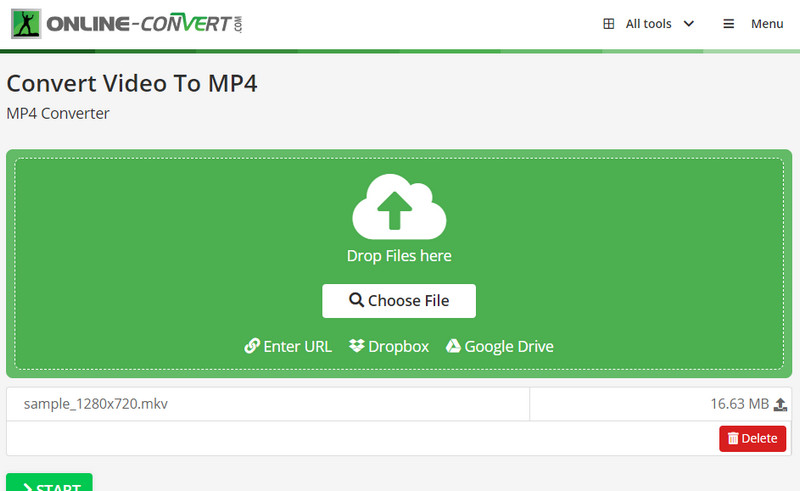 Pros
Upload via URL, local drive, and cloud storage services.
Provides format presets for easy conversion.
Cut, rotate and flip videos.
Cons
Cannot be used without an internet connection.
Part 3. MKV to MP4 Converter Apps
The usage of smartphones has significantly advanced in this fast-phased world. The benefit of delivering facilities conveniently makes it so famous. Likewise, you may have MKV files that you want to convert from the comfort of your smart device. Worry not. You can achieve this in an instant using the mobile MKV to MP4 format converters we will geek out on.
1. iConv
This iPhone video converter gives you the freedom to change the format of your MKV file to MP4 in just a few easy steps. Then, you can enjoy the output result on your iOS device. No matter if you are an iPhone or iPad user, you can finish your conversion job without having any trouble. This tool is so good because you can add or import videos from your computer to your iOS device by just entering an IP address. By then, you can import your target video file. Therefore, sharing files between devices is pretty easy and fast.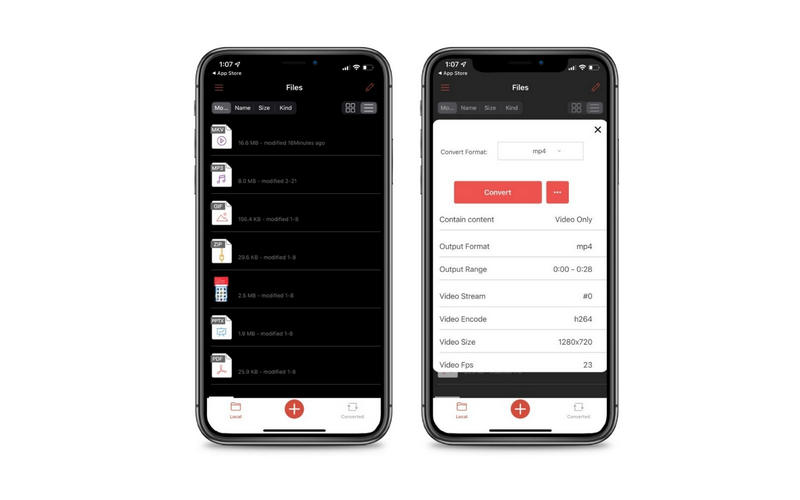 Pros
It can read and preview DOC, PPT, TXT, XLS, PDF, and other documents.
The tool provides an OCR feature.
Batch convert videos.
Cons
In-app purchases are necessary to access advanced features.
2. Video Format Factory
One of the best video converters MKV to MP4 for Android is Video Format Factory. It comes with preset settings for MP4, AVI, DVD, FLV, WEBM, and many more formats. Therefore, the conversion process is easy. In addition, parameters like codec, aspect ratio, fps, bitrate, and frequency are highly customizable. It also comes with extra features that allow you to cut, crop, reverse, and compress videos.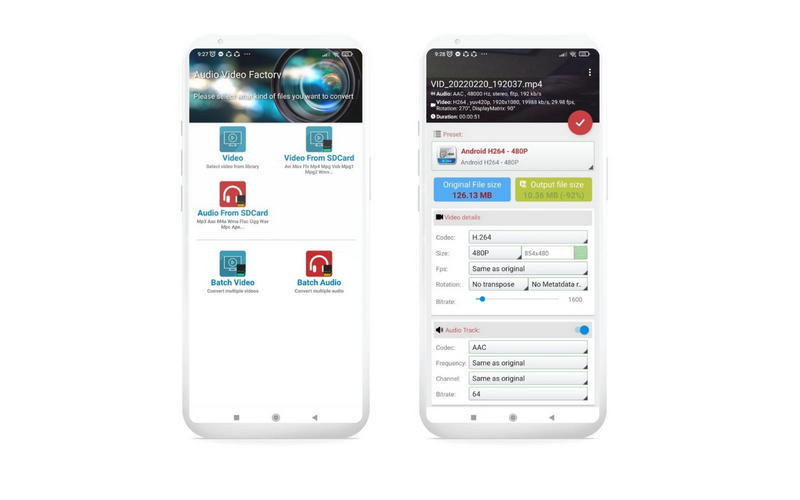 Pros
Share converted files on social media accounts.
Split, trim, crop, and reverse videos.
Compress videos in zipping to save disk space.
Cons
Highest quality is available for InApp purchase.
3. MP4Maker
MP4Maker is a total video converter MKV to MP4 for iPhone devices, which you should also consider. This file converter lets you upload from your album, using the video's URL, and from your local mobile files. Moreover, there are multiple quality settings for you to choose from. You have options to choose from low, medium, and high conversion quality. Besides, users are also given options to change image quality and fine-tune file size to fit their requirements.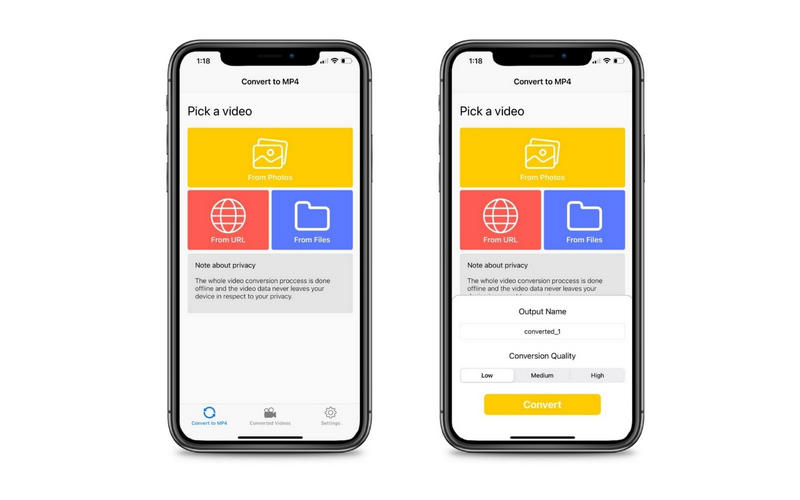 Pros
Convert files without the need for an internet connection.
Provides high-quality exports.
Pick a video using the video URL.
Cons
Very simple user interface.
Further Reading:
MKV to MP3 – Extract MP3 Audio from Any MKV File with High Quality
Use MakeMKV Alternatives to Get More Interesting DVD/Blu-ray Features
Part 4. FAQs on Converting MKV to MP4
What is MKV file format?
An MKV file is a multimedia container format that incorporates video, audio, picture, or subtitle tracks in one file, like ASF and AVI. Since it supports almost all video and audio formats, it is hailed as highly adaptive. One of its best features is error recovery, which allows corrupted files to be played.
Are MKV files larger than MP4?
As mentioned earlier, MKV files could hold various data, including subtitle tracks, video, audio, etc. Compared to MP4 files that can only contain one audio track while both have the same codecs, MKV is definitely prominent in file size.
Is MKV the best video format?
Every format is better for some use cases. In the case of MKV, it is the best video format when playing videos on your computer. It can deliver a balance of decent video quality and small file size. That means you can save storage while having a good quality video.
Conclusion
After a meticulous selection of the best MKV to MP4 converters, we have come up with this list. Each tool comes with strengths and features that make them unique from one another. When choosing the tool to use, you should take into account the usability and extra features you will get. There are MKV to MP4 converters downloaded for PC and mobile. Also, an online tool for a convenient conversion process. Yet, suppose you wish to preserve the 4K quality of your video or get a lossless quality result. In that case, you should go with Vidmore Video Converter, which is a great MKV to MP4 4K converter. Still, it boils down to your personal preferences. Hope this post imparted something to help you in your converting needs.