3 Best 3GP Cutter You Can Use on Windows and Mac
A 3GP file is a multimedia file type supported by 3G-capable devices. It is a reduced version of the MP4 format created to reduce file sizes so that mobile phones could allow video playback on them. To trim 3GP files, we will show you several straightforward programs that you can use online and offline. It's just necessary for you to read this piece through to the finish to find out which 3GP video cutter will most assist you.

Part 1. Top 3GP Cutters
Here you can find a selection of the most highly regarded 3GP video cutters available on the market today! You have the choice of using either an online or an offline method to complete your task.
1. Vidmore Video Converter
The Vidmore Video Converter is the number one and most highly regarded 3GP video cutter that you may download into your device. Because of its audio and video editing capabilities, it is the most widely used video cutter on the market. Aside from that, it has a user-friendly interface that enables you to work with your audio and video files quickly and effectively. As a result, if you want to reduce the size of your 3GP files in a short period, Vidmore Video Converter is the best choice available. Furthermore, as previously stated, this program is well-suited for use with both the Mac and Windows operating systems.
This expert video cutter supports over 200 distinct audio and video file types. In addition, a bad internet connection is an inescapable component of everyday life that you cannot avoid. In terms of video conversion, Vidmore Video Converter is a reliable tool that works well even when your internet connection is slow. If you want to make adjustments to the file, you may save it in the format of your choice. You may also get a detailed description of trimming your 3GP files using this program on this page.
Step 1: Download the 3GP Video Cutter
By selecting one of the Download icons on the bottom, you can download and install the 3GP video cutter program on your computer. After you've finished installing the program on your device, you'll need to activate it.
Step 2: Upload the 3GP Files
To begin the uploading process for audio files from your Folder, click on the Add Files button located in the upper left corner of the page to start the process. You may also select the Plus sign in the window's center interface by clicking on it, which is another choice.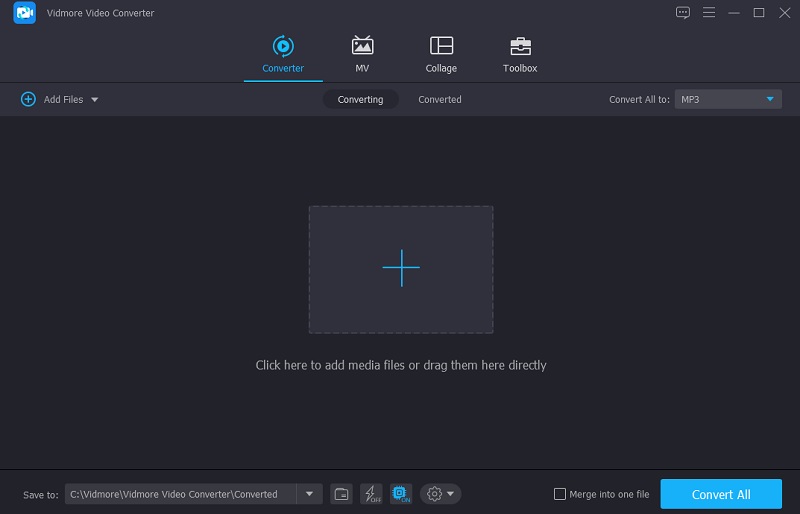 Step 3: Navigate to the Trimming Section
Choose the Scissors symbol under the video thumbnail once your 3GP file has been put into the Timeline. Following that, begin eliminating undesired areas of your 3GP file by gradually shifting the video's left and right sliders. You may also manually input the video's start and finish timings. Once completed, click the right-hand Save button.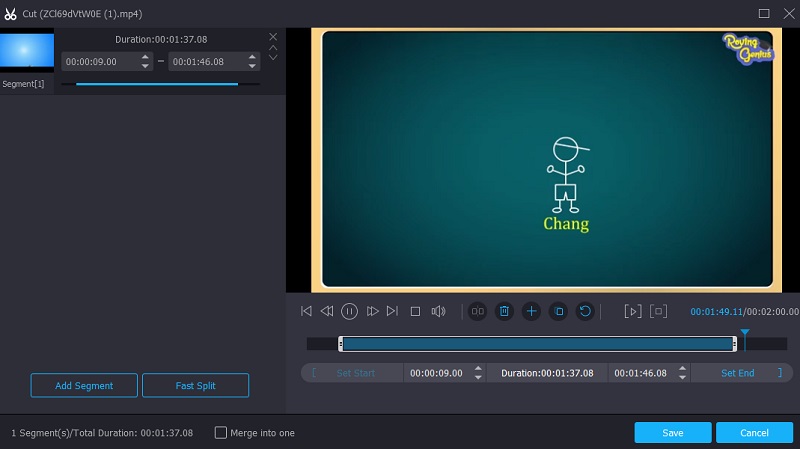 Step 4: Convert Your 3GP Video
After you've finished all of the improvements indicated below, you may permanently apply the changes you've made by clicking the Convert All button at the bottom of the page. And now you're done!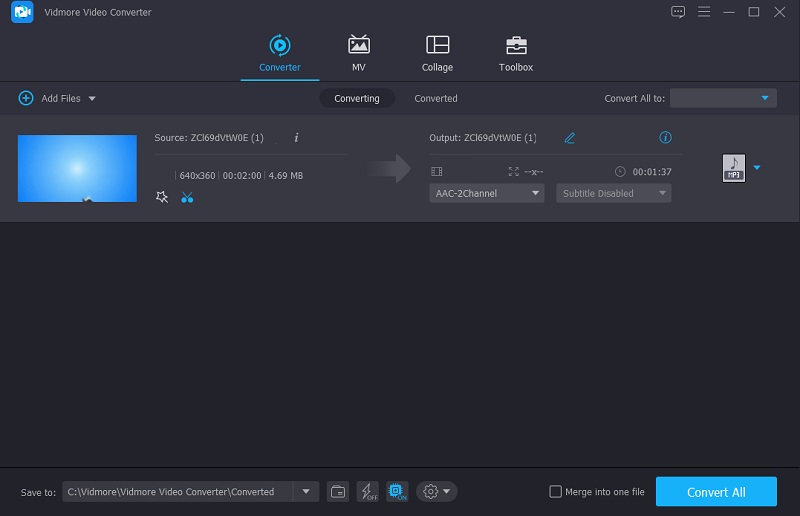 2. 123Apps
Another easy-to-use tool you can count on in cutting your favorite 3GP files is 123Apps Video Trimmer. It is also a web-based program that offers more than 300 audio and video file formats. Another thing is, you can easily control this video trimmer due to its built-in friendly features. Therefore this is perfect for those users who are just starting to be video editors or those who desire to cut the unwanted parts of their video clips.
With that in mind, here's a simple guide to use 123Apps Video Trimmer to cut your 3GP files.
Step 1: Go to the official page of the 123Apps Video Trimmer. Once on the main page, click the Open File button and upload your 3GP file from your Folder.
Step 2: Once the 3GP file is loaded on the Video Trimmer, navigate the Left and Right Slider until you get the desired cut on your video. You can also set the Start and End times of the said clip.
Step 3: If you got the desired cut for your 3GP file, you could now export it by clicking the Save button and waiting for your video to be encoded.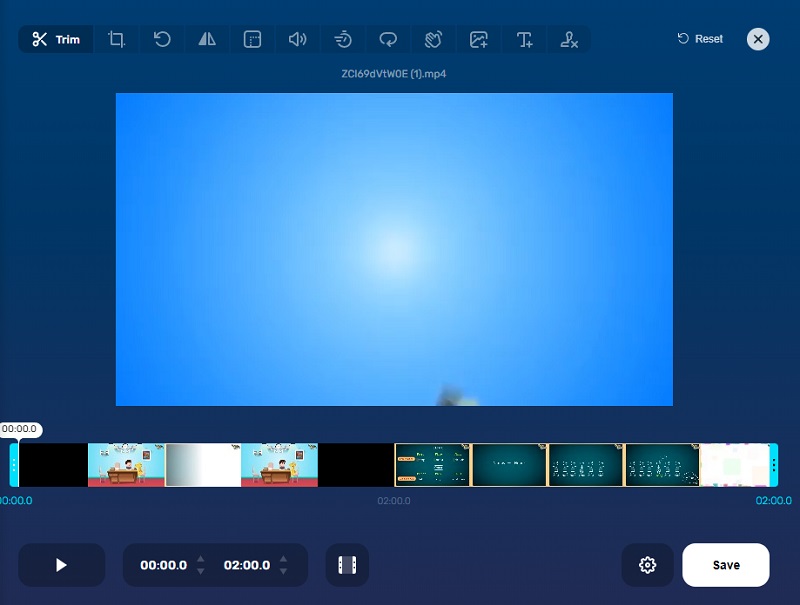 3. Video 2 Edit
The Video 2 Edit is just another online video trimmer that you may use to cut your videos down to size. It goes without saying that if you prefer a tool that is only meant for video cutting, this is the tool for you. Video 2 Edit includes an easy-to-use interface that enables users to go through the cutting tool without difficulty. Furthermore, it supports more than 300 audio and video file types in addition to those mentioned above. Here's a little tutorial on how to trim 3GP files on Video 2 Edit to follow along with it.
Step 1: Go to your browser and look for the Video 2 Edit. Once directed to the main interface, upload the 3GP file on the Choose File button.
Step 2: After uploading the 3GP file on the Timeline, enter the start and end times of the video.
Step 3: Lastly, click the Start button to download the trimmed 3GP file.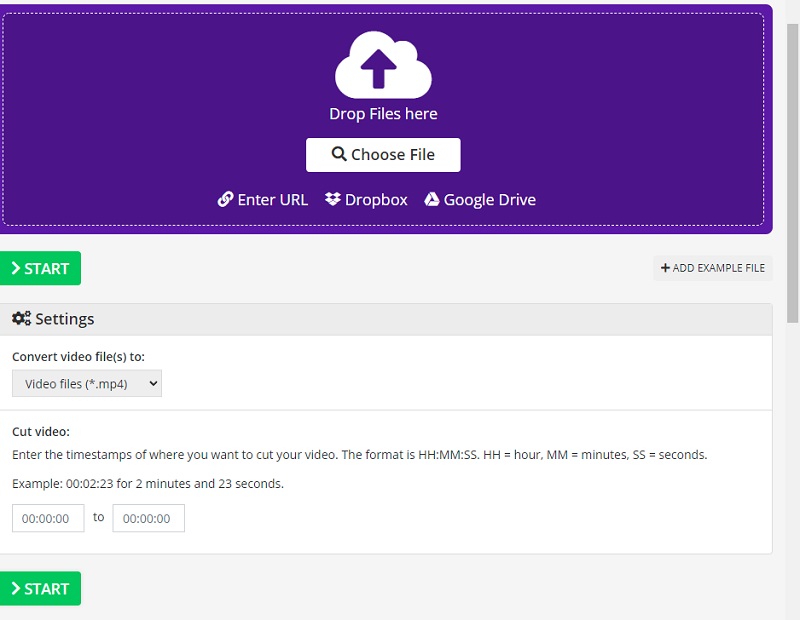 Part 2. Comparison Chart Among the Converters
We have collected a list of the best 3GP video cutters available online and offline on this page. You will have a comprehensive understanding of the similarities and differences between these tools due to this comparison chart.
Features

Support Mac and Windows

Easy-to-use

Multiple Editing Tools
| | | |
| --- | --- | --- |
| Vidmore Video Converter | 123Apps | Video 2 Edit |
| | | |
| | | |
| | | |
Part 3. FAQs About 3GP Cutters
Is 3GP the same as MP4?
3GP is a container format similar to MP4 but with a greater emphasis on minimal storage and bandwidth demands.
Is it recommendable to convert the 3GP file to MP4 before cutting?
Actually, there would be no difference because a 3GP file is a type of file that is open on most multimedia devices.
What app can I use to cut my 3GP file?
You can use InShot, VivaVideo, and the KineMaster to cut your 3GP files on mobile devices.
Conclusion
That concludes today's article! With the assistance of the most highly regarded online and offline programs listed above, you will be able to trim the unwanted portions of your most treasured file. As for the best 3GP cutter, you may go with the Vidmore Video Converter, a tool that operates at its peak performance.