3 Best VOB Video Cutter: Easiest Way to Cut VOB File
You may be looking for a VOB video cutter on the market but having difficulty choosing the right one? Well, worry no more as you will find the best tools to cut your VOB files in this post. Specifically, in a DVD, a VOB file is referred to as a movie data file. Included on the disc is a significant percentage of the data recorded on the disc, which may contain video and audio files, in addition to subtitles, DVD menus, and other navigational components. VOB files are often encoded as MPEG-2 system streams, and they may be played back by a wide variety of video playback programs. With that, take a look at the top-notch VOB video cutter below.

Part 1. Top 3 VOB Cutters for Windows & Mac
1. Vidmore Video Converter
If you're looking for the top VOB video cutter available on the internet, Vidmore Video Converter is the one to choose. It is an all-in-one software package that enables the editing of audio, images, and video. Because of the user-friendly interface that Vidmore provides, it is feasible to enhance your files and make them more visually attractive without having to use all of the editing tools that Vidmore has to offer to their full potential. Furthermore, this program is a fantastic choice when it comes to compatibility! In terms of compatibility, neither the Mac nor the Windows operating systems have been identified as having any concerns.
Vidmore allows you to swiftly remove the parts of your VOB files that are no longer needed. Because it supports more than 200 distinct audio and video formats, you will have no trouble uploading and exporting your data with this program. Therefore, it should be no surprise that it is one of the most prominent and widely used items in the marketplace.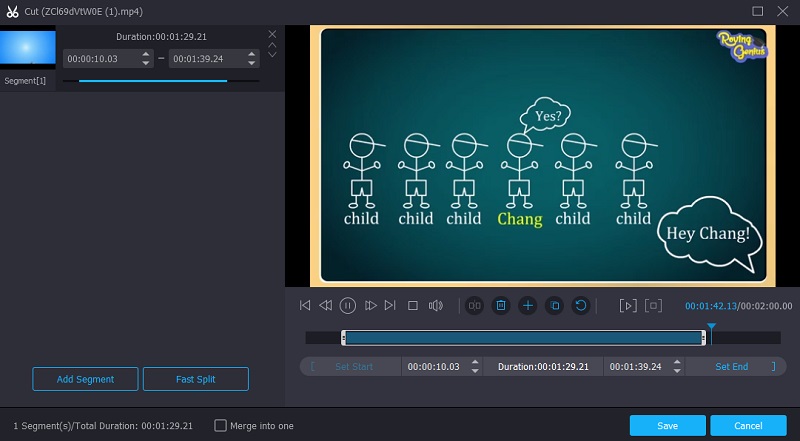 Pros:
Support for a 4K resolution is available.
It is very significant for amateur editors.
The conversion process is speedy.
It allows audio, images, and video editing.
It still works its best even with a slow internet connection.
Cons:
You can't install it on Android and iOS devices.
2. Clideo
The Clideo is another VOB file cutter that you can access online, and it is free to use. Using this browser-based program, you may remove the unnecessary bits of your favorite VOB file, resulting in a considerably smaller file and easier to handle. With this program, you may convert between a wide variety of popular video and audio formats, including MP4, WMV, WAV, MOV, and VOB, among others.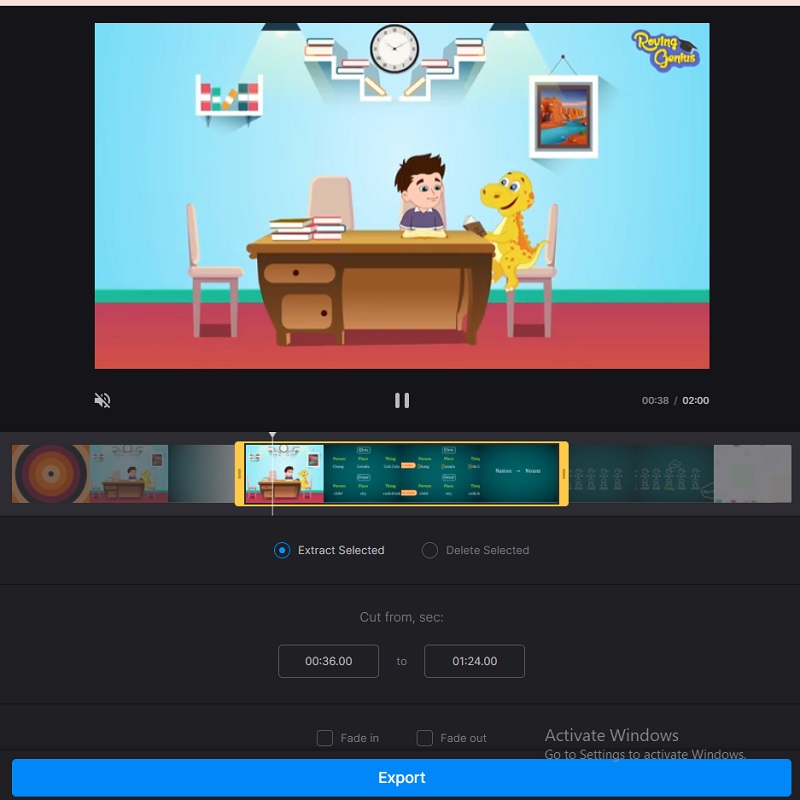 Pros:
It is compatible with various video formats, including FLV, MP4, AVI, MOV, WMV, and others.
As soon as you finish editing your movies, they are withdrawn from the server so that no one may use or view them.
You may also add photographs and music to videos.
Cons:
It does not function properly while using a sluggish internet connection.
There is a 500 MB restriction per file.
3. Filmora
If you want to trim your VOB files, you may use Filmora, a free program. This tool's user interface is straightforward to utilize. This application will be easy to use, regardless of whether you are an expert editor or a rookie user of the program. As a result, it is simple since you can trim the file to whatever quality you choose depending on your requirements, which is an excellent feature.
The video quality is good, and you have the option of fine-tuning a variety of elements to their ideal settings to produce a visually appealing output file. Also included are various other video formats, such as MOV, AVI, MP4, and VOB, compatible with the program.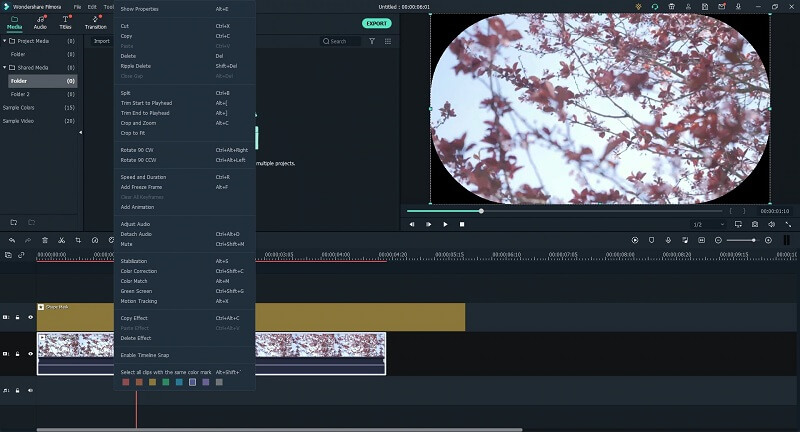 Pros:
It can simply export and import files.
It is straightforward for basic activities like video editing and films from still images and sounds.
Cons:
Watermarks are included in the free version.
Lagging regularly.
Part 2. How to Cut VOB File
If you want to learn how to quickly and efficiently trim your VOB files in half, you should pay attention to the step-by-step procedure outlined below.
Step 1: Install the VOB Cutter on Your Device
By selecting one of the Download icons at the bottom of the page, you can download and install the VOB file cutter program on your computer. After the installation procedure is complete, you can now launch the tool on your device.
Step 2: Upload Your VOB Clips
Then, by clicking on the Add Files button, which you can find in the top left corner of the screen, you may begin uploading your files from your Folder. In addition, you may use the Plus symbol located in the middle of the window's interface to add your VOB files quickly.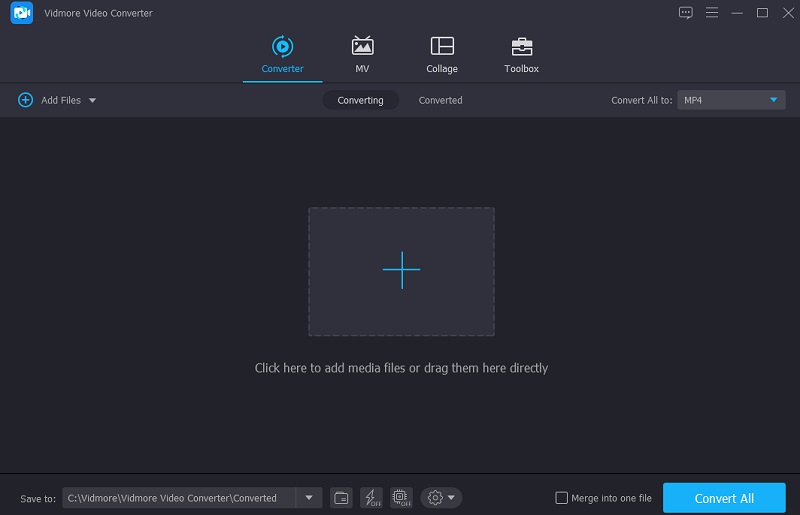 Step 3: Proceed to the Cutting Area
Selecting the Scissors icon under your video thumbnail will allow you to cut your VOB clip into the Timeline once imported. To begin eliminating unwanted parts of your VOB file, carefully adjust the left and right sliders to the left and right positions on the video player's left and right buttons. Manually entering a clip's start and end times is also an option. Click the Save button in the bottom right-hand corner to save your changes when you've finished editing your file.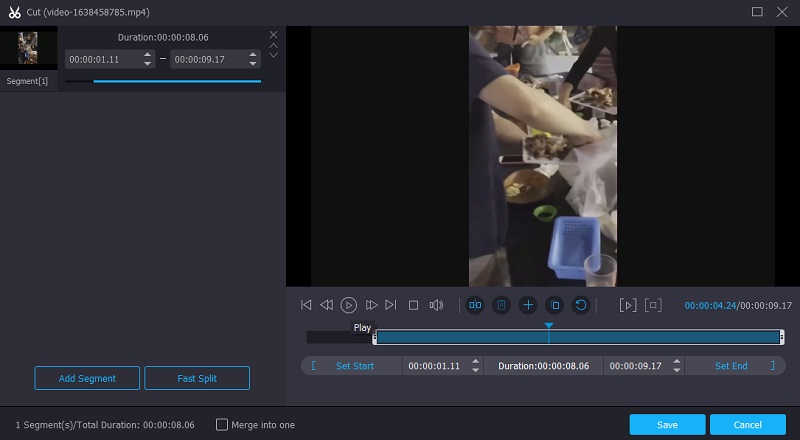 Step 4: Start Converting Your VOB File
You may permanently apply the changes you've made in the following sections once you've completed all of the changes listed above by clicking the Convert All button at the bottom of this page after you've finished making all of the changes listed above. Then, after a few seconds, you will see the outcome.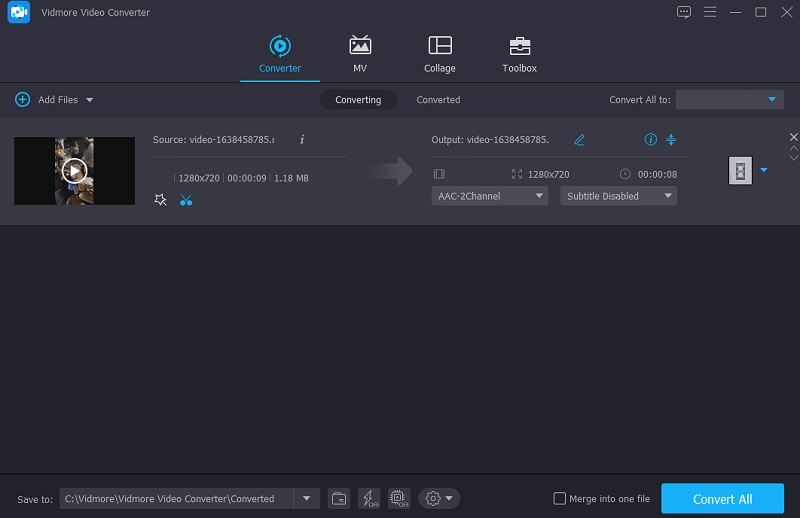 Part 3. FAQs About VOB Cutters
Can a VOB file be seen on a DVD player?
If you want to see the VOB file data, you will need a computer with a DVD drive and the appropriate software.
Is VOB the same thing as DVD?
VOB is the container format used by DVD-Video medium to store its contents.
What exactly is the difference between VOB and MP4?
The distinction is that several codecs supported by mp4, such as h264 video and AAC audio, compress too far smaller file sizes with significantly higher quality than mpeg2 codecs.
Conclusion
That's all there is to it! Utilizing the VOB file cutters provided above, you may now reduce your VOB file into smaller pieces. With the aid of the characteristics, advantages, and disadvantages listed above, you will grasp which tool will be the most beneficial to you. With that in mind, none other than Vidmore Video Converter is recommended.