4 Best and Free AAC to WAV Converter Programs You Should Know About
The fact that AAC is not supported by most portable devices and music players can be bothersome for many audio listeners and audiophiles. As a result, they prefer to have WAV files as there are not many issues in terms of compatibility concerns. Fortunately, a myriad of programs are available to convert AAC to WAV effortlessly. On that note, here we will geek out on the best media converters converting desktop and online programs.

Part 1. How to Convert AAC to WAV with Software
1. Vidmore Video Converter
Vidmore Video Converter is a powerful application that works great with both Mac and Windows computers. It can assist you in converting tons of formats with great support to almost all output/input video and audio file formats. Benefiting from the hardware acceleration, it ensures a rapid conversion in a few seconds while managing to retain the quality from its original source.
In addition, it comes with handy tools such as a video/audio editor allowing you to adjust resolution, bitrate, channel, add visual effects and so much more. Aside from that, the built-in GIF maker enables you to make GIFs out of a video or a couple of pictures in no time. Indeed, Vidmore Video Converter is a multi-purpose program where there are multiple useful functions aside from converting media files. To utilize this amazing AAC to WAV converter software, take a glance at the simplified guide below.
Step 1. Acquire the program
The first thing that you need to do is to download the app on your computer. You may do this by going to its main website or clicking one of the Free Download buttons according to the operating system that your computer is running. Run the program afterwards.
Step 2. Load an AAC file
From the running interface of the app, click the Plus icon to add a file. You may also add a folder of AAC files as you like. If you would notice, there is an Add File button at the upper left portion of the interface. Click the drop-down button and select the Add Folder button.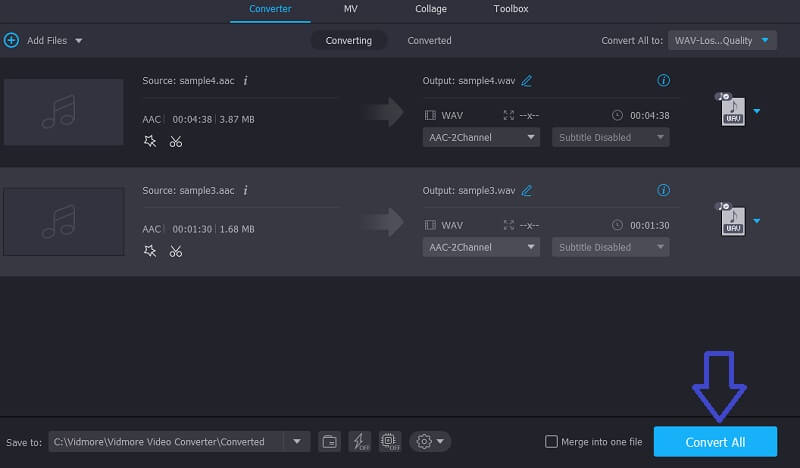 Step 3. Choose output format
Once you have added your target AAC file that needs to be converted, select now the output format. Choose WAV audio format in this case. Simply go to the Profile menu. Navigate to the Audio tab and on the left section, select the WAV format.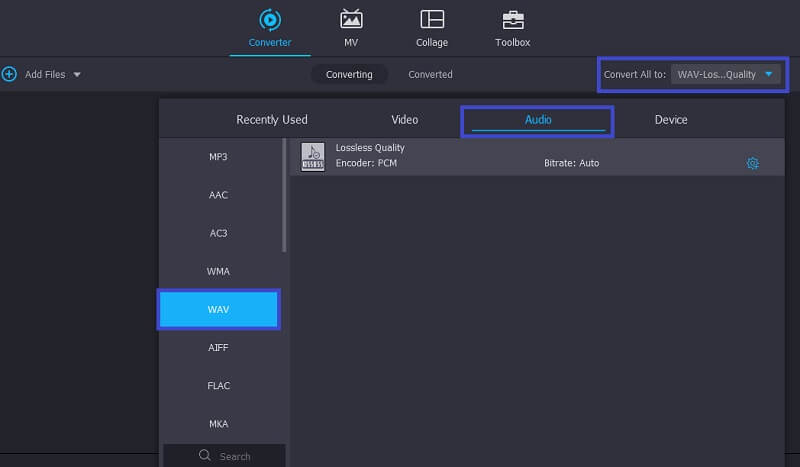 Step 4. Initiate the conversion task
Once everything is set, set a file location where you can easily locate the converted file. Then click the Convert All button to initiate the process. You may also follow the same procedure when converting WAV to AAC on Mac or Windows PC.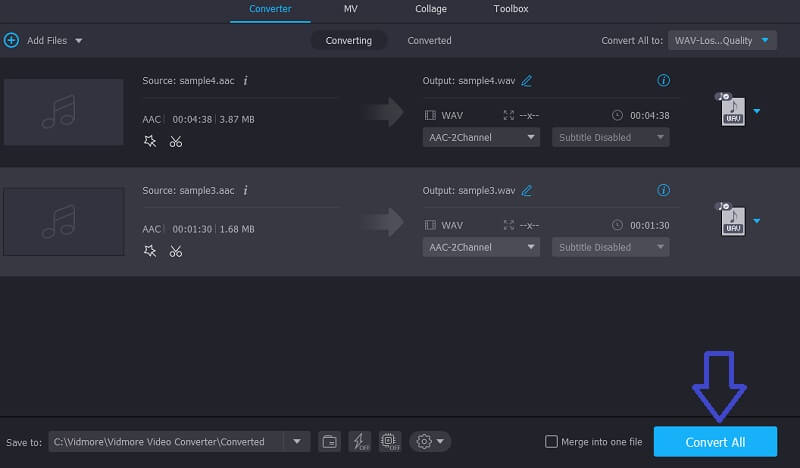 2. iTunes
The program is designed for listening to music streams and watching TV shows or movies. Interestingly, it provides various codes that will enable users to conduct audio conversions including AAC to WAV conversion. The best part is the process can be done in a few seconds and you don't need to tweak any complicated setup even novice users may operate the tool without having any trouble. Now let's learn how to use this AAC to WAV converter free app.
Step 1. Go to the Microsoft Official Store and install the program on your PC. Once done, launch the tool and you should see its working interface.
Step 2. The next thing that you should do is upload your AAC file. To do this, click the Edit button. Select Preferences and click on Import Settings. After that, set the Import Using to WAV Encoder to actuate this option. When you are ready click the OK button.
Step 3. Now click the AIFF file that you just imported and convert it to WAV by simply going to File > Convert > Create WAV Version. That's how to convert WAV to AAC in iTunes easily.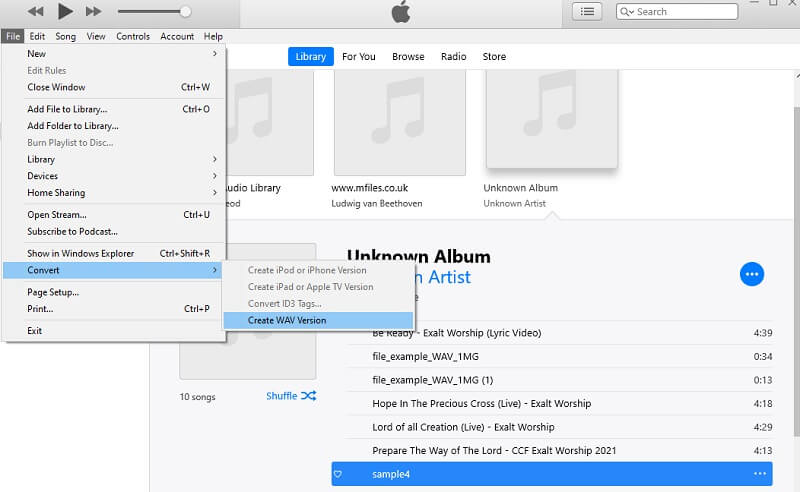 3. Audacity
For a functional and totally free audio editing and converting program, Audacity should always come to mind. The program is built upon FFmpeg allowing it to access the FFmpeg library and convert from different audio file formats. Otherwise, you need to convert to supported formats like WAV and AIFF. Nevertheless, kindly refer to the below steps to convert AAC to WAV in Audacity.
Step 1. First things first, install FFmpeg on your system and integrate it with the Audacity app.
Step 2. Next, import the AAC files that you like to convert to WAV. Navigate to File > Import Audio. Clicking the Open button from the File menu also works well with importing files.
Step 3. To finally transform AAC to WAV using this free AAC to WAV converter, access the File menu and point your cursor to the Export option. From there, select Export as WAV option, and the conversion process should commence immediately.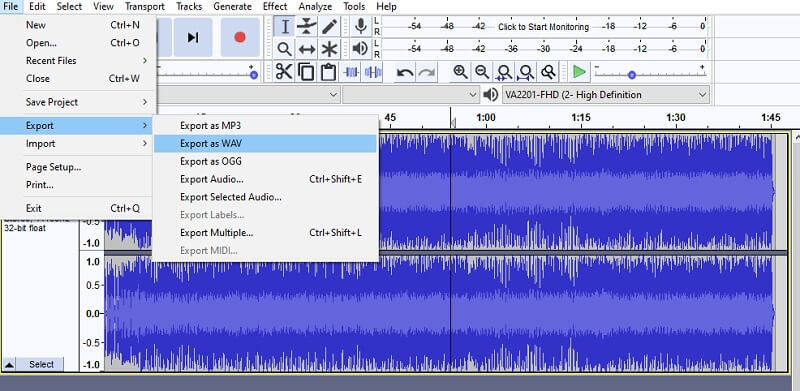 Part 2. How to Convert AAC to WAV Online
In the same way, you can convert AAC to WAV without even installing a program or integrating a plugin with the help of an online program. One of the best online AAC to WAV converters you should consider using is Vidmore Free Video Converter. It works well with almost all browsers either on Mac and Windows PC. With it, you can also enjoy the benefit of a flexible conversion feature. That means you will be able to convert from a plethora of audio and video formats. Not to mention the tool does not limit the number of converts and even the size. And for your convenience, it could operate a batch conversion without worrying about the speed. All of these you may exploit with a free AAC to WAV converter program. If you are interested in using this amazing tool, see the steps below and learn how it works.
Step 1. Access the website of the tool and reach the main page. For a first-time user, you may need to run through the quick installation of the launcher.
Step 2. Now import the file that you wish to convert by clicking the Add Files to convert. Locate the AAC file from your computer drive.
Step 3. Once the file is added, it should appear on the conversion panel. From there, click on the Music icon and tick the WAV radio button as an output format.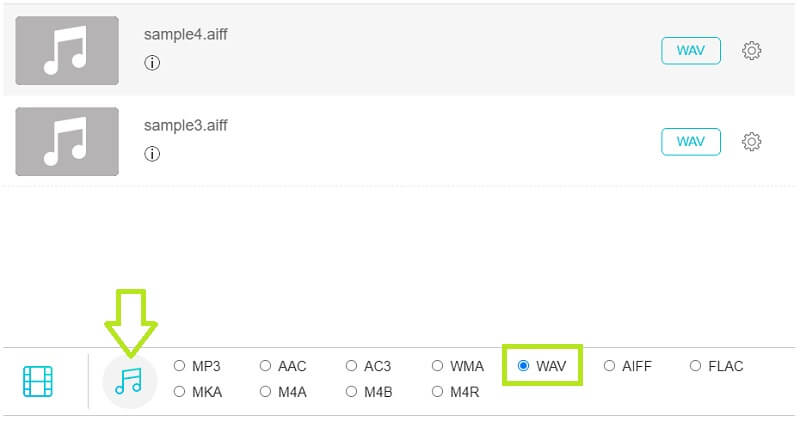 Step 4. When you are ready, hit the Convert button for the process to take place.

Part 3. FAQs of AAC to WAV
How do I convert WAV to AAC on Mac?
It's the same concept as converting AAC to WAV. Good thing there are programs that are compatible with both Windows and Mac computers. One of which is Vidmore Video Converter.
Is AAC or WAV better?
Files like AAC use lossy compression, unlike WAV that employs lossless compression. Therefore for storing music, AAC files are great formats while WAV files are best as far the audio quality is concerned.
How safe is it to convert online?
Long as the online program does not ask for any confidential details or for your credential profile, there's not much to worry about.
Conclusion
Now you have learned how to convert AAC to WAV along with the tools that you can use. It's up to you now which is best for you. If you want access to more features and functions, desktop apps like Vidmore should be the best option. On the other hand, you may use the online tool if downloading an app is not your thing for converting files.