Best 3 Ways to Convert WAV to WebM Using Online Tool and Desktop Software
WebM is a video file format; on the other hand, WAV is an audio format, which is dissimilar. The most frequent question is, can you convert WAV to WebM? If you have the same question in your mind, this HowTo article is for you. Of course, you can convert video to audio, and the purpose of this topic is to provide you with an online tool and software and teach you how to convert WAV to WebM. To learn more, please read the article now!

Part 1: Best Way to Convert WAV to WebM with Vidmore Video Converter
Vidmore Video Converter offers a trial version to convert a WAV file into a WebM file. For that reason, you can freely download Vidmore Video Converter and proceed to its free trial. It is an all-in-one WAV to WebM converter and editor for Windows and Mac computers. Besides, this tool can also let you edit your WebM files before exporting, like add the metadata information, add photos and videos for the WAV background audio, create split-screen with for WebM video file.
The toolbox offers over 19 tools to refine your WebM file with audio compressor, video enhancer, speed controller, and more.
But before purchasing Vidmore Video Converter, you can first refer to these detailed steps on converting WAV to WebM using Vidmore Video Converter. Please see the steps below, which may help you use the software effectively.
Step 1: Once you download Vidmore Video Converter, start launching it to see its whole interface.
Step 2: On its main interface, you can see the Add Files on the left side and the Plus icon in the middle. You can choose between the two on adding WAV files.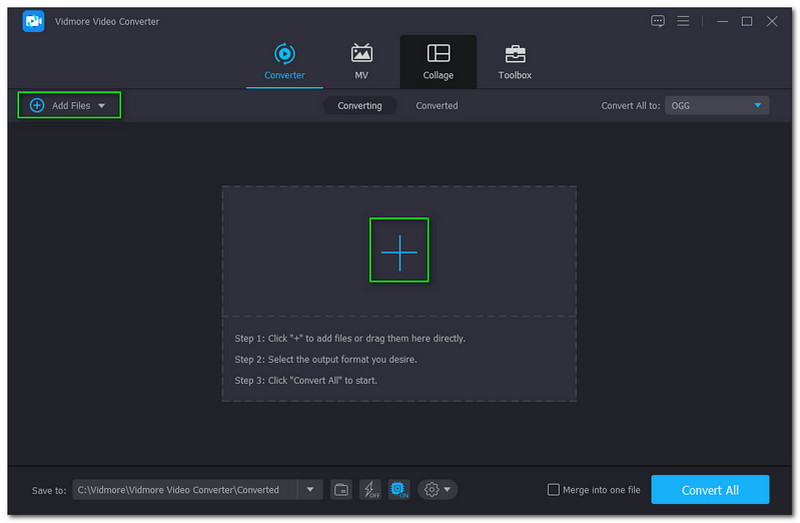 Step 3: To add your file, tap the Plus icon in the middle. Then, choose a WAV file from your computer, and you will have your WAV file added to the interface.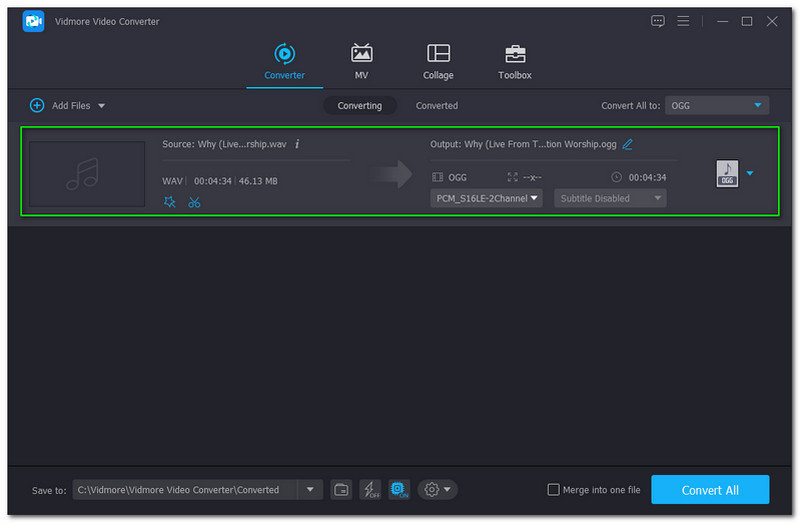 Step 4: You will see the Convert All button on the upper-right side of the interface and click it. You will see the Video option, find the WebM format, and choose the Resolution you prefer. It could be; Same as Source, 4K Video, HD 1080P, HD 720P, and SD 480P.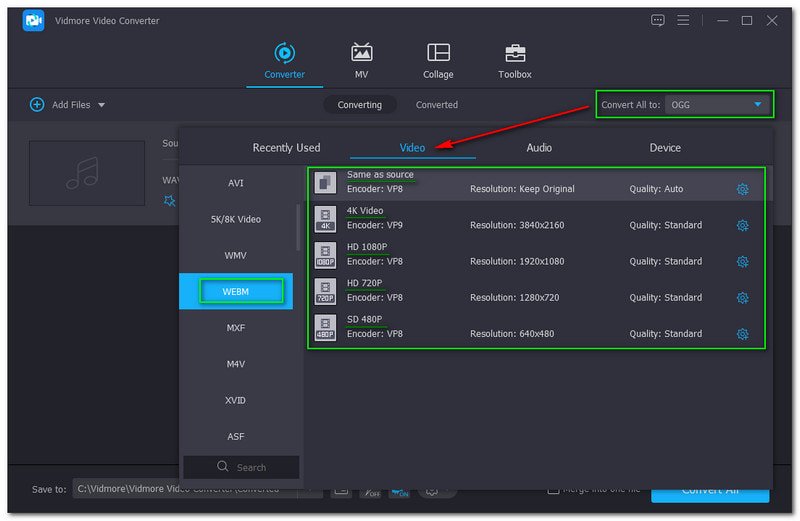 Step 5: You can add another file. However, if there is no file to add, you can proceed to the conversion process and click the Convert All button.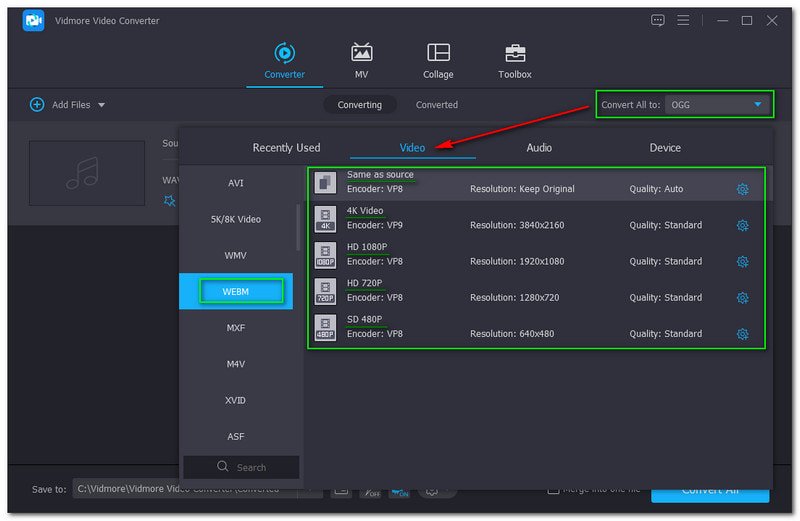 Step 6: A Converted Folder on your computer will appear after the conversion process. Now, you can start playing the WebM output file.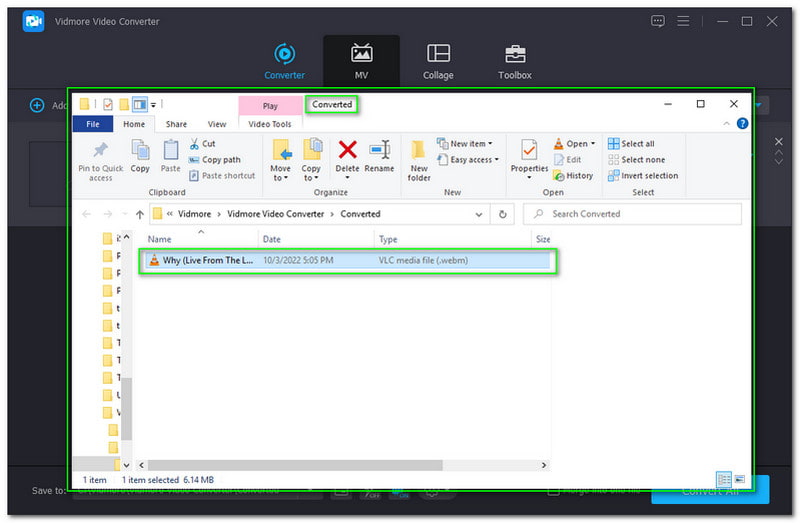 That is how you convert your WAV file into WebM format using Vidmore Video Converter. The excellent part you will also love about this software is it supports numerous file formats, such as video and audio formats, and even devices.
In short, Vidmore Video Converter is a comprehensive converter software. Also, it is not just focusing on converting. And it can also make Music, videos, collages, etc. Do not waste your time, and start converting your files now!
Part 2: How to Convert WAV to WebM Online with Free Video Converter Online
Using Vidmore Free Video Converter Online is another way to convert WAV to WebM. It is a free tool that you can use online. Therefore, Vidmore Free Video Converter Online does not require you to download and install the software. Also, anyone can use it, whether you are using Mac, Windows, Linux, and even devices.
To use it effectively, we ready detailed steps to convert WAV to WebM using Vidmore Free Video Converter Online. Please see the steps below:
Step 1: Visit Vidmore Free Video Converter Online. Now, click the Add Files to Convert button in the middle of the interface.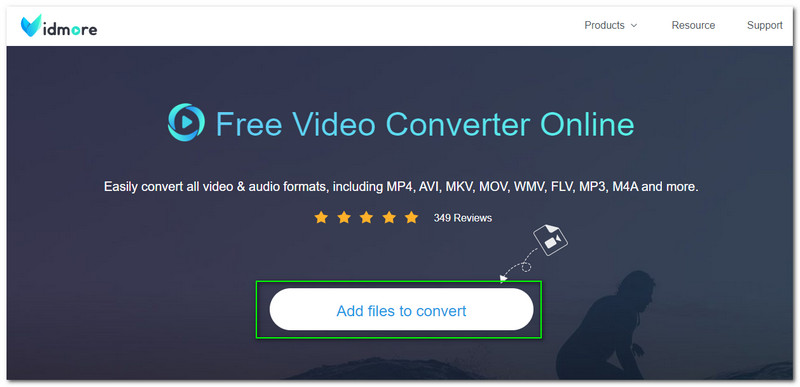 Step 2: Next, click the Download button of the Vidmore Free Converter Online launcher. Once it is launched successfully, a File Folder will appear and start adding your WAV file.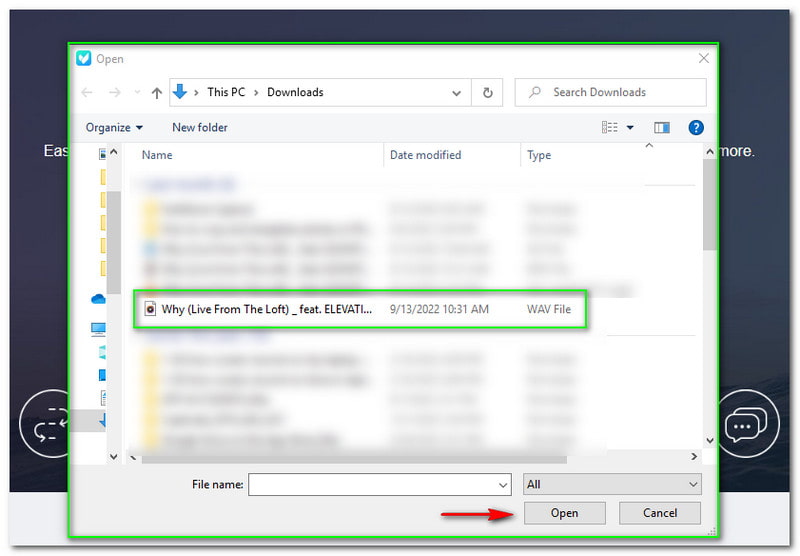 Step 3: Following that, a new panel will appear. It will show your file; on the bottom, you will see all the available Video and Audio Formats. Tick the WebM file format. After that, select the Convert button on the lower-right side of the panel.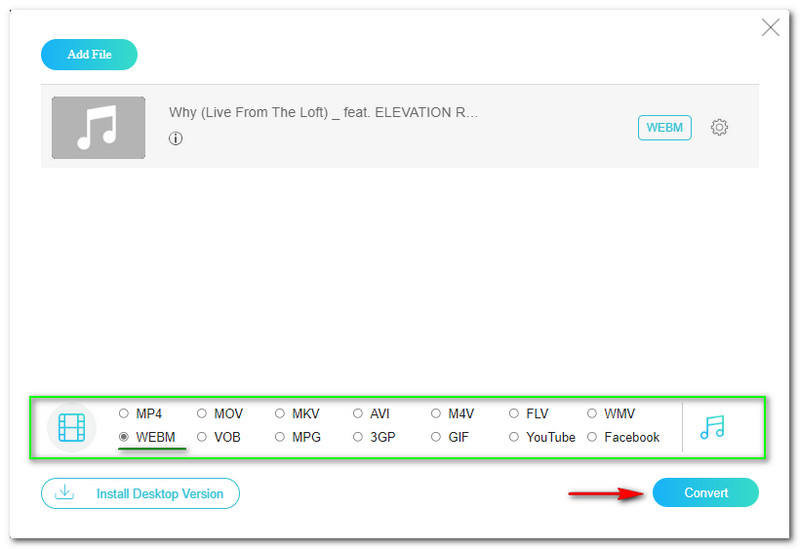 You will quickly get your WAV file to WebM format in just three steps. Again, Vidmore Free Video Converter Online is free yet offers batch conversion. You can convert audio to video and video to audio at the same time. Moreover, you can contact them if you have concerns because they also have reliable support. Try Vidmore Free Video Converter Online now!
For editing the WAV file before exporting, you have to download its pro version.
Part 3: How to Convert WAV to WebM with FFmpeg
FFmpeg is software, and it is perfect for professional users, especially IT. You will not appreciate using it as a beginner because of the required code. In addition, you must know how to input codes. If you are a beginner user, you will thank these steps for converting WAV to WebM using FFmpeg.
Step 1: Launch CMD and choose an audio file you want to convert. Since we are converting WAV to WebM, choose a WAV file.
Step 2: Change the Command Line into Desktop by typing cd Desktop. Then, Press the Enter button on your computer's keyboard.
Step 3: Then, enter the Conversion Command like ffmpeg -i and paste the file name of your WAV file. Change it to WebM and click the Enter button. You can now view your converted file on your computer's File Folder.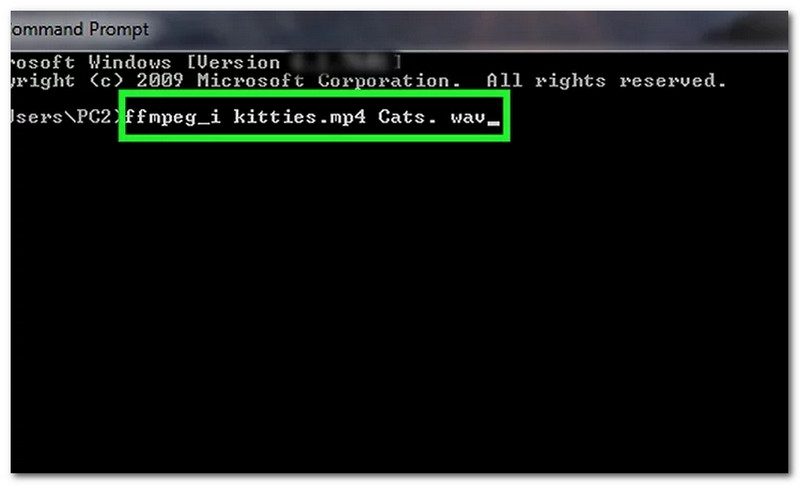 As already stated, converting in FFmpeg is complicated because of the Codes. However, this will be easier for you if you are excellent at coding. Furthermore, you will still learn it, and we hope the above steps are helpful.
Part 4: FAQs of Converting WAV to WebM
How long does it take if I convert the WAV to WebM file format?
The process will depend on the tool of software you will use. Also, you need to check your internet connection to see if it is fast enough for your online tool software. If you will use Vidmore Video Converter, there is no doubt you will convert your files in less than a minute.
What happens to the quality of WAV if you convert it to WebM?
The quality of the WAV file will be the same in some cases. Nevertheless, the software you will use will also affect whether it will increase or lessen the quality.
Can you extract audio from the video?
Of course, you can. In that case, you will convert a video file into an audio format dissimilar to our topic in this HowTo article. For more solutions to extracting audio from video, you can refer to this post.
Conclusion:
In conclusion, we have learned how to convert WAV files into WebM file format. We also obtain the idea that Vidmore Video Converter and Vidmore Free Image Converter Online are reliable when it comes to converting. And FFmpeg is for professional users. Moreover, we are looking forward to seeing you again in our next HowTo article. Till next time!