How to Cut MPG Video with Notable Tools You Should Know
You may have a collection of music videos compiled into one file saved in MPG format. However, you hope to split them into individual music videos or tracks and cut out the one you need. The question is, is it possible to cut them into separate parts? The answer is yes. Cutting MPG video is not that complicated when using the right tool.
This is made possible using video cutters that are available over the internet. There are downloadable and online programs to help you select your preferred format. Lucky for you, we rounded up a list of optimal tools that will help you cut MPG files effortlessly. Continue reading and check them out right now!

Part 1. Three Online Ways to Trim MPG Files
In case you want to cut videos like MPG files once or just a particular video online tool will be convenient for you. Since you don't have to download applications, you can save disk space on your computer. Moreover, most of these programs are offered for free. That means you can accomplish your cutting tasks without shelling out some money. Henceforth, below are some of the best tools to cut MPG files online.
1. Clipchamp
Clipchamp is a free online program you can use to cut MPG files straight from the webpage. On that note, it is workable both on Windows and Mac computers without installation needed. The best thing about this tool is that you can browse your files from different file sources like Dropbox, Drive, Zoom, Google Photos, and even from your smartphone. Below are the simplified steps that you can follow as a guide to cut MPG files online.
Step 1. First off, open a browser on your computer and visit the webpage of Clipchamp.
Step 2. Next, click the Plus icon on the menu bar to upload the MPG video you wish to cut. Then, drag the chosen video to the timeline of the tool.
Step 3. After that, you can move the handlebars of the video to shorten the video or split it into multiple parts and trim off the unwanted parts. Hit Export once you are finished editing it.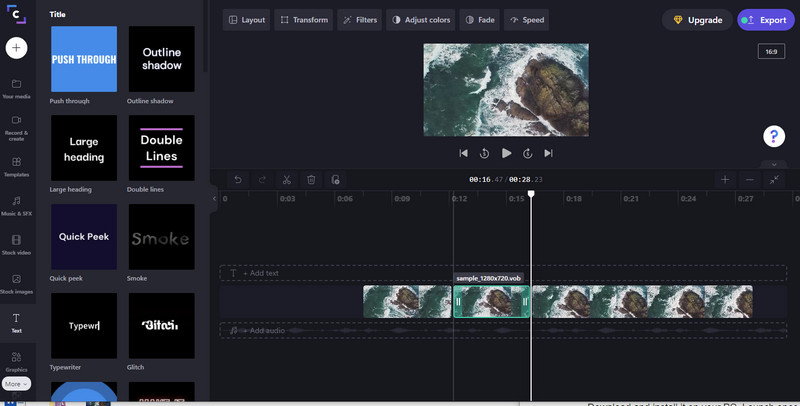 2. Clideo
Clideo is also a good alternative method to cut MPG files online. This comes with an intuitive interface that helps you trim or cut videos quickly. The tool is completely free, and there is no need for you to sign up for an account. Aside from its cutting capability, you can also use it to crop, rotate, flip, and convert video files. However, it takes too long to load video files. Nonetheless, the following is the walkthrough on how to trim MPG files online using this program.
Step 1. Browse the online tool using an available browser on your computer.
Step 2. Next, upload the video that you are trying to cut or edit.
Step 3. Adjust the slider to select portions of the video you wish to cut or delete this time. Then save the output by clicking the Export button. Download it afterward.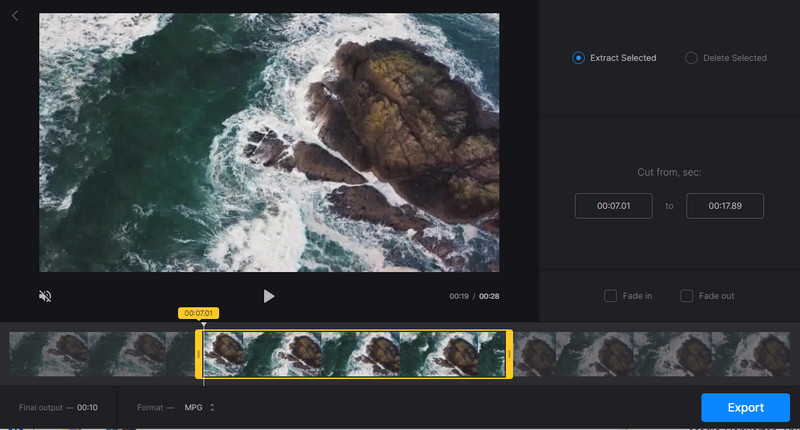 3. WeVideo
If you are looking for another online tool, WeVideo is the right fit for your needs. This program is compatible with various formats, such as MPG, MOV, MP4, MKV, AVI, VOB, and many more. Using this tool, you can cut videos by adjusting the beginning and end sliders. Another way is to split the video part by part and delete the irrelevant portions. Here is a guideline to how it is done.
Step 1. First off, head to your computer browser and access the tool's website.
Step 2. Please register an account and log on to use it. After that, go to File Manager and upload your target MPG video.
Step 3. Now, drag the video to the timeline and select it. Then, choose Trim and adjust the slider to trim the video. Hit Finish at the top right corner to save the video.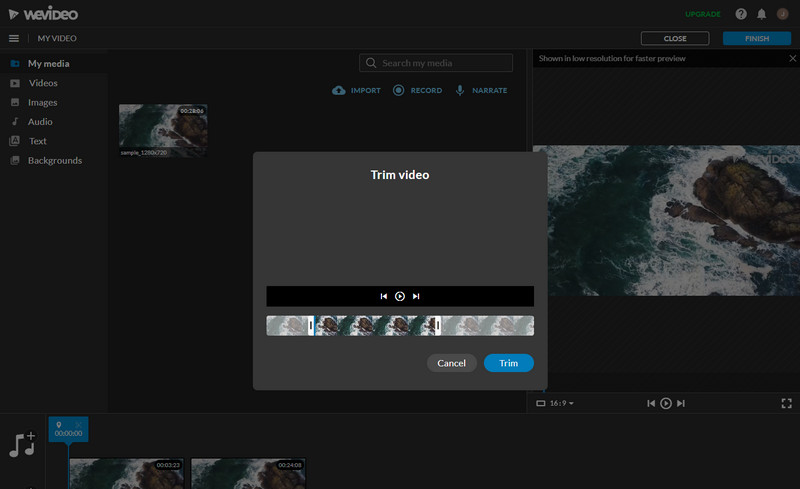 Part 2. Outstanding Approach to Cut MPG Files
One of the leading video cutters you should consider using is Vidmore Video Converter. This robust desktop program facilitates trimming, cutting, and splitting videos. You may use it to trim MPG files in the beginning, middle, or ending part of the video. Another thing to look forward to with this tool is its editing features designed to help you personalize videos and produce a quality one. You may also utilize it to rotate, crop, add effects and filters, reduce video shaking, adjust brightness, contrast, and a bunch more. The tool works perfectly on Windows and Mac OS. Learn more about this program by having hands-on experience. See the instruction after the jump.
Step 1. Obtain the MPG Cutter
Acquire the application by clicking the Free Download button below. Make sure to select the right download link for your computer OS. Install and launch it on your device afterward.
Step 2. Upload an MPG video
Drag and drop the MPG track onto the box inside the tool's interface to add a file. Also, click the Plus sign button, browse and select the MPG video you want to cut.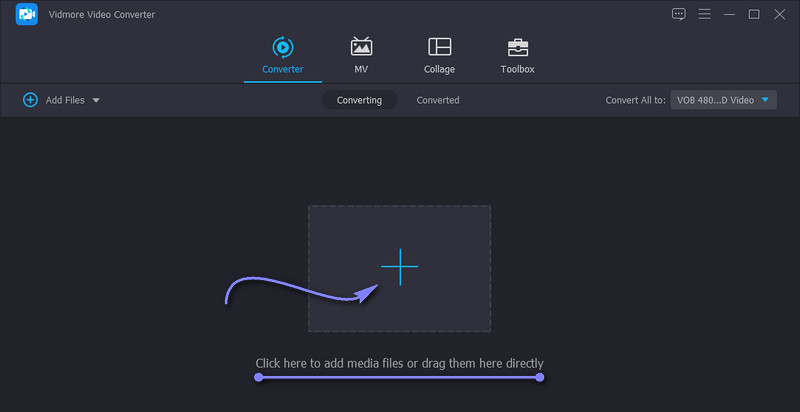 Step 3. Trim the MPG track
Now, click the Cut button on the video's thumbnail, and it will display the cutting window panel. Under the preview section, you should see the slider on the track bar. Adjust it to trim off some beginning and ending portions of the video. To split the video into individual parts, click the Fast Split button and select a cutting method. Hit Split to successfully do so. Once divided into smaller pieces, choose the part you want to cut off. Now, right-click and select Delete segment to delete the unwanted parts. After that, tick Save to apply the changes.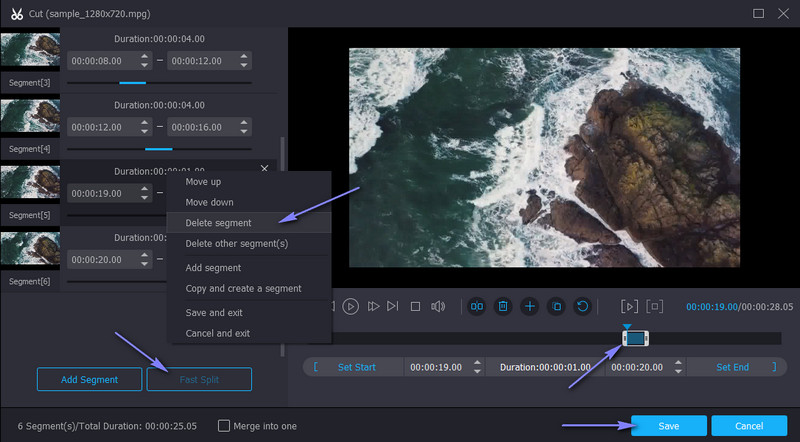 Step 4. Save the trimmed MPG
You can select another format or keep the original format by choosing the same format from the Profile tray in saving the video. For the last step, hit the Convert All button at the bottom right-hand side of the interface to save the video.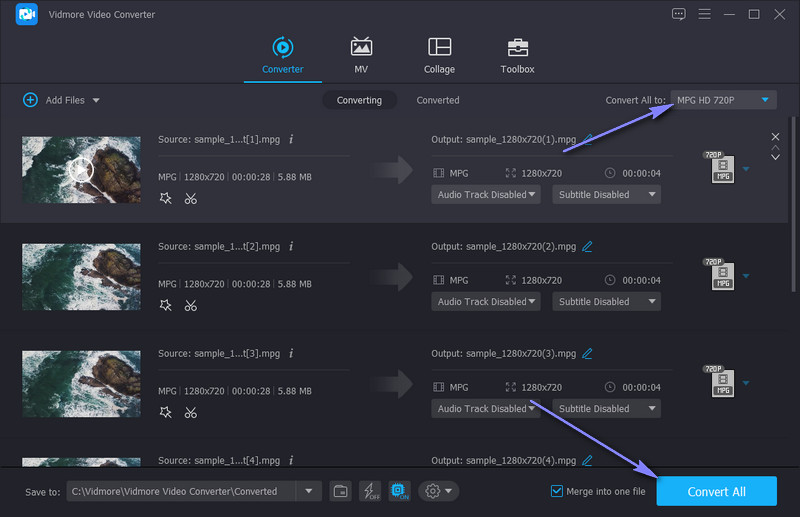 Part 3. Comparison Chart Among the Trimmers
The solutions above are efficient methods to cut MPG files. To further scrutinize them, you can look into the comparison chart below.
Vidmore Video Converter

Clipchamp

Clideo

Video Toolbox
| | | |
| --- | --- | --- |
| Intuitive Interface | Platform | Editing Tools |
| | Windows and Mac | Split, cut, trim, flip, rotate, adjust volume, add subtitles, effects, etc. |
| | Web | Split, cut, record screen, and camera, add background. |
| | Web | Rotate, crop, merge, etc. |
| | Web | Slice, cut, demux, add watermark, and more. |
Part 4. FAQs on Trimming MPG
Is MPG the same as MPEG?
Actually, MPG and MPEG are not different at all. Back then, Windows only required a three-letter file extension, hence, the MPG format. But since the upgrade of Windows, it eventually accepted MPEG format too. All in all, the only difference is the name.
How to trim MPG videos in Windows 10?
Since MPG, also known as MPEG, is accepted, trimming MPG videos should not be effortless and not complicated. You may use the first tool to trim and follow the same procedure to trim MPG videos.
How do I split MPG files?
There are a lot of video splitters available you may search from the web. To split any video, including the MPG file, upload it and go to the Cut window. Click the Fast Split button, and it will automatically slice the video into multiple parts. Then, you delete or rearrange them.
Conclusion
Now you can cut MPG files using the methods listed above. Indeed, online tools are convenient due to the benefit of not downloading apps on your computer. One downside, however, is that these programs are prone to hardware malware and limitations in terms of file size you can upload. In this case, desktop tools like Vidmore Video Converter are beneficial for your present and future needs. Also, no restriction to the file size or number you can upload, and cutting is done in several practical ways.