Top Picks 3D Camera of the Year and Tutorial to Make 3D Movies
By using a 3D camera, the viewer's eyes and brain work together to create an illusion of depth, similar to what happens when we look at an object with our own eyes. Some 3D cameras include numerous lenses to capture a wide range of perspectives, while others utilize a single lens that can be moved to get the same effect.
Stereoscopic imaging is the technology that creates the 3-D effect based on the idea of stereoscopy. Dual-captured 3D material is compatible with any and all 3D displays, such as those with and without the need for special glasses. If you are also interested in capturing 3D scenes, then check out the top 3D camera reviews below. Additionally, a tutorial about creating 3D movies is provided. Read on to learn more.

Part 1. Best 3D Camera Reviews for 2023
You may also be into making 3D scenes. You need a device to help you achieve that, though. Hence, we sorted out a list of the best 3D film cameras to start your journey in 3D filming or capturing.
1. Vuze XR Camera
The Vuze XR is portable, user-friendly, and capable of capturing both 3D and 360-degree video and stills. To begin with, you can record video at a maximum of 5.7K resolution and 30 frames per second. A video with a frame rate like that is excellent. You can also take advantage of the camera's 18-megapixel sensor. Except for low-light shots, all of the photos we took with this camera were clear and detailed. If you utilize this camera in conjunction with Snapchat's new 3D camera mode of this 3D VR camera, your photos and videos will seem even better and more three-dimensional. The Vuze XR app's Animate feature allows you to turn your images into short videos.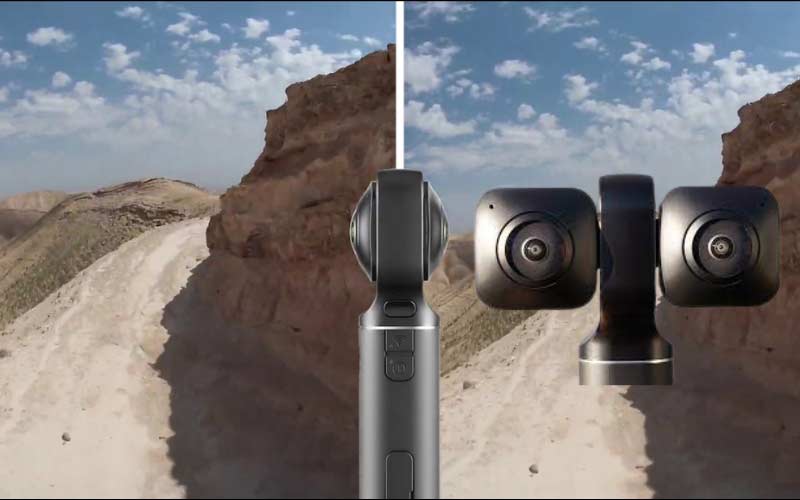 2. Insta360 One X Camera
The Insta360 One X 360-degree camera is perfect for real estate agents who want to produce 3D virtual tours of properties. The 1/2.3-inch CMOS sensor and dual 200-degree f/2.0 fisheye lenses of this 3D camera for real estate enable it to record 5.7K video at 30 frames per second and take 18-megapixel 360-degree images. The One X's 5.7K video resolution and 18-megapixel still image resolution ensures that your photos and videos look fantastic. You can capture bullet time shots and edit your content in real-time using the Insta360 smartphone 3D camera app, making Photoshop 3D Picture App and LucidPix 3D Photo Creator unnecessary. When a viewer reaches a marked section of your video, the camera will automatically pan to that section.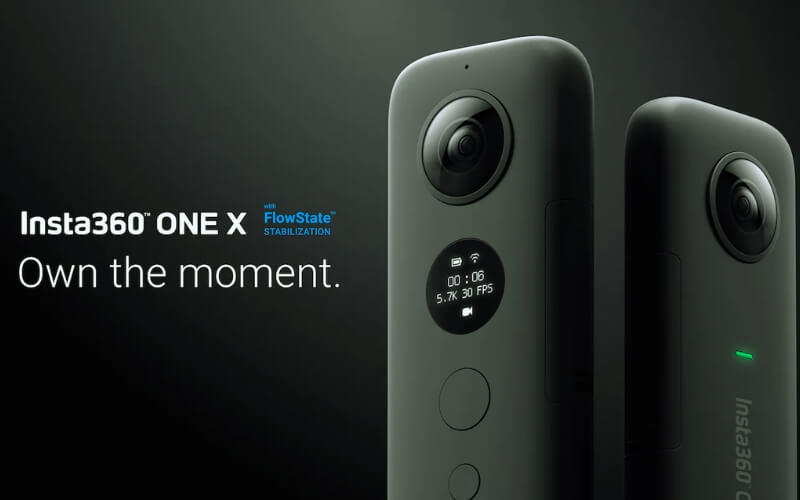 3. Fujifilm FinePix Real 3D W3 Camera
The Fujifilm FinePix Real 3D W3 camera has a top-performing design for 3D photography thanks to its usage of twin lenses and dual image 3D camera sensors to capture realistic 3D images. This top-tier Fuji camera's lenticular screen renders images in stunning 3D without needing special eyewear. Other features, such as a sliding front panel, help keep the camera safe, but the overall design can make it simple to cover the lenses with your fingers accidentally. Also included is a lens with a 3x optical zoom. This results in the most lifelike and engaging 3D images of any tested cameras.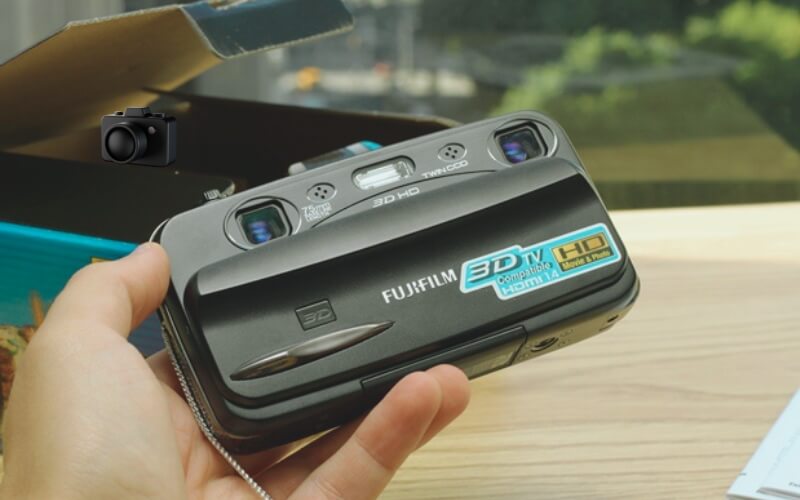 4. Insta360 EVO Camera
The Insta360 EVO, like its main rival, the Vuze XR, is designed for users who want to capture their experiences in both 360 degrees and 3D. It's simple to create spherical films by shooting with a handheld camera or a selfie stick, both of which allow for a full 360 degrees of viewing. The 3D video camera lenses can be folded out for 3D shooting and folded in for a full 360 degree panorama, making this a truly innovative camera. Also, the 3D photo program - Photoshop CC editor - now allows for the editing of 360 degree photos. With the addition of 3D, your photos will reach new heights.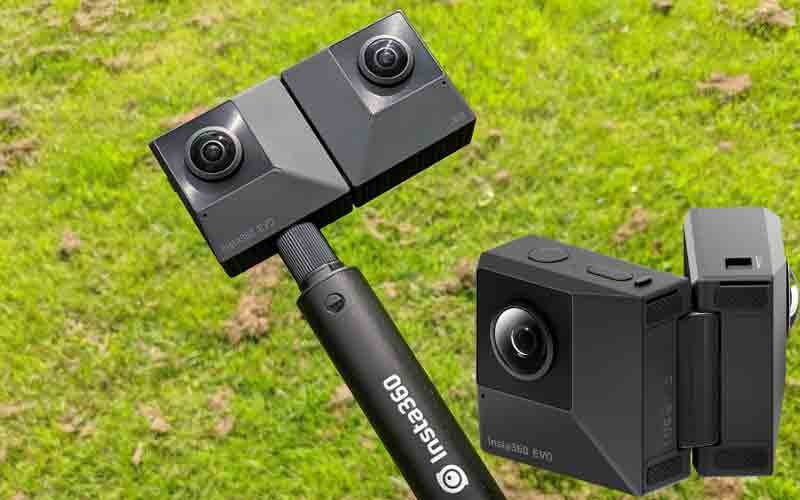 5. Weeview SID 3D Camera
The Weeview SID 3D was designed to be easily carried from one place to another. This is the smallest 3D camera on our list at just 3 inches in width and 1.5 inches in height, making it ideal for those who want to take advantage of 3D camera photography wherever they go. Its diminutive size begs the question of how it manages to capture such detailed stills and smooth motion video. While compact, the camera is occasionally awkward to use due to its small stature. The battery life of this 3D camera is exceptional, especially in light of the fact that some of the other cameras on our list rely on non-rechargeable batteries.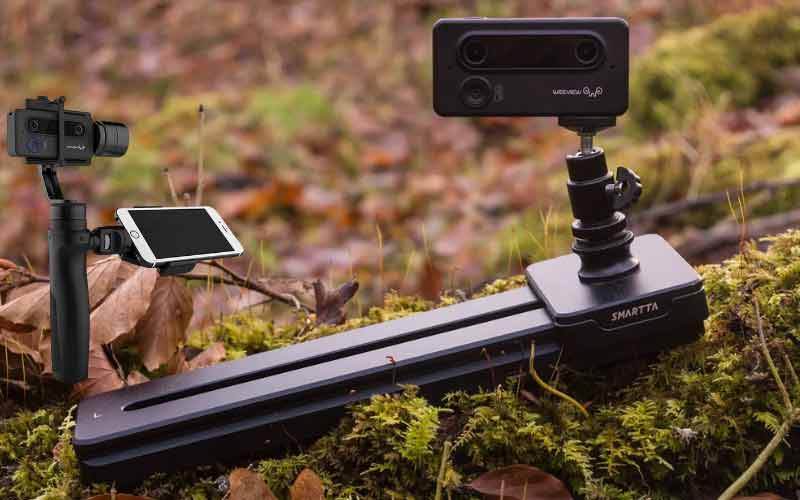 Part 2. How to Make 3D Videos without 3D Cameras
Even when you do not have a 3D camera, you can make 3D videos. Admittedly, they can be expensive. Some need to keep money for a long time to get their desired 3D camera. On the other hand, there are some alternatives you can rely on, like 3D-making applications. Vidmore Video Converter is able to help users who desire to make 3D videos in a matter of minutes.
The program offers various anaglyphs to portray the 3D video you want to achieve. There is a Red/Cyan, Green/Magenta, and Amber/Blue anaglyph. Also, you can choose between monochrome, half-color, and full-color according to your preferences. Follow the simple guide to learn how to make 3D films using this program. That way, you do not have to purchase a 3D camera.
Step 1. Obtain the 3D video maker
First, get the program by ticking the Free Download button below and install it. Launch the program afterward.
Step 2. Add a video file
Once you have access to the program, go to the Toolbox tab and tick on the 3D Maker option. This will launch the editor for 3D making. Then, hit the plus sign button right after accessing the 3D-making tool.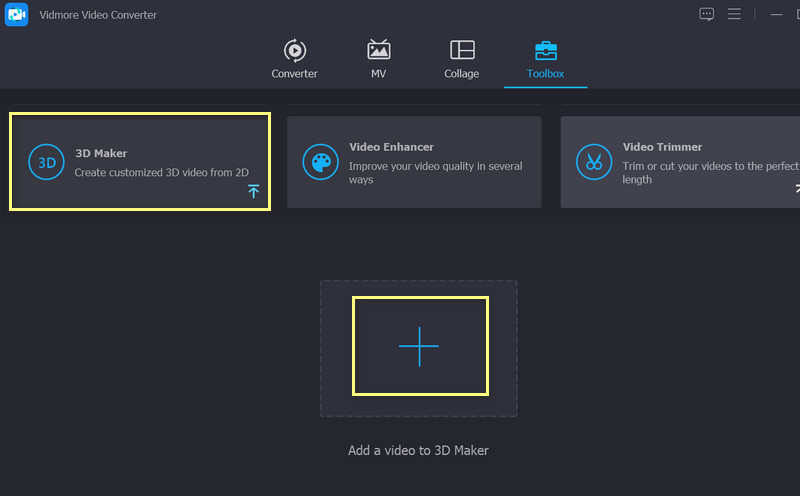 Step 3. Apply an anaglyph effect
Once done adding a video file, select the Anaglyph radio button and drop-down menu to choose an effect.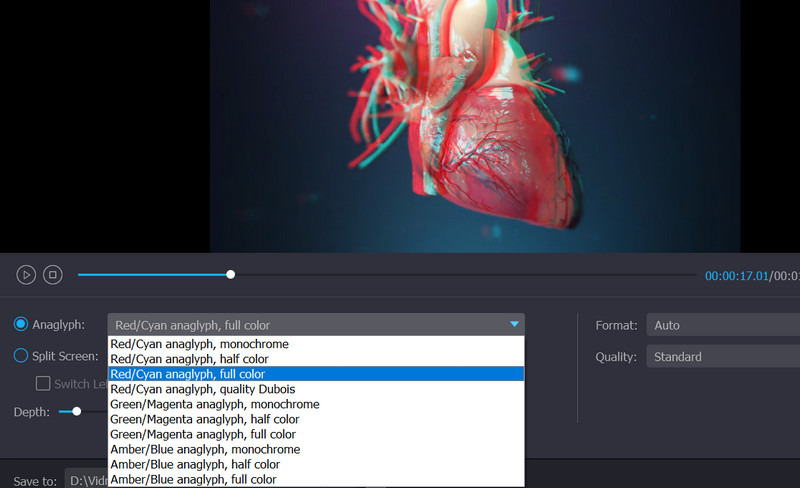 Step 4. Generate 3D video
Finally, tick the Generate 3D at the bottom right corner to finish the process of making a 3D video.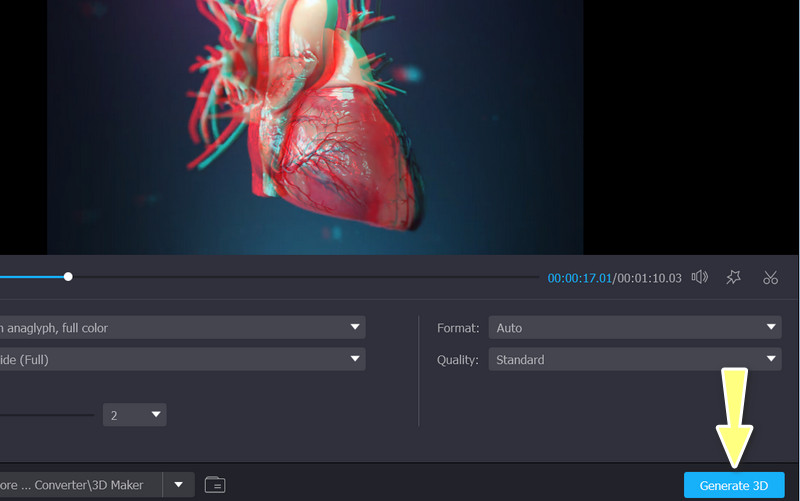 Part 3. FAQs about 3D Camera
Can I play my 3D videos on a 3D TV?
Yes. As long as the video format is supported by your 3D TV, you can stream your 3D videos without a problem.
What is the right setting for 3D pictures?
Probably the best camera setting is to have the lowest ISO possible to achieve the best 3D picture quality.
Is a 3D phone available in the market?
No, 3D phones aren't developed yet. On the other hand, users may download 3D camera apps to capture or shoot 3D footage.
Conclusion
In summary, those are the best 3D cameras you can buy today. Now, if you have a tight budget but still want to produce 3D videos, you can opt for an application that can achieve so. After reading this post, you should learn about those two- cameras for 3D and a tutorial.