5 Best VOB to WAV Converter Solutions - Fast and Efficient
Video Object Base or popularly known as VOB is mostly used on DVD media as a file container format. On that note, it comprises different files in a single file. It can contain information like subtitles, audio, video, or navigation headings compressed in the VOB file format. The only drawback is that not all media players offer support for this file format.
Hence, if you are looking for a more flexible format, you may opt for a WAV file instead. With this in mind, you may find it essential to convert a VOB file to WAV. Here we will demonstrate the process of how it is done along with the reliable tools that you can utilize.

Part 1. Convert VOB to WAV Offline
1. Vidmore Video Converter
Vidmore Video Converter is a professional video/audio converter that does not restrict you with the number of converts per day. There is also no limitation to the file size that you wish to convert. The best part is it comes with video/audio output settings so you could choose the right settings for your media files. With its merging capability, you will be able to combine two or more songs to create a single playlist. Not to mention you could arrange the songs according to your desired order. Turn VOB to WAV through this tool by looking at the steps below.
Pros
Converts multiple files consecutively
Merge songs in one single file
Modify output settings before conversion
Cons
Only intended for media conversion
Step 1. Acquire the software
First off, get the program installed on your computer. Click on the available Free Download buttons below. Then launch the video converting tool.
Step 2. Load VOB file
Now upload your VOB file by clicking the Plus sign. After that, choose the VOB file that you wish to convert from the folder on your computer.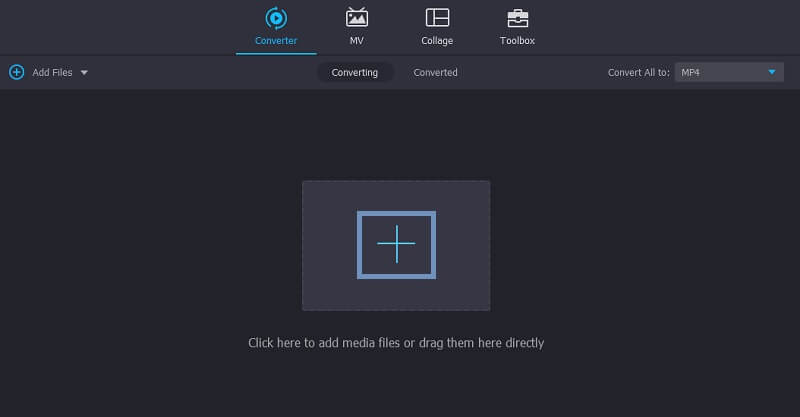 Step 3. Select output format
From the Profile menu, choose the Audio tab and look for the WAV file format on the left section. Before the conversion process, you may modify the output so you could modify the sample rate, bitrate, and channel.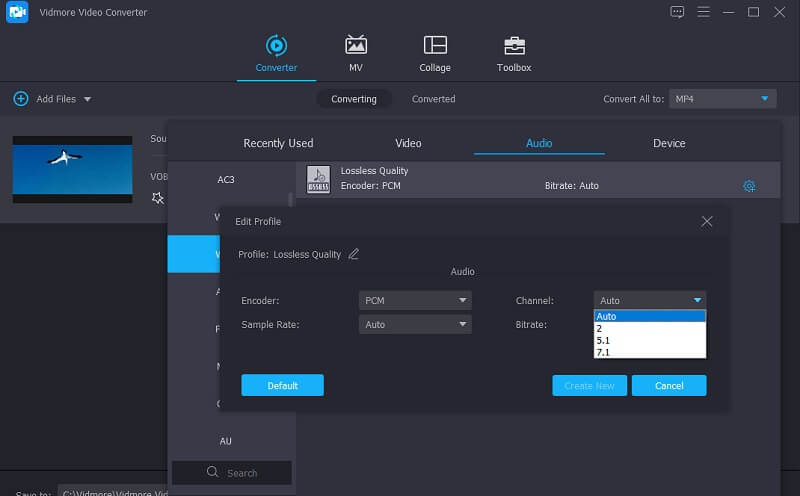 Step 4. Change VOB to WAV
After selecting an output format, you can now start converting your VOB to WAV. Simply click the Convert All button and the tool will automatically start the conversion task.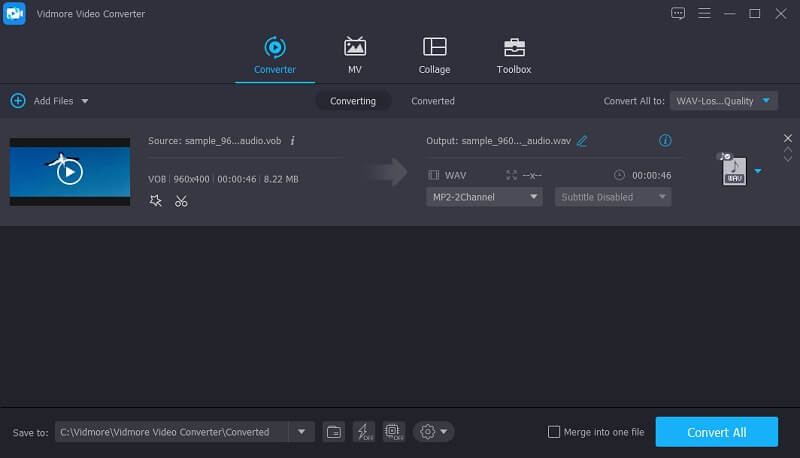 2. Audacity
If you are looking for a more popular entry, Audacity might come to mind. It is a VOB to WAV freeware and open-source audio editor that enables you to convert and edit audio files across different platforms. It means the tool works with Windows PC, Mac, and Linux. While Audacity can convert different file formats, you need FFmpeg for VOB to WAV conversion tasks.
Step 1. Boot up Audacity app and integrate FFmpeg library.
Step 2. Load the WAV file by going to File > Audio. Then select your target WAV file.
Step 3. Once the file is loaded into the program, click again on File, hover to Export, and select Export as WAV.
Pros
Multi-platform application
Basic audio editing and recording
Offers effects and wide tools for quality enhancement
Cons
Very outdated interface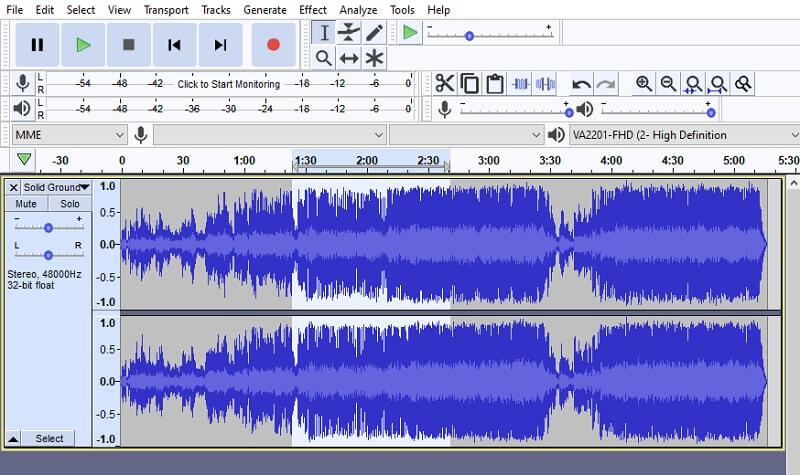 3. VLC
VLC Media Player is not just a multimedia player but also a converting solution that is why it is included in our list of converting software. At the same time, it also enables you to convert files on Mac and Windows with almost the same set of features and interfaces. So, if you want to convert VOB to WAV on Mac and Windows PC, you should have no problem using this program. Additional features also include rotating and flipping videos to your desired angle. That said, here's how VLC converts VOB to WAV.
Step 1. Run the VLC app on your computer if it's already installed on your PC.
Step 2. Open the Convert tab and click the Add button from the Open Media tab to load the VOB file. Then click the Convert/Save button.
Step 3. Create a new profile and set the audio codec to WAV. Type the name of the profile and hit the Create button.
Step 4. From the drop-down of Profile, select the profile you just created, set an output folder, and click the Start button to begin the conversion.
Pros
Feature-filled and completely free program
Works on mobile devices
Simple and easy-to-use interface
Cons
Not straightforward conversion process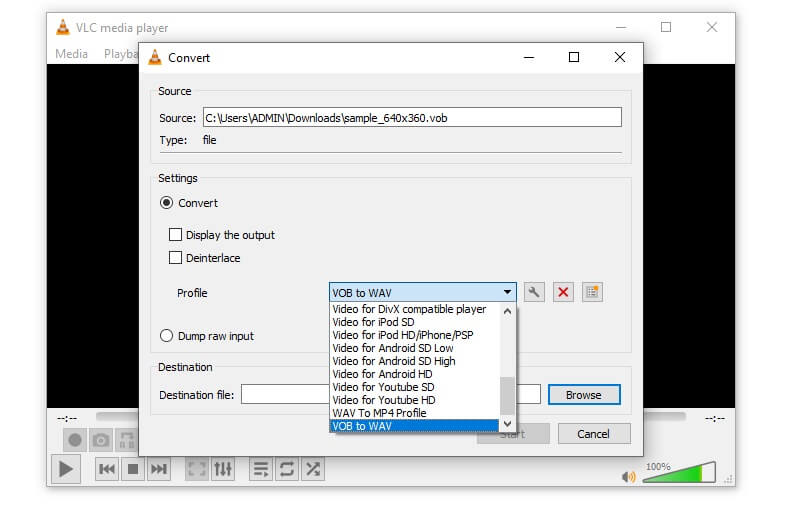 Part 2. How to Convert VOB to WAV Online
1. Vidmore Free Video Converter
For a free option that also offers no restriction to the number of converts, Vidmore Free Video Converter is a great option. Similarly, as often as your heart desires, you will be able to convert large files. Besides, it does not need any registration before you can begin converting VOB to WAV. Being a web-based app, you can convert VOB to WAv online without installing any app. Now let's take a look at the steps on how to use this tool.
Step 1. Visit the website and load the VOB file that you wish to convert by clicking the Add files to convert.
Step 2. Once the app initiates the launcher, upload the VOB file that you wish to convert.
Step 3. Hit the Music icon and select WAV for the output file.
Step 4. Click on the Gear icon to modify the output settings including sample rate, bitrate, and channel. To confirm the changes, hit the OK button.
Step 5. Set the output folder and start the task by clicking the Convert button.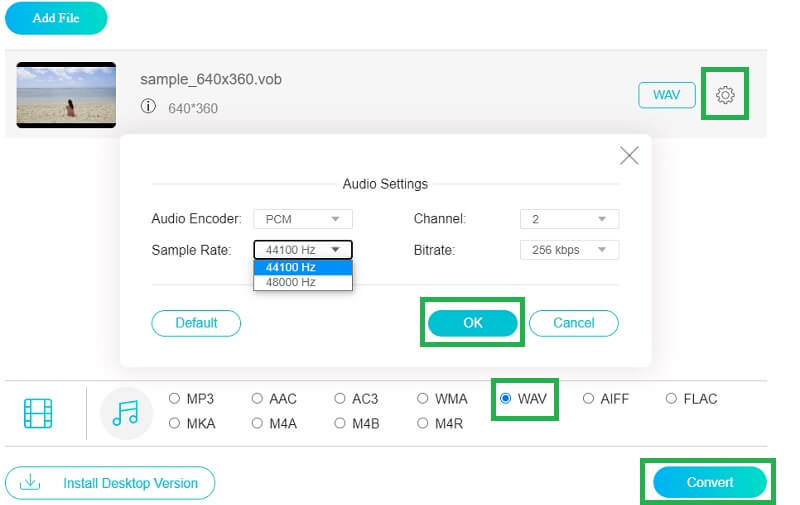 2. CloudConvert
Another VOB to WAV converter free online tool is CloudConvert. It supports conversion for VOB files and other file formats such as MP3. MP4, AVI, 3GP, etc. Unlike the aforementioned programs, this supports archive, document, and ebook conversion. Now here's a walkthrough of steps on how to use this program.
Step 1. Visit the main page of CloudConvert and click the Select File button to load the VOB file.
Step 2. Now select the appropriate output format. It is WAV in this case. Simply select WAV format under the Audio section.
Step 3. Then hit the Convert button for it to start converting VOB to WAV.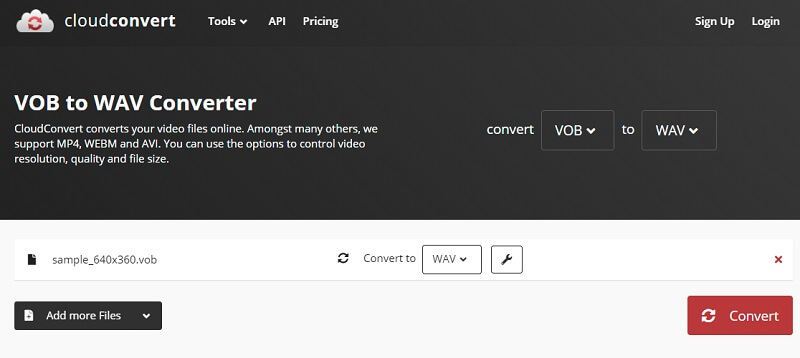 Part 3. FAQs of VOB to WAV
Will audacity convert a VOB to a WAV?
Yes, Audacity can convert VOB to a WAV file. You need to incorporate FFmpeg to be able to import a VOB file to Audacity though. After that, you can proceed to convert VOB to WAV.
How do I convert VOB to WAV for free?
As we know, there are freeware and shareware tools that you can use for free to handle your conversion needs.
Is VOB or WAV better?
If you wish to enjoy better quality with flexible support to media players, WAV is the obvious answer. Yet if you are creating a film that can contain different files in one file, VOB is a good file format.
Conclusion
Using the tools listed above, you will be able to easily convert VOB to WAV. There are desktop and online applications to cater to every user's needs. Whichever method you decide to use, they are guaranteed to work 100%.