Three Easy Ways to Compress Video for Vimeo Online and on Desktop
Vimeo is a popular video-sharing platform supporting SD and HD video playback. You can watch videos or upload your video files. But you may find it very slow to upload your videos due to your file size. What's more, there are limitations to the storage space. Vimeo provides users with 500 MB of storage space per week. Therefore, in order to enjoy smooth playback and enough storage place, you need to compress video for Vimeo.
This article introduces you to how to compress video for Vimeo online and on the desktop for free. You can use the software and tools both on Windows and Mac. Keep reading and find the best way to reduce file size for Vimeo.

Part 1. How to Compress Video for Vimeo Free Online
Vidmore Free Online Video Compressor is a powerful free online compressor to reduce file size with high output quality. You can import multiple formats into the compressor, including MP4, MTS, TS, MOV, AVI, MKV, etc. The compressor can also compress videos in batches at a fast speed, which helps you save a lot of time. Before compression, you can change the output format of your source file with various choices.
This video compressor is 100% free and there are no invisible charges. The compressing process is totally online. No registration and download is required. What's more, there won't be any watermark added or advertisements unrelated, which provides users with a better experience. Now, follow the 3 easy steps to compress a video file for Vimeo.
Step 1. Open Free Online Video Compressor on any browser. Click Compress Now and install Vidmore Launcher.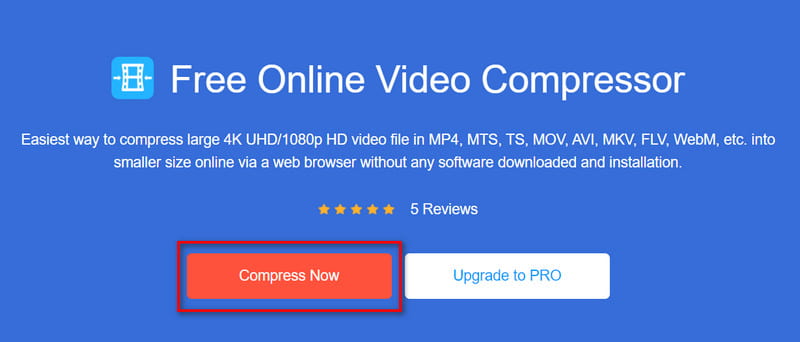 Step 2. When the launching service is ready, you can choose your files and open them. You can drag the progressing bar or click the Down Arrow icon to reduce the file size to less than 500 MB. We recommend the MP4 format because it maintains a high quality with a small file size. Then choose the proper resolution.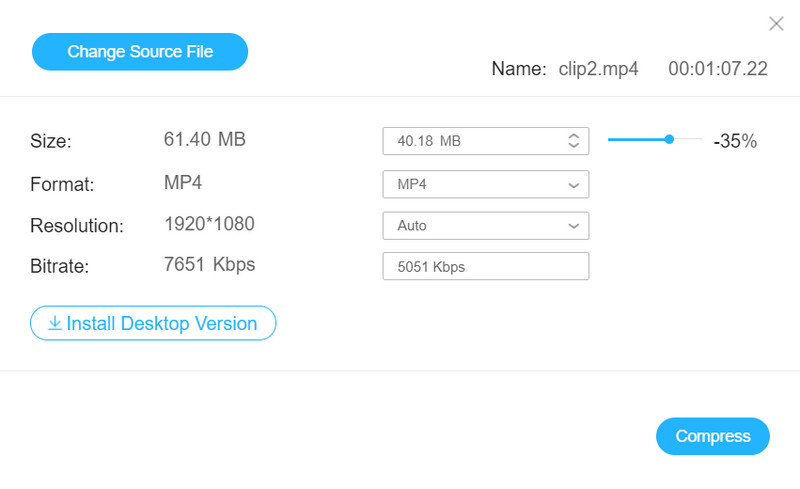 Step 3. Click the Compress button to start compressing.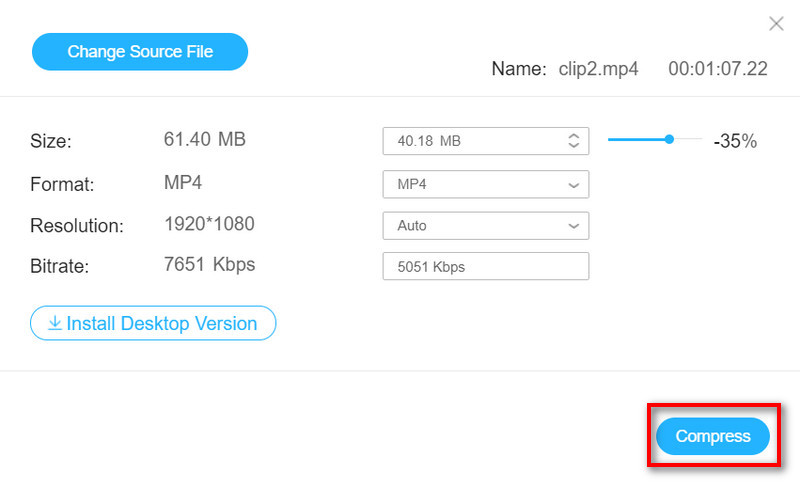 But convenience comes at the cost of fewer choices. You can try desktop software and experience one-stop operations. Just click the Upgrade to PRO button next to Compress Now to acquire the desktop version.
Part 2. Professional Software to Reduce Video File Size with High Quality
Vidmore Video Converter is comprehensive video editing software. Besides all the functions provided by Online Video Compressor, more compressing choices and editing features are available. It enables you to compress a video file for Vimeo with high quality. Besides compressing videos, this converter can also convert videos like MPG to MP4.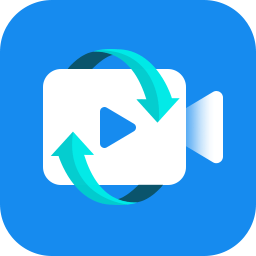 Vidmore Video Converter
Compress video in batches with fast speed.
Maintain high output quality with a small file size.
Edit video with various choices to make it more attractive.
Compress and convert video to make it compatible with the target device/software.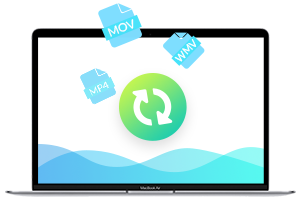 Method 1. Compress a Video File with High Quality
Step 1. Download and install Vidmore Video Converter on your computer. Then start it. Click Add Files at the top-left corner of the main interface or drag your video file directly to the converter.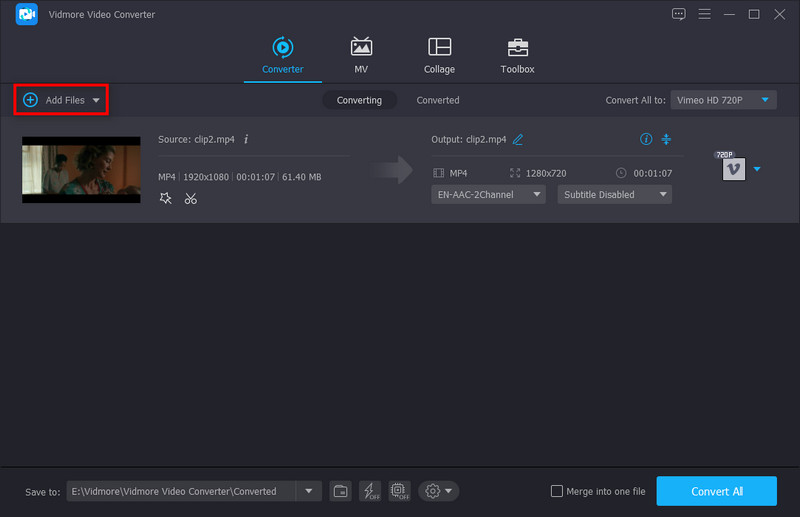 Step 2. Choose Convert All to to select an output format. Find Vimeo in the left list and choose the wanted one.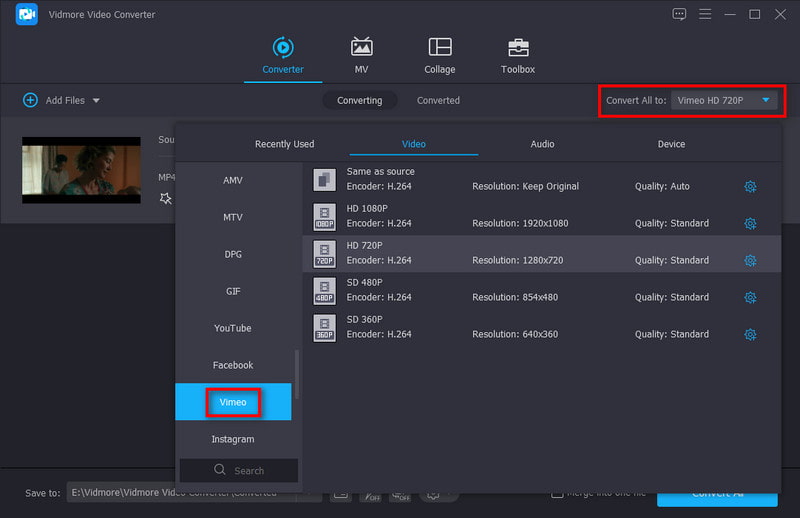 Let's take HD 720P for example. Then click the Custom Profile button (a gear image). Then you'll be taken to the detailed setting window. It's better to maintain the native video codec and frame rate. You can also adjust the Encoder, Channel, Sample Rate, and Bitrate of the Audio. Then click Create New.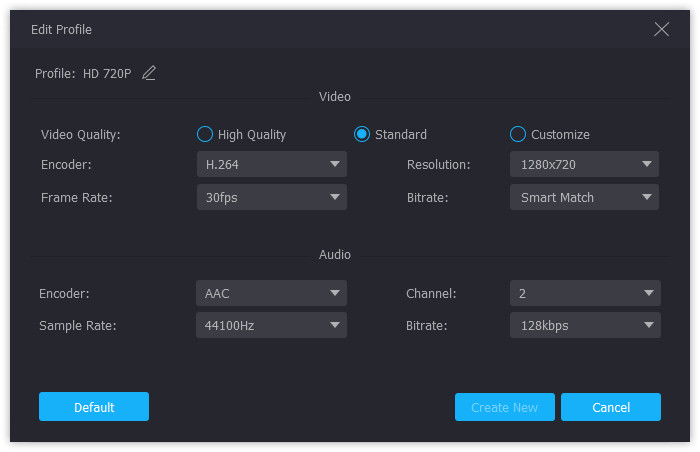 Step 3. Click the Compress Video button in the main interface. You can drag the progressing bar or click the Down Arrow icon to adjust the file size. Then you can preview the video before output.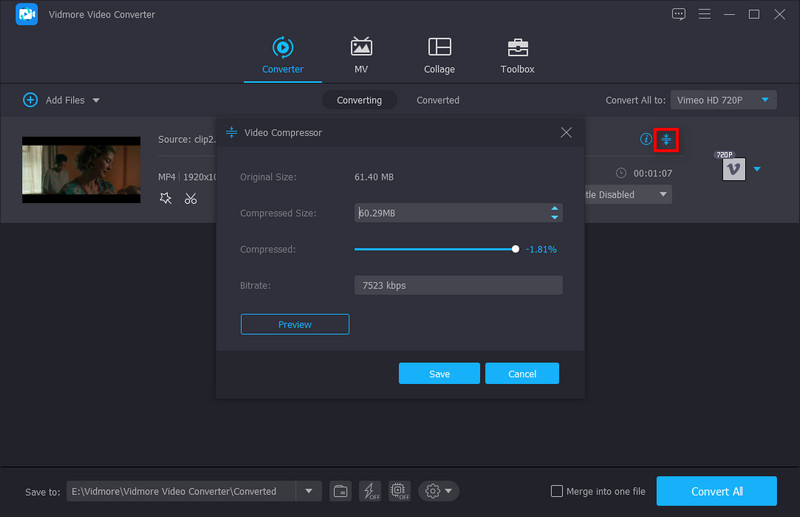 Step 4. When everything is done, click the Save button and then click Convert All.
Method 2. Compress Video for Vimeo Quickly
Step 1. Choose Toolbox at the top menu bar of the main interface and select Video Compressor.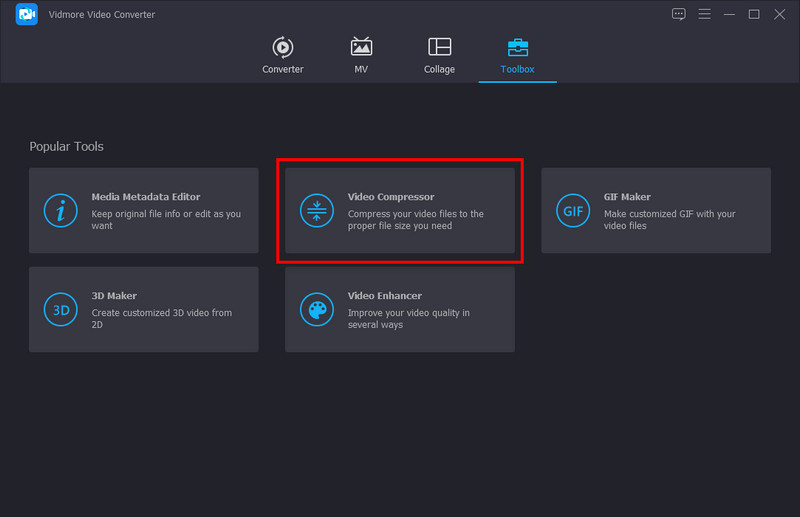 Step 2. Click the big Plus icon to add your video file. Here you can change the file size by dragging the progressing bar or click the Down Arrow icon. You can also change the Name, Format, Resolution, and Bitrate. Also, you can preview the video before compression.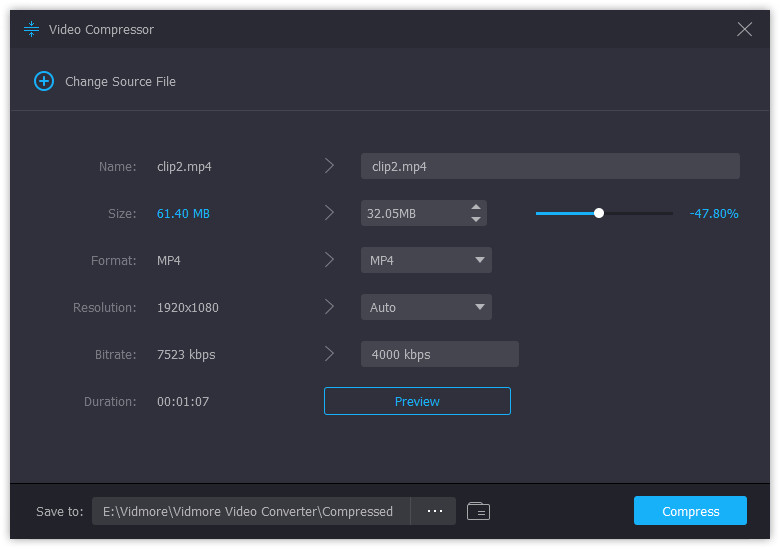 Step 3. Choose the Save to folder and click Compress to get the compressed video.
Part 3. FAQs of Compressing Video for Vimeo
What is the best video format for Vimeo?
Vimeo supports most of the popular video codecs. But the best one is H. 264. You can use Vidmore Video Converter Ultimate. The formats designed for Vimeo are provided in the Profile list. You can easily convert video to the most compatible format with Vimeo.
Is there a file size limit for Vimeo?
For the free version of Vimeo, the maximum is 500MB per week. For users who paid for Vimeo, they enjoy more upload and storage space. Vimeo allows them to upload 5GB of video every week.
How do I get better quality on Vimeo?
H. 264 is the best for Vimeo. You can also change your video settings like this:
SD: 2,000 – 5,000 kbit/s.
720p: 5,000 – 10,000 kbit/s.
1080p: 10,000 – 20,000 kbit/s.
Conclusion
Vimeo is a high-quality video-sharing platform. You may need to compress the video before uploading it to ensure high quality. You can simply compress videos for Vimeo online or using the software. Online tools are fast and desktop products provide additional functions like adding subtitles to videos. Please choose the appropriate one after reading this article carefully.