Fantastic Ways to Trim VOB Files Online and on Desktop with Ease
The Video Object Base format, or VOB format, is a video container format for DVD media. That said, it allows storing of different media content and information. It compresses the combination of video, audio, subtitle, menu, DVD information, and navigation heading in one file. Moreover, this type of file is typically saved in the folder of DVD VIDEO_TS.
Suppose you have lengthy VOB files that make it large in file size. It is necessary to cut the video. Indeed, there are portions of the video that are unimportant or unnecessary. In this case, you can get rid of them by trimming the VOB video. Dig deep into this post to learn the best techniques on how to cut VOB video files.

Part 1. Ultimate App to Trim VOB on Desktop
1. Vidmore Video Converter
Vidmore Video Converter is a powerful program with smart editing tools for convenient and effortless video editing. You can load and cut various file formats, including VOB, MP4, AVI, MKV, DVD, Smartphones, Apple, Playstation, and audio formats. Furthermore, cutting videos can be done in several practical methods. You may cut the beginning by moving the playhead to the beginning position you want to cut. With its split function, trimming the video into multiple parts is possible.
Alternatively, it offers a feature for setting the video's beginning and ending by entering the exact time duration. You can also drag the handlebars left and right to cut a video. For a step-by-step tutorial on how to trim VOB files, continue reading below.
Step 1. Run the VOB Cutter
Free download the Vidmore Video Converter first by clicking on any Free Download buttons underneath. Have the app installed on your computer, then launch it.
Step 2. Import a VOB video
Once done loading the app, click the Plus symbol displayed on the main interface to upload the VOB file you wish to cut. Another way to upload a file is by dragging and dropping it into the upload area.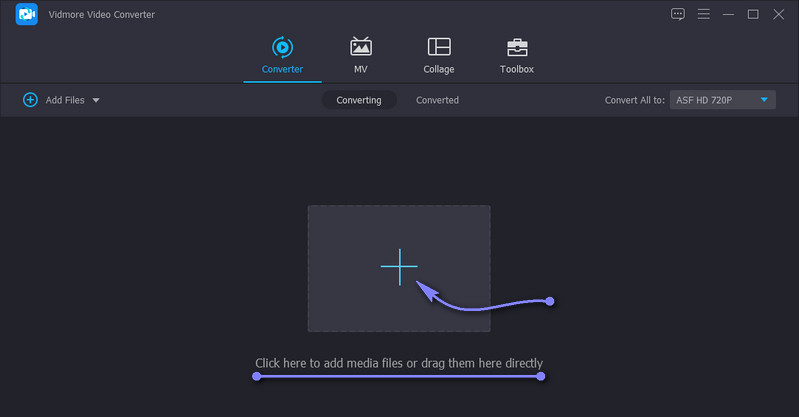 Step 3. Make video selection to cut the video
Click the Cut button from the video's thumbnail, and you will see the window for cutting the video. Now, drag the left and right handles of the video to select the video to cut. On the other hand, you can find specific parts in the video and delete the unimportant ones by hitting the Fast Split button. This will divide the video into separate parts. Right-click on the selected segment and cut it. Finally, tick the Save button at the bottom right corner of the interface.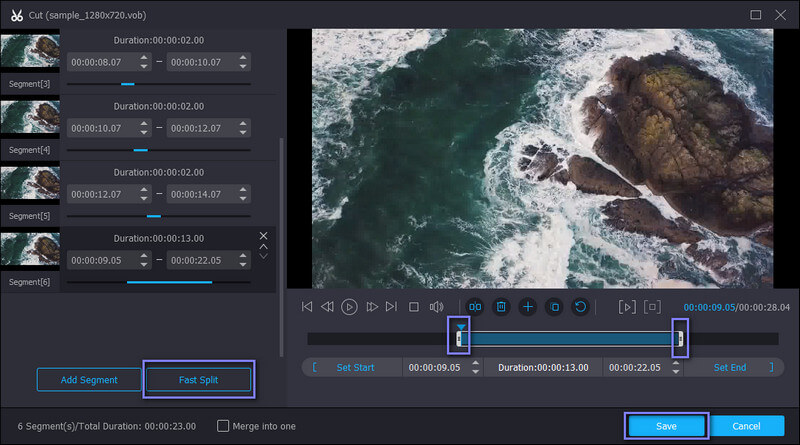 Step 4. Export the output
Once you cut the video, you can export the file to another format or its original format. Simply go to the Profile menu and select your desired output video format under the Video tab. After choosing a format, click the Convert All button to save all the changes.
2. QuickTime Player
If you hope to learn how to trim VOB files on a Mac, QuickTime Player is an excellent app, to begin with. This enables you to cut by dragging the beginning and end handles backward or forward. In this way, you'll be able to separate the part you want to save. Besides, it enables you to export the output file into different quality. Follow the guidelines below to learn how to trim VOB in QuickTime Player.
Step 1. Launch QuickTime Player on your Mac computer. You should see the menu bar at the top of your screen.
Step 2. Click File > Open File, then load the VOB video you would like to cut.
Step 3. Now adjust the left and right handles to cut your desired video portion. Then, hit Trim to cut out the selected parts. Preview and export the video afterward.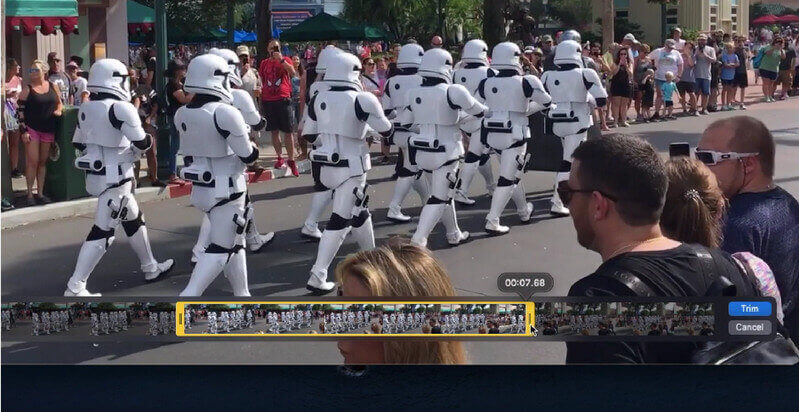 Part 2. Trim VOB Files for Free Online
Suppose you are wondering about methods to trim video files online. Here we have some of the most recommended web-based tools. You don't need to grab any additional software on your computer through these programs. Check them out below.
1. WeVideo
First on the list is WeVideo. This is a free video editor that you can use via a web browser. This tool is home to many exciting editing tools. Using this program, you can import videos, images, and audio files. Likewise, it uses a slider to select portions to cut and save, which is helpful when you only need to remove unwanted beginning parts of a video. Aside from that, this also lets you add background to your project, either animated or still background. To trim VOB files online with WeVideo, you may refer to the steps below.
Step 1. Go to the page of WeVideo and upload your VOB video file.
Step 2. Then, drag the uploaded video to the timeline to edit it. There will be a slider from the preview that will help you select the portions to cut.
Step 3. Drag the slider left and right, then hit Finish above the preview when you are finished trimming the video.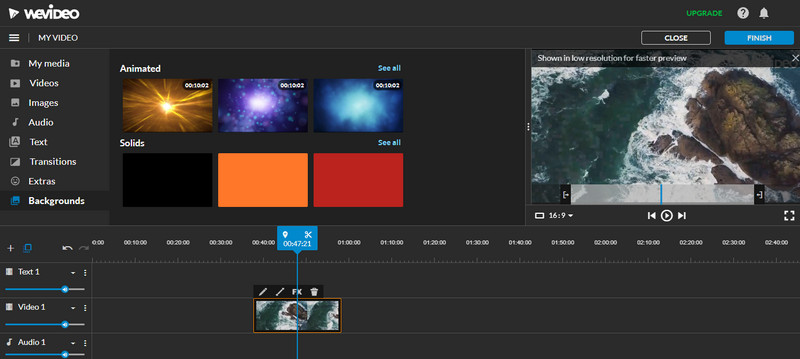 2. Online Video Cutter
Yet another great online application to cut VOB files online is Online Video Cutter. It offers numerous editing tools allowing you to cut, split, rotate, adjust speed, and so much more. Furthermore, you are not limited to uploading from one storage source. You can import files from Drive, Dropbox or use the video URL. Listed below are the instructions on how you can use it.
Step 1. Visit Online Video Cutter's website and upload your chosen VOB file to trim.
Step 2. Now, use the video grabber to select the parts to cut or define the exact time you want to begin and end cutting the video.
Step 3. Hit Save after you have finished editing. Download the file afterward.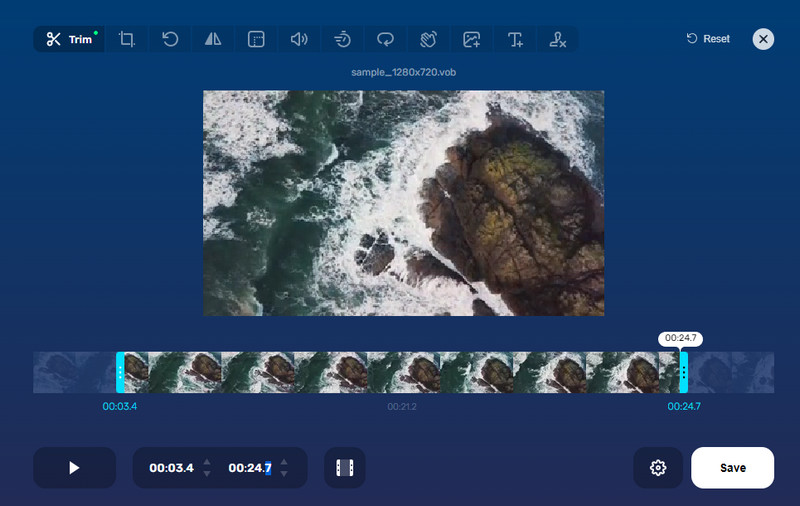 3. Aconvert.com
Aside from the programs above, Aconvert.com may also help you trim a VOB file online with ease. With it, you can work with different video formats, including VOB, MKV, AVI, M4V, MP4, etc. It's just that you can not upload a video that exceeds 200 MB file size. On the other hand, here is the procedure to utilize it.
Step 1. Launch Aconvert.com on your computer using any browser.
Step 2. Import the media file you intend to cut by clicking the Choose Files button, then choose the Cut option under the Video menu.
Step 3. When you have finished uploading, set the start position and duration for cutting. Then, hit Submit to begin the session.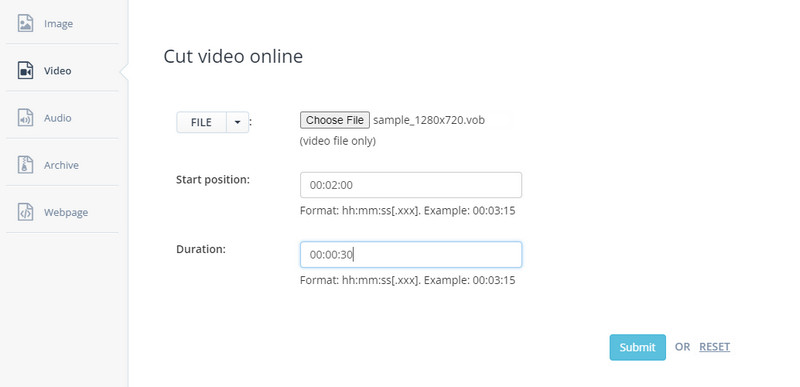 Part 3. FAQs on Trimming VOB
What does VOB stand for?
VOB stands for Video Object Base. It is a file container format used to store multiplex data, including video, audio, subtitle, navigation, etc.
How can I edit VOB files?
Many programs can help you edit VOB files allowing you to cut, trim, split, rotate, crop, and a lot more. If not all, some of them have free counterparts, which you can also take advantage of.
How to convert a VOB file to MP4?
If you wish to convert a VOB file into MP4 and play it on any device you want, Vidmore Video Converter is the answer. It accepts various video formats and converts them to almost all video/audio formats.
Conclusion
Various ways and approaches can help you trim VOB files. One way to do this is using a desktop program. While online tools are convenient since you don't need to install anything, desktop apps are still recommended. That's because most web-based apps are solely dependent on the internet connection. This means that the performance is not stable when you have an unstable network also.